As one of the most popular wedding seasons, Summer is an attractive time to get married thanks to the mood-boosting endorphins that British sunshine brings. For couples planning a summer wedding, we've gathered five top things to consider when planning a wedding in June, July, August and early September.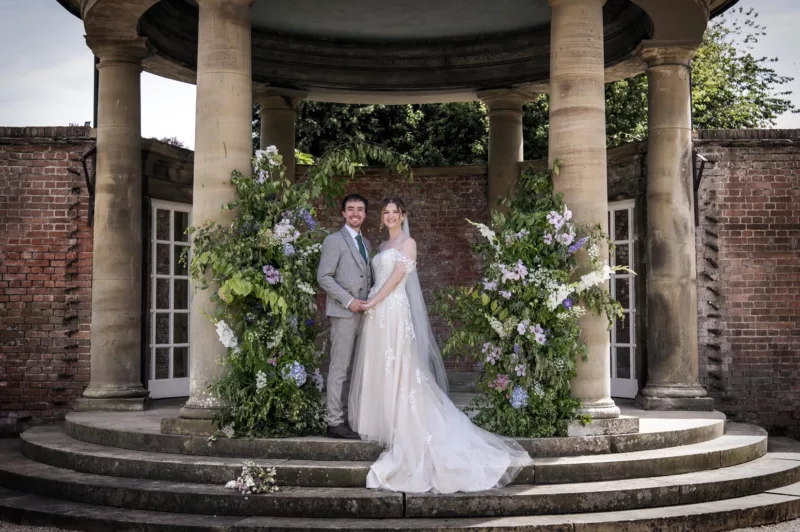 Embracing the outdoors
Most couples choose a summertime wedding to incorporate the outdoors into their big day and guarantee good weather. Whether you host the initial drinks reception outdoors or go all out and have the whole wedding al fresco, it makes sense to use the warm weather and sunshine to your advantage and ensure that your guests can enjoy some drinks and socialise in the fresh air. Some couples might get their guests involved in fun outdoor activities such as bowls or lawn croquet to help get the party started after the wedding ceremony and let people stretch their legs.
If the weather is warm and dry, many people take official wedding photographs outdoors to benefit from the natural light and scenic backdrop of wedding venue gardens. This can work exceptionally well if your chosen venue has beautiful plants, flowers and water features that make a great addition to photographs.
Making sure your guests stay cool and comfortable
With summer weddings comes the risk of people getting a little hot under the collar from the heat. It's worth considering some small touches to help your guests keep cool and feel comfortable throughout the day.
If you host any part of your wedding celebrations outdoors, ensure you have some umbrellas outside for guests who don't want to sit or stand in direct sunlight. Additionally, it's worth ensuring that the venue has a selection of shaded seating areas or spots outside for people to relax.
Another great idea is to place hand fans on each seat at your wedding ceremony for people to use if it gets too hot. As well as being thoughtful, guests could keep their fans as a memory of the wedding day. Some couples get fans printed with their names or wedding date for this exact purpose.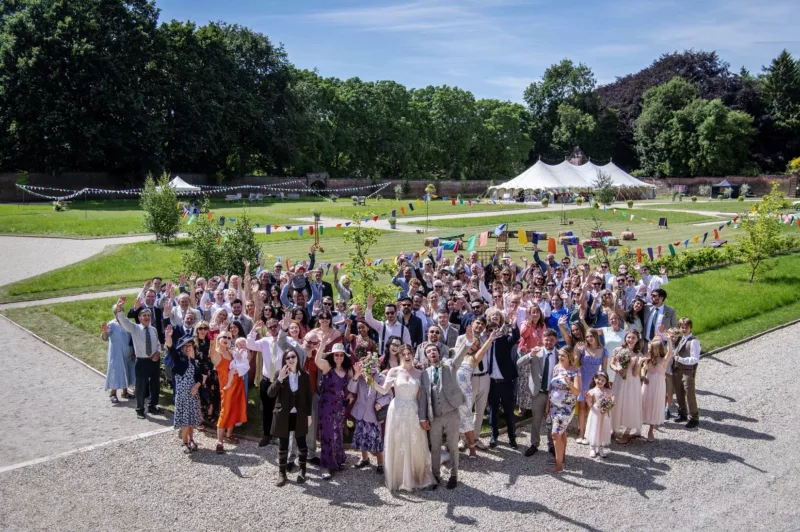 Keep the dress code light and bright for guests
The dress code is an essential factor for summer weddings. If you're having best men/women or bridesmaids, make sure that you select suits and dresses made from light and breezy materials such as linen or cotton. A summer wedding is not the time or place for wool suits or material that retains heat.
For your guests, remind them to wear something light and let them know if your dress code differs from the norm so they can dress accordingly (e.g., most people will only wear shorts if you specifically state that shorts are welcome!
Choose a summer colour palette
Summer colours such as pinks, oranges, yellows, and blues usually spring to mind. Do your research on your favourite summer colours and decide on a few that will become the colour palette for your wedding. Use these colours to guide your wedding planning, flowers, invitations, and table centrepieces. We recommend a consistent colour scheme so everything ties together on the day.
If you're going for a specific colour palette and want your guests to wear your chosen colours, include this on the invite so guests know the score.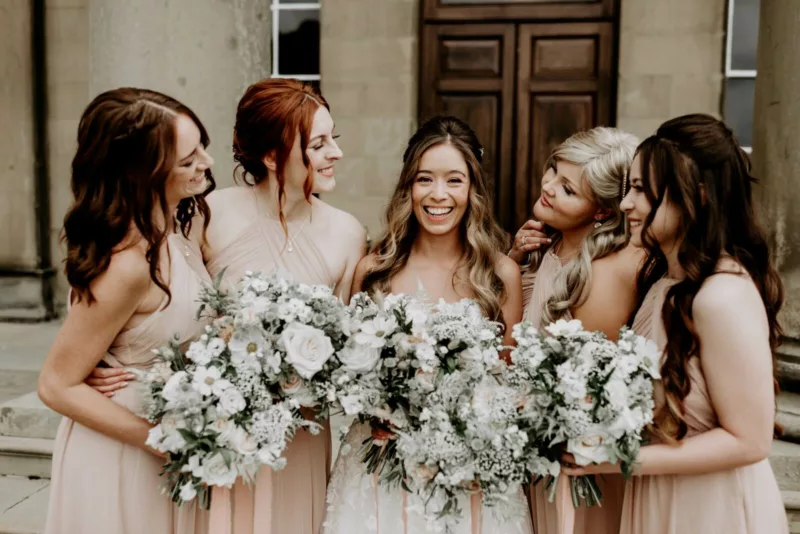 Selecting seasonal summer food and drinks
 Finally, choosing to serve seasonal summer food and beverages at your wedding is a thoughtful and eco-friendly decision. It also means the food and drinks will be as fresh as possible for you and your guests, and the ingredients will not have to travel far compared to foods out of season. This also reduces the co2 emissions associated with growing and transporting specific foods.
In terms of what's in season in summer, think light salads with fruit and vegetables such as basil, beetroot, blueberries, carrots, figs, tomatoes, courgettes, cucumbers, radishes and potatoes. Delicate fish and seafood such as crab, wild salmon and pilchards are also in season during the summer, along with chicken, ham, lamb, sausages and venison. It's also good to consider that people prefer lighter meals in summer instead of more hearty, warming and carb-heavy dishes in autumn and winter.
Bonus tip – book your venue date sooner rather than later
As we mentioned, summer weddings are in demand – more so than other seasons, and if you want a weekend wedding, remember that these are the first dates to get booked up. As soon as you've decided on specific months or dates, check the availability and reserve these dates with your venue.
For those planning weddings in spring, autumn or winter – click to read our wedding planning guides for the other three seasons.
If you're looking for further wedding advice and inspiration, look at some of our other wedding planning blogs or contact our expert wedding planning and catering team – call 0345 450 4545 or email us at events@dine.co.uk.
Main photography courtesy Matt Godman Wedding Photography