10 Festive Christmas Engagement Ideas
If you need some romantic Christmas proposal ideas, look no further. We've explored ten festive engagement ideas that will be sure to create that perfect magical moment between you and your future fiance. 
Stepmom movie-inspired
If you haven't seen the film Stepmom, starring Julia Roberts, Susan Sarandon and Ed Harris, we urge you to cancel your plans this evening and watch it as soon as possible. One morning, Luke (Ed Harris) wakes Isabel (Julia Roberts) up one morning and presents her with a ring box. Instead of a ring inside, though, there's a spool of thread, which he ties to her finger and slides the ring down the thread. It's a beautiful, heartwarming engagement where Luke states that he let the thread break once and won't let it happen again. We love this proposal idea because it's personal, simple and romantic.
A scenic, snowy proposal
This one could be slightly more difficult to plan, and you might find yourself constantly checking the weather report in the run-up… But waiting until it snows before going out for a nice long hike with a cosy cup of hot chocolate would be the height of romance. You could even go one better and make your partner turn around while you spell 'marry me?' out in the snow. The latter would definitely make for a great engagement story and picture to show your loved ones.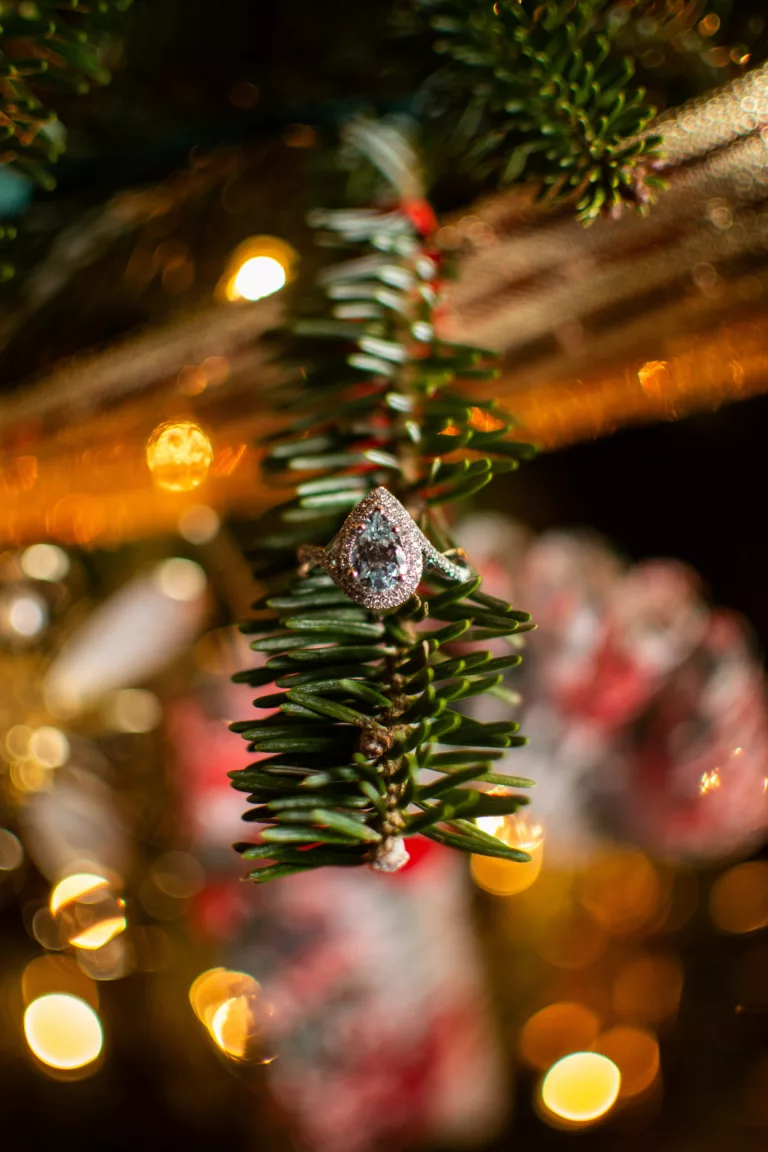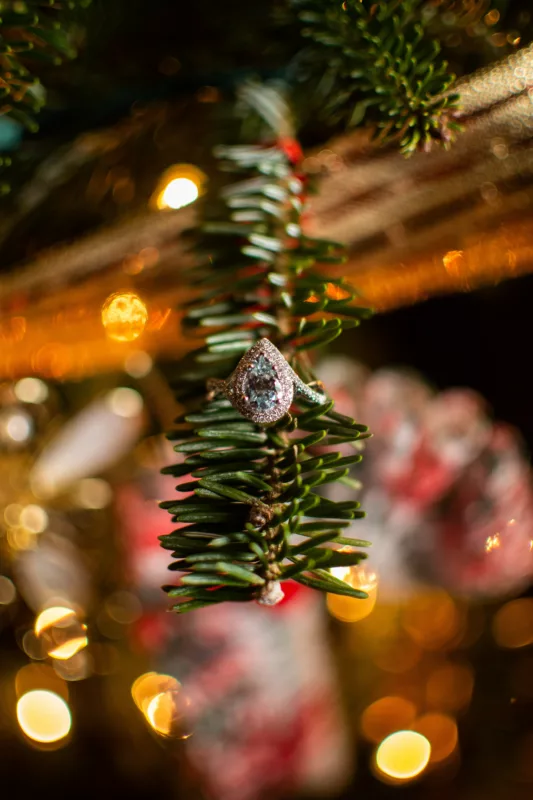 Hide the ring in the Christmas tree
What would be a better surprise than an unexpected Christmas Day proposal? You could wrap the ring up and place it under the tree, ready to open with the other presents, or hide it in the tree and ask your future fiance to find the secret gift, getting down on one knee while they're looking for it. Christmas Day is a great time to propose because you get to tell your family the good news later in the day, or they could even be there to witness the proposal if you're the ones hosting your friends and family on Christmas Day.
An advent calendar proposal
This one will take a little more planning, but we love the idea of making a personalised advent calendar for your partner. You could add meaningful little gifts behind each window, photographs of your favourite memories or thoughtful messages as an engagement keepsake, with a ring box hidden behind the last window for the ultimate final day surprise. 
Say it with fairy lights
What could be more romantic than turning out the lights and spelling out 'Will you marry me?' with festive fairy lights? You'll need quite a lot of lights and some double-sided tape, so make sure you plan in advance! You could also leave the lights up during the rest of Christmas to remind you of your unique proposal throughout the festive period.
Hide the ring in a Christmas cracker
This one's perfect for a Christmas Day proposal. Buy some Christmas crackers that you build yourself, and make sure you buy some that are big enough to contain the ring box. When you pull it, make sure your partner wins, and while they're working out what's going on, you have time to get down on one knee, ready to propose.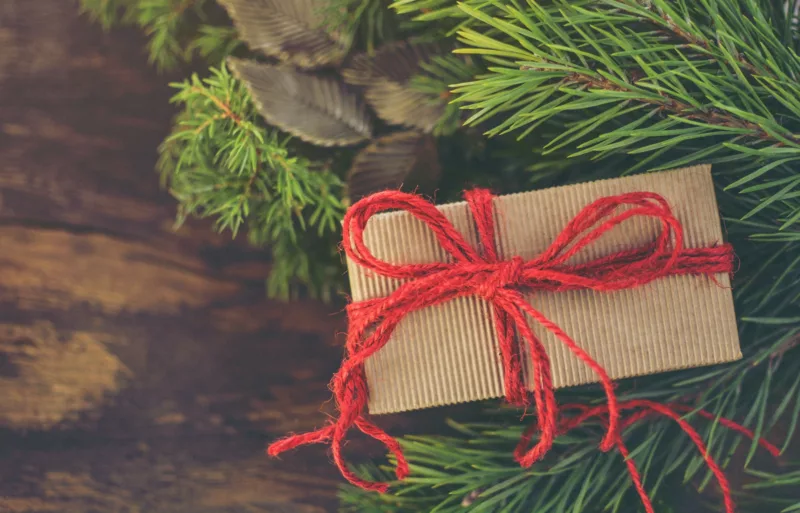 Christmas carols playing in the background
Christmas events are a great way to propose. Find some Christmas markets that have a singer or choir performing, and wait for the right romantic song to propose to. You'll have to be reasonably confident about this one as there's guaranteed to be other people around, but it could make it all the more special. You could even get someone to film the moment for you to look back on.
Get your family involved on Christmas Day
Another fun proposal idea is to gather everyone around for an obligatory family Christmas photo using the self-timer setting on your phone. Just at the right moment, get down on one knee so it's captured in the shot (along with everyone's reactions), and you'll be able to keep a photo of your special moment to enjoy for years to come. 
Cosy up in front of the fire
If you want your festive proposal to be chilled and lowkey, put the fire on, make some lovely Christmas nibbles and cocktails, put some romantic festive songs on and lay a furry rug down before popping the all-important question. Only some appreciate a fancy proposal, so this is the perfect, relaxing option.
Under the mistletoe
Another simple but effective festive engagement idea is to hang some mistletoe up near the Christmas tree – the perfect tradition that signifies love and peace, dating back thousands of years.
If you're looking for further wedding advice and inspiration, look at some of our other wedding planning blogs or contact our expert wedding planning and catering team – call 0345 450 4545 or email us at events@dine.co.uk.