Why did you choose this location to get married?
We chose Leeds as we wanted to go with tradition and have the wedding in my home town. Having our wedding in the North also made it closer to our families. St Urban's is the Church I'd grown up in and attended as a child with my family, and I'd always hoped for a traditional church wedding, so it was very special for it to take place in my home parish church.
We visited The Mansion early one spring morning, and were really impressed with the space and how well maintained it was. The Mansion has unique and beautiful features; such as the staircase and the chandelier. Due to its position, The Mansion also gets a lot of natural light. We kept our fingers crossed for a sunny day, and it was very lucky for us that we got one!
The fact The Mansion is in a really pretty and leafy location- but was also easy for our guests to travel to from the church ceremony- made it the perfect venue for us.
We remember leaving the venue visit at The Mansion with a very positive impression of how professional and detail-oriented the Dine team were.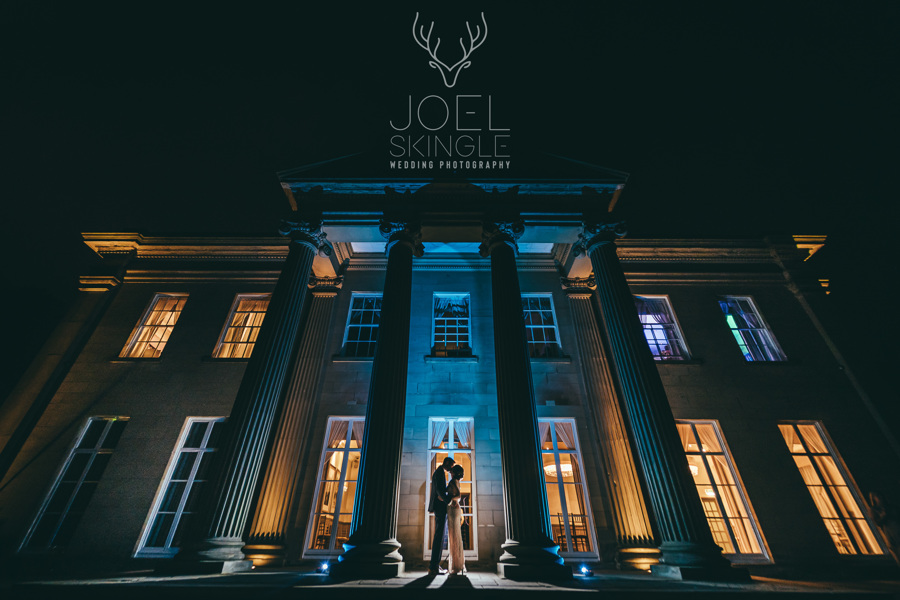 The ceremony – who conducted the ceremony and where did it take place?
The Catholic Church ceremony was concelebrated by both my mum's brother who is a Catholic priest, and our local parish priest at St Urban's Church. It was a beautiful and very traditional ceremony with an organist and hymns. The wonderful Leeds String Ensemble played at the start of the ceremony, during the signing of the register, and at the end of the ceremony.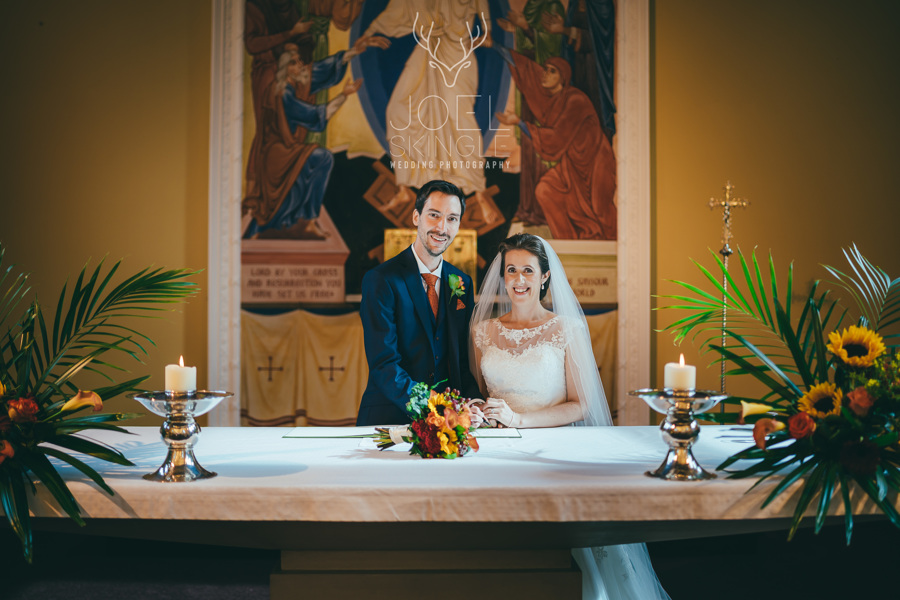 The proposal – tell us the story…
After five years together, one spring morning (29th March) Andrew surprised me with an engagement ring at home in our flat! I had no idea at all, so it was a lovely surprise for me! (Andrew had followed tradition and asked my Dad first in advance, which was a nice touch.) We were travelling to visit my family later that day, so it was so special and exciting to be able to see them so soon after to celebrate!
The dress – where was it from & what was it like? How many dresses did you try on?
My dress was called 'Priscilla' by Romantica of Devon, a family owned and run British label hailing from the Devonshire countryside. It was ivory lace with beaded lace detailing. It had a flattering A-line silhouette with a sweetheart neckline and illusion capped sleeves. The dress had a zip back and illusion buttons trailing down the back of the dress and featured a really intricate lace-trimmed hem. It had a really romantic and traditional style to it, and was teamed with a cathedral length veil.
I picked the dress from Broughton's Bridals where the lovely Sam helped me. I went to several shops, and I'd say I tried on about 15 or 16 dresses in total and had whittled it down to two or three before I met Sam, visited her lovely shop and found 'the dress' which looked lovely and just felt right the moment I tried it on.
My extremely comfy ivory 'Dorothy' Mary-Jane Court shoes were from Rainbow Club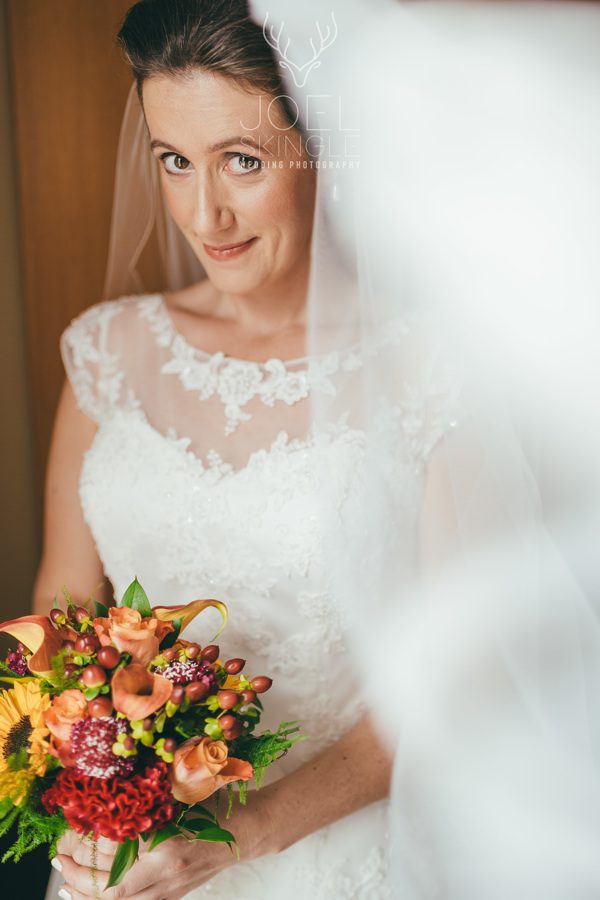 The cake – where was it from and what was it like?
My auntie is a very talented cake-maker and very kindly made the cake for us for our big day. It was beautiful and delicious, including intricate lace detail around each cake layer. We had three layers: traditional fruit cake, indulgent rocky road, and lemon and poppy seed (which represented our favorite flavors). I made sure I managed to try a bit of each on the night! The indulgent rocky road was my absolute favorite.
For our evening guests, Gemma and the team at The Cheeseboard Harrogate supplied a delicious 6-tier cheese tower decorated with grapes and figs, and topped with adorable handmade mice cheese toppers. The mice were dressed in our wedding colors, they were adorable! Vegan and dairy-free cheeses were also offered alongside the cheeseboard.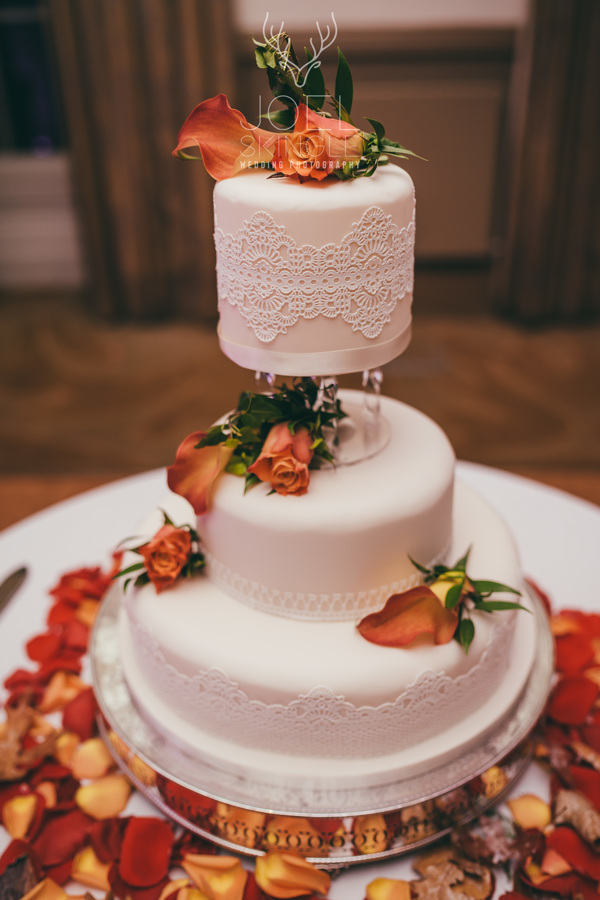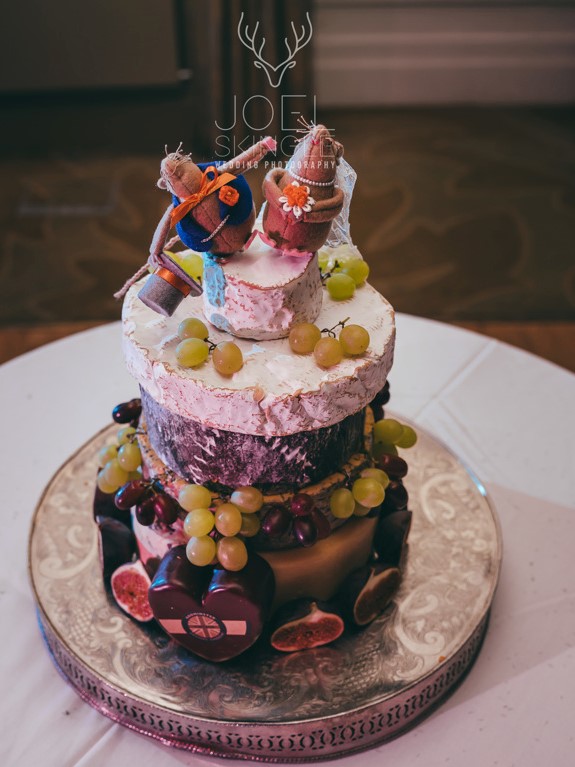 Minimoon:
Sicily and the Aeolian islands.
Groom's outfit:
Suit: Souster & Hicks, Woburn, Buckinghamshire
Tie & Pocket Square: Hawes & Curtis
Cufflinks: Bremont
Shoes: Barkers
Flowers:
For my bouquet I went for a loose, natural style. Daisy Chain in Leeds were my go-to florist whenever I was home, so I was delighted to ask them to do the flowers for the wedding, and they did an incredible job. I love flowers and go to a weekly night class to do floristry, so took a real interest in the colors and textures for the bouquets, buttonholes and venue flowers. The flowers were absolutely stunning. The Daisy Chain have a lot of experience in doing events at The Mansion, and having such a brilliant florist so close to our venue made them the perfect choice.
Colours:
Bold, vibrant, bright and warm – Reds, oranges, deep pink, gold, sunflower yellow and burgundy flowers: Mango Orange Calla lily, Mariyo rose, small sunflowers, hypericum, scabiosa and celocia.
Bride's bouquet. A loose, natural, handpicked style hand tied bouquet based around orange callas, approx 8″ wide. Simple ribbon binding with pearl pins.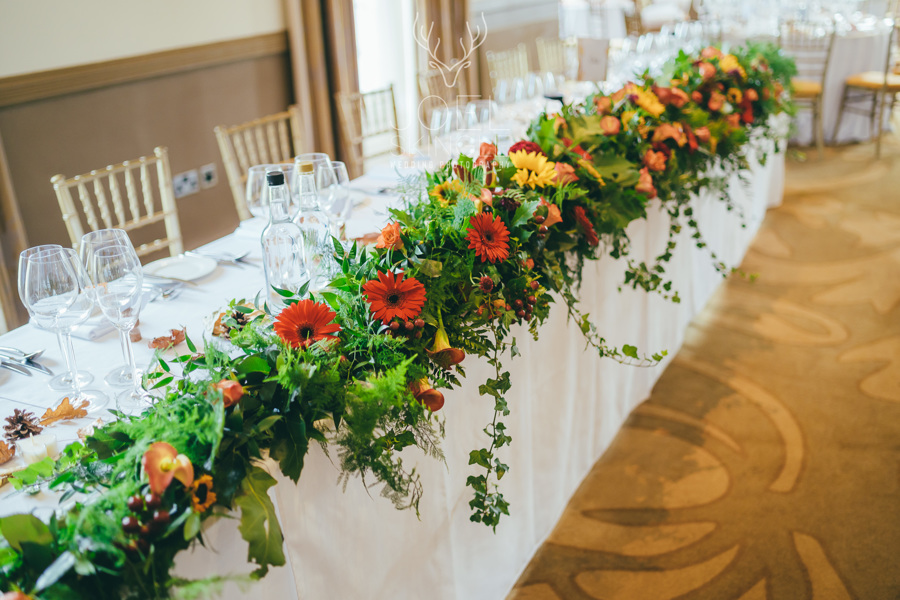 Menu:
We chose from Dine's Silk Menu
Canapés:
Tartlet of Truffle Infused Goat's Cheese (V) date and black olive tapenade
Handmade Mini Thai Fishcakes with sweet chilli dip
Individual Roule of Pressed Ham Hock, Yorkshire piccalilli
Starter:
Figs Baked with Truffled Honey, dolcelatte and parma ham
Mediterranean Vegetable Meze with Slow Roast Roasted Garlic Houmous. Grilled asparagus and peppers, cherry and sunblushed tomatoes, mini mozzarella (V)
Main:
Roast Sirloin of Beef with Bourguignon Confit. Wild mushrooms and button onions, olive oil and black pepper mash, buttered greens, rich red wine jus
Roasted Butternut Squash. Coconut and Cauliflower Massaman Curry (V, Ve)
Dessert:
Eton Mess. Layers of crumbled meringue, vanilla cream, raspberries soaked in framboise, freeze dried raspberries.
Coconut Rice Pudding, Bruleed with Candied Pineapple (V, Ve)
Wedding favours:
Were a boxed duo of delightful handmade chocolates made by Bentley of York
Hair and make-up:
The excellent Lauren Sally did an incredible job of hair and make-up for me, my Mum and bridesmaids. We all looked and felt amazing! Lauren is so talented and a lovely person too.
Transport:
A beautiful three-seater Beaufort tourer courtesy of the excellent Max's Wedding Cars and a Mercedes-Benz V-Class to shuttle the bridesmaids and wedding party.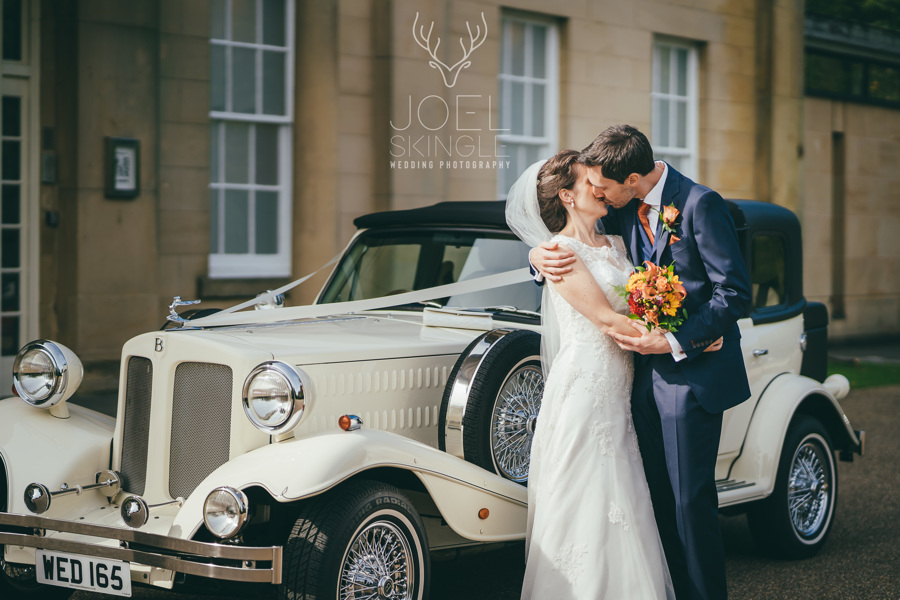 Venue Entertainment:
We had a dreamy sunny September afternoon, with the drinks reception on the terrace of The Mansion overlooking Roundhay Park, whilst Yorkshire based, New-Orleans inspired whilst Bare Brass Band were a surprise for the guests, and played two 45 minute sets. They were awesome!
The brilliant Dean at GoGo Disco, was our DJ for the evening and ensured and the dance floor was full all night. Dean also compered a hilarious game of Mr & Mrs for our guests as the evening food was served. Dean was the heart and soul of our wedding party!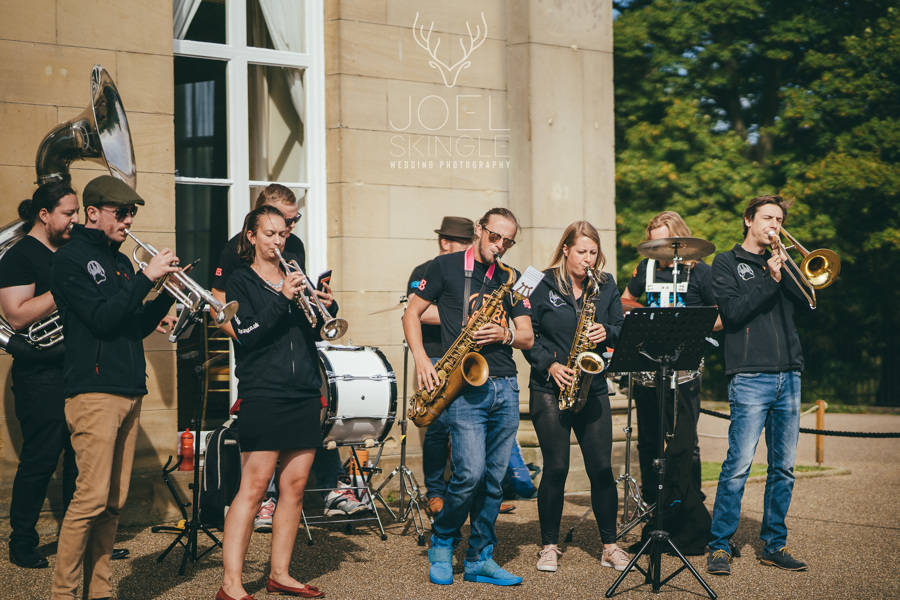 What was the most memorable part of your day?
We have so memorable bits of the day, but a few of highlights were:
Walking into the church and seeing a sea of faces of our loved ones; families and friends. Being able to greet our guests outside the church after the ceremony was really special.
Both of us stood on the terrace at The Mansion with our guests in the sun with beautiful blue skies and a glass of fizz in our hands whilst Bare Brass Band
Walking into the reception room when we were announced and seeing the incredible flowers by the Daisy Chain and our beautiful wedding cake.
Our evening reception: our fantastic and bubbly DJ Dean from GoGo Disco the conga line, and dancing with Andrew whilst our friends and family were all around us!
We were over the moon with how the day went, and feel really blessed with all of the fantastic suppliers that we used for our big day! They all were a dream to work with.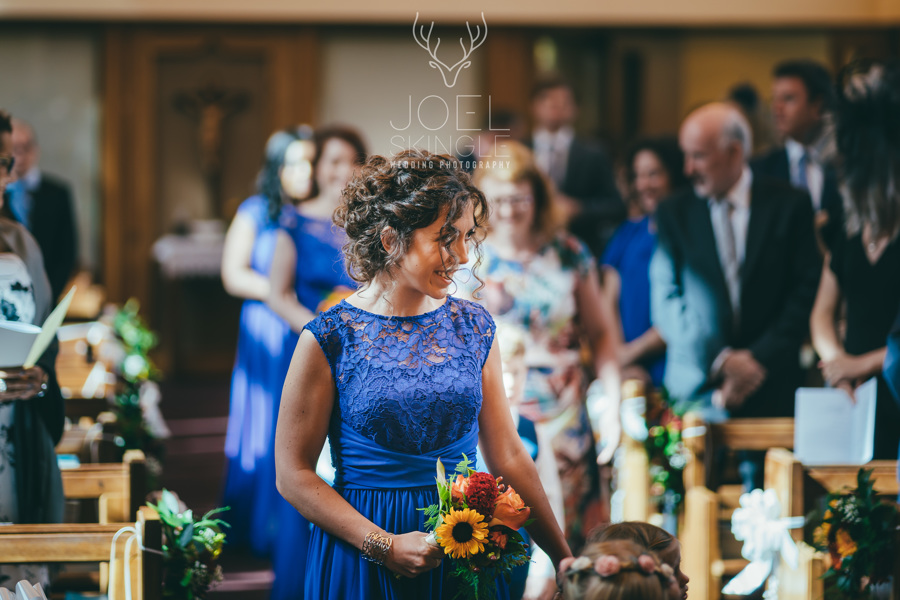 Would you recommend Dine to friends and family?
We wholeheartedly recommend them. Dine worked with us over the past eighteen months to create the most perfect and memorable wedding day, and we're delighted with the results. The day went without a hitch. We were really impressed with the professionalism and attention to detail at the venue. The Mansion itself is a stunning venue and very well maintained. Matt, Harriet and the team ensured a flawless day and a premium experience for our guests. The team working on the day for Harriet were polite, hardworking, friendly and extremely professional. The whole thing was an extremely slick and sophisticated operation.
A large percentage of our guests had dietary requirements, but all were accommodated- which I can tell you isn't something that all wedding venues are so good at. But that's another thing that makes Dine so special, along with their attention to detail and professionalism.
We're so glad that we entrusted the Dine team to take care of our wedding day. They did an outstanding job! Thank you to Harriet and all the Dine team involved!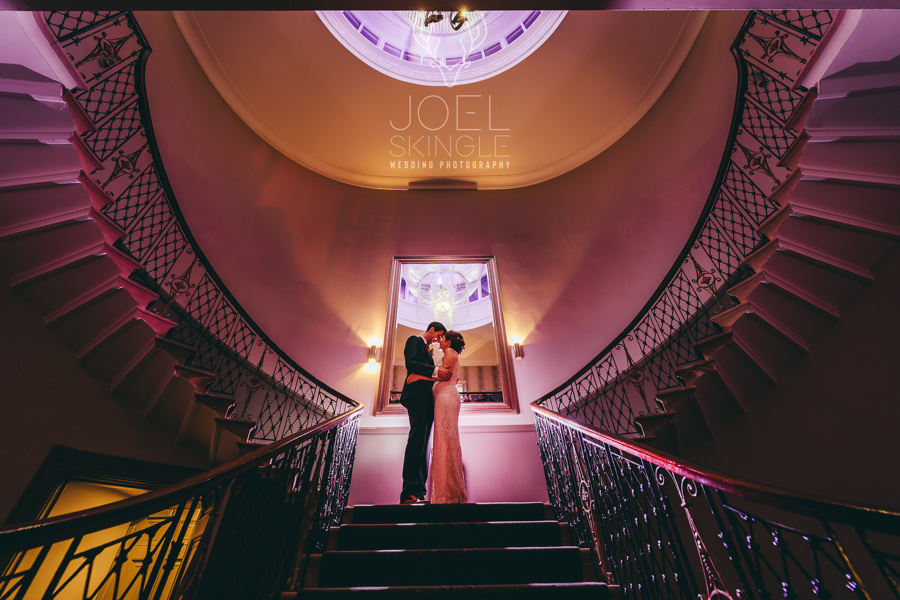 If you would like to know more information about holding your Wedding or Event at The Mansion, take a look at our venues page for more images and details.  Call now to speak with a Dine Event Manager and arrange a time to see this beautiful venue – 0345 450 4545