Take the pressure of planning the oh-so-perfect New Year's Eve away from your guests and instead invite them to the most magical NYE celebration of their life – your spectacular wedding day!
Although a less common date than other times of the year, New Year's Eve is truly a special time to wed, with people all over the world celebrating the coming of a new year and spirits already high amongst your guests.
Here's everything you need to know about planning your most memorable New Year's eve yet!
New Years Eve Wedding Guide
From invitations to when to start your ceremony, from menu to entertainment, find an array of New Year's Eve-esque options for creating your special wedding celebration.
NYE wedding invitations
When to send
First things first when planning a NYE wedding – lockdown the date with your guestlist!
With many people planning NYE breaks and events well in advance, you'll likely need to give at least a year's notice to ensure your nearest and dearest can make it.
We'd recommend sending your save the date cards out as early as possible to avoid disappointment, then sending your full invitations a few months afterwards. NYE hotels and travel options book up early, so you'll need to give your guests plenty of time to organise arrangements.
The good news? With such a memorable date it's unlikely any guests will forget and double book on your special day, so just let them know early on to keep things as stress free as possible.
Invitation design
Kick off the countdown to your special day with beautifully designed save the date and wedding invites that have a touch of NYE glamour.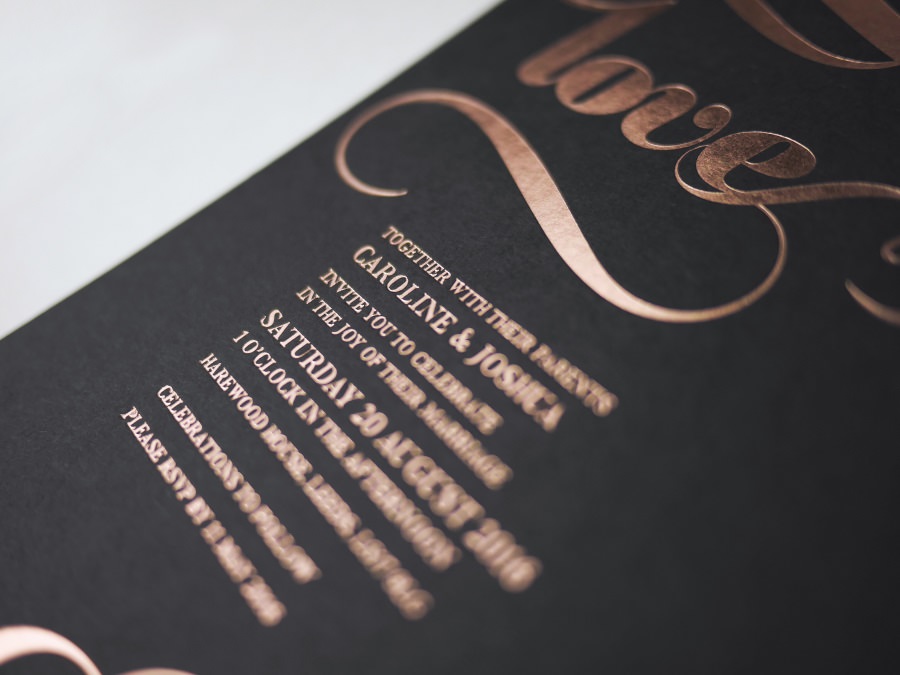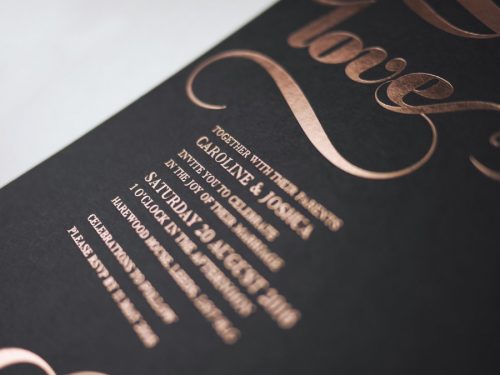 Elegant black & gold
A go-to style and modern classic, the black and gold invite design is the perfect ode to your NYE wedding.
All that glitters
Add some extra sparkle to your wedding invitation with glitter-filled pages designed to excite your guests and set the tone for a fabulous celebration. From sparklers to glittering champagne flutes – add some NYE inspired glamour to your announcements.
The golden ticket
Since this is going to be the most unique NYE event your guests have ever attended – why not make it extra special by creating Willy Wonka esque golden ticket invites to announce your big day?
Art Deco
Create glamorous Great Gatsby vibes on your invites with this classic 1920s style art deco theme.
Tick-Tock
The countdown is on for your big day, so a clock-themed invite is an ideal way to tie in the NYE celebration with your wedding nuptials.
Order of the day
So, what time should a New Year's Eve wedding start?
Some people opt to start their NYE wedding later than a typical wedding, since guests are expected to stay right up until the midnight countdown. This could mean saying your vows in the late afternoon rather than the usual lunchtime period.
Beware though, the later it gets the heavier the traffic will be as the rest of the country start to travel to their own New Year's Eve celebrations – so make sure you account for this in your timings to avoid late or stressed guests!
When it comes to the midnight countdown, make sure your venue staff take care of reminding you and organising the celebration, since you'll likely be too busy enjoying your special day to clock watch.
Your NYE wedding menu
Wondering what to serve your guests at a New Year's Eve wedding?
With your wedding likely to extend well into the early morning hours, it's advised you keep guests well-fed throughout, breaking up their dining experience into different sections. Here are some example recommendations.
NYE Canapes
If you're asking your guests to stay all afternoon until gone midnight, then keeping them topped up with canapes may be the smartest choice. From luxurious smoked salmon sliders to festive meatball bites – work with your event venue to create a delicious New Year's Eve inspired menu that can be served throughout the afternoon and evening.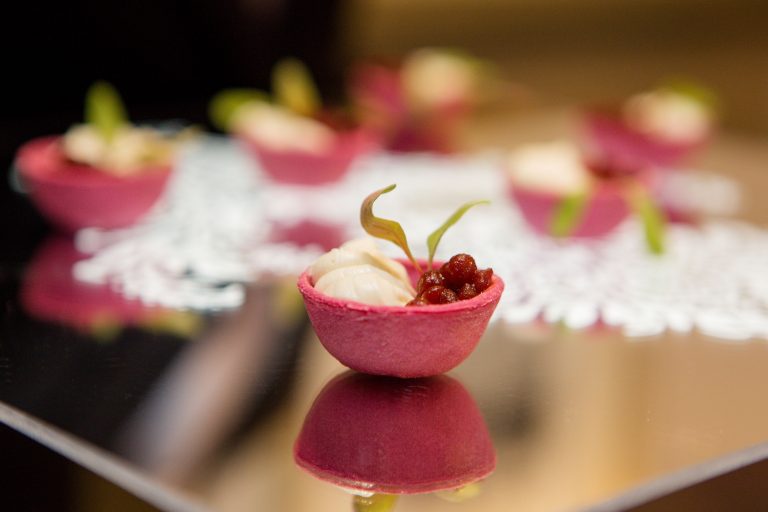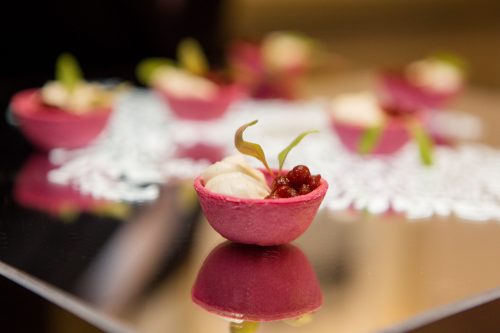 Festive buffet selection
Potentially one to bring out later in the evening after a full sit-down meal. Create a scrumptious festive buffet with an array of mouth-watering cheeses, meats, breads and other festive treats that guests can graze on well into the early hours.
Festive-inspired dessert stand
Think clock-themed cookies, chocolate profiteroles and lots of scrumptious baked treats with a touch of edible glitter. A NYE dessert stand really is the icing on the cake that your guests will adore.
NYE worthy wedding favours
The options for wedding favours really are endless, but when tied into a NYE theme it really makes it much easier to choose the right one for you. Here are some of our much-loved NYE wedding favour options.
Party poppers & party blowers
You'll likely want your guests to make some noise when the clock strikes 12, so make sure you give them everything they need to create an epic moment. We love the idea of traditional party poppers and gold party blowers.
Shot glasses or tumblers
Immortalise your wedding in the form of some classy glassware that your guests can take home and remember your wedding during future moments of celebration.
NYE resolutions
Gift your guests with ready-made NYE resolution ideas. Great fun to compare and check in with guests in the months to come.
Alternatively, create charming resolution jars where they can add their own and display all year round as a reminder.
Hangover Kits
If there's ever a time you're going to go hard, it's at a NYE wedding! Spare your guests from the morning after headache by creating mini hangover kits complete with Alka-Seltzers, mints, vitamins, water – and anything else you think will help!
Keep it classy by creating your own labels in your wedding colour theme.
Midnight snack box
Create adorable mini snack boxes with fancy popcorn and luxury sweets, but make it clear they're not to be opened until the clock strikes twelve!
Luxury hot chocolates
Since they've braved the cold winter weather to attend your wedding, give your guests luxury DIY hot chocolates which they can enjoy the following evening, whilst they reminisce on your glorious wedding day.
Wedding candles
Everyone loves a luxurious candle in winter, so take the opportunity to provide some beautifully scented candle gifts complete with your own custom wedding labels.
Where to host your NYE wedding
When it comes to choosing your perfect New Year's Eve wedding venue, we recommend opting for a private space away from busy city centres.
Even better if your venue has onsite accommodation and an abundance of parking – that way your guests have the option to make a full weekend of it and not worry about finding a space to park or travelling back in busy New Year's Eve traffic.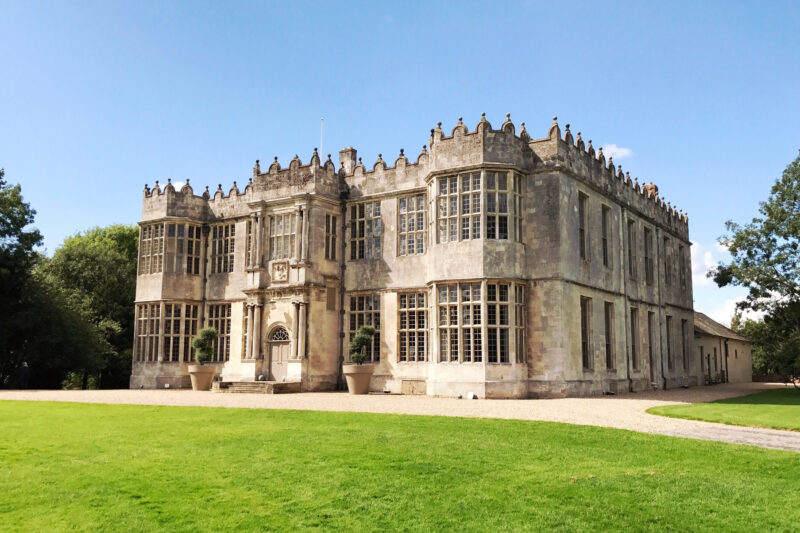 We love the epic Howsham Hall in North Yorkshire, a Jacobean listed country house with ultimate privacy, exclusive surroundings and beautiful rolling gardens. Just a short distance from York and Harrogate, the venue ticks all the boxes when it comes to a New Year's Eve wedding – with luxury onsite accommodation (the wedding suite is one of the largest in Europe!), panoramic views of the stunning countryside and exclusive access of the entire house and grounds meaning you can plan a truly spectacular day.
NYE wedding entertainment
Any New Year's Eve wedding needs to have a few surprises in store to entertain guests. Here are some of our favourite options guaranteed to induce delight!
Champagne tower
Why not kick off the evening part of your wedding by pouring the champagne tower and holding a follow up toast with your guests. Not only a great photo opportunity but also a fabulous way to begin the celebrations.
Sparkler photoshoot
Have your photographer stick around into the darker part of the evening for a sparkler photoshoot, where guests can write amourous words or their names and capture beautiful NYE worthy photos.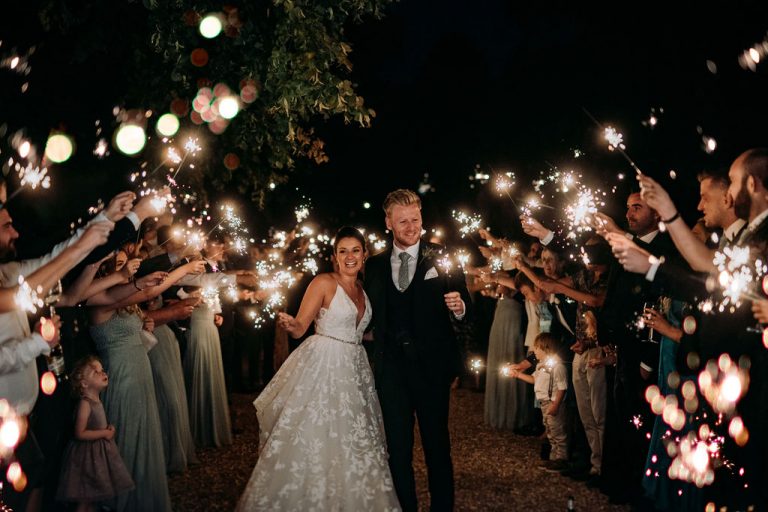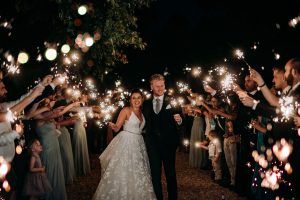 NYE balloon drop
If you're wondering how to celebrate the midnight moment with guests then a glamorous balloon drop could be just the thing to create a buzz as you toast in the new year (and a new life together!).
Spectacular firework display
It wouldn't be New Year's without fireworks! Have a magical display ready for when midnight hits, and even use it as your exit opportunity as you leave your guests to party into the early hours.
NYE themed photo or video booth
These days, most guests expect to find a photobooth at a wedding, but make yours extra special with NYE themed props and a Hollywood-esque background. From glamorous hats to feather boats, dated balloons to giant prosecco glasses – have some fun with your options and you'll get some truly fun photos to cherish!
You could even take it one step further and create a video photobooth, where guests share their favourite memories from the day and their intentions for the year ahead – a brilliant keepsake that you can share after the wedding.
Book your NYE wedding with Dine
We hope you found some inspiration for your New Year's Eve wedding guide.
If you're looking for an idyllic space to celebrate your vows on NYE, then view our beautiful venues today and get in touch with our expert events team – we'll help you curate your dream wedding and ensure that your guests have a NYE celebration like nothing they've experienced before.
Main Photo courtesy Kazooieloki Photography