The proposal – tell us the story…
Ben very annoyingly always joked that it would be 1 year before I meet his family, 2 years before we move in together and 5 years until we get married, which I was determined wasn't going to be the case. For our first date we went to the Victoria Quarter Shopping Affair and then dinner, which every year for our anniversary we went back to, to celebrate. But….. it was 1 year before I met his family, 2 years before we moved in together so for our 5 year anniversary we went back to the shopping affair event as we do every year in October.  Ben handed me my anniversary card over drinks in Harvey Nichols cocktail bar, which asked me to read out loud a letter he had written. The letter reminded me that it has been 1 year…2 years…and now we are at 5 years he had one question to ask me. 10 months later we got married at Howsham Hall!
Name of bride, age, occupation and where you live: Anecia Jagpal (now Hodds!) 32 (31 at the time!) Director of SEO for iProspect, a digital marketing agency and we live in Leeds.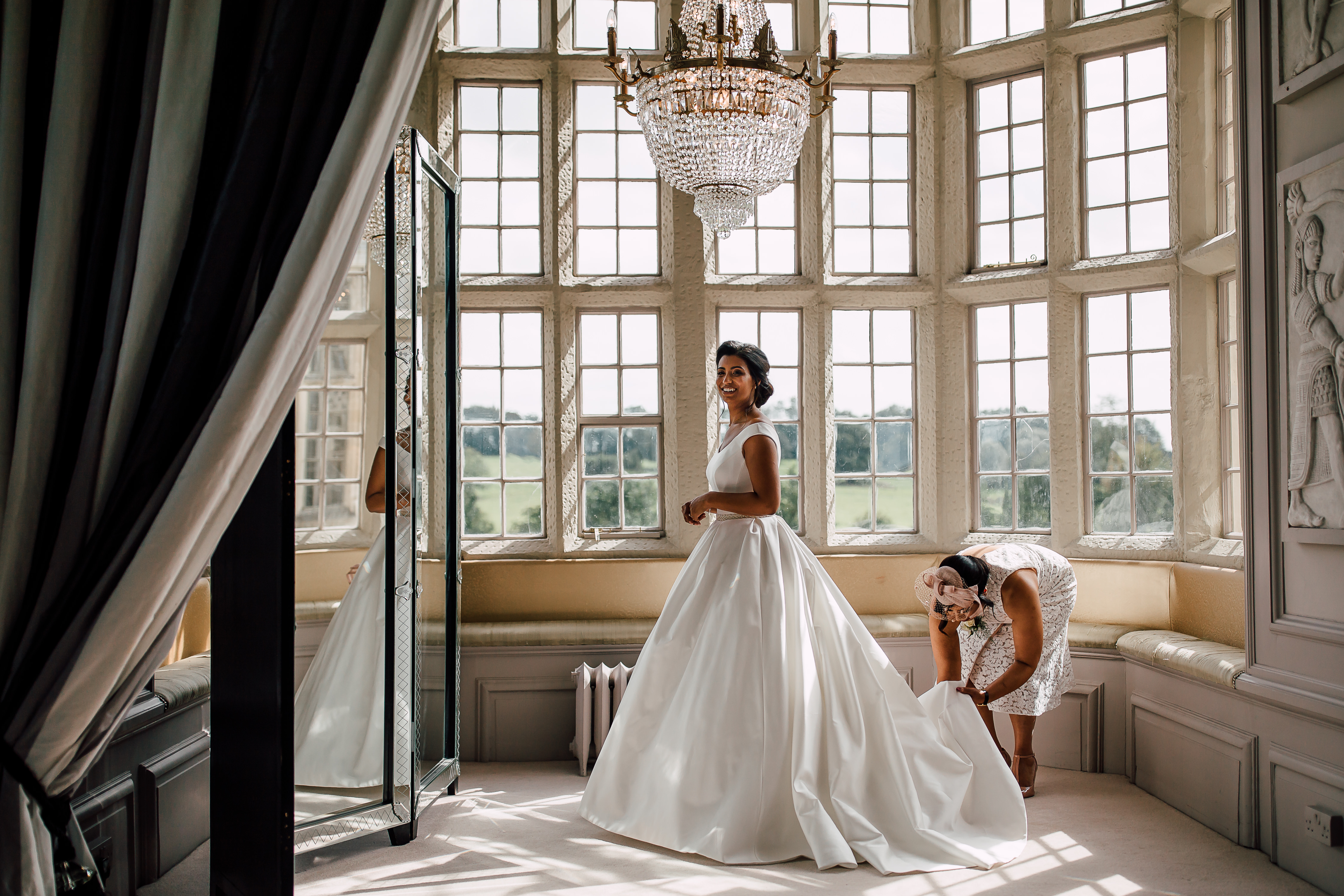 Name of groom, age, occupation and where he lives: Benjamin Hodds age 36, Managing Director of YourNest (lettings and property management).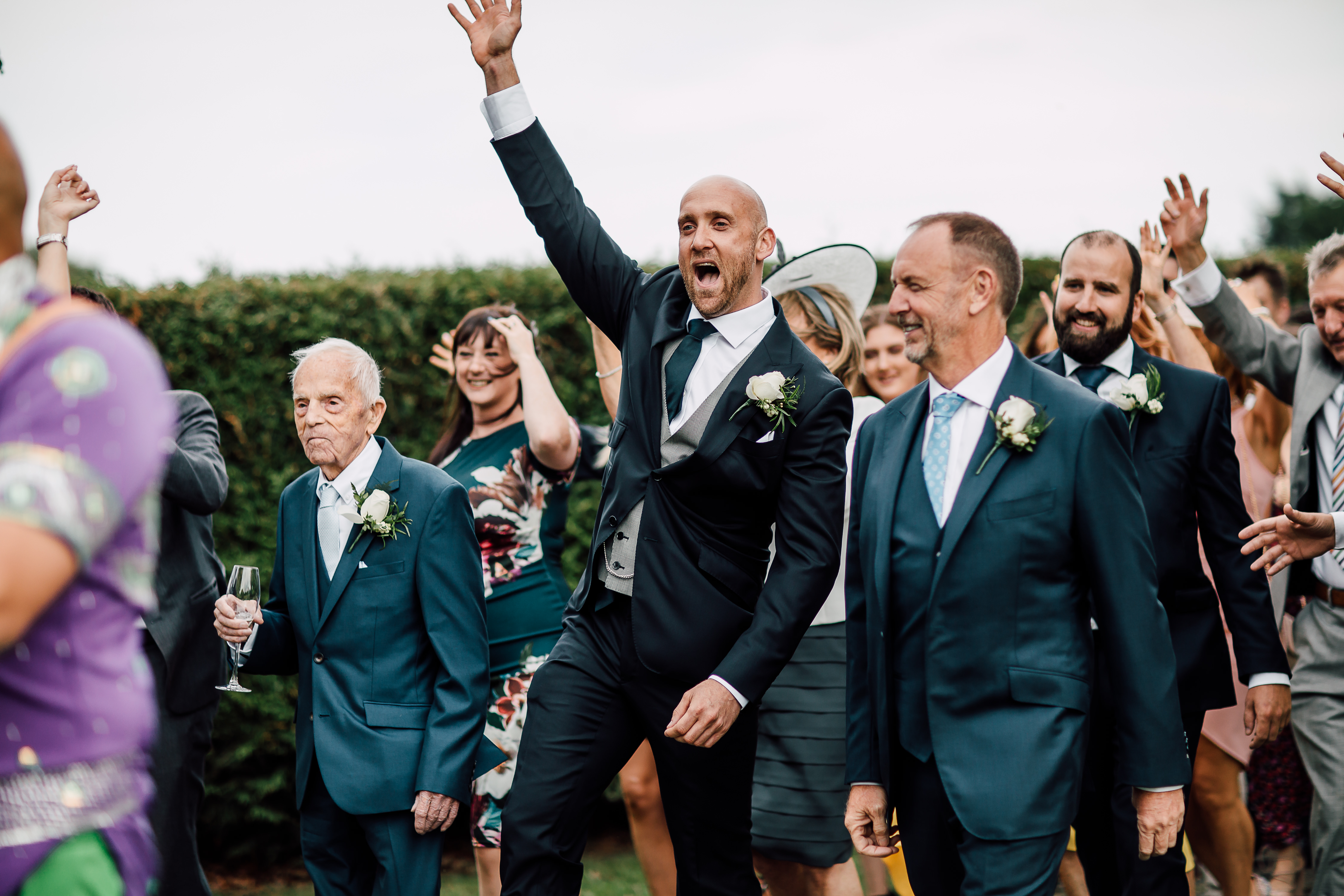 Date and location of wedding (and reception if different) why did you choose this location to get married? 30th August 2019,  but the wedding was over a full weekend with a second day for the Indian Party on Saturday 31st August. I was looking for a venue with character but something that was chic, elegant and classy but more importantly the venue had to be unique and not one of the many venues you see / hear about. The venue has a stunning approach and grounds, but the bridal lounge has the real wow factor. We had the second day in the grounds of my in-laws home in Kirkhamgate with 200 people to celebrate my Indian heritage.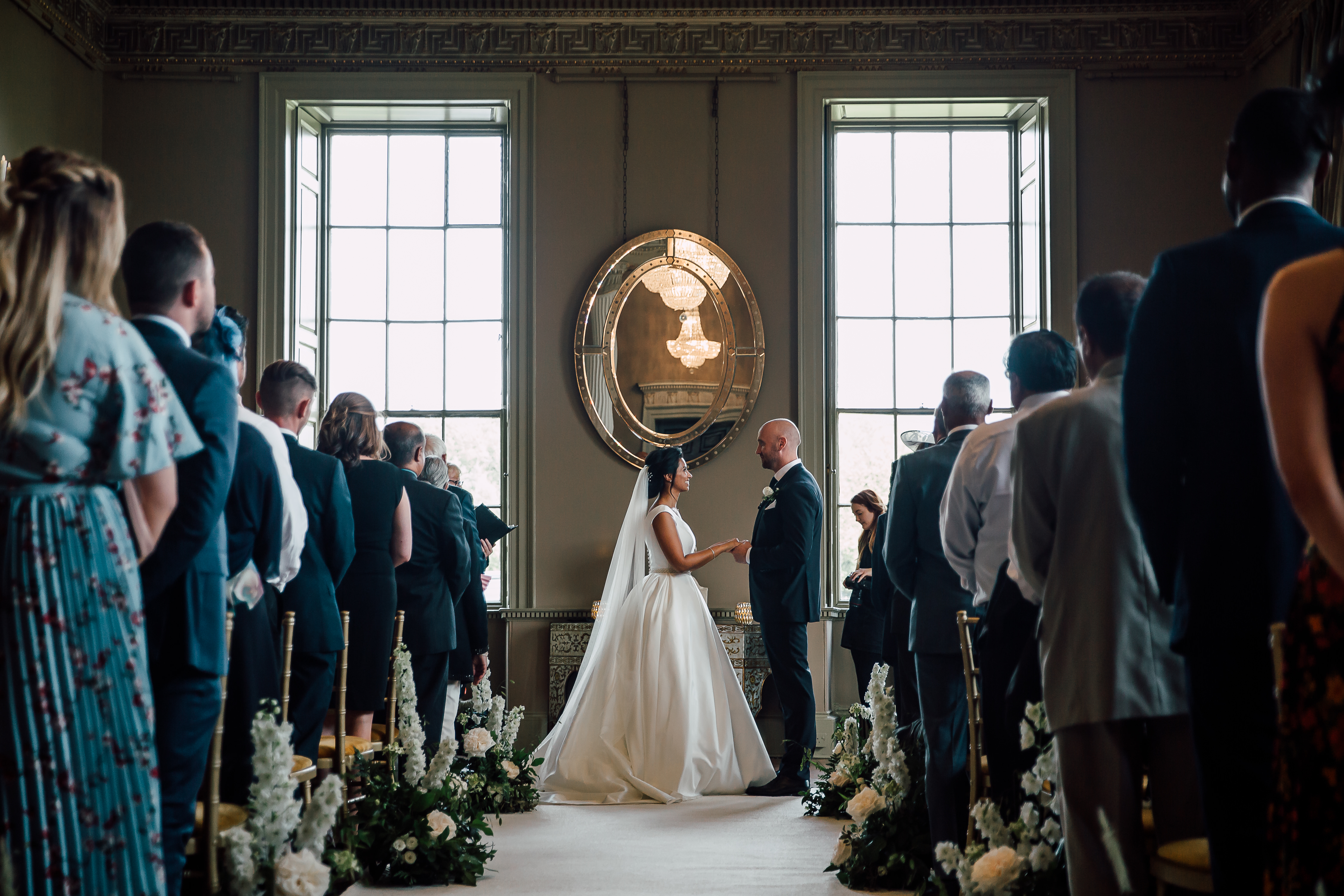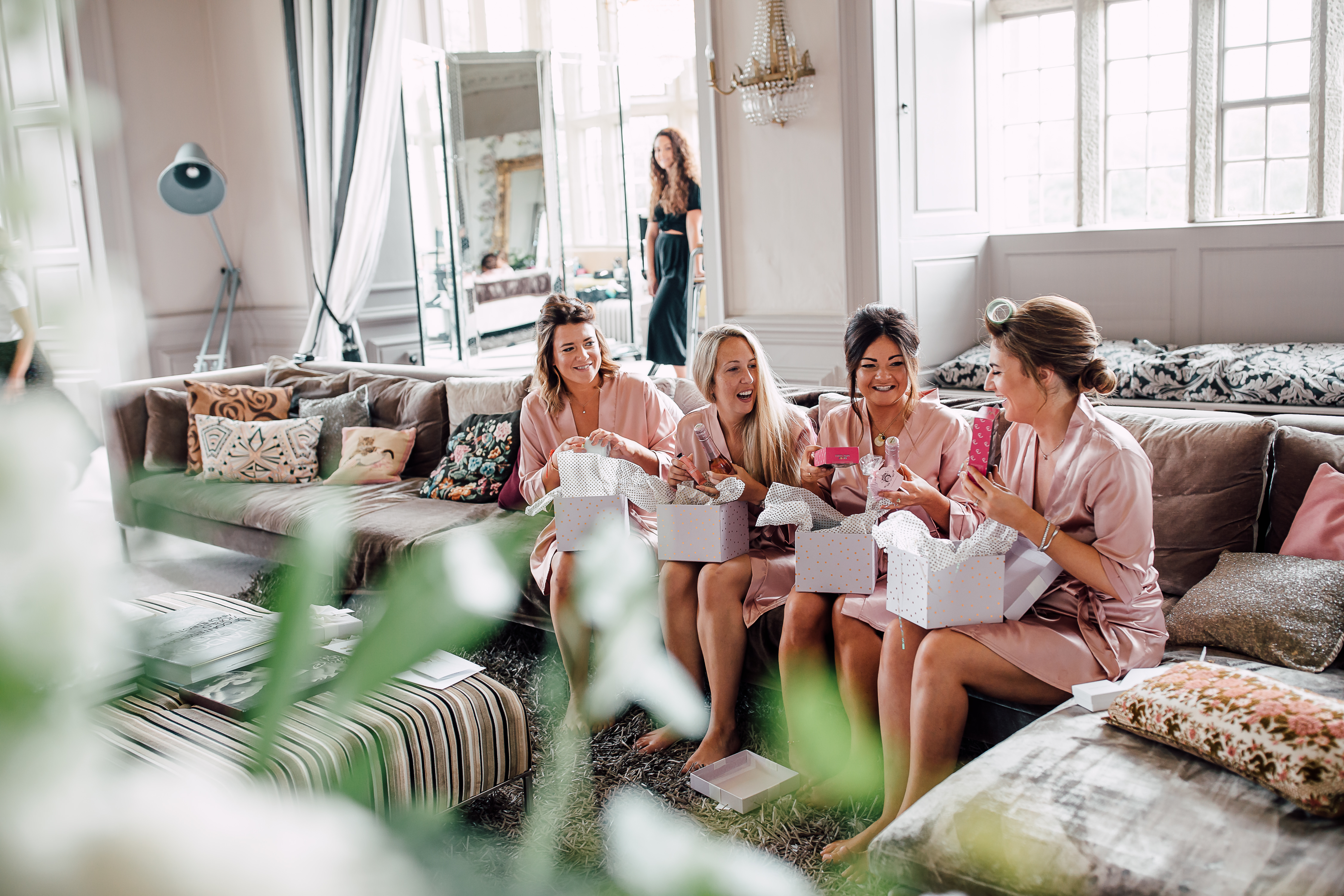 Key Suppliers
Hair and make-up: Both amazing stylists and would highly recommend we had Emily Hawkes for our hair and Amy George for makeup, really beautiful natural styles.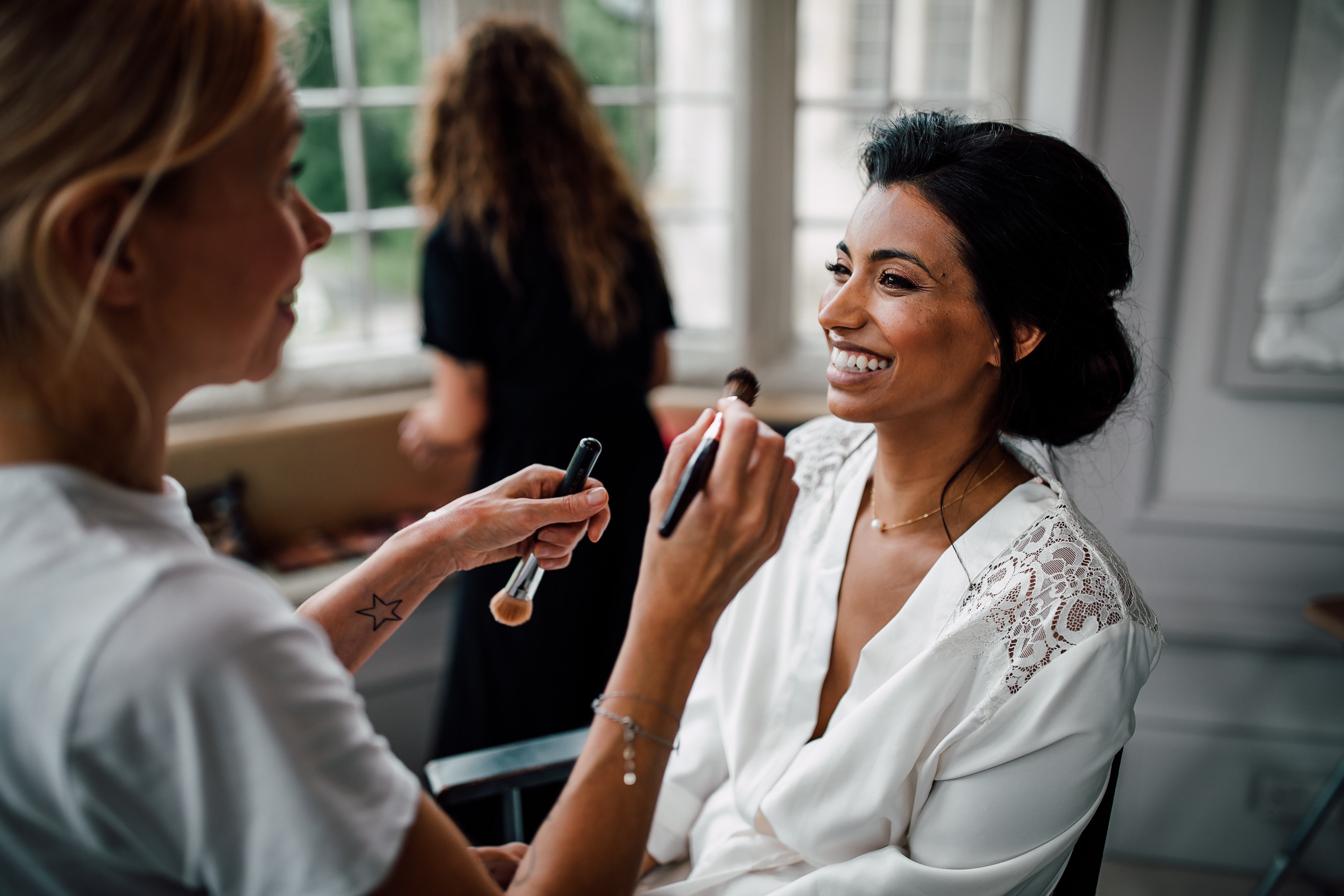 The dress – where was it from & what was it like? How many dresses did you try on?
I had a fab shopping day in Harrogate, with a stop off for lunch at The Ivy. The first stop was The Bridal Collection and I fell in love with the first dress I tried on, a beautiful Suzanne Neville gown. I tried on another five dresses and probably another 8 dresses at the other 2 boutiques we went too but found myself comparing all dresses to the very first dress. I also had a pre-arranged trip to New York in December so booked an appointment at Kleinfelds (the boutique made famous for the TV show 'Say yes to the dress') and tried on another 10 gowns but again still compared to the very first dress so headed straight back to The Bridal Collection on my return. The dress was a beautiful silk, classic boat neck with corsetry and full skirt, very elegant and simple in design with a stunning pearl belt.
My second outfit was from Mongas in London and was a stunning Manisha Malhotra style gown for the Indian party.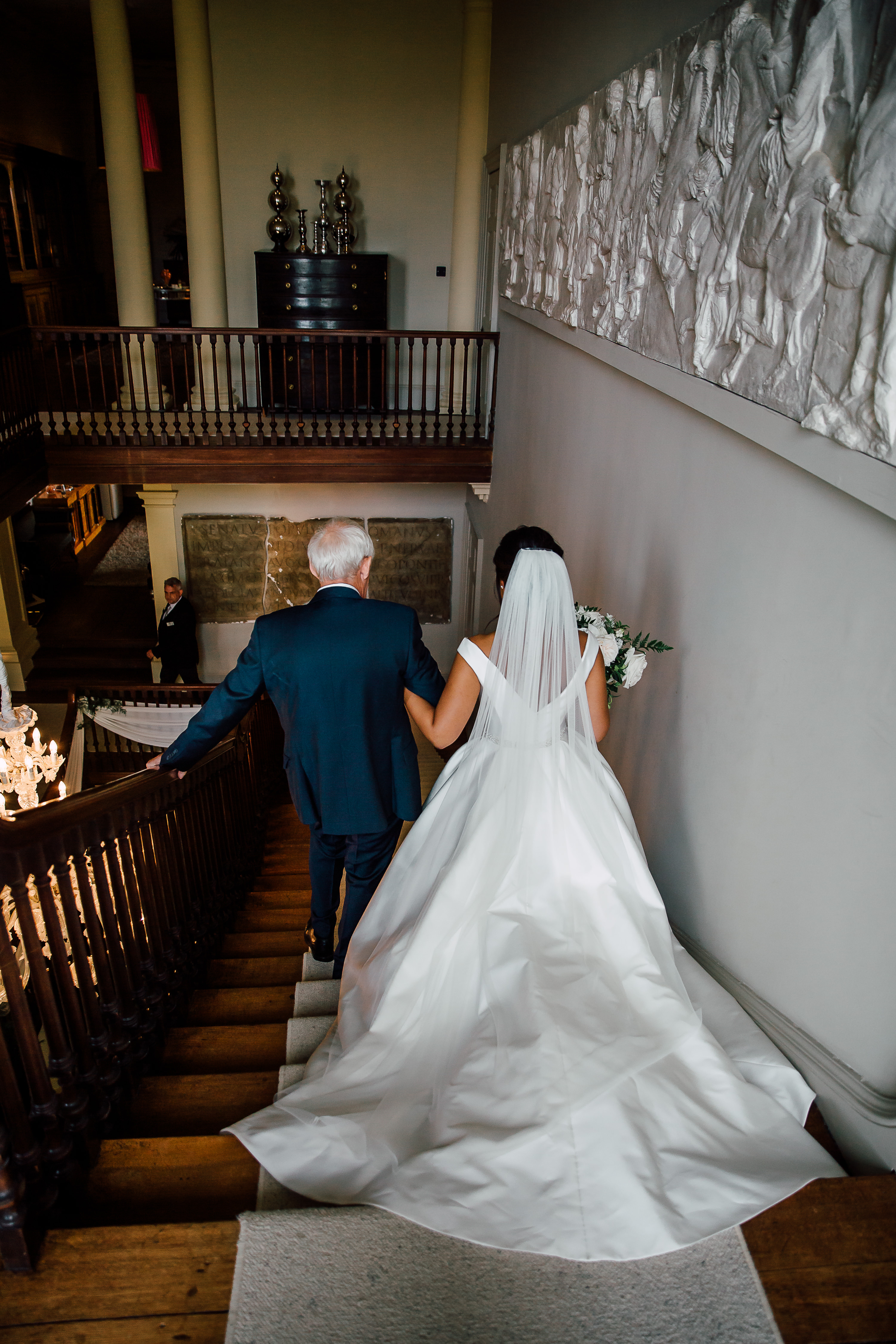 The ceremony – who conducted the ceremony and where did it take place? The ceremony was at Howsham Hall and was conducted by the very lovely registrar.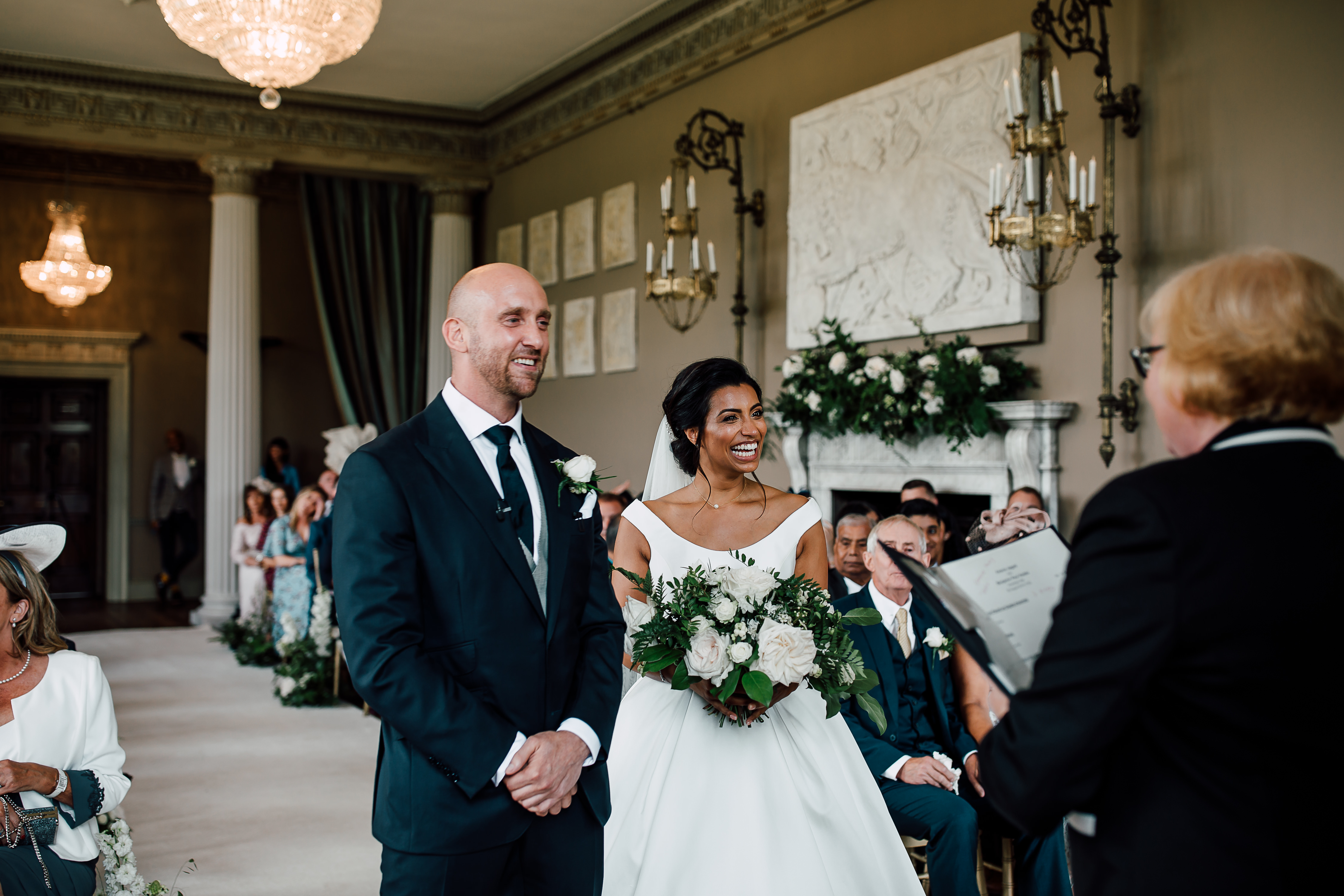 The cake – My very talented neighbour Shamsi Pearson made our lovely cake, we went for a simple three tier white double height cake with gold leaf top tier, again something very elegant to match in with my white and gold theme.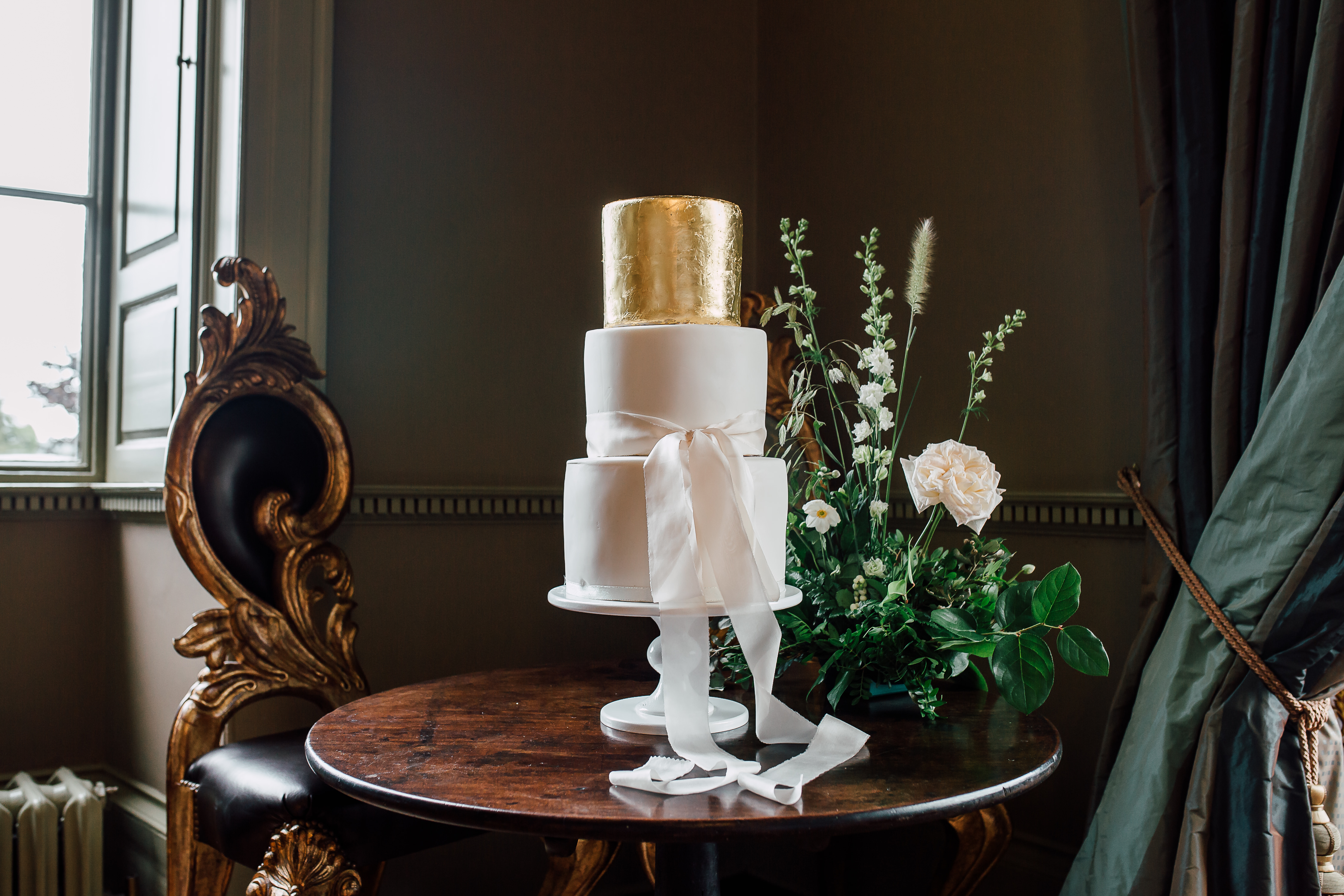 Groom's outfit: The incredible James at Michelsberg Tailors in Victoria Quarter, highly recommend him. He designed a bespoke three-piece navy suit with contrasting grey / black waistcoat. Accessorised with handmade Cheaney Shoes and a pocket watch.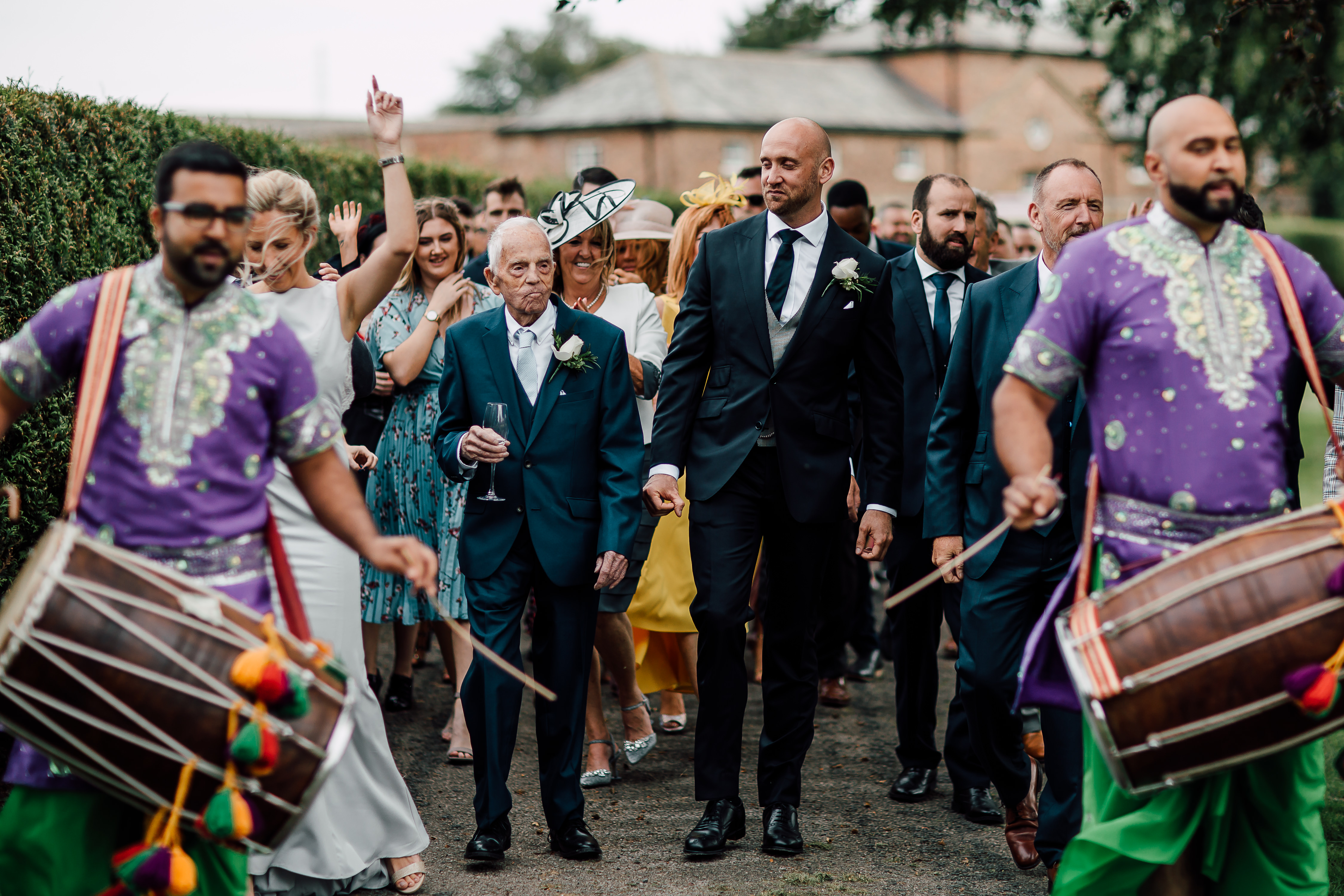 Flowers: The very talented and creative Cate at 180 Flowers in Mirfield, we went for natural botanic style arrangements with white peonies.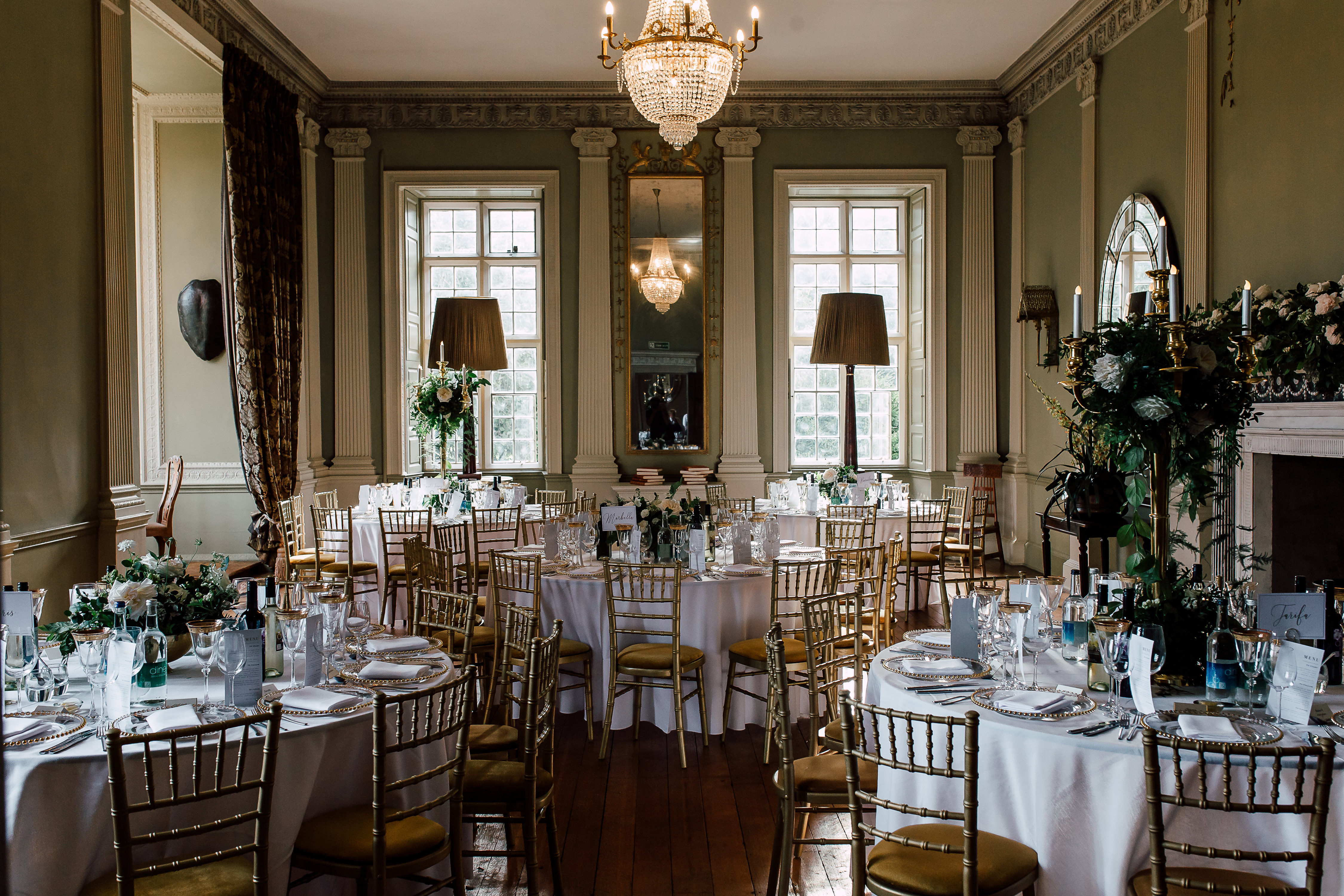 Wedding stylist: Colin and his team from Chilled Events managed the entire venue styling and wedding across both days, we really couldn't have done it without him.
Menu: Indian take on the canapés and Oak Roast Salmon to start, followed by Roast Sirloin of Beef and Sticky Toffee Pudding for dessert.
Entertainment: Jonny Ross Music were fab, we had a DJ, sax, violin and bongos for the reception and Lorna Adams on the piano for our ceremony and drinks reception.
Jimmi from Akoustix Drummers played the Dhol drums for the Milni at Howsham Hall and the Indian Party.
We walked into the day 2 wedding with a very dramatic Game of Thrones Drum entrance played by my wonderful cousins and the drummers joined for the party in the evening!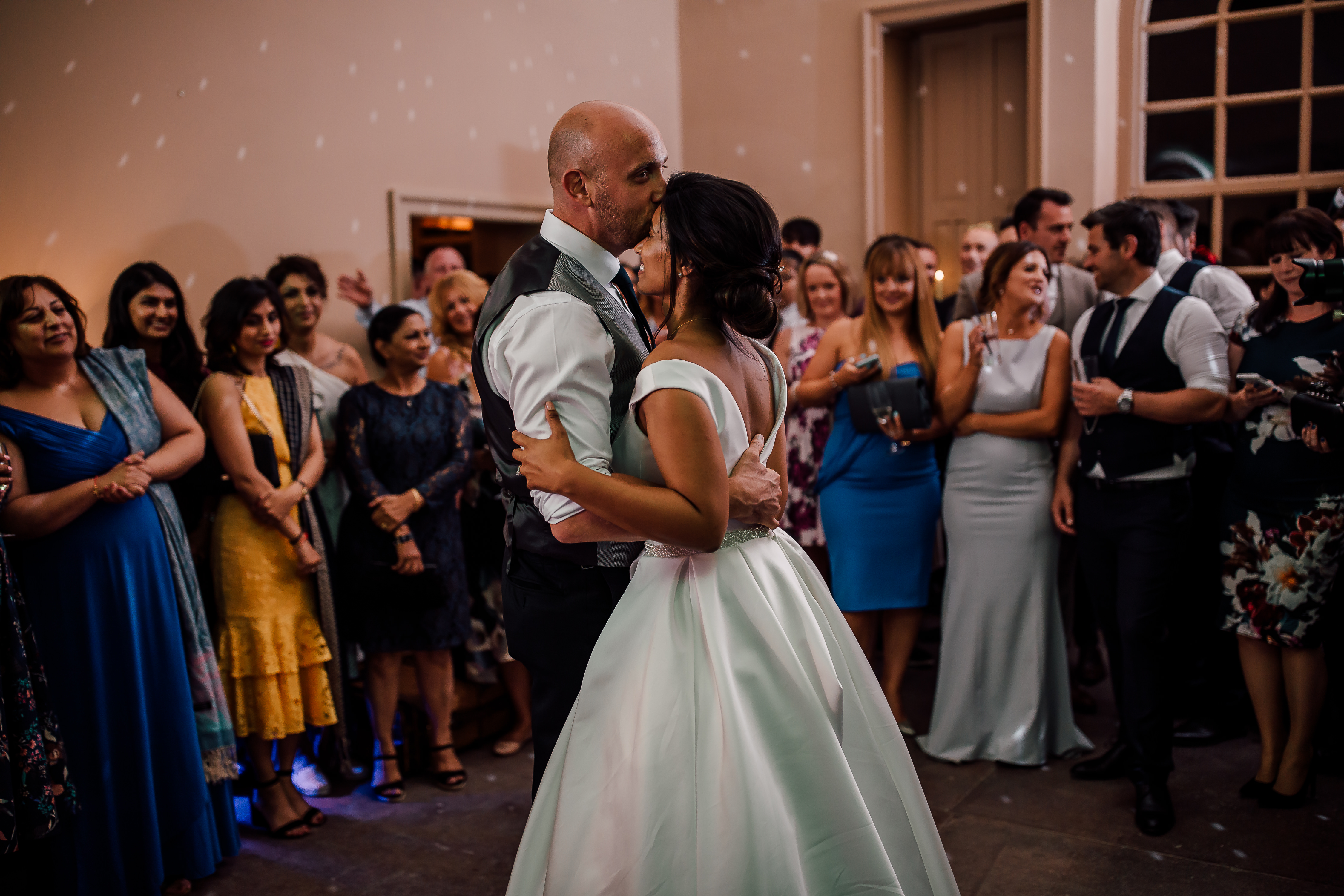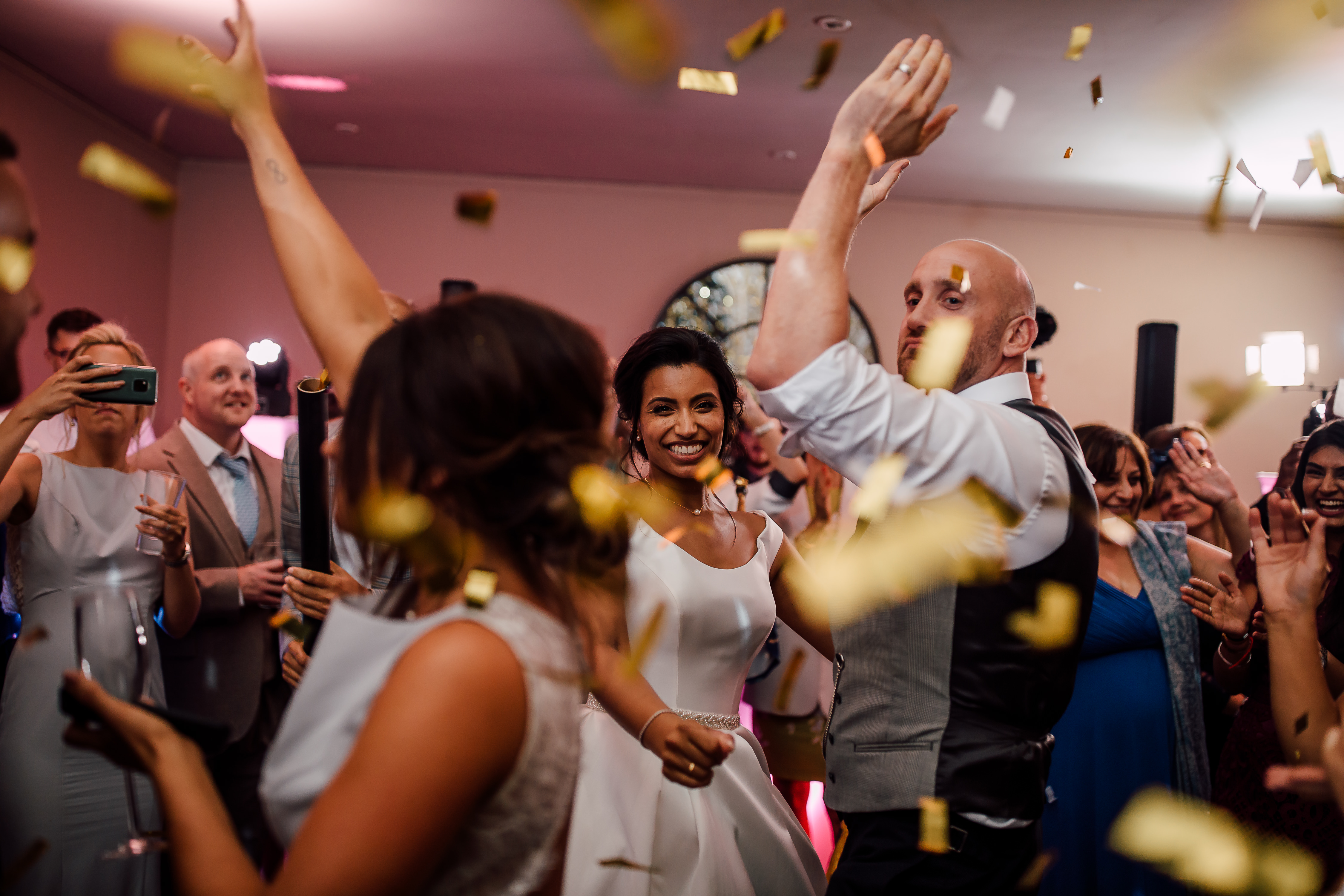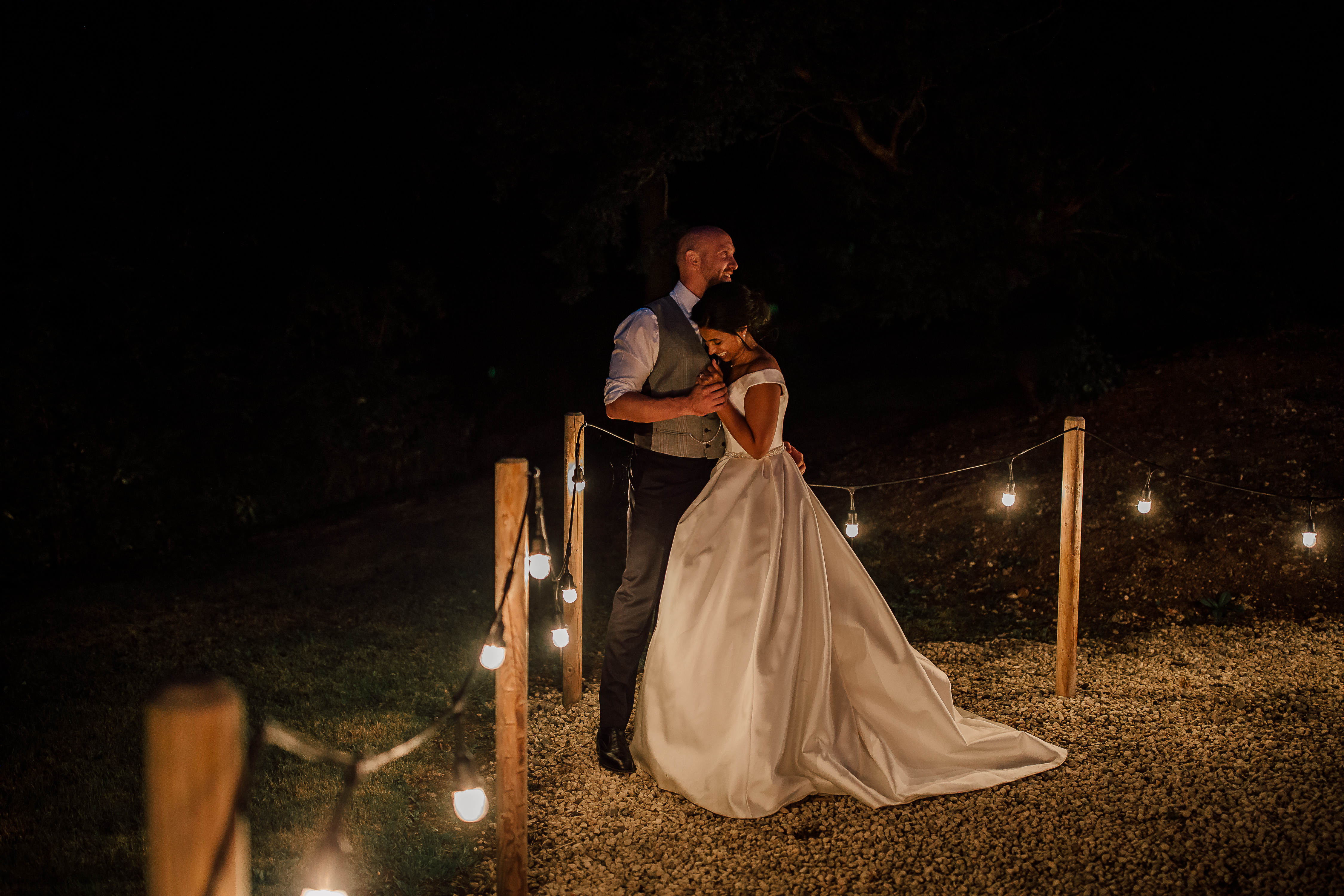 Photography: Sarah & Kurt from Sarah Beth Photo did a fantastic job of our photography and videography, both very lovely and made us feel at ease throughout the planning and on the day. Videographer was Sarah's partner Kurtis.
More details….
We used Leanne from Set The Scene for styling props, such as the gold charger plates and the post box at Howsham Hall.
Bridesmaids dresses: Jarlo
Groomsmen suits: Moss
Bride's shoes: Jimmy Choo
Mother of the bride / Mother of the Groom Make Up: Jade at The Makeup Works
Pizza van for evening reception: Dough Eyed
Donya Malik: Waliyha Beauty for day 2 bride make up
Marquee for Indian Party: Inspired Structures
We used Jinnah's restaurant for our delicious catering for The Indian Party on day 2.
Video was done by Kurt from Photo Sarah Beth
What was the most memorable part of your day?
I can't choose one… so I have a couple! I would say, getting ready in the incredible bridal suite, the space really made it relaxing and enjoyable as we had a late ceremony so plenty of time to really make use of the space we had. The beautiful window and chandelier were perfect for getting into my dress and taking a sneak peak on the Milni which is an Indian pre wedding event best described as the 'meeting of two families'.  This event took place outside Howsham Hall and sees the groom and his family / friends walk in procession with Indian drums to venue to be greeted by the bride's friends and family to break the ice (as traditionally they would never have met). Then I would also say the ceremony was another best bit as this was super emotional – my brother Rajan did the most beautiful reading which he wrote himself. And the the last one is the party in the evening – Jonny Ross Music did just a great we couldn't stop dancing it was over so quick – but we did have a day 2 to look forward to!
Honeymoon: Mauritius, once in a lifetime holiday. We booked with Turquoise Holidays, they were amazing and the trip was incredible. We stayed in a beautiful pool villa at Lakaz Chamarel for 2 nights, then a very unique bubble lodge on a private island at Ile Aux Cerfs and then 8 nights in the stunning One & Only for total relaxation.
If you would like to have a virtual tour of our beautiful venue with one of our team, to answer any questions you may have, email us to arrange your appointment: events@dine.co.uk