—

ALTERNATIVE WEDDING ENTERTAINMENT IDEAS

—
There are many forms of wedding day entertainment which people overlook in favour of the safe "DJ".
From the musical to the magical, find the entertainment style which excites you.
Looking into other methods could leave you with a more memorable wedding.
It doesn't have to prove more expensive.
If you asked a random person about who would provide entertainment at a wedding reception, there's a high likelihood that the words most often uttered back at you would be "DJ". It's just an easy option, you know exactly what you will get and you get a night of entertainment for somewhere around £300 – £800, so it doesn't cost the world.
But here's the thing: You aren't a random person, and this isn't a random wedding. So rather than taking the popular decision to book a DJ, why not take a walk on the wild side? There are so many options available to you today that could actually be exactly what you're looking for, if only you chose to look.
So make a wish, take a chance, make a change – and let's breakaway.
BREAKAWAY TO WHERE?
Well for this article we will break all of the entertainment down into three easy to navigate, hard to confuse categories. –
Complementary, where you'll add an extra dimension to an evening's entertainment.
The band, which gets its own category as a long standing popular rival to the traditional DJ.
Totally bonkers, where you take a risk in order to make an unforgettable impression.
With a little razzle and plenty of dazzle we will deliver an entertaining guide to entertainment, with all the expert advice you could hope for, this is Dine after all.
COMPLEMENTARY ENTERTAINMENT
Complementary entertainment can't entertain everybody all at once, but it can create special connections between strangers and while away the slow "middle" hours between wedding and wedding reception. More and more people are using this type of entertainment to make sure that their wedding, guests and all, stays in the party spirit.
MAGIC
What?
One size doesn't fit all when it comes to hiring a magician for your wedding – there are different roles which they can play. You can generally define a wedding magician as:
Close up/roaming. This is where the magician will move around the room, from group to group or table to table, systematically entertaining small groups and providing icebreakers to strangers around the room.
For children. If there are to be many children at your wedding, or if you have alternative entertainment booked for the adults, then a magician can be hired to perform for children. Obviously this is something which needs to be clarified at the time of booking!
On stage. For bigger venues, or for more focal sources of entertainment a magician can be booked to perform on stage. This will usually entail more equipment and maybe additional people so be aware of cost differences which may arise.
Why?
For somebody to provide laughs and bonding in abundance, a magician is the perfect choice. They can move from group to group, entertaining guests who will keep talking about it well into the night. Magicians can provide something uniquely amazing and memorable.
When
Undoubtedly the most popular time for a magician is during the photographs. Whilst you and your beau are busy being the centre of attention, the guests may need some entertainment to bridge the gap between "getting married" and "getting merry" – and a magician is perfect for this. A magician is also great for entertaining before the meal where potential strangers at a table may be feeling awkward. Magic allows them to find common ground with the table and is an easy starter for conversations.
Cost?
For a magician of decent quality you may find yourself paying around £450 for 2 hours of close up magic.
Psssst: Beware of suspiciously low charges from magicians. What seems too good to be true often is so if the price does seem low, make sure you thoroughly check the testimonials! And be sure to inform the magician what kind of act you would like them to perform.
INSTRUMENTALS
What?
Live instruments at a wedding can range from the lively to the romantic, and can span most instruments you can think of. Rather than meaning classical music however, you can find that most musicians can adapt their set to include modern classics alongside the more traditional music. For some ideas, the most popular music instrumental types at weddings:
String. Violin, Harp, Cello, Mandolin, Guitar.
Percussion. Bongos, Steel Pans.
Keyboards. Piano, Electronic Keyboard.
Our friends at High Row Music can source all of these and more!
Why?
Live music can beautifully set the tone of your wedding. From searing duelling pianos, to mellow and romantic harp music, there is an instrument for all moods. This extremely adaptable music style can entertain any crowd, with current classics for the younger generation being played in a style which is more palatable to the older.
Also think about having somebody use your favourite instrument – or better still, combine two and bring a classical twist to modern classics
. The realisation that your favourite song is being played in a way you have never before heard can be a thrill that stays with you long after a wedding.
When?
During the wedding breakfast. During the ceremony. During the photographs. During the meal. During the evening entertainment.
Live music is so adaptable that the right sound can be found for any part of the wedding, with harpists, pianos and even steel bands being responsible for twists on a bride's entrance music!
Cost?
It depends on the instrument you will be using, but you should budget in the region of £700 for around 3 hours of live music.
Psssst: Think about your preferred songs well in advance, you may not be able to plan an entire set but you will certainly be able to request certain songs – just make sure you give the musician enough time to learn them! And don't forget the venue – the right acoustics get the right results -as Fiona Hosford, professional harpist, says "some venues don't have the best acoustics… firm ground and 'kind' temperature are vital".
CARICATURES
What?
Caricatures are drawings of people in which elements of them are exaggerated for comedic effect. They can be crude and most definitely poke fun so keep that in mind when unleashing upon your audience.
Why?
Laughs, ribbings and conversation starters are all frequently provided by a professional caricaturist. These fun drawing mickey takers can provide guests and the bride and groom with fun mementos of the wedding, bringing with it fond and lasting memories.
When?
A caricaturist is usually employed in the early evening for just before/after the meal, but can also provide an excellent 'bridge' between the ceremony and reception. Usually the times when a caricaturist aren't used is during the meals and ceremonies.
Cost?
A good quality caricaturist can be found for around £400 for 2 hours or so. This may not include travel so make sure you check when booking.
Psssst: Consult with your caricaturist before bookings about how many caricatures they can usually get through in the allocated time. For instance some people prefer quantity over quality, whilst some would rather have far fewer caricatures but ensuring that the quality is good.
CASINO
What?
Specialist casino equipment can be rented out (along with the croupiers!) to be used at a wedding. This can be items such as the:
Blackjack table.
Craps table.
Poker table.
Roulette table.
Slot machines.
The equipment is usually of good quality (though check the reviews!).
Why?
Renting casino games for your wedding can provide something for couples and friends to do together, and can get people who may feel embarrassed dancing into the spirit. Casino games could also promote a form of camaraderie between strangers winning and losing together, giving your wedding the continuous entertaining flow you might require.
When?
The time of day where Casino games are usually employed is the night-time party.
Cost?
Depending on the size of your wedding and the amount of equipment you require prices can vary wildly. They can start at £375 for a couple of games through to £1400 for games which can entertain a large group of people.
Psssst: Always make sure you know exactly what you are getting for your money. Ideally you want to know whether croupiers are included, the amount of time you have the equipment for, do you need to set it up/take it down and finally, what cover against damage you will have (drinks can be spilled!)
DANCING
What?
Organised dancing such as Ceilidh (pronounced 'kay-lee') is ever increasing in popularity at weddings. Put simply a Ceilidh is:
Ceilidh – Literally speaking a Ceilidh is 'a visit', though it also derives from the Gaelic words for 'party' and 'gathering'. There are Irish, Scottish and English variations and all are accompanied by traditional music and set dance steps.
Why?
Because it's bundles of fun! The set steps cut out all of the embarrassment and nervousness some people feel with usual dancing. Instead the entire group can have a fun and raucous time which involves the whole group, leaving nobody feeling left out!
When
It is very much during the night-time party when Ceilidh could be most effective.
Cost?
For Ceilidh which includes the band and the dancers to help, you can expect to pay around £800 upwards. For this you usually get between 1 ½ to 2 hours of music and dancing – more than enough to wear out the biggest fan!
Psssst: Ceilidh is an activity which can involve the entire wedding group, and includes a band so make sure you have the space! When booking let them know the size of your space to make sure that nobody is left out on the night!
THE BAND
What?
Ever popular at weddings are the band, bringing with them their own musical styles, energy and a certain je ne sais quoi. It's really down to your personal preference what kind of band you have, and what it is they play. Some favourite band types are:
Duelling pianos. These kind of bands provide musical entertainment with a variety of instruments rather than just the standard band. Focussed firmly on entertainment.
Cover bands. The most popular kind of wedding band, high quality cover bands are in high demand in the UK and come in all shapes and sizes. With these bands you can usually request songs prior to your wedding.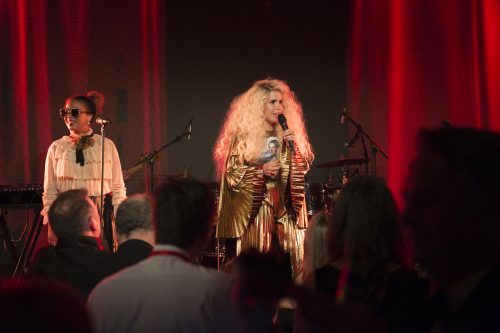 There's also the option of using a musical agency, like our friends at High Row Music, who can source your musical entertainment from a wide-ranging roster of professional artists and bands of all genres. They've got everything from contemporary pop, urban, hip hop and rock, to jazz, swing, opera, and vintage rock'n'roll – and even harpists, cellists and singing waiters. Whatever your taste, High Row have probably got the musicians to suit!
Why?
Bands are highly adaptable to your requirements, giving you the excitement of hearing your favourite songs played live, and many people are of the opinion that music sounds better live. Not only that but as Matt Jones from Dine points out "in our experience people who may not usually dance are more likely to dance when a band is involved" Also bands, far more-so than DJs, can adapt to their audience, often able to change the pace and/or the set list should the audience require it – meaning everybody keeps having a good time! Do try and be sure to listen to the band's promotional material before booking – as Dan Stapleton, singer with award winning Vibetown says, "if a band sound good and look good, chanced are they ARE that good…good bands invest in their business and bad bands don't"
Where?
The evening party is where you will make the most use of a band, though there are times when they have been used during the meal and even the ceremony! It depends on your personality and the style of the band.
Cost?
Prices for live bands can vary wildly, with the very best being in the thousands. You should be able to get a band of good quality to play at your wedding for around £1100. Though as always make sure you check reviews.
Psssst: When booking a band, try and book them directly. This lets you avoid the agency fees and often save yourself £100s. As Dan says, "by booking direct you save £200+ in agency fees… it's a no brainer!" And as a bonus tip Kieran Stokes from Rock My Reception gives us "Do your research and make an informed choice when choosing musicians, after all they are the people who are going to be supplying the soundtrack to the most important day of your life!" – Keep that in mind.
TOTALLY BONKERS;
CIRCUS PERFORMERS
What?
The ultimate is weird and wacky, circus performers can add the shock factor to any wedding. Rather than having a real "Big Top" built at your wedding, the usual route taken by the bride and groom is to choose a few different acts, such as:
Fire breathing!
Sword swallowing.
Living statues.
Mime artists.
Jugglers.
Illusionists.
These kind of acts are usually perfect for entertaining groups of people without being hugely over-intrusive.
Why?
It definitely isn't for everybody, but for the right bride and groom these acts could make the weddings of a lifetime. Image looking one way and your guests are being entertained by fire breathers and then in the other direction you have a walkway of human statues. It is something which can thrill and entertain adults and children alike. It provides endless talking points at a wedding and is something which will be remembered for years to come.
Cost?
It isn't cheap, with each act usually costing anywhere between £300 and £600.
Psssst: When you are thinking of using circus performers at a wedding, always consider your venue. Some may have policies against some of the activities. Also take into account the time of year, as times of inclement weather could make it difficult for some of these acts.
Petting Zoo
What?
It's cool right, and not just for the children!? Imagine during the cocktails you have an array of exotic animals brought out to pet and hold! It isn't something for the faint hearted, but then that's why it's in the bonkers section! You could have your hands on:
Colourful lizards.
Tarantulas.
Meerkats.
Chinchillas.
And many other wild animals that you wouldn't encounter everyday!
Why?
There are times at a wedding when the atmosphere dips, especially during the middle of the day, which is where something different such as a petting zoo could be a perfect way of keeping the atmosphere going, especially if there are irritated children present.
When?
Although it is feasible to have a petting zoo going on into the evening, the best time would be in the middle of the day – after the wedding but before the reception.
Cost?
For 2 hours prices start from around £300.
Psssst: Think about a potential change of clothing or clothing to wear over the top of your wedding clothes when handling the animals. You will be able to obtain advice from the place where you book your animals!
BRING THE PARTY, BUT BE YOURSELF
We have been through many entertainment types, some you might not have even heard of. I hope that you find them interesting and they at least turn you onto the possibilities there are for you and your wedding. Ultimately, all that matters is that you have entertainment which suits you, no matter if that is something really traditional such as a DJ or one of the more alternative methods spoken about here.
If you need any more advice in the planning of your wedding, feel free to give the experts at Dine a call or email to discuss more. Or if you prefer, take a look at some of the beautiful venues we exclusively manage!