Introductions
Jinni Bennett, 46 year old housewife and Jonathan Bennett also 46, works as Head of Chassis for an international Motorcycle company, married at Howsham Hall on 26th June 2019.
This special couple wanted an intimate wedding for 'just' the two of them – a first for Dine and for wedding photographer Andrew Crozier who said:
"I've never photographed a wedding as small as Jinni and Jonathan's and when they initially contacted me, I was very excited but also a little bit nervous!  All those nerves melted away when I met them at a pre-wedding consultation and they told me their story and what motivated them to keep their nuptials as intimate as it was to be.
Howsham Hall was simply beautiful on the day. Perfectly presented and as ready as you would imagine for a full scale wedding.  Craig and his colleagues looked after Jinni and Jonathan like royalty. The atmosphere was very relaxed and this made for such a lovely environment for shooting images around the grounds and the property.  The Hall is such a joy for us photographers, every turn reveals more inspiration. I could have kept shooting all day!  All in all, this very special, very intimate wedding was a total joy to be involved with and even spurred me on to think very hard about my own wedding plans."
Planning a Wedding for Two
Jinni – "Craig put me in touch with an amazing photographer – Andrew Crozier from Insight Photography.  I have a strong dislike for being in front of a camera, however Andrew soon made it so much fun and with his encouragement we were soon posing like the best of them! Howsham Hall is so photogenic, its impossible to take a bad photo.
To top it all, Craig also gave me the contact details of Ella Warner a Hair and Beauty specialist. Not only did she work miracles with the hair and makeup, she kept me calm and comfortable on my big day, helped me into my dress and took great care of all the little details so that I felt perfect. Ella is so genuine and caring, she soon became an important part of the day and a friend."
Many of our couples appreciate the relationships we have with suppliers. Jinny and Jonathan certainly made use of our recommendations and appreciated the value added on their big day.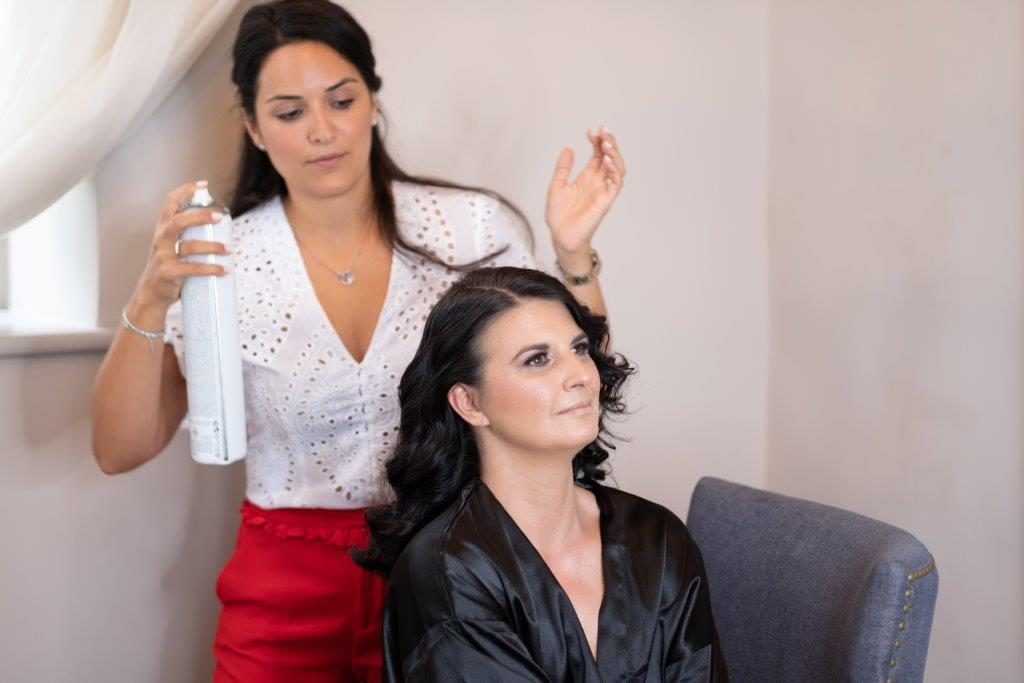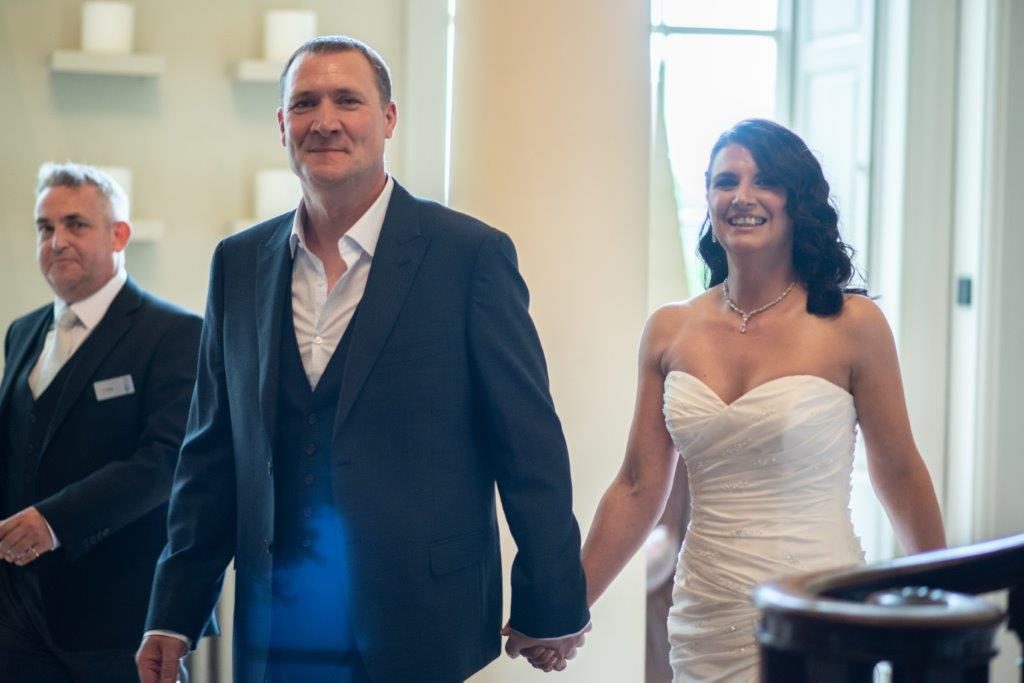 The couple chose Howsham Hall because it is the most luxurious yet intimate place and close to where they first met in September 1991. Jinni and Jonathan were not frightened to break tradition to achieve what was important to them for their wedding. Jinni said she didn't have flowers because she felt that the venue decor was  amazing enough not to warrant further decoration.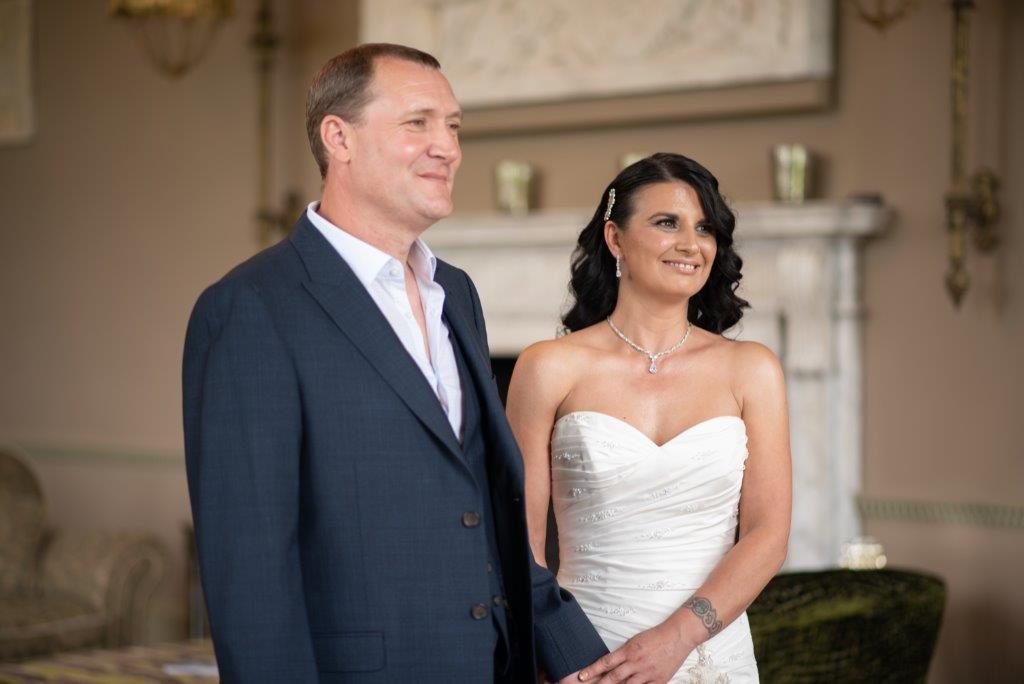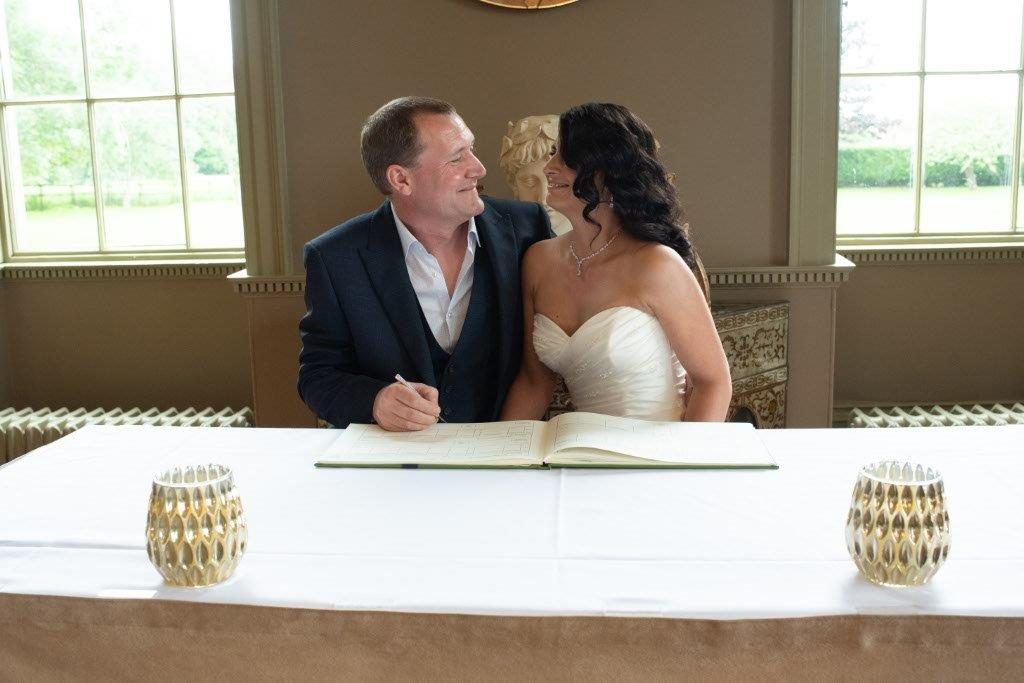 "We wanted a really intimate wedding just for the two of us. Craig from Dine helped us with all the details, he and his colleague Natalie even agreed to be our witnesses."
When asked about the wedding dress, Jinni said – "The first wedding dress was quite pretty, but when I  went to have it altered by a very talented woman called Sophie Bates, who owns Sew and Go in Swadlincote, she knew straight away that I wasn't comfortable in it. Not because it needed altering, but because it wasn't 'the one'. A few weeks later I found another dress, which she customised and as soon as I put it on, I knew what she meant by 'the one'."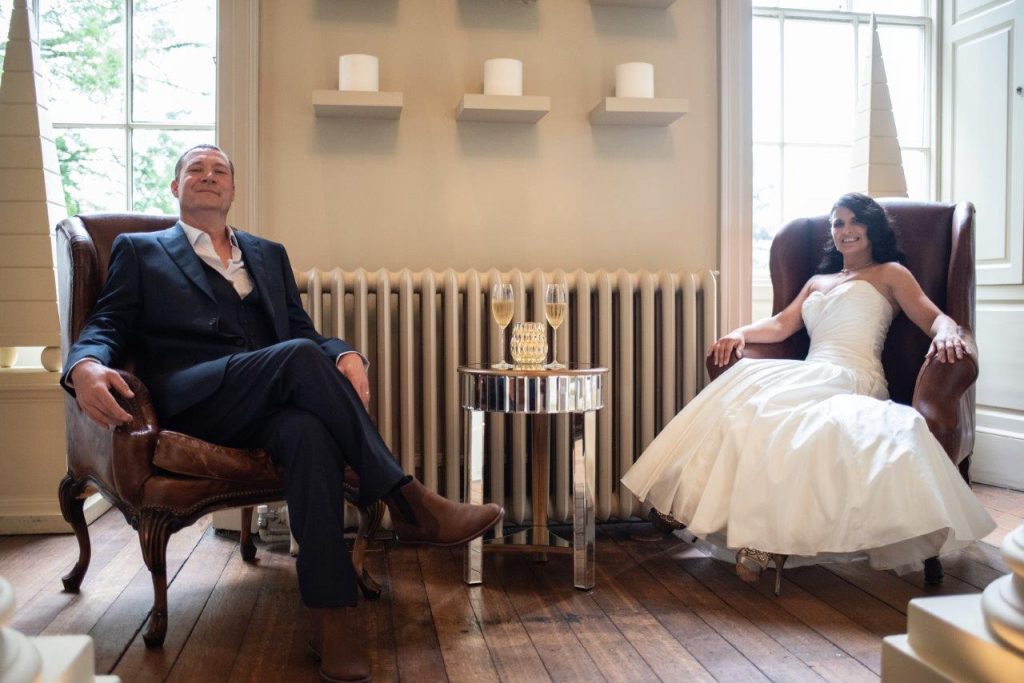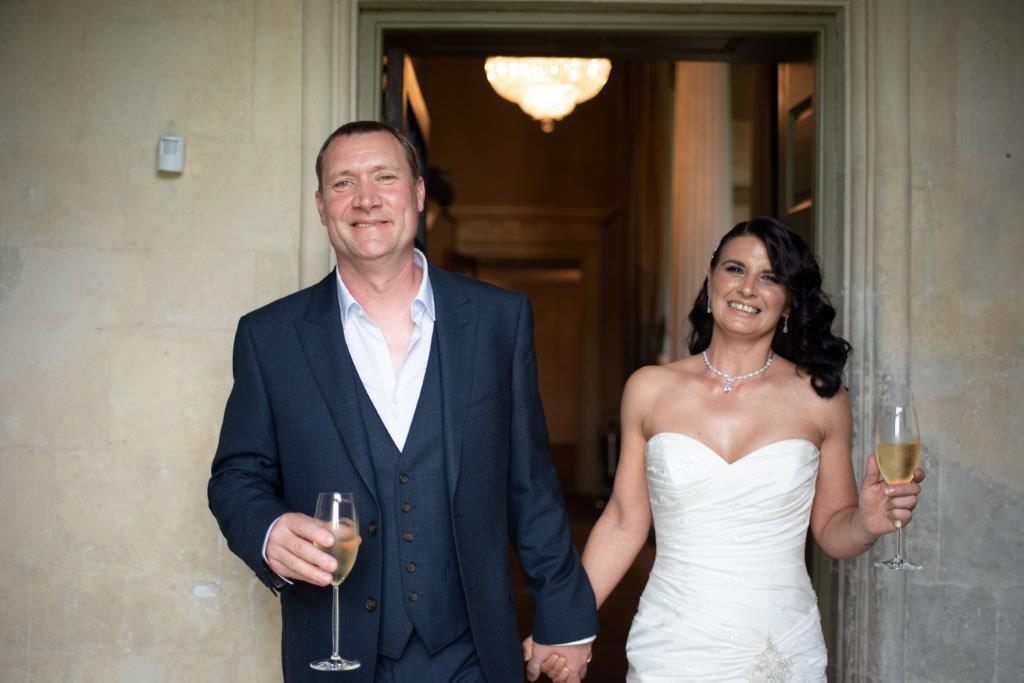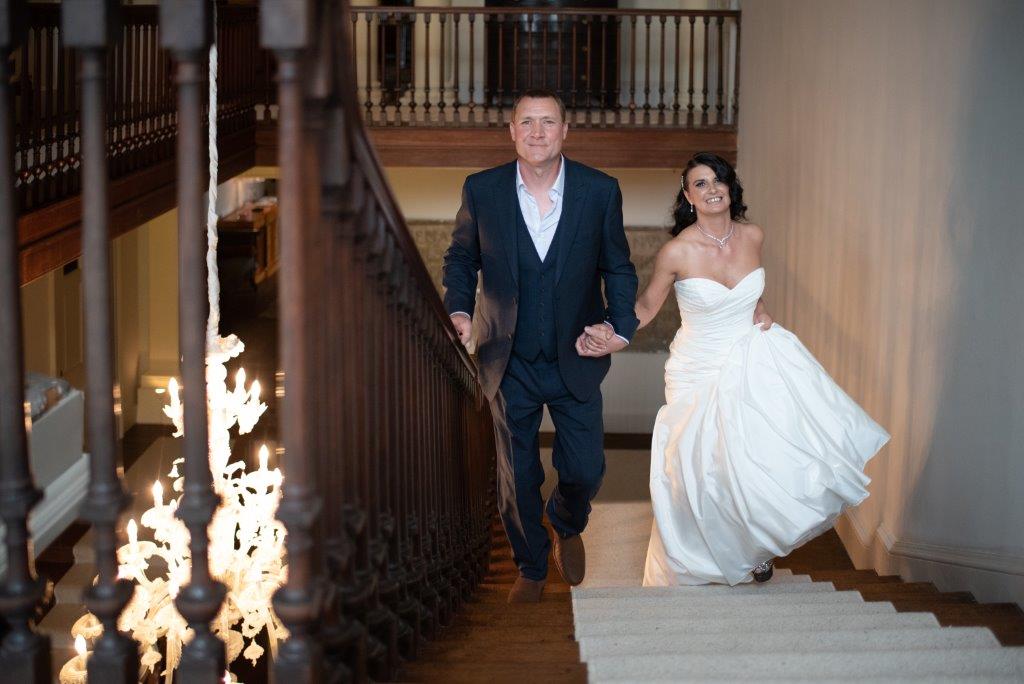 The Food
"The menu was a very difficult choice, everything sounded so good! When the food was served it was delicious. We didn't want a traditional wedding cake, so instead we had scrumptious desserts."
The couple enjoyed Afternoon Tea for two next to the river in the courtyard following the ceremony.
A selection of delicious finger sandwiches & savories including: roast beef, rocket & horseradish cream, mature farmhouse cheddar salad & tomato chutney, free range egg mayonnaise, spring onion & baby gem, smoked salmon mini bagel, cream cheese & cucumber, chicken, tarragon & apricot sausage roll and mini caesar salad.
With fabulous cakes & treats: Delicious cakes & fancies, freshly baked mini fruit scone, clotted cream & strawberry jam.
All served with tea and coffee.
Later on, a Dine Collection menu was served:
Canapés
Individual roule of pressed ham hock with Yorkshire piccalilli
Oak roast salmon crostini with crisp ciabatta, lilliput capers, micro herb
Welsh rarebit beignet with sourdough croute, mustard aioli
For dinner, Jinni and Jonathan chose individual menus:
The Bride…
Starter
Venison Carpaccio with caesar leaf, truffle & parmesan
Main course
Roasted Rack of Yorkshire lamb with French trimmed locally sourced lamb, served with a niçoise sauce, fondant potato & roasted heritage carrots
Dessert
Trio of Summer Desserts – mini eton mess, mini lemon meringue pie, rich chocolate tart
The Groom…
Starter
Smoked Haddock & Shrimp Bruschetta with pea shoots.
Main course
21 Day Dry Aged Beef Fillet with Shallot & Roast Garlic Butter, with Dine's steak ' bouquet garni' white truffle salt and rich red wine jus. Served with potato gratin & roasted heritage carrots
Dessert
Cheese Platter – mature cheddar, brie, Wensleydale, grapes, celery & water biscuits
To finish…
Coffee & Handmade 'Lauden' Chocolates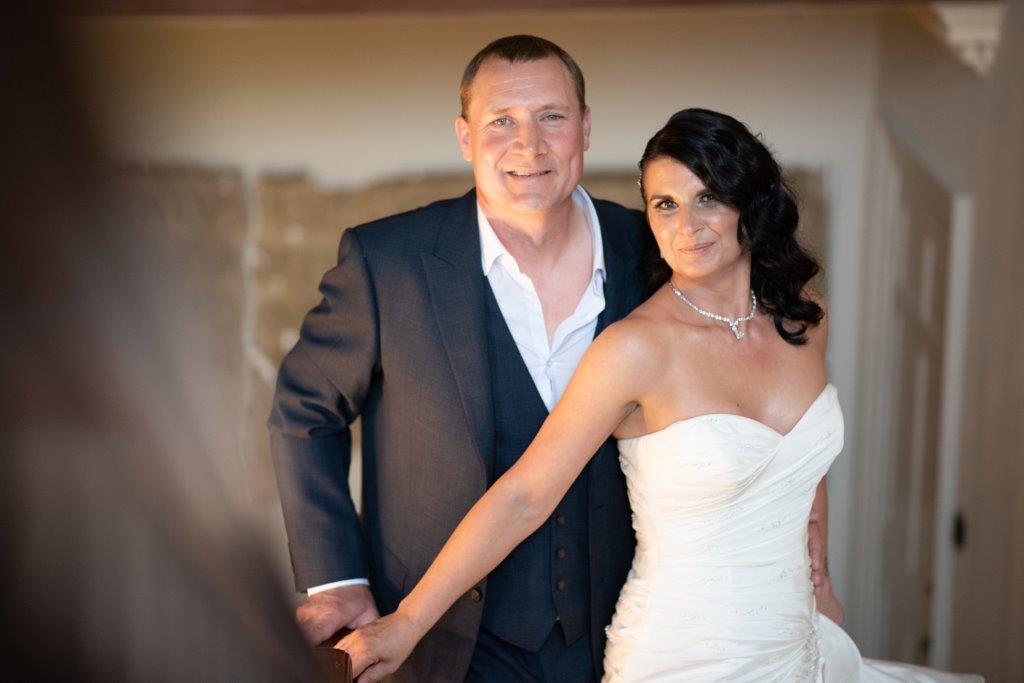 Perfect Memories..
"Everything about our wedding was exactly what we'd wished for and more than we could imagine. It was just about the two of us, intimate yet luxurious. It all felt so magical. When we had finished our meal and ordered our last bottle of wine, we were then left to enjoy the whole of Howsham Hall to ourselves. I would recommend this experience to everyone. It's that one big day where the memories need to be perfect in every way and Dine did just that."