For most women, the delight of receiving a new wedding invitation is often swiftly followed by thoughts of 'But what will I wear!?'.
If you've got a wedding coming up and would like some expert tips on dressing for the occasion, then let us guide you through all things wedding guest dress etiquette. 
12 tips for choosing the perfect wedding guest dress
From style to colour, bags to shoes, here's everything you need to know when choosing a dress for your next wedding attendance. 
1. Find out what the bridesmaids are wearing
First things first, do your research! If possible, find out from the wedding couple what style and colour dress the bridesmaids are wearing. 
Why? We've seen it before: an unaware guest turns up in something so similar to the bridal party, that she gets asked to join the bridesmaid photos!
Save yourself the awkwardness and find out in advance.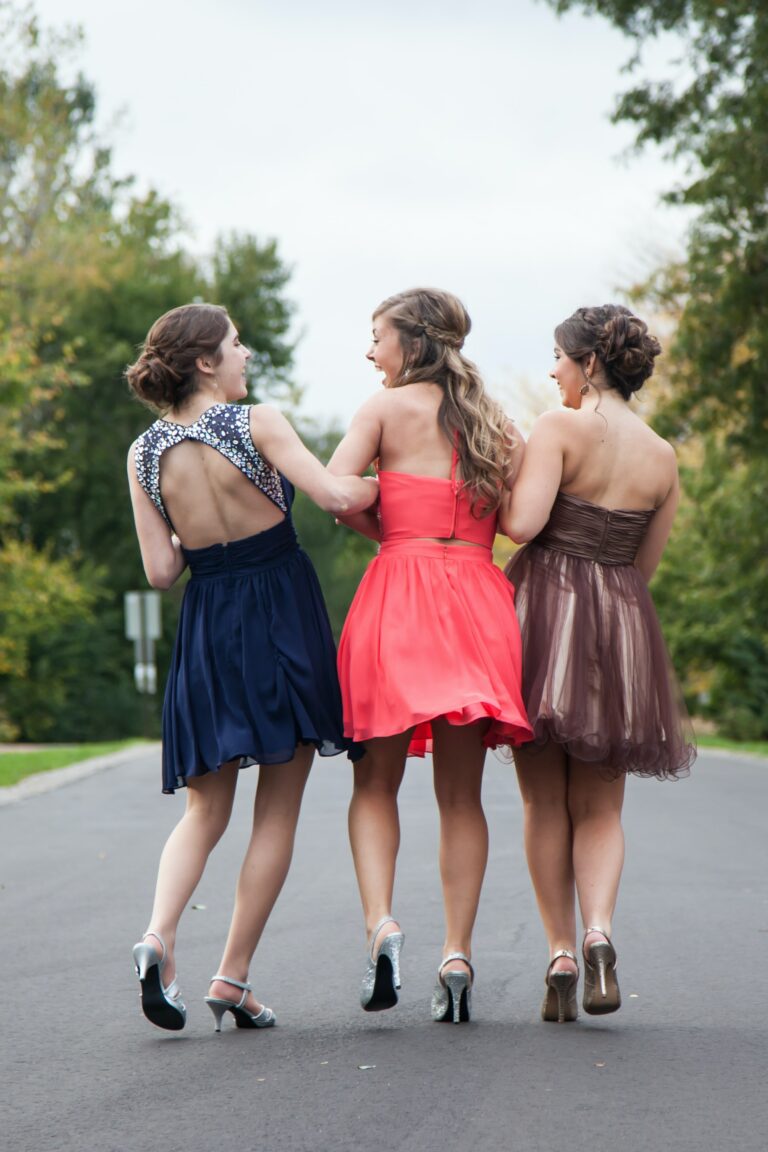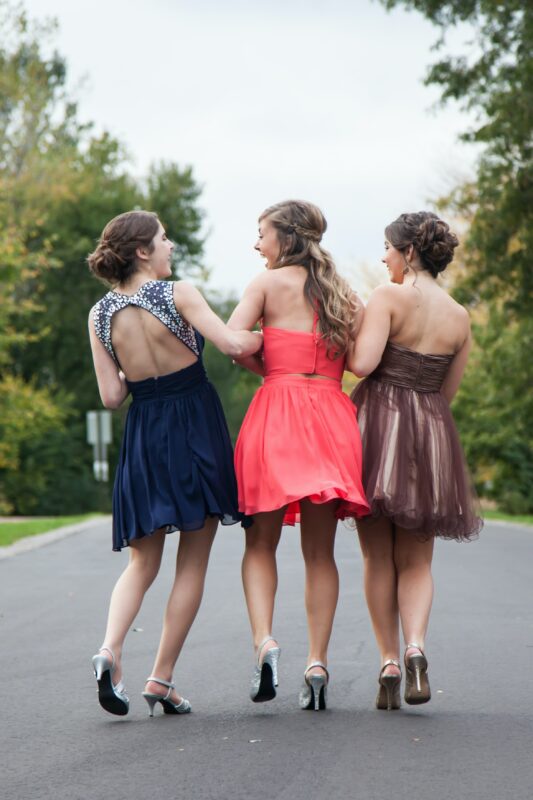 2. Shortlist your most flattering colours 
Before you even consider what type of style to opt for, make sure you have a shortlist of all the best colours that suit your skin tone and complexion. This helps you to narrow down your options and avoid choice overload.
If you have olive skin for example, pinks and reds will compliment you perfectly, giving you a nice just-got-back-from-holiday glow.
For those with paler skin complexions, step away from the yellow or neon maxi dress! Instead, opt for deeper colours such as greens and purples.
Ladies with darker skin tones look extra radiant in purples, pastels and reds, but cooler colours can be less flattering. 
If you're unsure, look at photos of yourself and see which colours feel most flattering.
3. Avoid cream or white dresses
Whilst we're on the subject of colour choice….yes, we have to say it, because some people still seem to miss the memo on this long standing wedding etiquette. 
If you know the bride is wearing cream or white, then avoid sticking out like a sore thumb by turning up in this colour yourself. 
Of course, you can't upstage the bride, it's her special day after all, and you'll come across as desperate for attention if you choose to make this wedding faux pas.  If you're not sure, avoid white or cream altogether.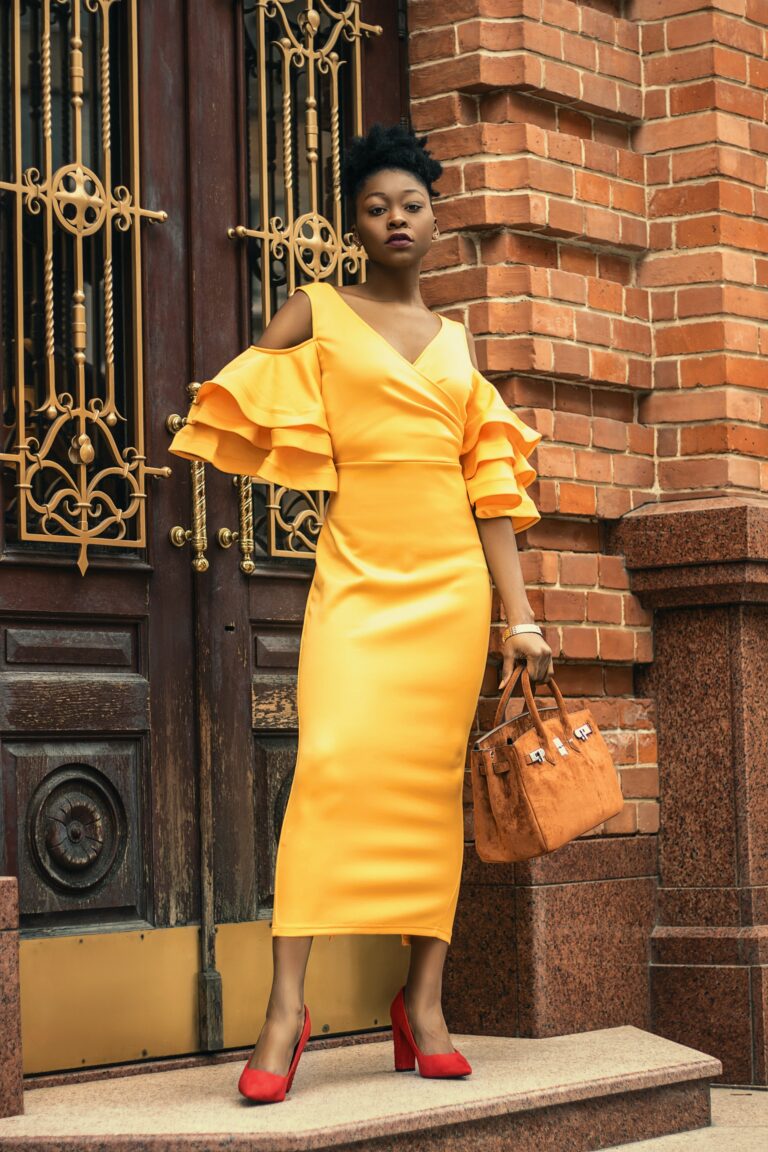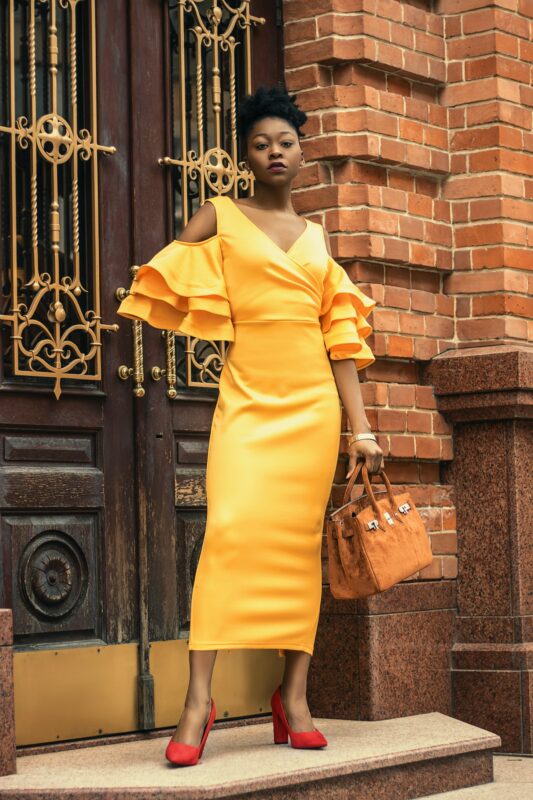 4. Make it seasonal
Once you've chosen your colour palette, think about what season the wedding falls in and tailor your final colour choice accordingly. 
Winter months are ideal for colours such as deep reds and purples, emerald green, and cobalt blue. Since it's party season, you even have the added benefit of getting away with sequins and embellished dresses. 
If you'll have an autumn backdrop on the wedding day, then we'd recommend opting for autumnal colours such as olive, burgundy, dark brown, peach and nudes. 
Spring/Summer is all about the pastels and floral prints – just be sure to opt for lighter fabrics! 
5. Remember, it's not a funeral
Is it ever okay to wear black to a wedding? Probably not. Whilst black is of course classy, it's not considered an appropriate wedding colour so should be avoided – unless the wedding invitation states otherwise!
6. Match with your +1 
If you want to look extra put together, find a subtle way to match your dress colour with your +1. 
Whilst a full-blown colour match may be just a tad over the top, instead opt to match your partner's tie, shoes or pocket square with your outfit.
7. Stay classy
Weddings are a classy affair after all, so it's generally not acceptable to turn up in uber-revealing outfits. Save the cut-out dresses for the hen night!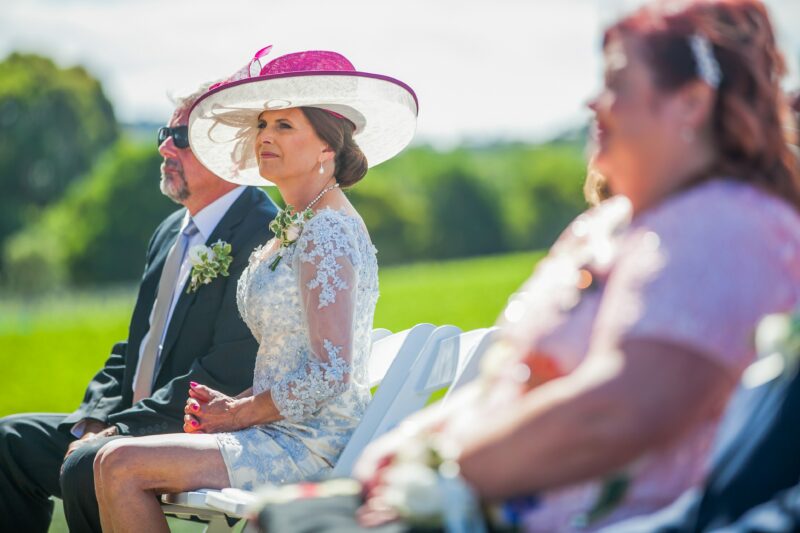 8. Find a bag which compliments the outfit
Your bag of choice can either ruin an outfit or be the perfect finishing touch – so it requires some serious thought to ensure it's the latter.
Big, bulky bags will tend to look too informal (and more importantly, get in the way of your dance floor moves!).
A stylish clutch is a wedding staple – especially one that isn't too big you struggle to keep grip! Alternatively, opt for a small bag with a delicate strap or chain, so it can sit on your shoulder as you enjoy the day.
9. Find the balance of style vs comfort
You may have found the most gorgeous dress, but if it sticks out so much it's hard to sit down, or, if you're in danger of a nip slip at any point, it's probably better to forgo it for something stylish, but more comfortable.
Remember, there's a wedding photographer lurking around, snapping natural photos all day, and if you look uncomfortable it will certainly show! 
10. It's all about the shoes
The shoes, as any woman knows, are almost as important as the dress itself. A good pair of heels can elevate an outfit and give fellow guests serious shoe envy. 
But how do you manage a full day and evening in heels? Some people opt to bring two pairs of shoes to a wedding, so they can start the day in those fabulous heels, then swap into some classy flats for post-11pm celebrations.
Of course, this is much easier to pull off if the wedding venue has onsite accommodation, such as the luxurious North Yorkshire venue, Howsham Hall, which offers 12 luxury bedrooms plus the largest bridal suite in Europe!  
11. Consider renting 
Many people are turning to wedding guest rental services when choosing their dress.
This option gives you the opportunity to wear a beautiful designer piece, without the hefty price tag. Just be sure to avoid red wine on the day! 
12. Don't go OTT
Ultimately, everyone wants to look their best as a wedding guest, but remember it's the bride and groom's day to shine. Avoid going completely OTT with your outfit but don't be afraid to go glamorous either – it's all about balance!
And if this was helpful, sign up to our wedding tips newsletter for lots of top tips from our wedding experts! Subscribe to newsletter