We all want our guests to cherish the memories of our special day forever. For them to look back fondly as our wedding comes up in future conversations, as they recall the fun they had and the joy they felt. 
One way to guarantee priceless memories for your guests is to organise some unforgettable wedding entertainment. At Dine, we've seen our fair share of wedding entertainment over the years, from the over-the-top to the understated – so here's our favorite wedding entertainment ideas we're sure your guests will both enjoy and remember forever. 
Top Wedding Entertainment Ideas
The way you entertain your guests says a lot about yourself, so your wedding entertainment is an opportune way to showcase your personality. We've created a simple guide to our favorite wedding entertainment ideas, split up by the happy couple's personality type: from laid-back lovers to those who crave adventure, from culture vultures to luxury lovers – we hope you enjoy these much-loved wedding entertainment ideas! 
Wedding Entertainment For: The Adventurous Couple 
Couples who seek out the adventure in life are sure to love these pulse-racing wedding entertainment options. 
Magician 
We all love to be dazzled, and what better way to bring some amazement to your already magical day than with a magician who will weave around your guests bringing delight and awe to their day. You could even request that the bride or groom be at the center or in the finale of their fantastic tricks!  
Wedding well-wishes from celebrities 
Take advantage of the celebrity video messaging craze that's sweeping the world right now, using platforms like Cameo to request several personalised videos from your favorite stars, and then showcasing these to your surprised guests! Who else can say the likes of David Hasselhoff, Ice Cube or Tony Hawk have made an appearance at their wedding?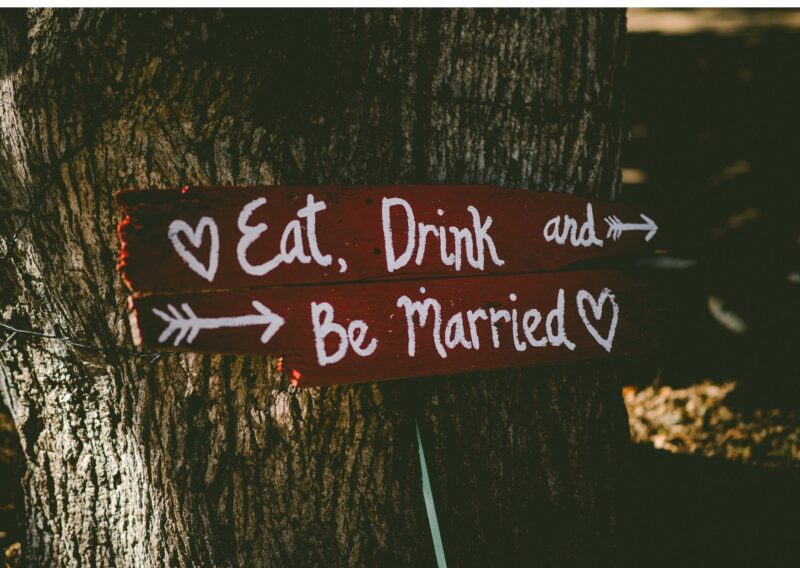 An impressive firework Display
Wow your guests with a show-stopping firework display, often the perfect way to either end your evening or kick-off the dancing! 
Rise Hall, an esteemed wedding venue in East Yorkshire, offers couples to be the opportunity to book an impressive firework display as part of their wedding package, where guests can watch the spectacular display from the luxurious gardens of the Grade II Stately country house.
You can choose from a selection of awe-inspiring options, from hearts in the sky to lettering, and even a runway where the couple exits the venue in style! 
Wheelbarrow or sack racing 
This is particularly perfect for those opting for a country chic style wedding. Let your guests get competitive with wheelbarrow or sack racing. You could even create your own wedding tournament to crown the winning participant! 
Organise a flash mob
Are flash mobs still a thing we hear you say? Absolutely! You can bring some unusual excitement to your wedding meal or even to your first dance by organising a flash mob to surprise your guests with. Make it all the more special by opting for a song that's close to the heart of you and your amor. 
Axe throwing
Ready, aim, throw! An outdoor game sure to entertain, Axe Throwing is a popular way to delight guests and let them show off their precision (and competitive side!).
Hire a famous impersonator
Johnny Depp, Harry Potter, David Beckham – you name it, you can have a whole host of celebrity (lookalike) faces mingling amongst your guests on your big day! Just imagine the envy as those who didn't get an invite pour over your wedding photos on Facebook, and wonder how you gained such a famous inner circle! 
Dance off: Men vs women
Once your guests have warmed up on the dance floor, split them up into men vs women for a fun-filled dance off which is guaranteed to be a hit and stir up everyone's inner competitive nature!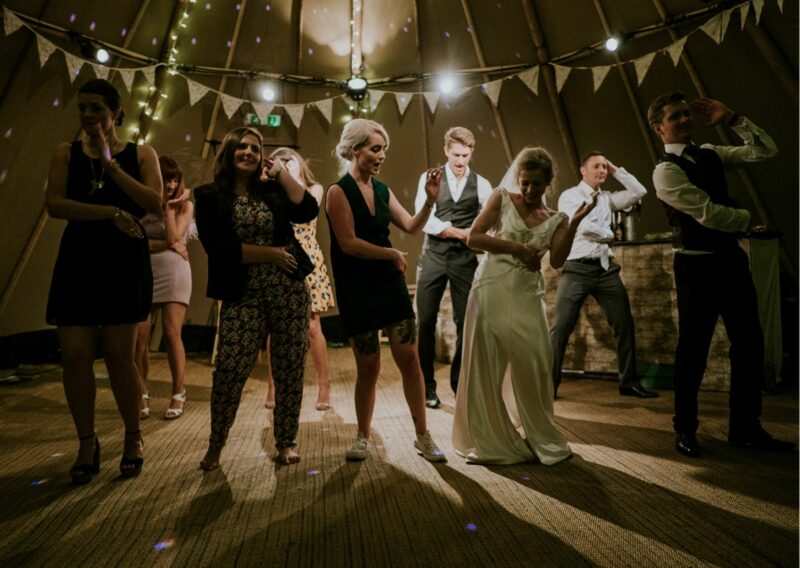 Mr & Mrs Quiz 
For couples or even friends who've opted to spend your special day with you, why not use the opportunity to bring them closer together through a fun Mr & Mrs quiz, in the form of a fun wedding favour. These make a brilliant middle of the table game for your guests to enjoy over the wedding breakfast.
Wedding Entertainment For: Laid-Back Lovers 
If you'd prefer to channel a more relaxed vibe on your wedding day, then we have the perfect round up of wedding entertainment ideas sure to inspire.
Scenic photo-memory walk 
If your wedding venue boasts a beautiful outdoor space, then why not make use of your surroundings by creating a picture-perfect photo walk, complete with fairy lights and polaroids that guests can stroll through and enjoy during the day. Pick your favourite memories of both you and your amor and of your most cherished loved ones, to create a charming experience for your guests. 
Silent disco
If you want to create uber-cool festival vibes at your wedding, then why not create a silent disco. Guests who like to shake it can enjoy dancing to their favourite songs whilst those not participating can enjoy the bemusing scenes in front of them! 
Glitter stations
Another ode to laid-back festival feels – create your own glitter station complete with a dedicated makeup artist, so guests can enjoy getting suitably glammed up (and of course taking plenty of glitter-filled photos!).
Flower crown making
Get crafty at your wedding with a floral crown station – a charming idea for those more bohemian style ceremonies. Bring along some in-season blooms and allow your guests to create their very own crown for the day.
Music from a local band 
Invite a local band to perform at your wedding, creating the perfect relaxed ambience as guests clink glasses and gush about what a perfect day it's been.
Wedding Entertainment For: Culture Vultures  
Couples who love to embrace all things culture will enjoy these wedding entertainment ideas.
Immersive Theatre Experience
Definitely one of the most out-there activities on this list, creating your own immersive theatre experience at your wedding is one way to bring some truly unique entertainment to the day.
From cluedo-inspired games to hiring actual actors to perform a surprise scene for guests – bring out your culture-adoring personality with your own immersive experience.
Spoken Word Performance 
Poetry and love go hand in hand. Have your special day encapsulated in poetic form, with your own spoken word segment. Hire a local poet, or, if you're up to the challenge, create a love-filled spoken word poem for your other half and perform it confidently on the day. 
Caricaturist 
Let your guests leave with a treasured gift in the form of their very own caricature picture from your wedding day. Book your own cartoon artists to create fun pictures of you and your guests – a fun talking point and certainly something they'll remember forever.
Wedding Entertainment: For Luxury Lovers
We're about to get even more OTT now as we share some wedding entertainment ideas suited to those who love all things luxury! Here's some of our favourites from weddings we've hosted over the years.
Dove release
Imagine the scene, you've just completed the beautiful ceremony then you step outdoors with your guests and a flock of beautiful white doves are released into the air to symbolise your wings of love. A truly romantic, and picture-worthy moment.
Wine or whiskey tasting 
Treat your guests to a luxurious selection of fine wines or whiskey's, with your own tasting station hosted by a connoisseur. 
Opera singer or choir 
Have your guests serenaded by an operatic singer or even an entire choir! Nothing says a luxury wedding quite like your own classical live music performance.
Live painting
Hire a live painter to paint charming scenes from your day throughout the wedding, capturing the magic of your day in a way that you can treasure forever (and even hangup in your living area).
Cigar Bar
A cigar bar is the ideal luxury touch to your wedding, offering guests a selection of cigars in vintage boxes, so they can unwind in style.
Book your wedding entertainment at Dine
We think you'll agree there's something for everyone in this ultimate guide for wedding entertainment ideas. Whether it's a laid-back affair or an all-out shindig – we hope you find the best entertainment style for your personality. 
If you'd like to discuss wedding entertainment options across any of our incredible wedding venues in Yorkshire, then get in touch with one of our expert wedding planners today and let's make your dream wedding happen.