Rebecca Pye and James Broughton were both born in Leicestershire – this is where they first met after their initial introduction on Plenty of Fish (an online dating site), 8 years ago.
James is a European Sales Director. Becca thought he seemed quite cool and adventurous and loved receiving messages from him when he was dotted all around the globe (nice that he was thinking about her). They shared their first date in Leicester in a bar called Entropy – Becca was working as a graphic designer at the time.
16 months prior to their big day, James had proposed at their home on Christmas day. They had been on holiday a little while before, to Machu Picchu for Becca's 30th birthday and she was convinced he'd propose – it seemed like the perfect moment… but later realised he'd absolutely made the perfect choice to do it in his own time and on his own time scales. James had taken months to design Becca's ring with jewellery designer Cathy Stephens and Becca couldn't have been more delighted to be presented with it along with a beautiful poem that James had written for the occasion. They later celebrated with their family with a glass of bubbles gathered around the Christmas tree. Becca's mum couldn't quite believe it – Dad however,  had been a total vault as he'd been whisked off weeks before by James in his Porsche one rainy day and had been asked permission by James' if he could marry his beautiful daughter.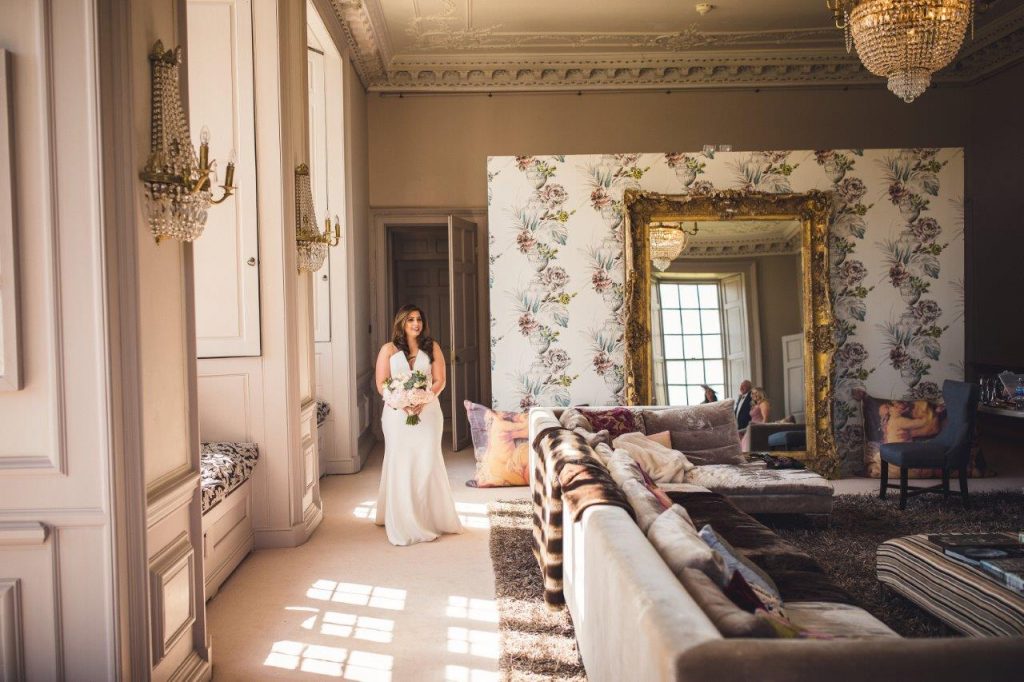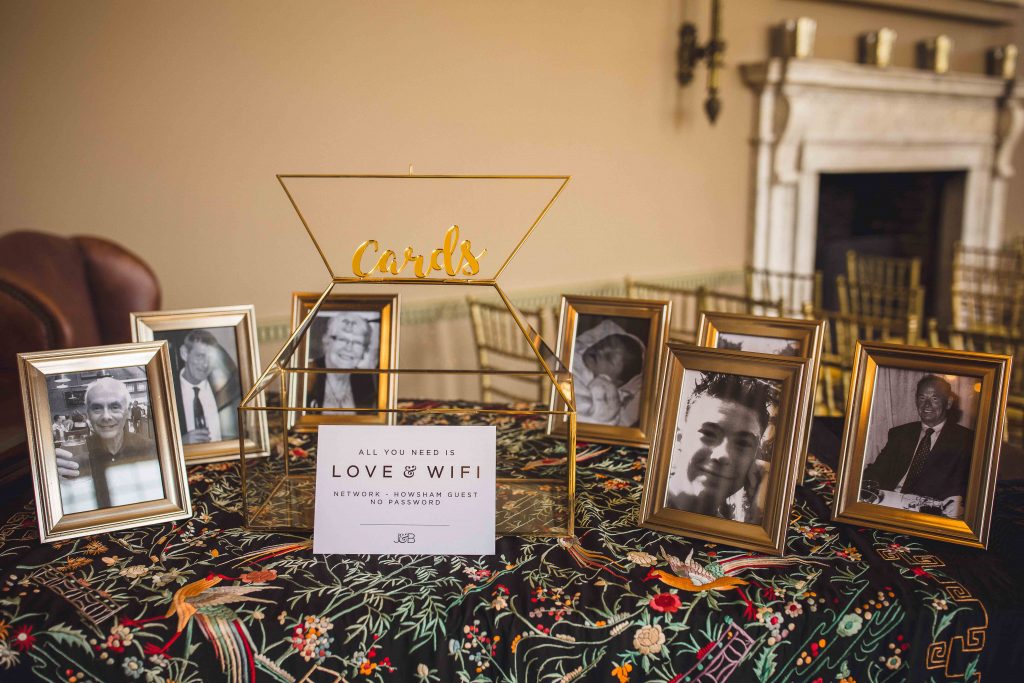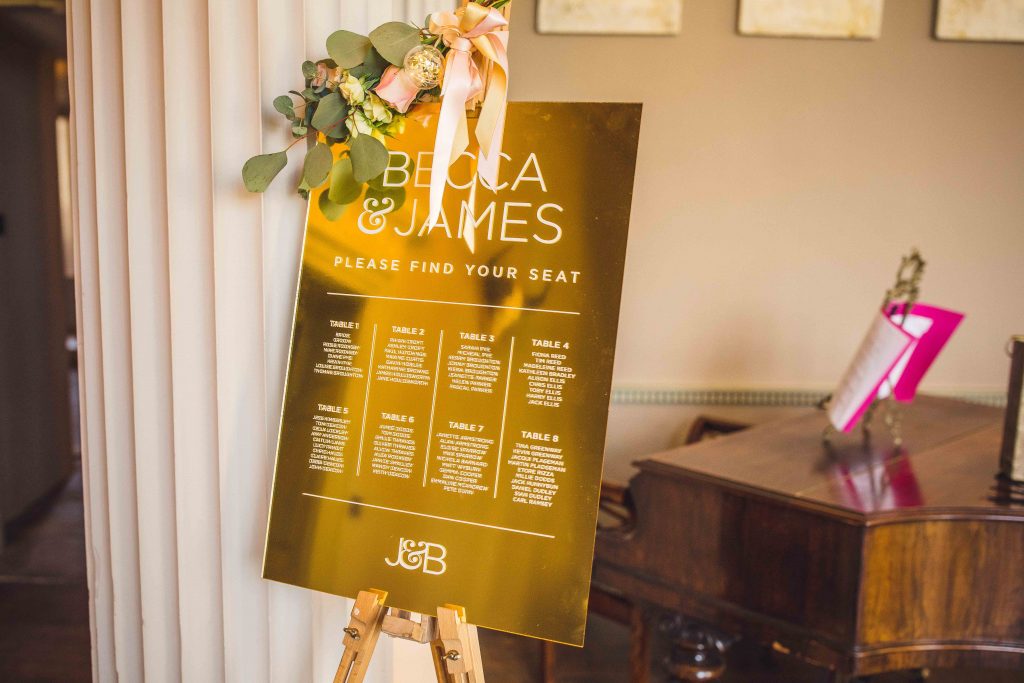 Let the planning begin…!
The happy couple had wanted a rock n roll vibe for their wedding and had been recommended to come and visit Howsham Hall by the lovely wedding planner Helen Eriksen. James and Becca were in love at first sight and were totally drawn in by the quirky details that Howsham had to offer.
Becca noted that it was interesting to have her own work in her wedding venue – "it felt lovely". She said that she felt more connected with her own clients, now that'd she'd experienced what it was like to be surrounded by her design work.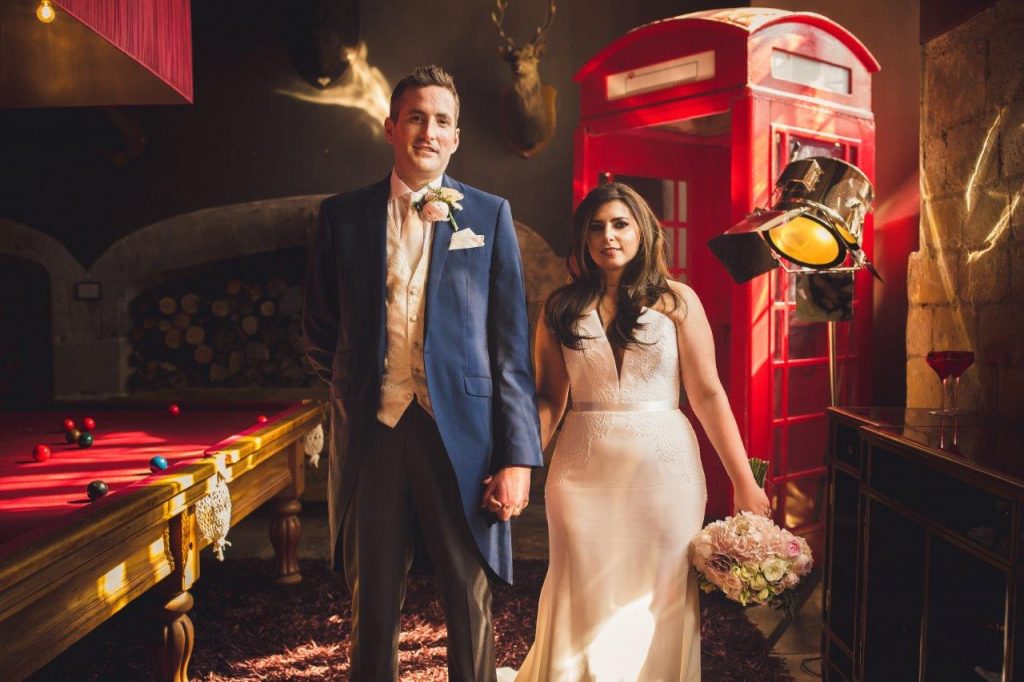 Now for the bit I absolutely love to hear…. "Out of all of our suppliers I definitely felt that Dine were the best! Craig exceeded expectations every time. He was authorative but not intimidating, funny and made me smile. A total legend! Always on time or early and I totally trusted him. The whole staff team were on top of their game. a totally slick operation."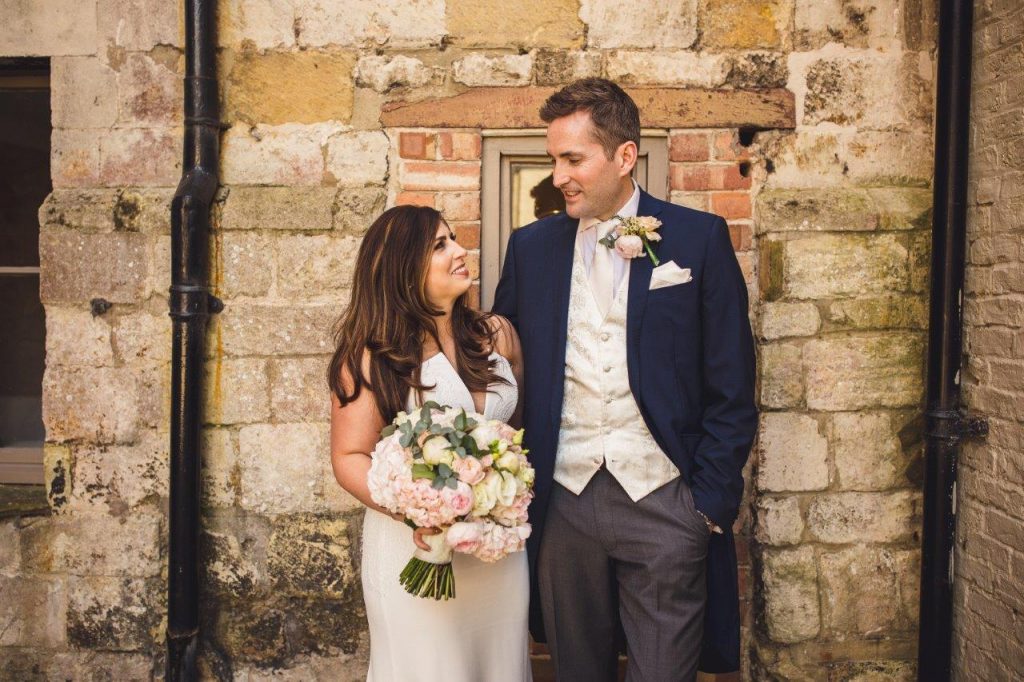 It's always great to hear feedback like this from our clients and it's certainly appreciated by the team, as they put a huge amount of effort in to delivering exquisite events.
Dine are well known for our food and service offering, this is why Becca said they chose us. "Our guests appreciate finer things and Dine absolutely delivered."
Wedding planner Natalie Hewitt worked with Becca and James to plan their big day. Natalie recommended Francis Day Bridal in Nottingham, if Becca wished to experience the very best of bridal shopping! Becca went along  with best friend and maid of honour Rhian and enjoyed Champagne whilst trying on a selection of wedding gowns. Five dresses were tried on before the final selection was made. The wedding dress was by British designer Susan Neville – this dress mirrored elements of the engagement ring design and was a stunning fit.
James selected his suit from Moss Brothers – a Ted Baker morning suit with grey and navy mis-matching pieces. creating a customised look that really worked!
So then the big day arrived!
Becca got ready with her bridesmaids and mum in the glorious bridal suite at Howsham. With a little help from make up artist "Makeup by Jenni" (local to Nottingham) and stylist "Hair by James White" (Nottingham based) – Becca was ready to meet her man in the Great Hall. Holding on to her Dad, they made their way down the sweeping staircase. Craig (Dine, Head of Events) told Becca to smile – this made her laugh. She was ready to go!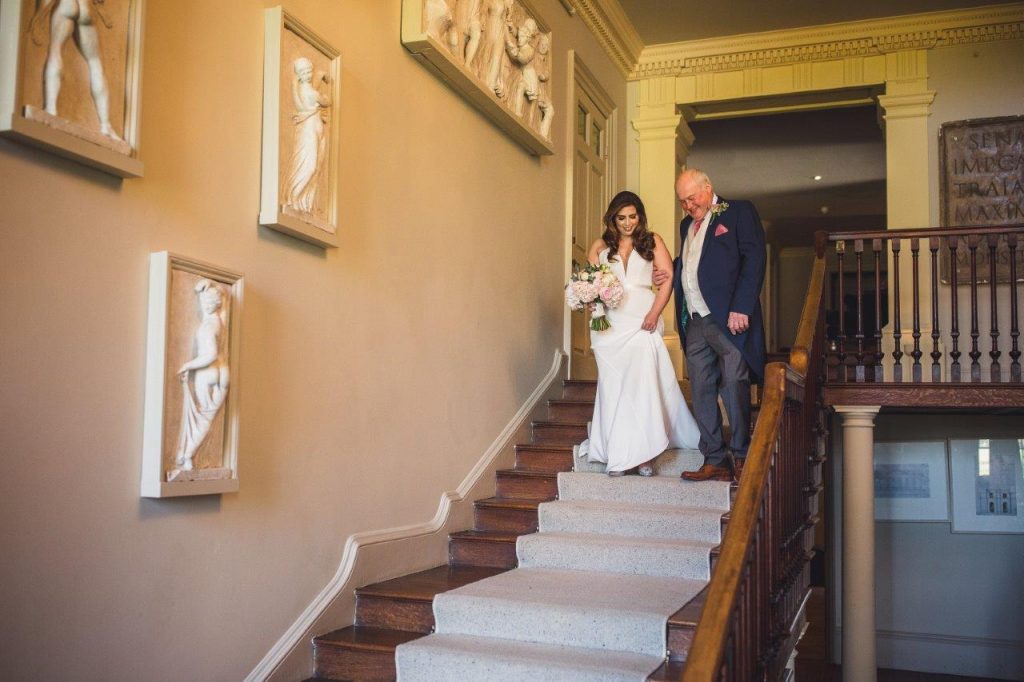 The ceremony was conducted by a registrar, but the couple had prepared their own vows and had included a vow for their guests where they had asked the to promise to look after Becca and James and support them through their married lives.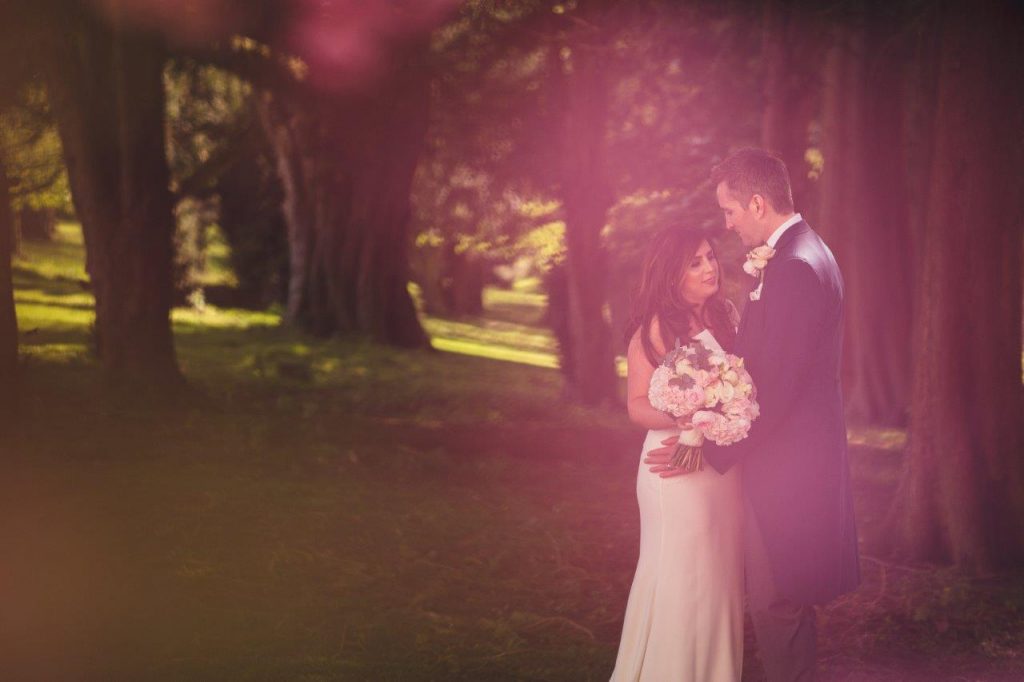 New York Brass Band made a surprise appearance, which all of the guests loved!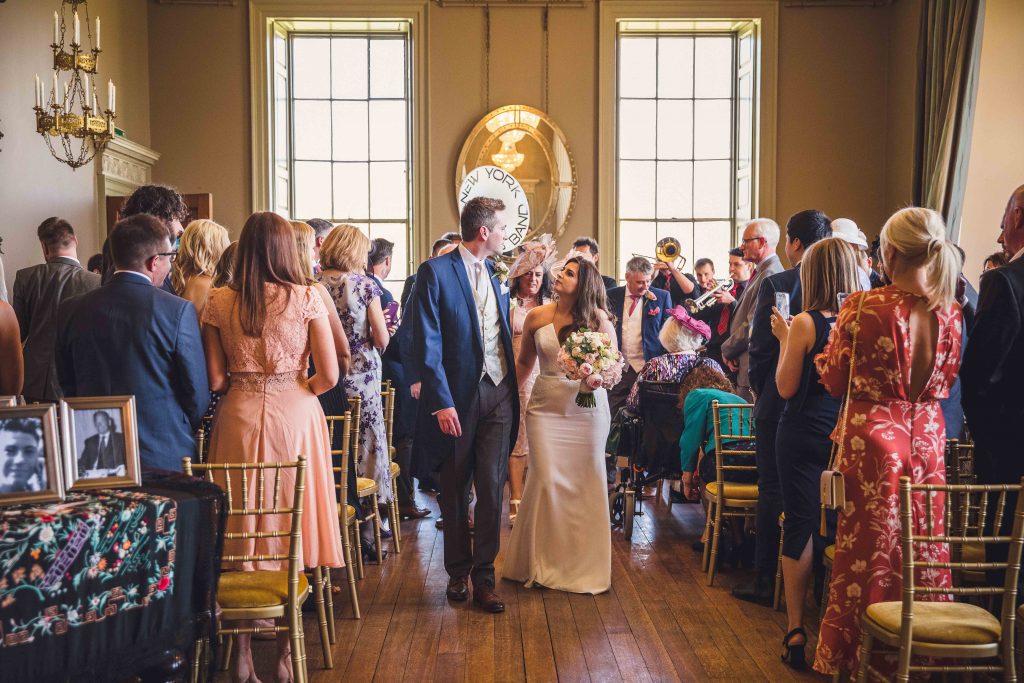 The cake was designed by BakerLu cakes and Becca designed her own gold acrylic cake topper. Each tier was a different flavour – mojito, raspberry and white chocolate and double chocolate gluten free on top. The table plan was also in gold etched Perspex.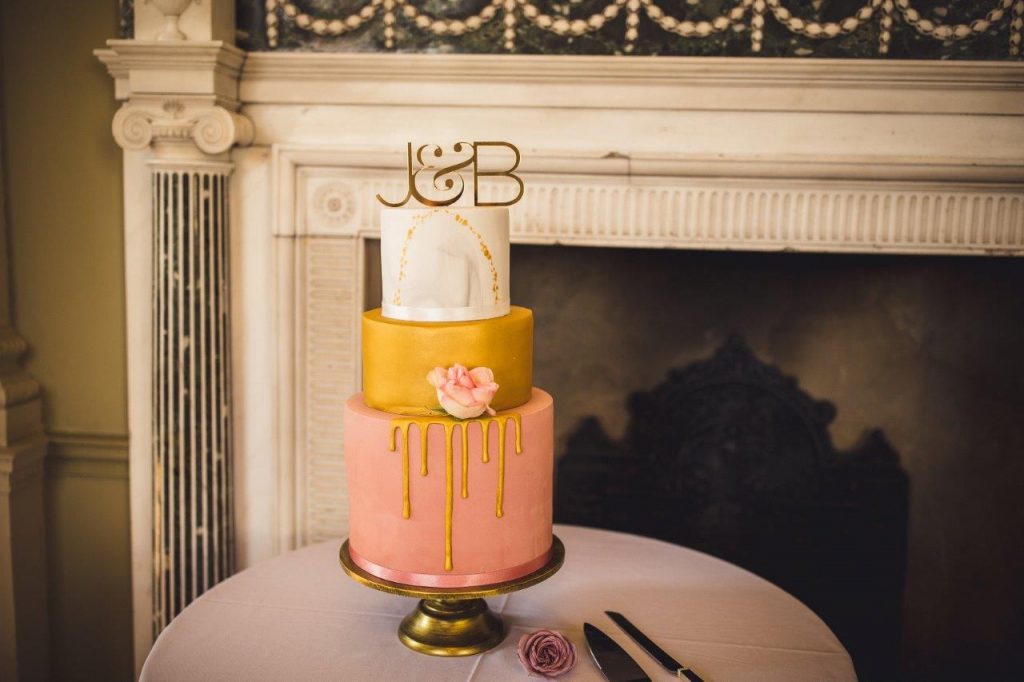 The day was captured by Matt Brown (photography) and Perfect Moments videography.
By arrangement, Kettering based florist provided the lovely blooms and Becca did her own styling.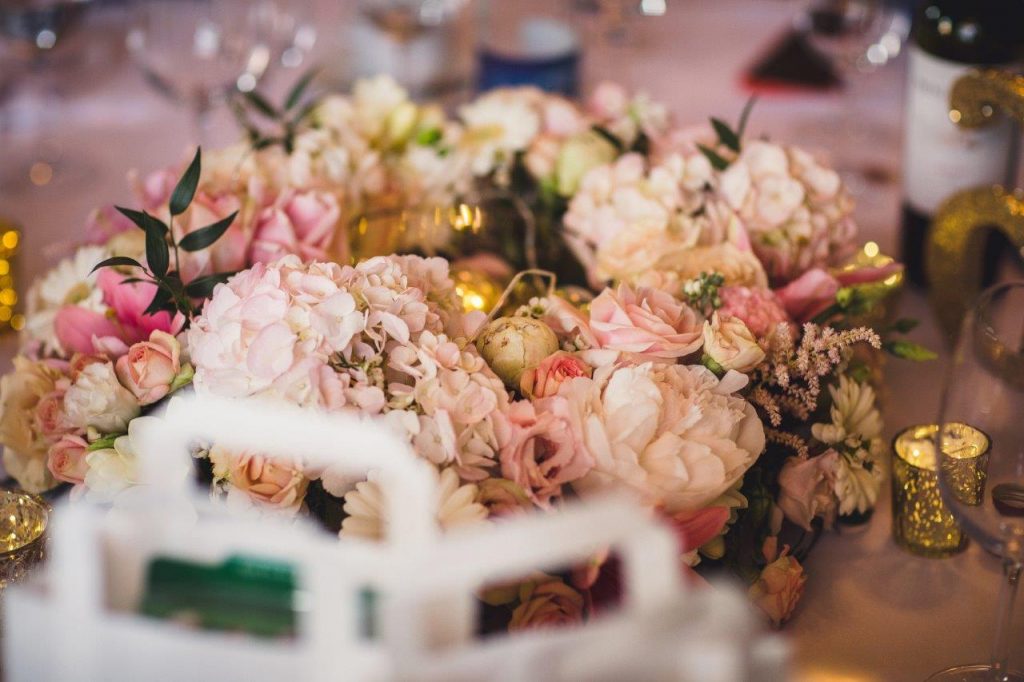 Becca and James adore dining out and always go for taster menus when they're on holiday. They wanted to go for a real gourmet menu for the wedding breakfast, this is why Dine catering were the obvious choice!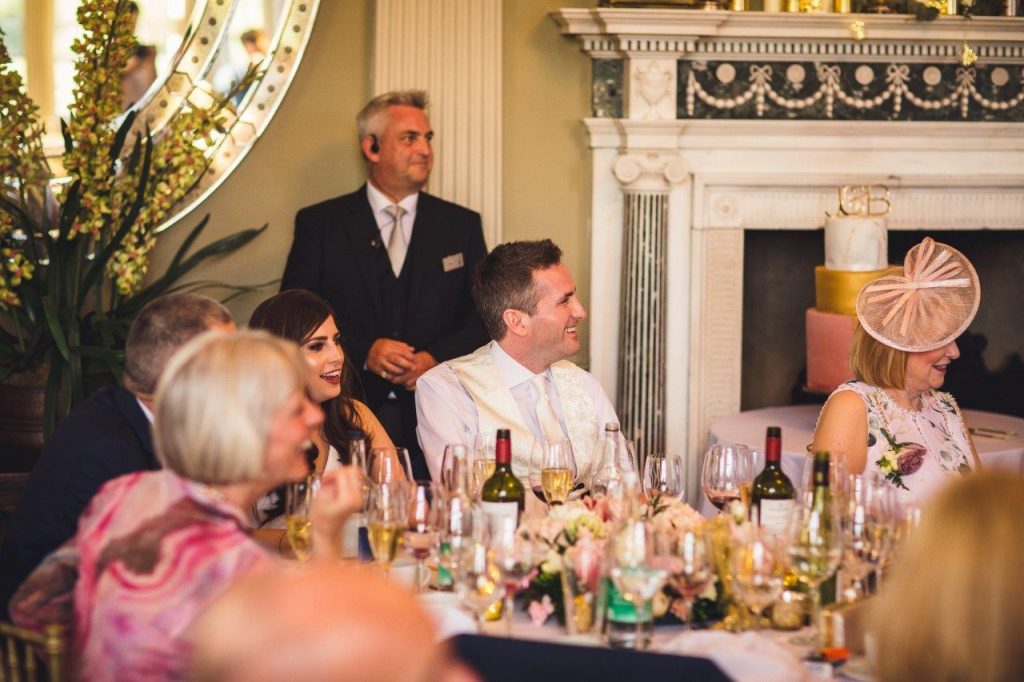 Canapés
Mini Yorkshire Pudding, Rare Roast Beef
Creamed horseradish
Tartlet of Caprini Goat's Cheese
Pesto, sunblushed cherry tomato & toasted pinenuts
Black Pudding Sausage on Potato Scone
Rosemary & apple compote
Dinner 
Starter…
Figs Baked with Truffled Honey
Dolcelatte & parma ham
Main course…
Sirloin of Beef
Wild mushroom bourguignon confit with button onions, rich red wine sauce,
Olive oil & black pepper mash, buttered greens
Dessert…
Trio of Desserts
Crème brûlée is Becca's favourite dessert, James loves Eton Mess and EVERYONE likes sticky toffee pudding, so a trio of mini puddings made sense.
Hipster was the perfect choice for evening music, they really got people up and dancing.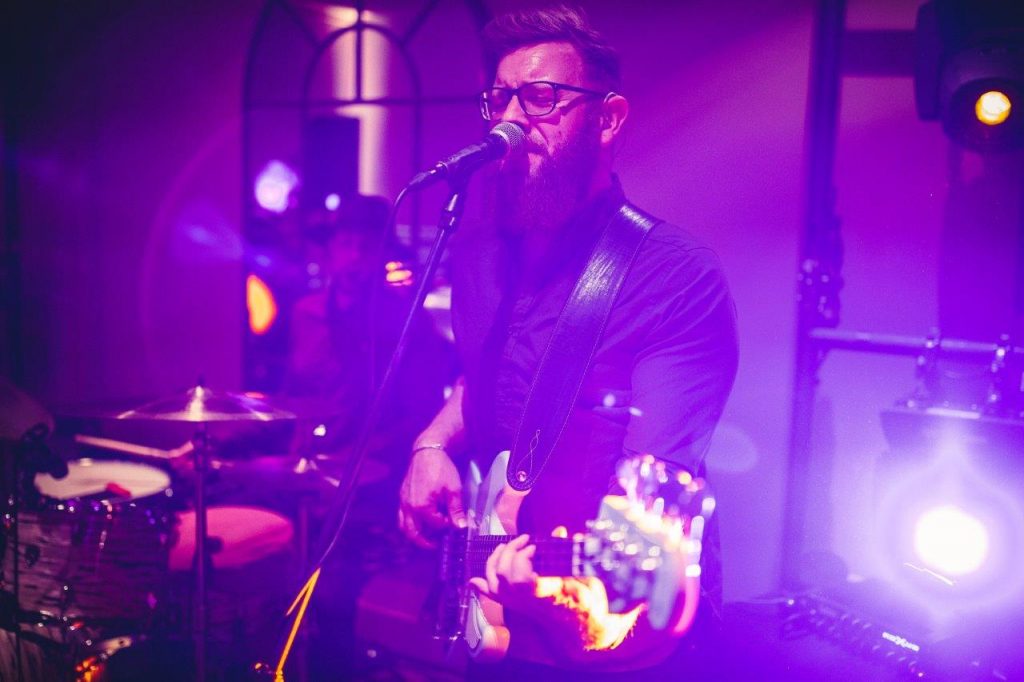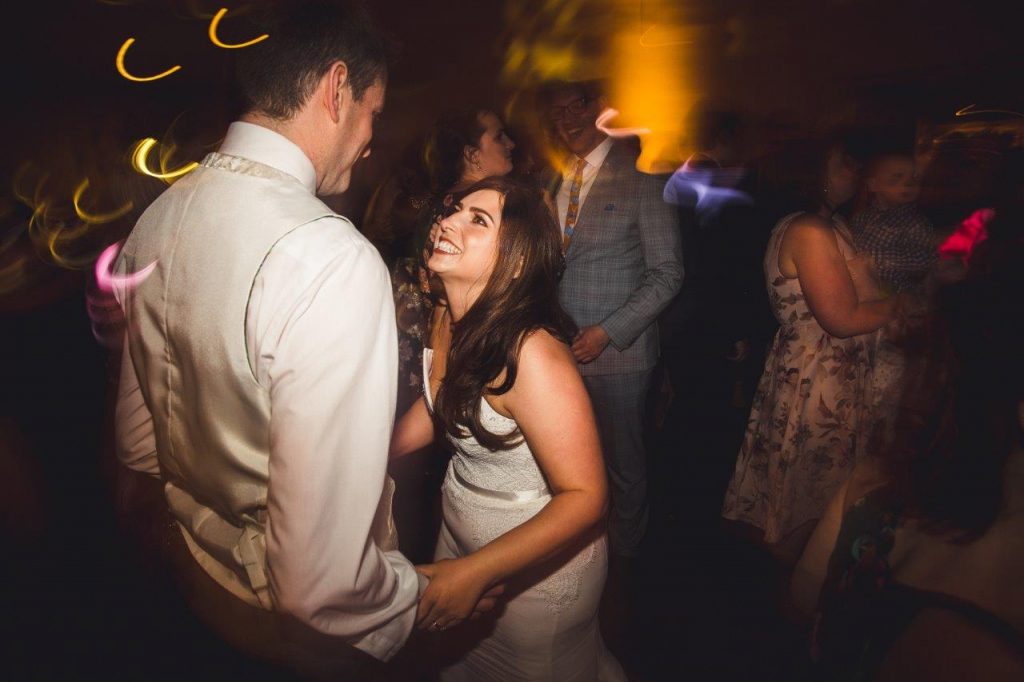 When I asked Becca what the most memorable part of her day was, she loving declared that it was when they had shared their vows… James apparently had said it was when his brother and best man had done his DJ set (heart-breaking ..hahaha!). Music is a very important part of James and who he is, so it was very important to get this element of the day right.
When asked, would you recommend Dine to friends and family? "Absolutely!! YES!! The gifts we received from Dine were just lovely, all of the finishing touches were brilliant."
Becca said that she loved the little Polaroid picture we presented her with at the end of the evening and had huge significance as it was the first printed picture of their day, so a great keep sake.
After a huge celebration at Howsham Hall, Becca and James went to Japan to relax on their honeymoon – visiting Mount Fuji, Okanawa, Tokyo and Kyoto (geisha's). The appeal to go to Japan was to experience the culture –  and they wanted to go on an adventure to see the Cherry blossom together. James has over 1000 pictures to edit from the trip!
Get in touch if you're feeling inspired | 0345 450 4545 | events@dine.co.uk