With spring and summer being two of the most popular wedding seasons, it can be slightly trickier to plan a wedding guest outfit for a winter wedding. The sharp drop in temperature calls for cosy glamour that's both stylish and practical to keep the chills at bay.
However, A winter wedding is an excellent opportunity to wear a different colour palette – think rich hues of reds, deep blues and dark greens or copper, gold and silver metallics (all colours you're unlikely to see at a summer wedding). When it comes to materials, velvet, silk, and satin are all strong contenders and perfect teamed with sparkling accessories, fishnet gloves or a lavish fur shawl.
What should I wear as a guest to a winter wedding? 
First things first, one of the most important things to consider is whether there's a dress code. Some couples ask guests to wear specific colours to match the theme of their wedding, and others may request formal or cocktail dress codes.
Bring the glamour with metallics and sequins 
From shimmery shades that catch the light when you move to eye-catching sequins and fringed beading, metallics are an excellent choice for injecting a dose of glamour into your winter wedding guest outfit. There's an abundance of subtle metallic outfit options (think dark-coloured dresses with a slight shimmer) and, in contrast, lots of vivid metallic outfit options for those who want to make more of a statement.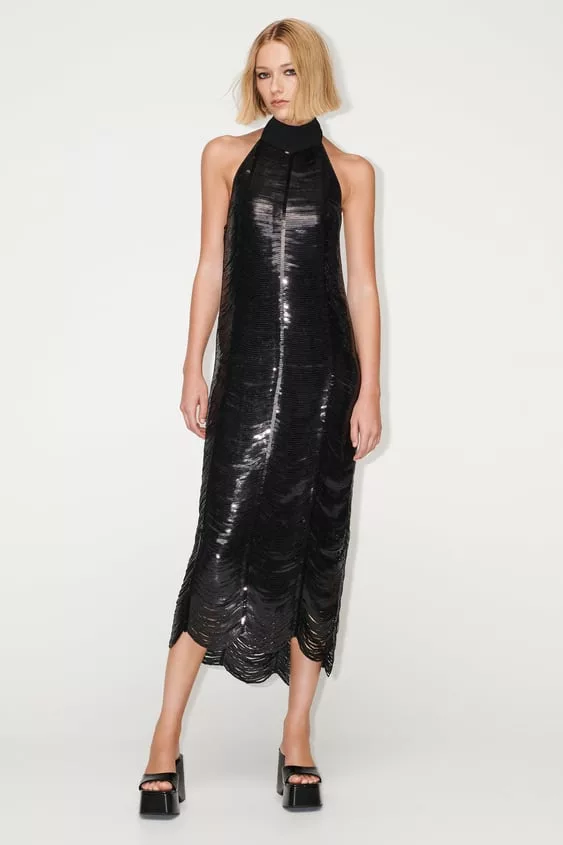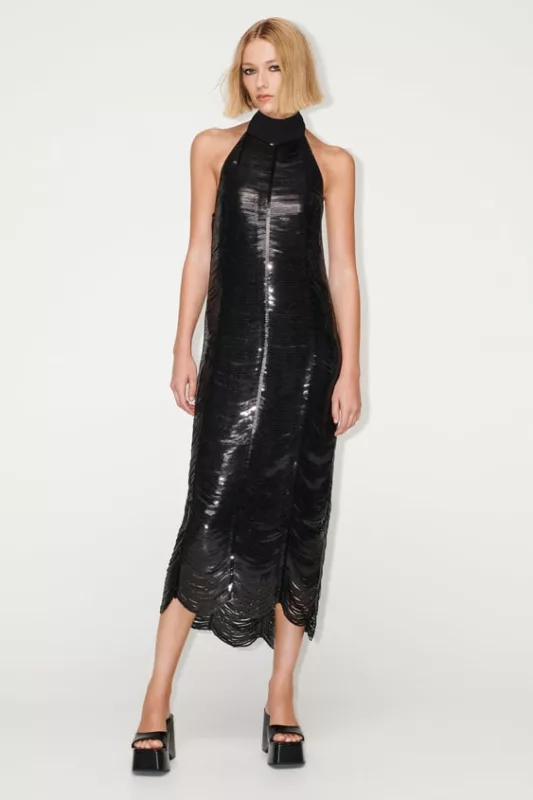 Beginning with an option that meets the softer side of shimmering, this black sequin halterneck dress from Zara is perfect for a winter wedding. The dress is mid-long (depending on your height), and the bottom has a scalloped hem, which adds an extra unique element. The black sequins mean the dress is enough to make a statement and emulate classic, speakeasy-style glamour. This dress won't break the bank, as it retails for £119.00.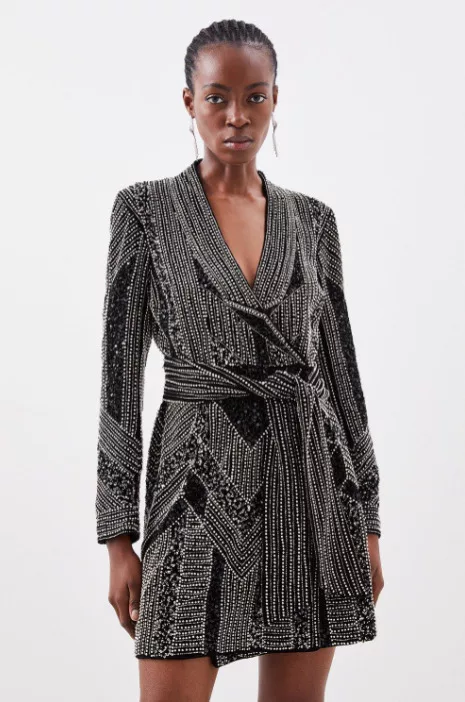 The next option is this velvet embellished mini dress from Karen Millen, which is currently on sale for £209.00. The good news about this dress is that it comes in petite and regular sizing. Another darker metallic option, but this option is embellished with an intricate beading detail and pattern. We love that the dress ties at the waist and doesn't fit super tightly (who doesn't love more room for dessert?!). Although the dress is short in length, it's long-sleeved and has a lower neckline that would be perfectly teamed with a short, choker-style necklace.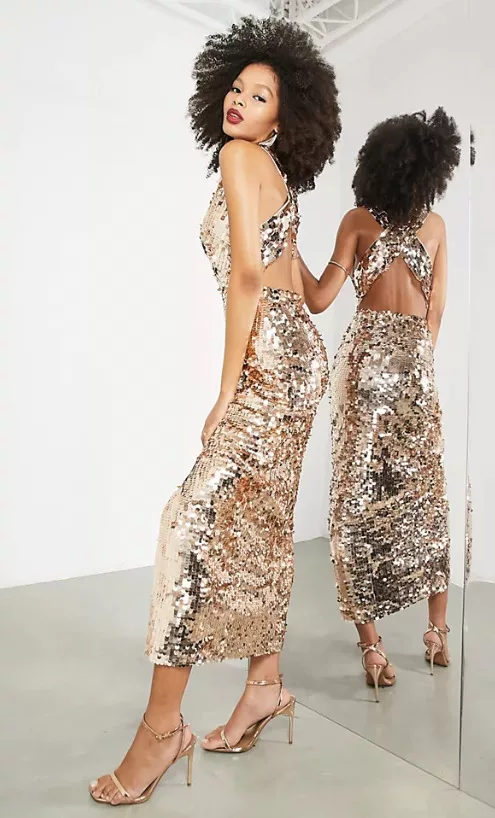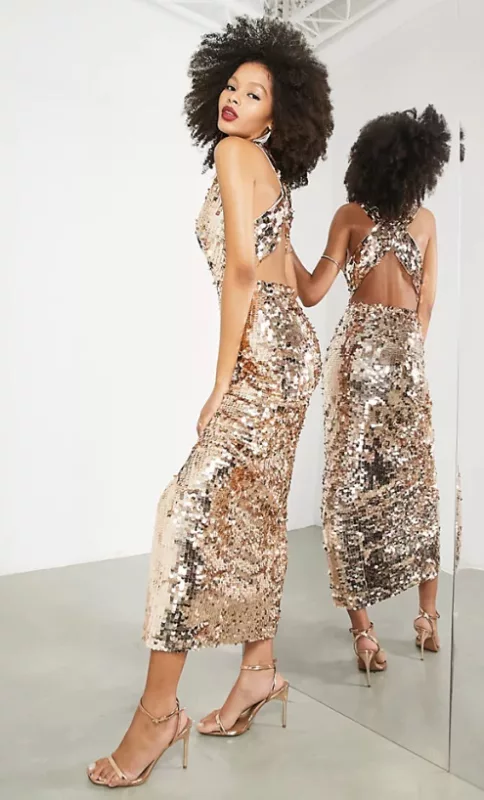 Gold is always a good wedding guest option for a winter wedding. This dazzling, full-length gold sequin dress is from Asos and costs £170.00. While the length may tick the formality box, the front of the dress has a plunging cleavage and dramatic cross-back detail. The best thing about choosing a gold outfit is the ability to team it with accessories in almost any colour. Anything really does go with this option.
More is more with full-length dresses and jumpsuits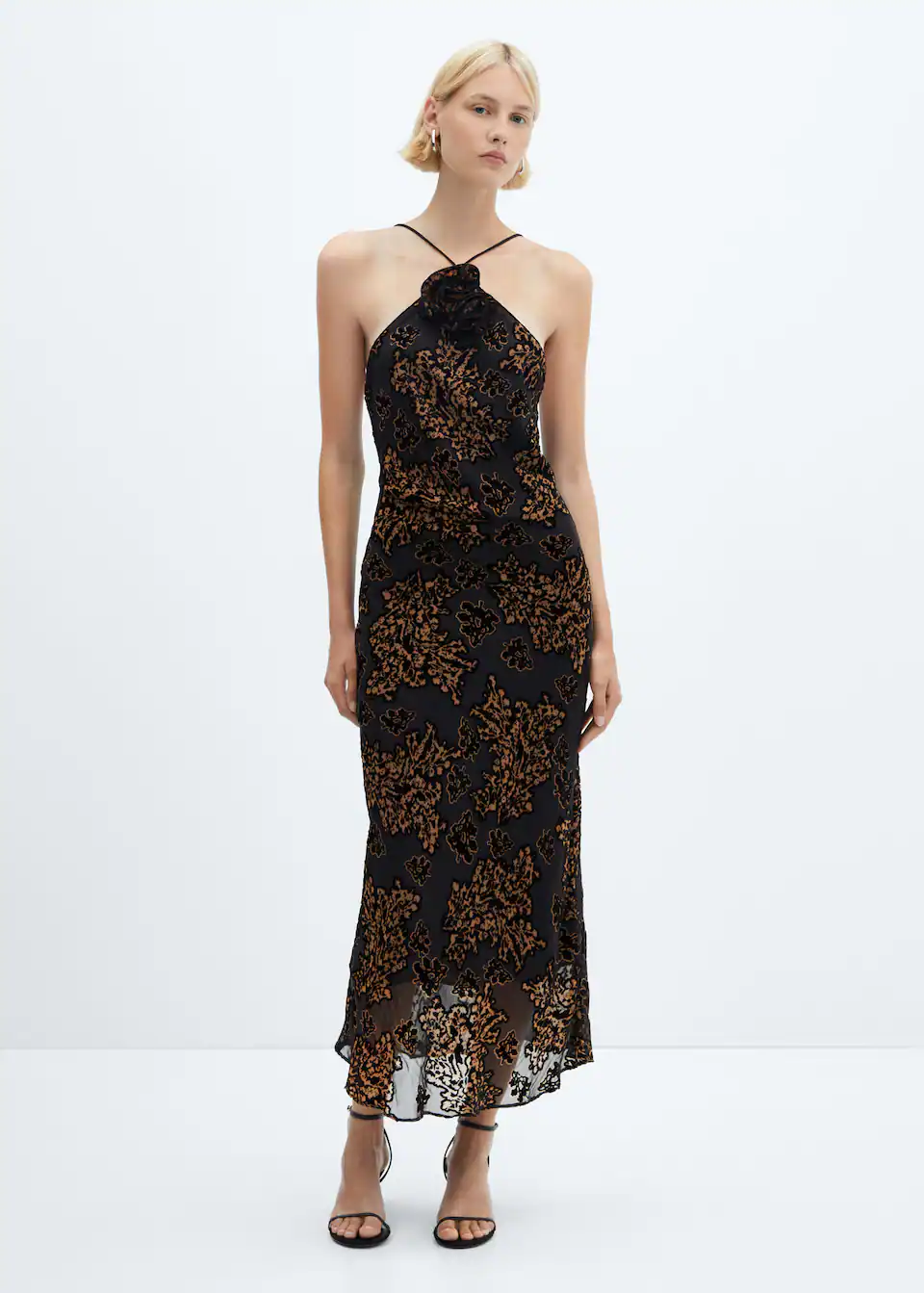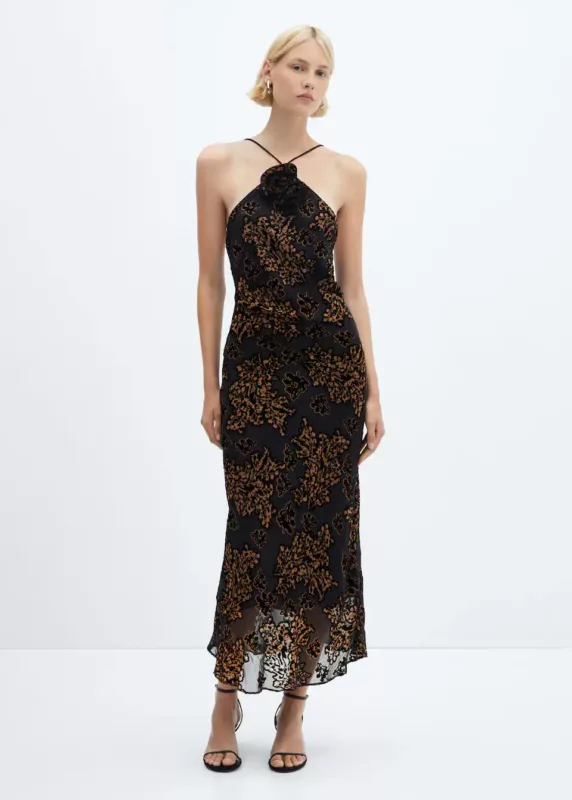 Choosing a full-length dress or jumpsuit is one fail-safe way to ensure your legs don't get cold. Plenty of options also have long sleeves if you want to be 100% sure you can conquer the cold. One of our favourite full-length dresses is this textured jacquard halterneck dress from Mango for £119.99. It's a black dress with a high, halterneck cut at the front and a plunging low back. This dress is made extra special thanks to the delicate flower on the front of the dress and the rust textured jacquard print.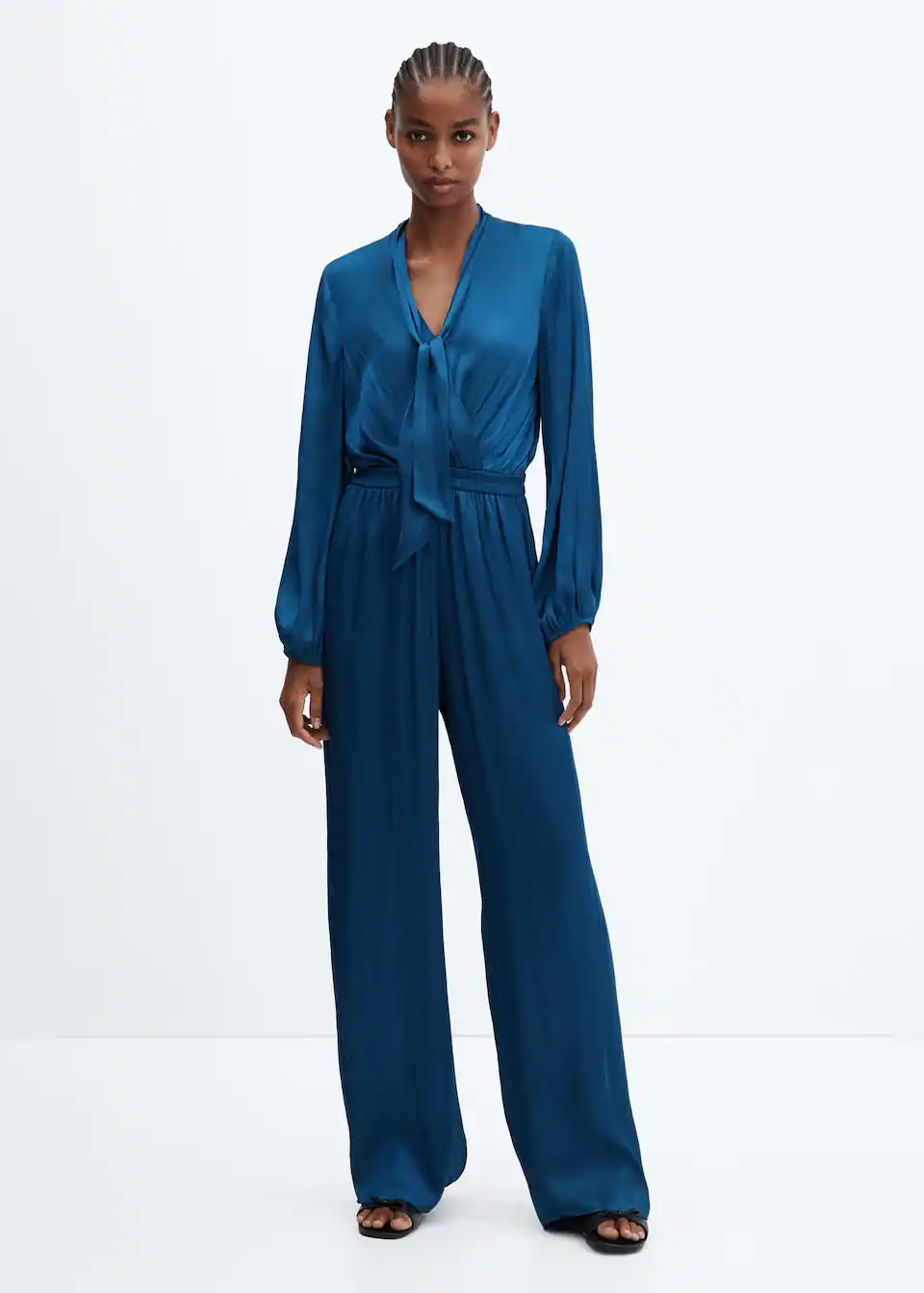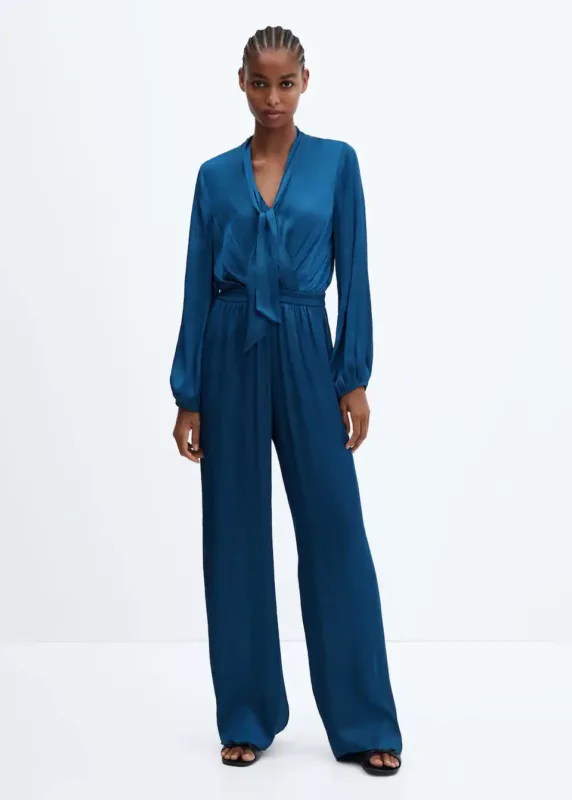 This blue satin Mango jumpsuit with a bow at the front retails at £79.99 and is a vibrant colour for a winter wedding. The best part of this dress is the breathable material and the fact that it gives you shape without clinging to you. The flared leg perfectly pairs with a delicate metal stiletto or a chunky, contrasting colour platform.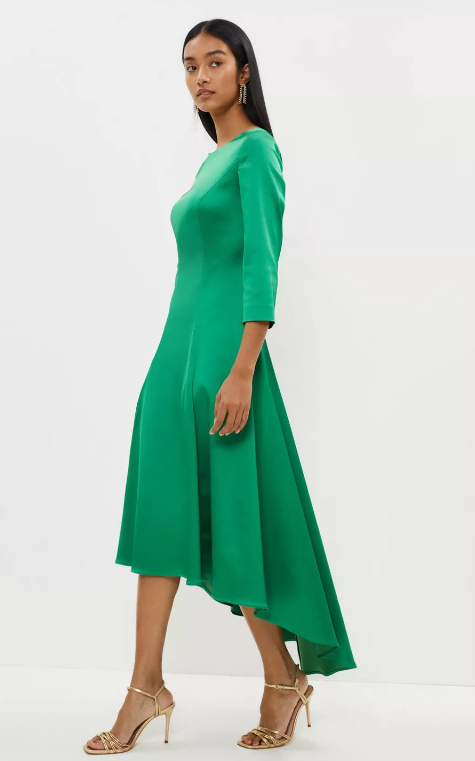 This premium £75.00 satin green dress from Coast is a beautiful emerald shade with a hi-lo hem, which drops to full length at the back and rises to mid-length at the front. The great thing about this hem is that you can have all the elegance of a full-length dress from the back, paired with some must-be-seen heels that the shorter length at the front will accentuate.
Layer up with cosy capes and faux fur shawls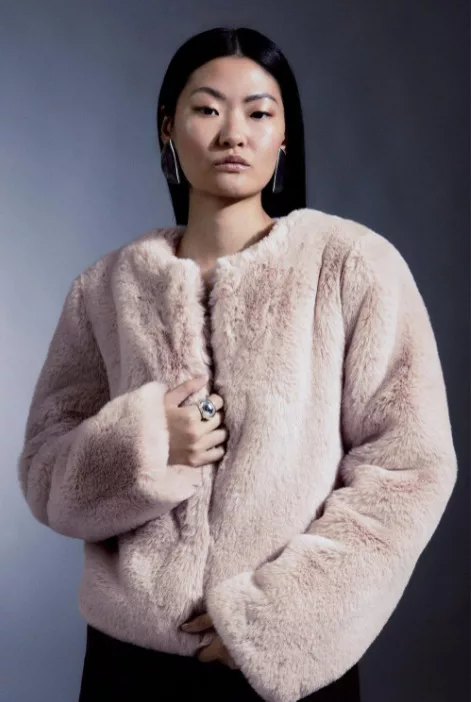 Capes and shawls are a great choice for making your winter wedding guest outfit cold-proof while giving your outfit a glamorous edge. This faux fur collarless jacket from Karen Millen comes in petite and regular sizing and a choice of colours, including ivory, rose, forest or black. The best part is that it's currently on sale for £89.25.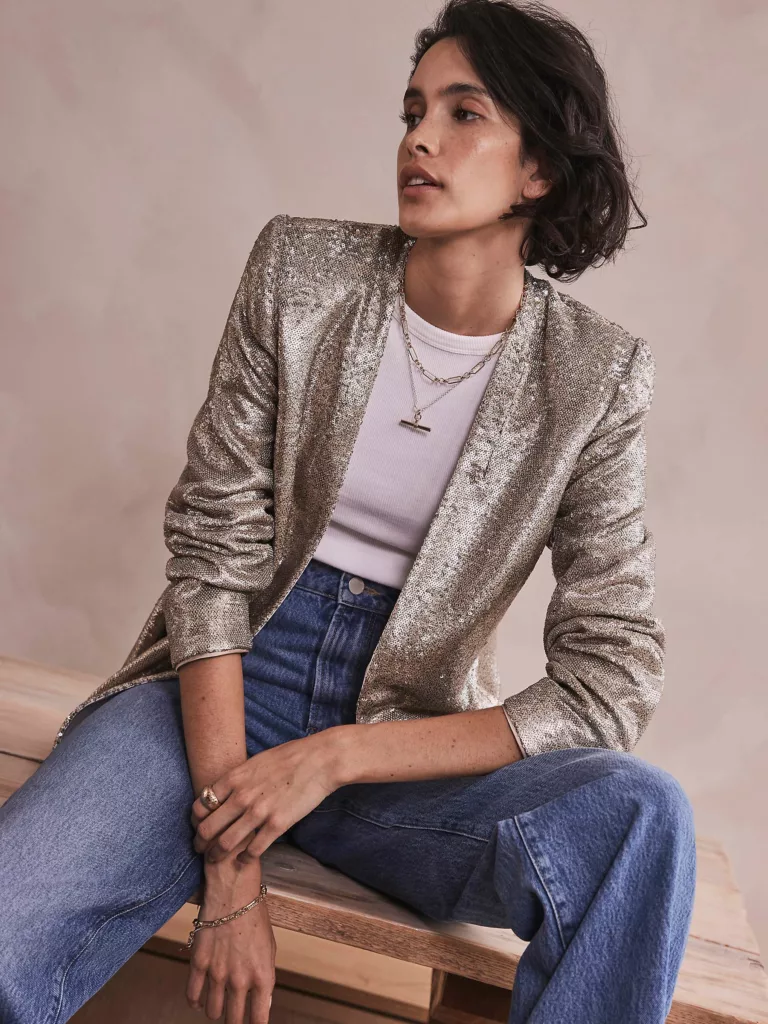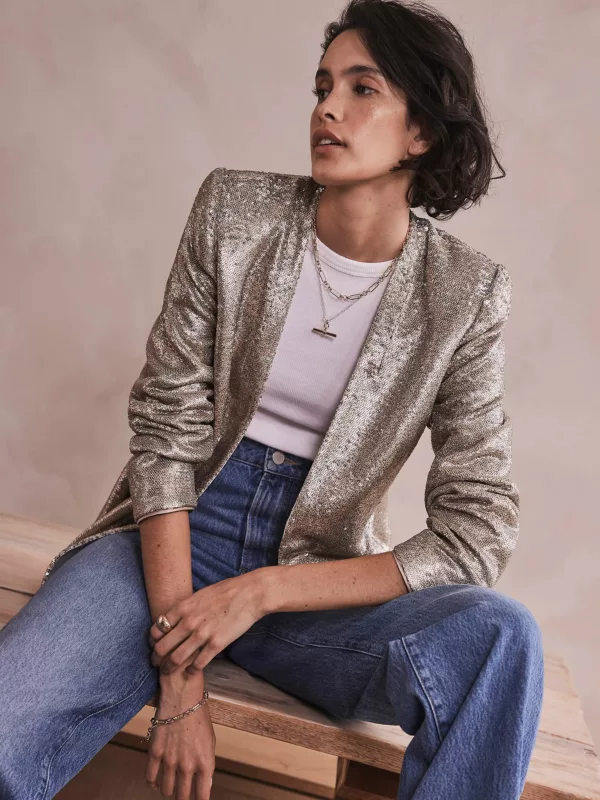 This sparkly gold sequin jacket from Mint Velvet is truly something special. It would look best paired with deep, jewel-tone colours, velvet fabrics or a black cocktail or ballgown dress. It retails for £169.99, so it's more of an investment piece, but one that you'll hopefully wear over again.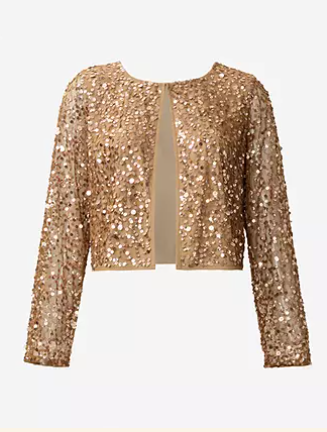 Another sequin number, this Adrianna Papell jacket is from John Lewis and comes in a gorgeous antique copper colour. The £149.00 jacket has a similar vibe to the gold sequin blazer above but is more of a relaxed fit and shorter in length. It's a mesh jacket, so it's slightly sheer, meaning it would work perfectly with a complementary colour or black dress that will show through.