When it comes to wedding planning, there are so many options for couples to achieve their dream day. But first, you need to know what theme you're going for. That way, you can design every last detail, ensuring that it ties in perfectly with your chosen theme. In this blog, we asked the design-savvy team at Joshua James to give us their top 5 tips when planning the ultimate rustic wedding theme.
What is a Rustic Wedding?
The term rustic is given to weddings that are themed with a blend of country, vintage and outdoor aspects. Nature-inspired elements including green foliage adorning tables, use of wood in the décor, and using an outdoor space are just some of the ways that you can achieve rusticity for your special day. This doesn't have to mean rough-and-ready; a rustic-elegance theme is very on trend and allows you to get the feeling of real luxury.
Here's Joshua James's top 5 tips for when organising an elegant rustic wedding theme.
1)  Choose A Rustic Venue
Once you have chosen a theme, the first step is to choose the right venue for your wedding. This doesn't mean you have to go with a basic barn or simple tent! A more luxurious take on rustic includes lots of outdoor space, plenty of light and a neutral backdrop you can make your own.
When it comes to a rustic elegance wedding theme, Rise Hall has everything you could need and more. A Grade II-listed stately country house within 30 acres of grounds and breath-taking views of acres of rural land, Rise Hall's spacious rooms and outdoor space lend themselves well to creating that rustic elegance themed wedding.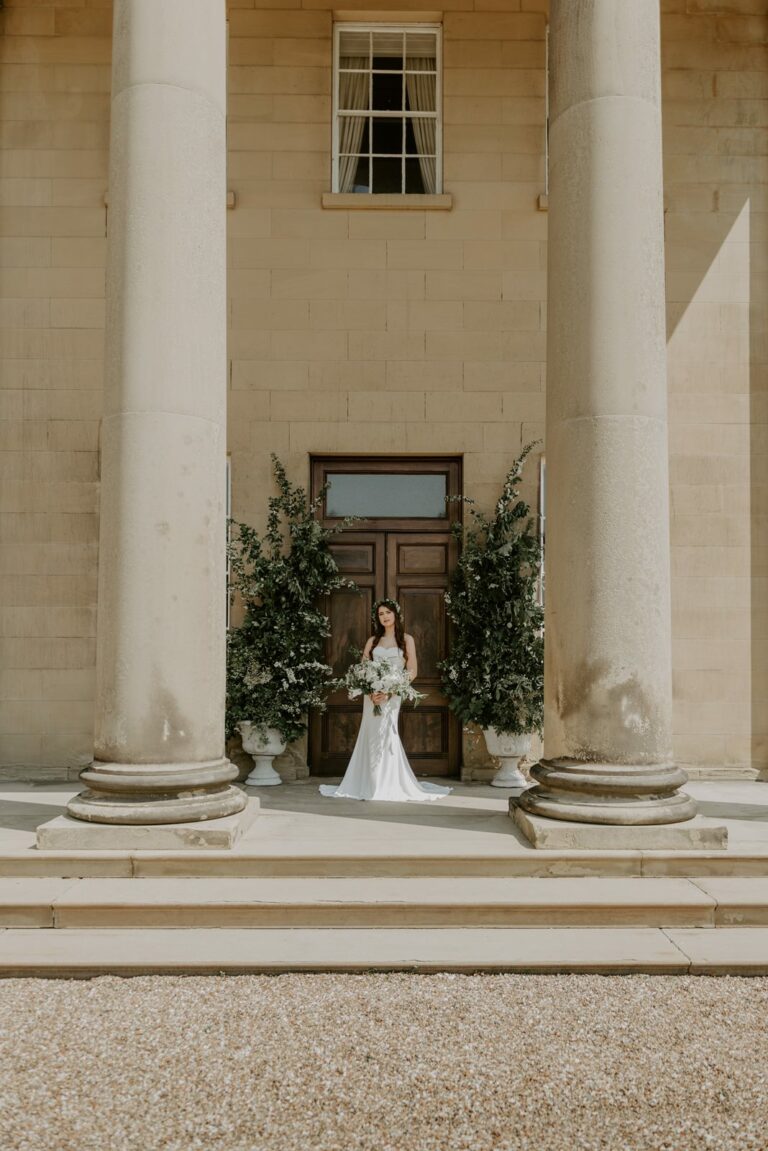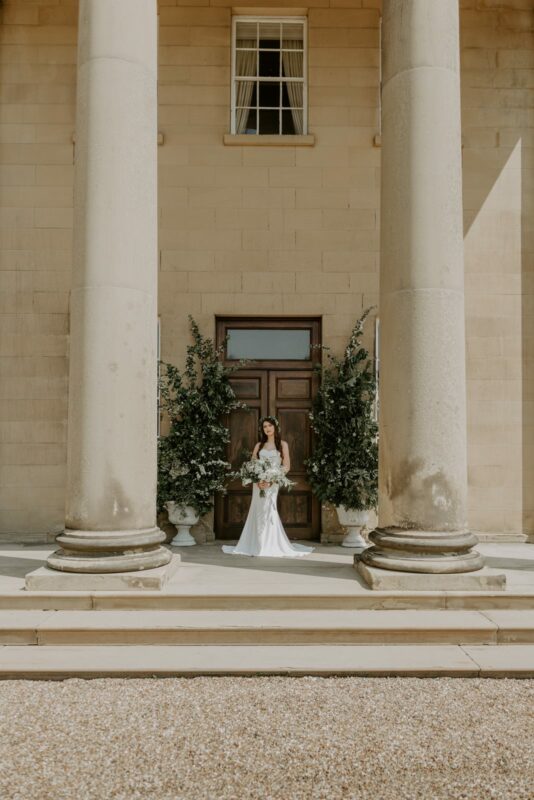 For example, you might style your ceremony room with blossom trees overhanging the aisle, perhaps adding hanging candles in the branches. Arrangements of greenery, spring flowers or even succulents down the aisle, depending on the season, all add to the overall look.
Lots of lanterns with candles, combined with textural chair sashes in your colour scheme to dress the chairs would provide a stunning, elegant and rustic setting for your wedding ceremony.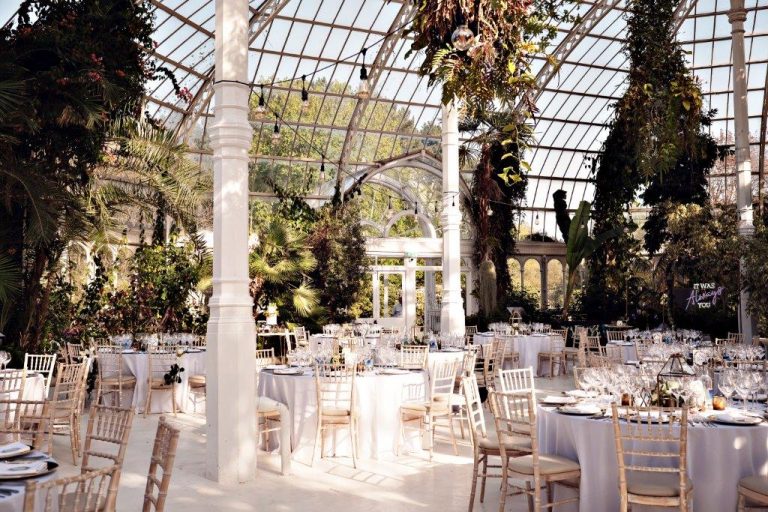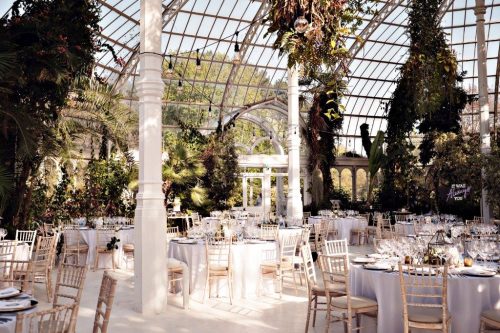 Alternatively, Sefton Park Palm House is a spectacular venue for a wedding, with its tropical greenery and airy, light-filled spaces making it the perfect rustic-elegant venue- no need for added flowers!
Continue your rustic wedding theme when it comes to your menu choices- more informal options such as grazing stations, sharing platters and street food options all fit in well with a rustic theme, or for more elegant options go for food with an outdoor theme. Award-winning caterers Dine have created spectacular veg-plot themed bowl food dishes, or an entire mini-garden for a canape event.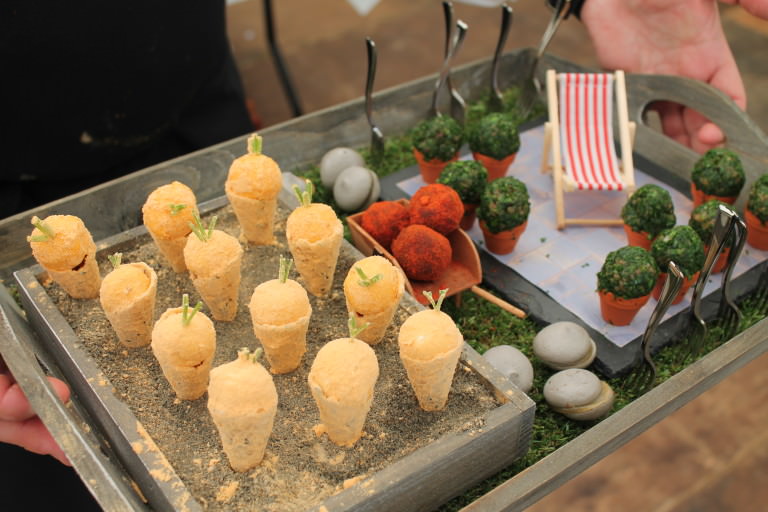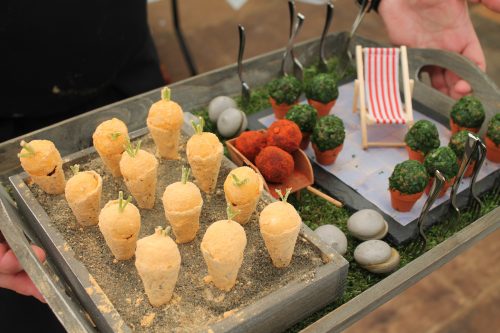 2)  Use natural materials
A rustic country wedding theme needs natural elements throughout. This might be on a grand scale with floral installations over doorways or cascading over tables, or you could choose natural materials for the theming.
Tablescape
A couple of ideas that always instantly add a wedding rustic theme to the mix would be large slices of wood that act as placemats. Secondly, wooden plant labels that pop out of cute miniature plant pots opposed to the generic seating signage would work wonderfully. You could combine this with place settings in natural colours- greens and creams are very fashionable at the moment and create a wonderful tablescape. A raw linen overcloth and napkins also gives a wonderful warm, textural feeling to the table. Complement with copper cutlery for a very on trend take on a rustic wedding theme.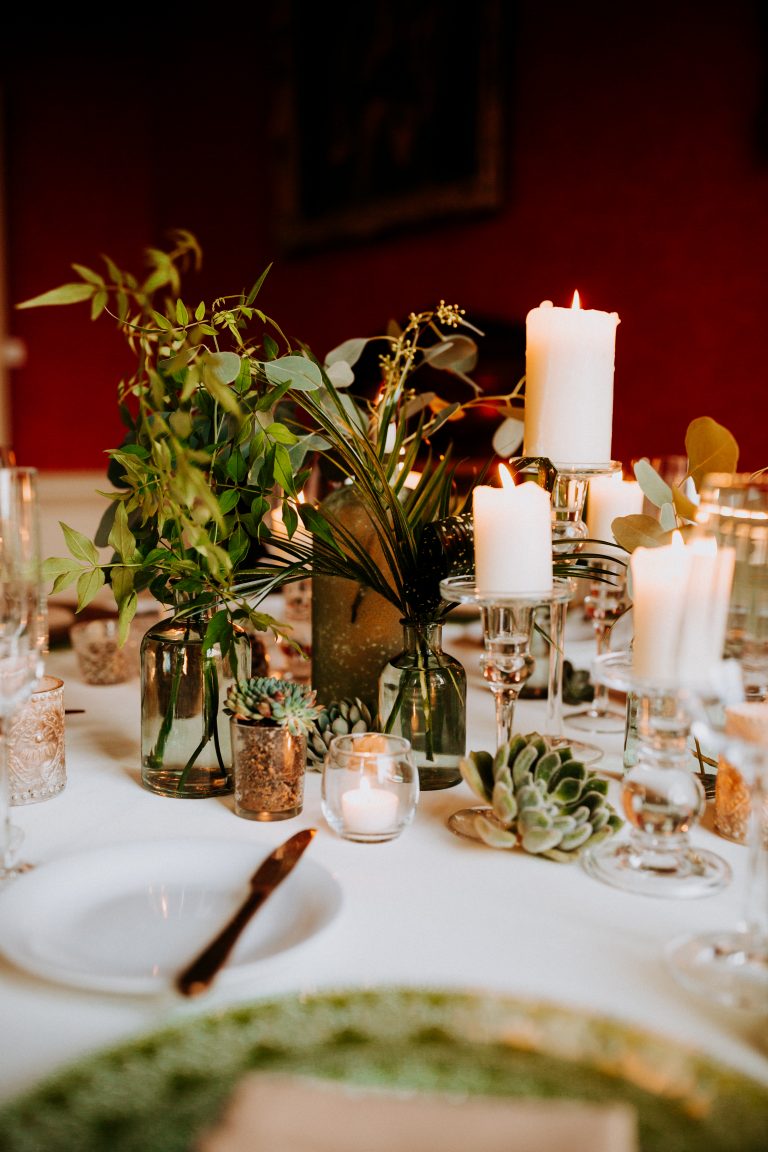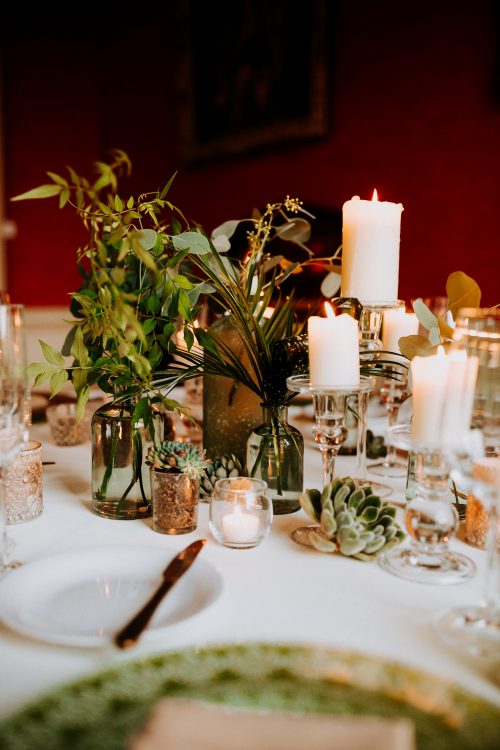 Invitations
While your stationery isn't showcased on your big day, it's crucial to get your wedding invitations' rustic theme right to set the tone for your guests. That way, they have an idea of what to wear, and what to expect from your sensational day. A great way to inject rusticity into your invitations would be through twine and natural shades such as browns, greens and creams to run throughout. Or you could go completely different and include real leaves or flowers in your invitations, with an embossed Perspex box.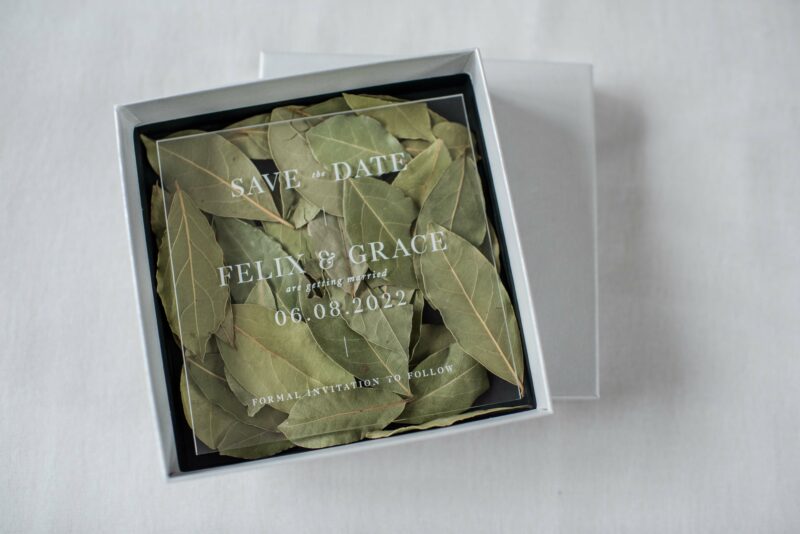 If you want to create even more of a statement, include a save the date wooden plaque magnet that your guests can hang on their fridge; that way they won't forget about your celebrations.
Wedding Cake
The wedding cake is an important focus point for the day and a key element in your photographs! 'Naked' cakes (without the traditional fondant icing) are very popular and fit well into the less formal vibe of an elegant rustic wedding. If a naked cake isn't for you, consider using cream coloured icing instead of white, with real flowers and fruit decoration.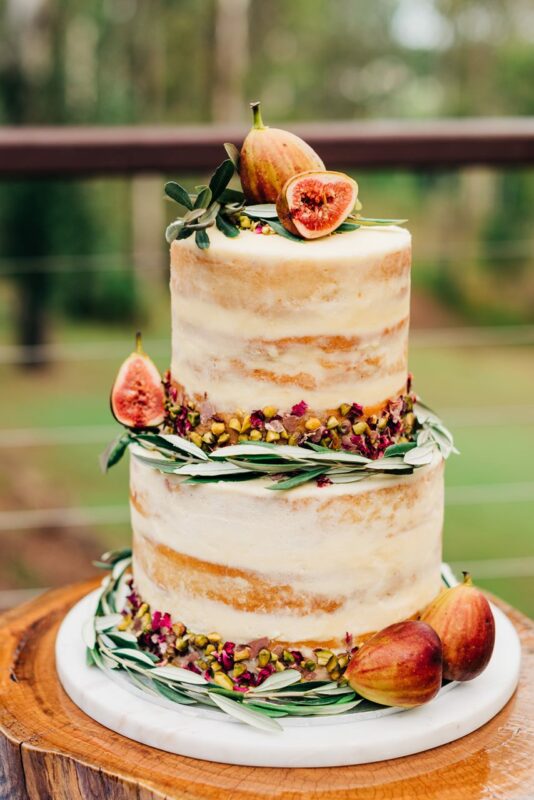 Favours and gifts
Continue the rustic elegance theme with your table favours and gifts for the bridal party. Favours could be personalised mini succulents, jars of local honey or packets of wild flower seeds. Again, focus on nature and natural materials and you can't go wrong.
Gifts for bridesmaids are traditional, and jewellery is a popular choice. Joshua James offers a wide selection of flower pendants that work perfectly for an elegant rustic wedding. A flower necklace in rose gold would make a beautiful gift that will be worn again and again.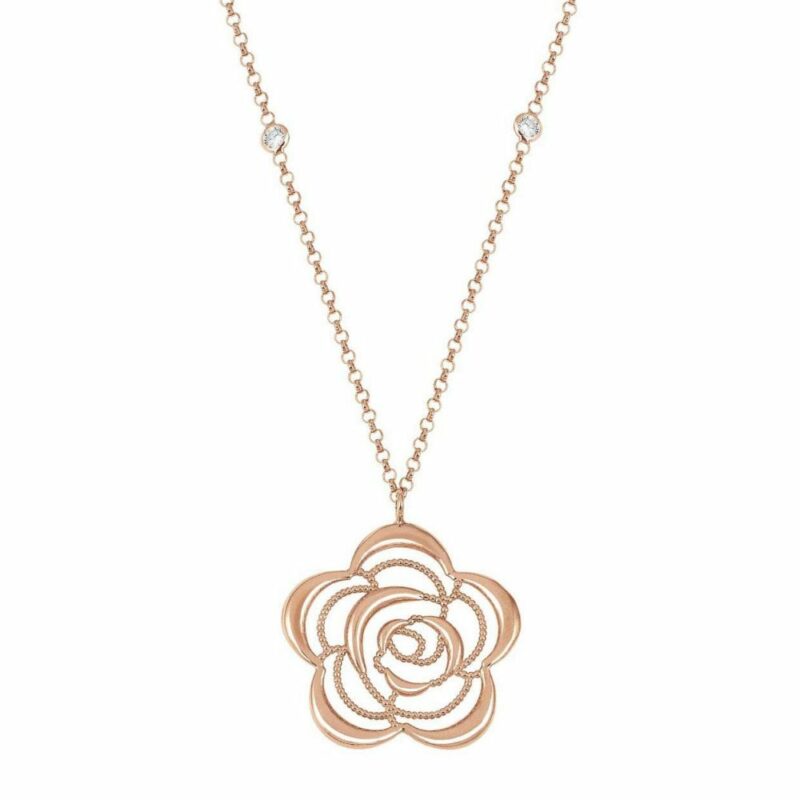 3)  The Power Of Lighting
Lighting is important for any event and can set the tone for your theme. Festoon lighting for outdoor areas is very effective- the firepit at Rise Hall uses this for a really warm and cosy touch. Indoors, choose a variety of lighting levels and types to create emphasis on key areas.
Traditional pillar candles of different heights within jars dotted all over tables, perhaps with tealights scattered around are a quick and easy way to create beautifully warm lighting on your tables. Uplighters and storm lanterns are also useful and can be safely used around the room. Keep light warm white to best fit your rustic wedding theme.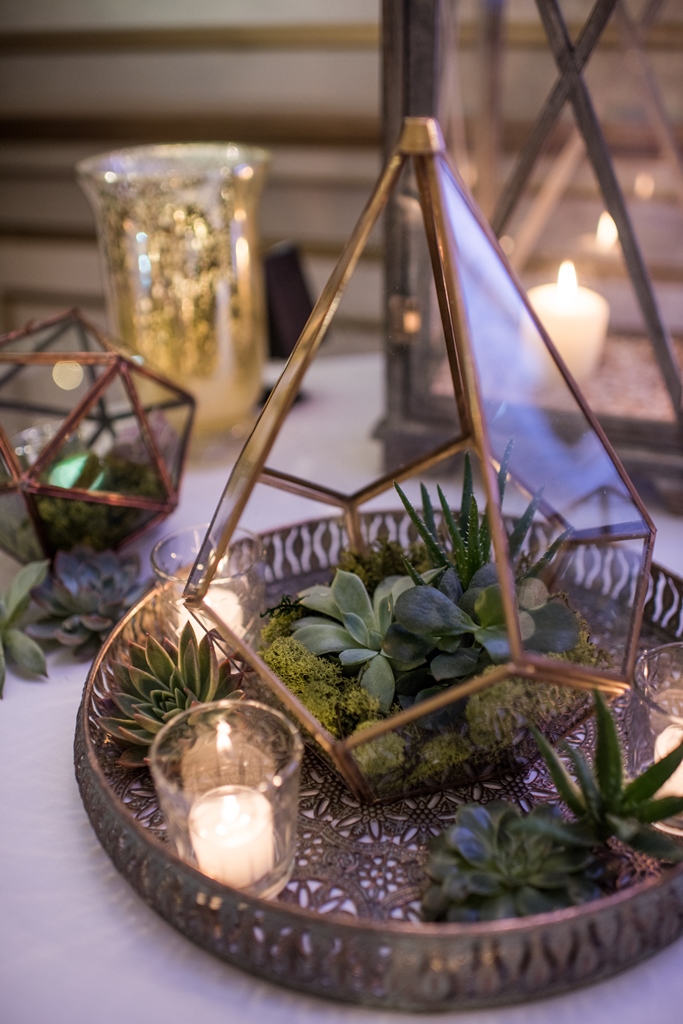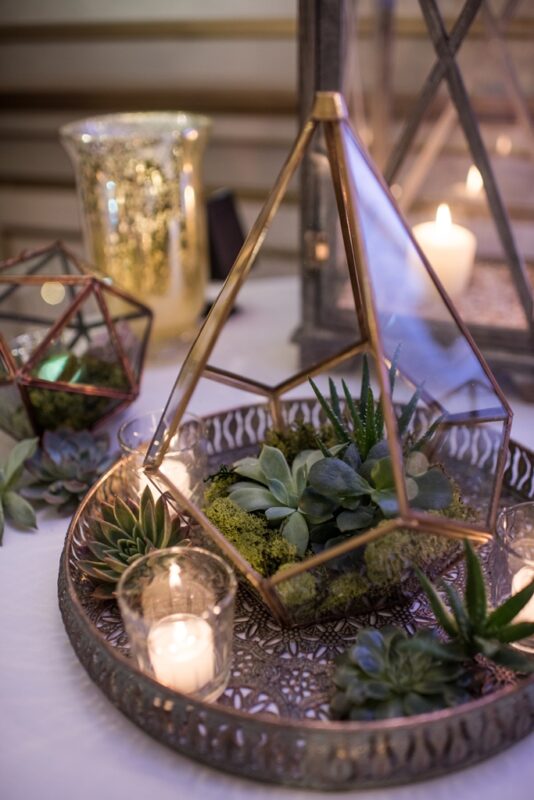 4) Rustic wedding photography
Having spent time creating your rustic wedding, you'll want your wedding photography to really capture the mood. Rustic wedding photography is usually less formal than traditional wedding photography, so you'll want a photographer that you feel comfortable with, and who can capture the informal vibe. Choose a wedding photographer with lots of experience of the outdoors so that they know exactly how to keep it raw and rustic. Make good use of the outdoor spaces- confetti shots and smoke bombs are popular and fit in well with a rustic theme.
5) Bespoke Rustic Rings
Another area of your wedding that should never lose its significance is your wedding rings. If you really want to envisage your wedding theme within every element, we have the answer. Joshua James' bespoke wedding ring service allows couples to design and create their very own dream rings.
Not only does this make both of your rings completely bespoke to you, they can be a true symbol of your partnership. Whether incorporating the natural beauty of petals into your wedding band or opting for a neutral gemstone is what you decide on, you can be as inventive as you like.
If you're interested in designing your very own wedding rings, book in for a consultation with one of the Joshua James experts. You will be invited in for an initial consultation to discuss your preferences before you're given several design drafts, as well as a 3D model that'll fully showcase how your rings will look before they're handcrafted right here in the UK.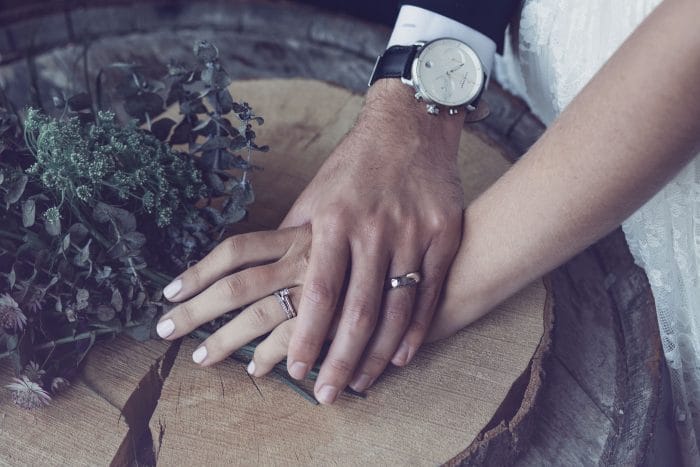 Follow these tips and you'll create the perfect, elegant rustic wedding!