Sustainability is a word we hear often nowadays, however, what does this actually mean when it comes to weddings, and especially sustainable wedding florals?
Ethical weddings are growing in popularity;  statistics from Bridebook state that 39% of couples now consider sustainability when planning their wedding. This, teamed with influencers across Instagram and the world of social media, means that sustainable weddings are very on-trend. There are lots of ways you can improve the sustainability of your wedding, without compromising style or breaking the bank.
We were lucky enough to be a part of a sustainable wedding styled shoot at our flagship venue, Rise Hall that celebrated everything British, grown from the hedgerows and of course, sustainable ethical weddings! Taking inspiration from hit TV drama Bridgerton, Emma from FlowerStyle based in Beverley chose Rise Hall as the perfect setting for her concept of a natural, sustainable wedding shoot. Emma teamed up with a crew of awesome local supporters of the cause, and the shoot was born.
Read on to find out how we focussed on sustainability…
Wedding florals
Emma from FlowerStyle told us: 'we champion sustainability across our florals. We strive to improve our impact on our beautiful planet, as florists we believe that as we work with nature we should respect and preserve it. We work foam free wherever possible and are working to cut out even the use of bio foam. Our bouquets are presented in compostable and biodegradable papers, cello and hessian which is a waste product from a local coffee producer. We work with a local grower to provide British, seasonal blooms which have travelled no more than 9 miles to get to us. We even dry our own flowers which are never dyed or bleached.'
Emma sourced all the greenery from her friend's farm Simply Foliage and flowers from a local grower, giving the installation a wild and free look which pictured against the backdrop of the grandeur and elegance of Rise Hall, married the two looks with effortless ease.
There are lots of questions you can ask your florist, or ways to plan your wedding flowers to ensure they're as sustainable as possible. For example:
– Choose seasonal flowers, or greenery and flowers that can be sourced locally
– Ask your florist to create arrangements that don't require foam blocks to hold the flowers (or use biodegradable florist foam)
– Ask for your Gift bouquets without cellophane, or choose an alternative gift with more of a focus on sustainability
– Can your bouquet be dried or preserved rather than thrown away when finished?
– Consider using pots of herbs/lavender/mini bay trees for venue decoration that can be replanted afterwards – these could even make lovely thank you presents!
Ali at Simply Foliage adds that British florists can promote a sustainable story through how they think about flowers, how they use wrapping and also how they can reduce their carbon foot print.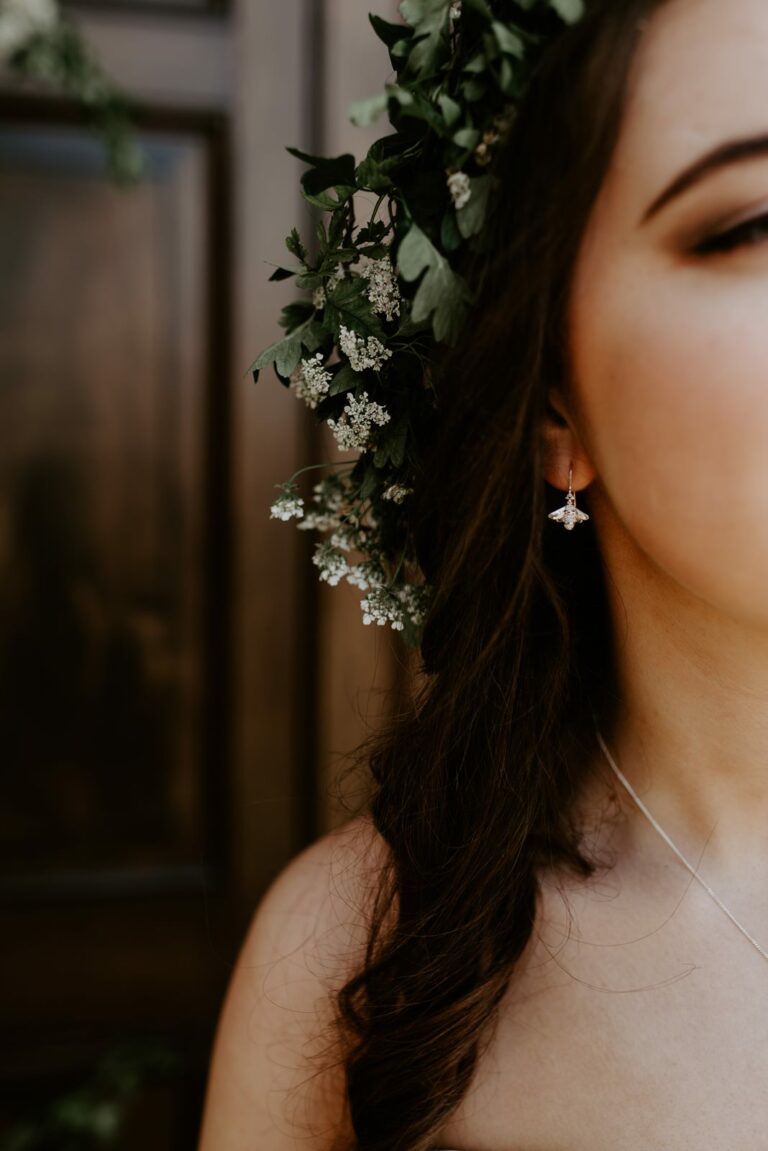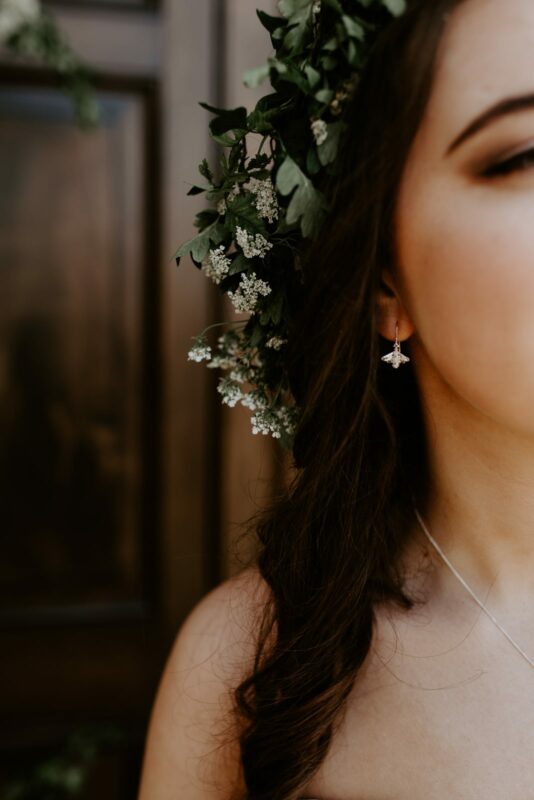 Wedding jewellery
The elegant but natural style carried through to the bride and no details were missed. Delicate jewels by Joshua James Jewellery brought the look together. John from Joshua James tells us how they are focusing on sustainability: 'At Joshua James Jewellery, we are all for making our operations as sustainable as possible. Not only do we live by the premise of buying investment pieces that use quality materials and timeless designs to ensure they become core pieces of someone's jewellery collection, but we are also vigilant on our energy consumption. At the Joshua James headquarters, we continuously explore ways to lessen our impact on the planet; from recyclable packaging to reusable coffee pods, we have thought of it all. What's more, we have partnered up with Trees for the Future, which means that with each purchase, we can support the planting of one tree in poverty-stricken African countries to help fight the climate crisis.'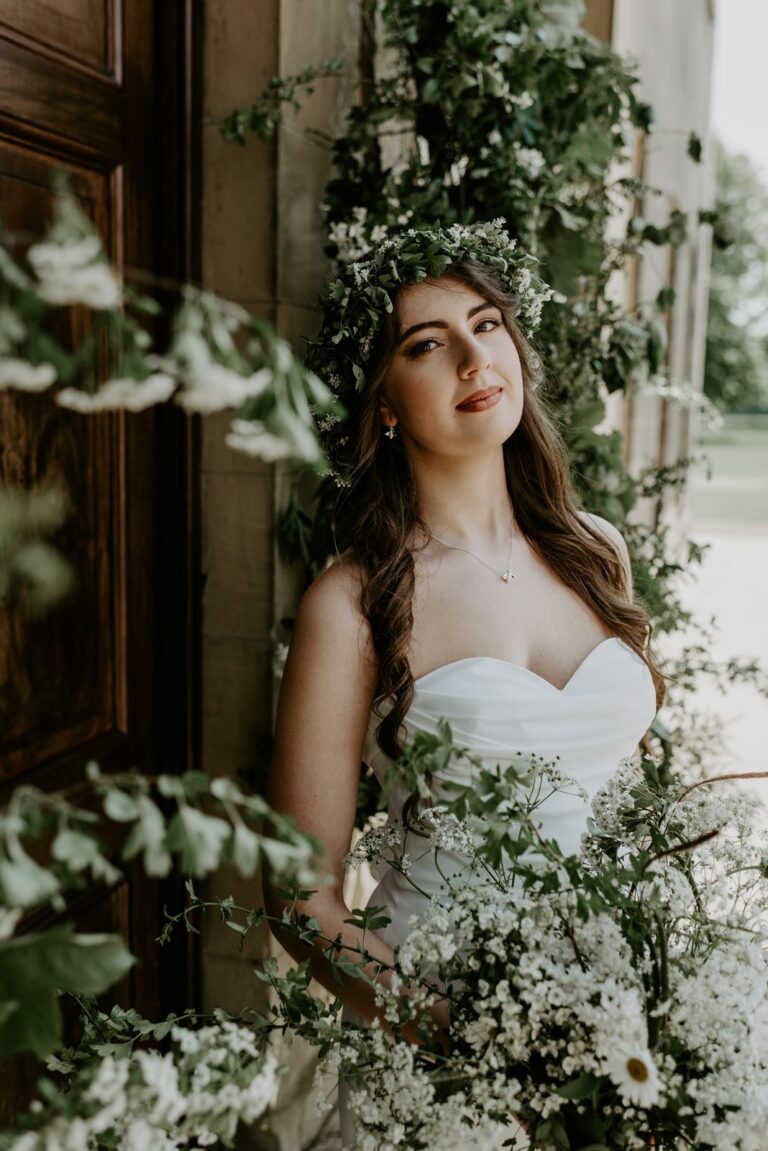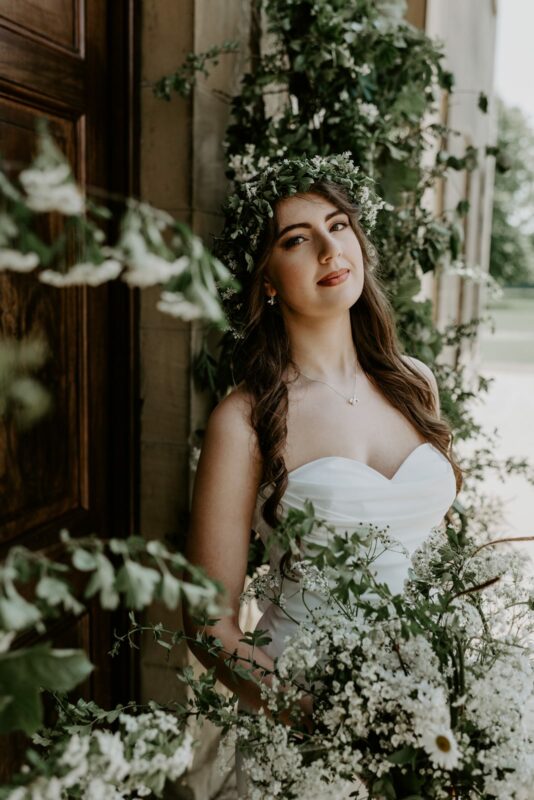 Wedding hair and makeup
Hair was styled by Su Wright, an accomplished hairdresser having worked at top level salons for the past 30 years. The styling of the hair incorporated natural looking waves and gentle twists taking for the inspiration from the natural theme created by Flowerstyle. Su tells us hairstyling can be slow to adopt truly sustainable practices, especially at the high end of the market. Her advice if you are wanting to be as eco friendly as possible? 'Look towards using hair care brands such as Wella Professionals "WeDO" range that fully embraces this approach. I also always use non aerosol products for styling hair and of course always recycle the containers! For wedding hair, just as in the shoot , if you can make use of locally sourced seasonal flowers to use as part of your wedding hair look that is about as sustainable as you can be. Items such as grips and pins are all reusable after the event . If you are going for accessories in your hair these can also be reused. You could store them as a memory of the day with a view to being rediscovered in the future, sell them on or even donate to charity.'
Make up on the shoot was by Louise Shepherd, a passionate makeup artist and hair stylist with 10 years experience. Her natural but radiant bridal makeup was perfect for the theme of the shoot as she loves a romantic style to work with! Louise prefers to use high end products, and offers skin care advice and product recommendations to her clients as part of the experience.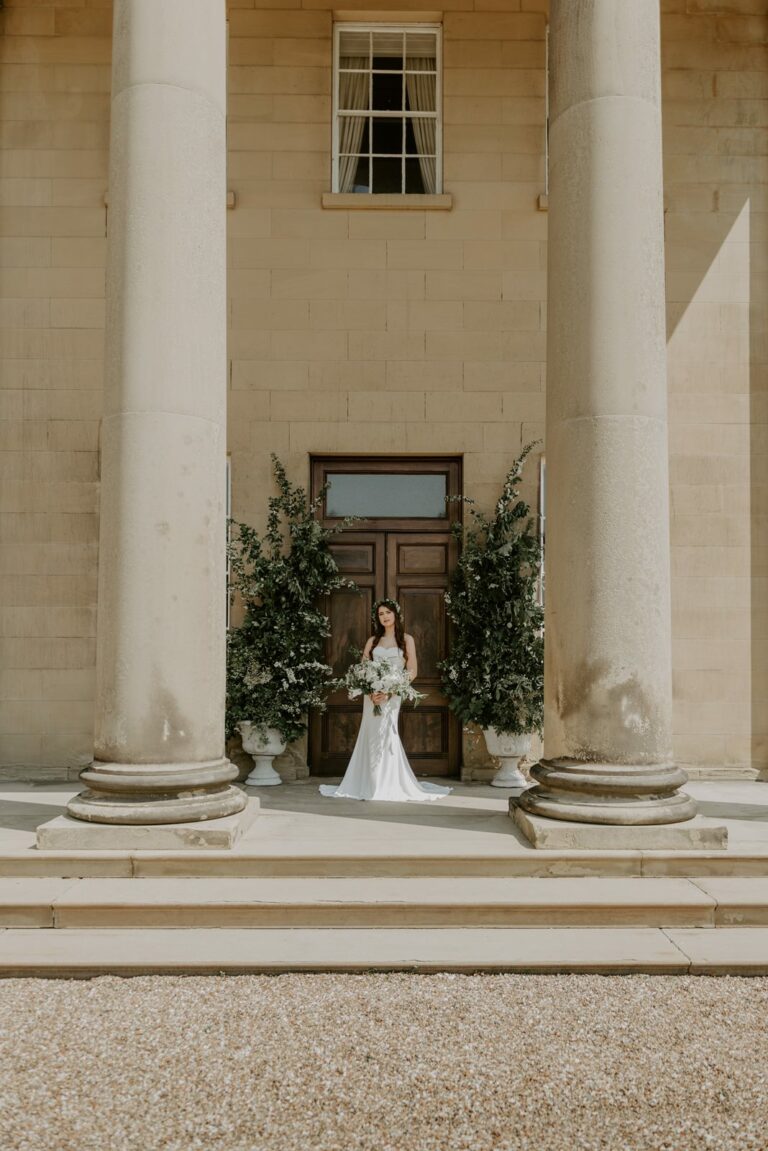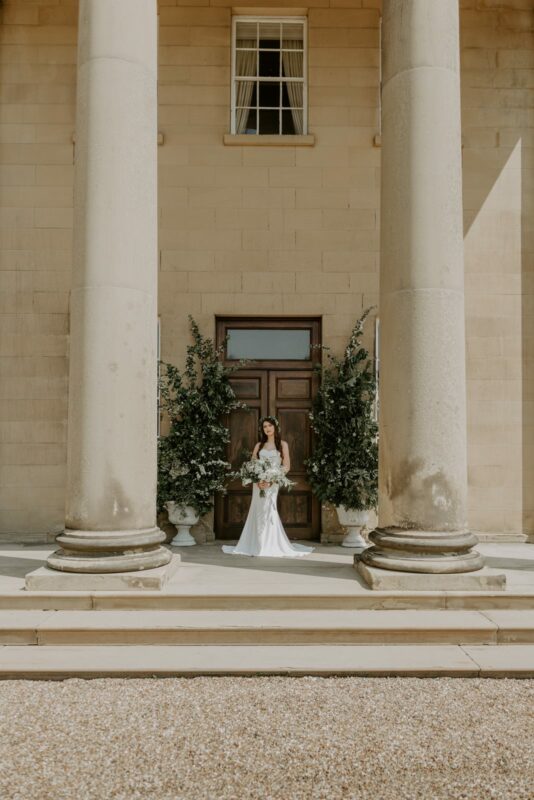 Wedding dress
Our stunning gown was sourced from local supplier Elizabeth Lucas, who runs a modern boutique in the heart of Beverley offering a plethora of wow factor gowns! The fabulous Rogers gown is by WToo by Watters,  Chic and clean, the Rogers gown is about as classic as it gets. Finished with a fully constructed bodice for support and a draped bust that turns into self tie streamers on the back, this dress was perfect for our natural style.
Wedding Photographer
Capturing the magic was local photographer Lucy Dennis, whose light and natural style was a perfect match for the styling. Lucy is a favourite at Rise Hall and you can see why!
An amazing day and some incredible images. Here's our industry creatives:
Concept and florals –  Flower Style Beverley
Venue – Rise Hall
Photographer –  Lucy Dennis
Foliage – Simply Foliage
Jewellery – Joshua James
Make up – Louise Shepherd
Hair – Su Wright
Dress- Elizabeth Lucas
Model – Phoebe Ankrett