Choosing seasonal wedding flowers is one of the best ways to get fresh, affordable and sustainable wedding florals. Here's our guide to the pick of the best flowers for each season
Spring Wedding Flowers

Lily of the Valley
A traditional favourite, Lily of the Valley is the birth flower for May and symbolises the return of happiness in the language of flowers. It's not actually a lily though, it's part of the asparagus family.
Anemone
Perfect for vintage and rustic wedding bouquets, Anemones belong to the buttercup family, Ranunculaceae.
Ranunculus
A fabulous, statement flower available in a wide range of shades, ranunculus is incredibly versatile and a great base for spring wedding florals.
Tulips
With such an elegant shape tulips lend themselves well to modern, slimline floral arrangements
Summer Wedding Flowers

Peonies
Peonies are the showstopping flowers that are our absolute favourites for summer weddings. Peonies are said to symbolize a happy life and a happy marriage
Delphinium
For a more elegant and luxury look at a summertime wedding, delphiniums are the flowers to go for. Great for adding height to your table decorations.
Roses
Can there be any flower more romantic than the rose? A traditional wedding flower which symbolises love.
Autumn Wedding Flowers
Dahlia
With roses, peonies, and hydrangeas, dahlias are a classic wedding flower that will bring elegance to your wedding florals. Very versatile, with a wide range of colours.
Gladioli
Great for adding height to your flower arrangements, Gladiolus is one of the August birth flowers.In the language of flowers, gladiolus signifies remembrance.
Chrysanthemum
Late summer and early autumn is a good time for Chrysanthemum, the large, blowsy flowers which are great for creating impact in wedding bouquets. The chrysanthemum was a culinary flowering herb in ancient China, said to cure headaches
Winter Wedding Flowers
Hyacinth
Hyacinth is a perfect winter-blooming flower with a wonderfully heady scent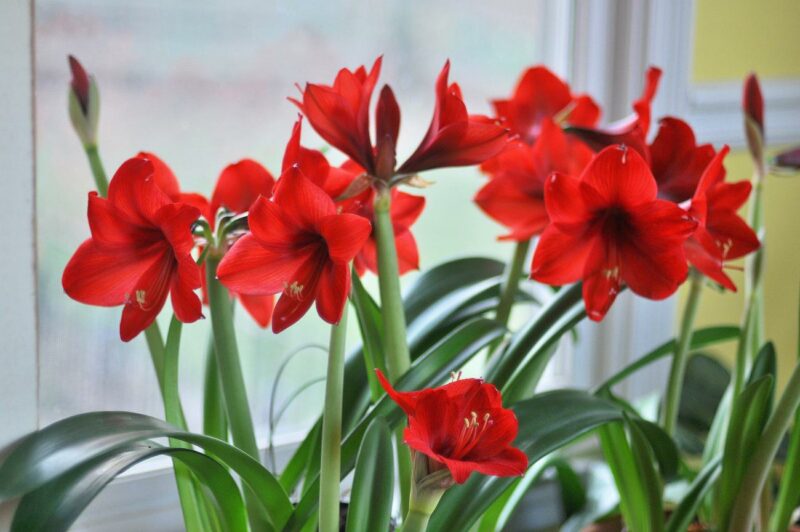 Amaryllis
Can there be anything more Christmassy than Amaryllis? There are several varieties which come in shades of white, pink and red.
Christmas Rose
Not actually a rose but part of the rununculus family, the Christmas rose flowers in winter and early spring. They can add a touch of elegance to your winter wedding bouquet.
Whichever season you choose for your wedding day, there are lots of seasonal floral options out there. Dine work with the country's top florists- please ask us for a recommendation for your event.