—

Personalise your wedding with a Celebrant

—
When it comes to planning your wedding, you have probably spent many hours Googling wedding ideas and images for everything- flowers, dress, food…. But have you ever thought about the ceremony? This is surely the most important part of the whole day, and yet many couples see the format as set in stone. It doesn't have to be that way! You can personalise your wedding with a celebrant.
Wedding celebrants are an increasingly popular way for couples to get the ceremony they want. They are independent and can help you create a ceremony that is all about you. You can meet them well before the big day and involve them in the planning so that, when your big day comes, they are already old friends.
A ceremony with a celebrant is not legally binding in England, so you will need to register the marriage separately in front of a registrar. This does not have to be the same day, it could be long before or indeed after your wedding day! The legalities consist of just 40 words and 2 witnesses- it doesn't even have to be people you know.
Once the legal part is taken care of, there are then no restrictions on the celebrant-led ceremony! This could be anywhere you want- indoors, outdoors- and dressed however you want too.  You can create exactly the vows you want, and add religious or traditional elements as you feel- civil ceremonies can't allow this.
Here's some ideas for ways to personalise your wedding with a Celebrant: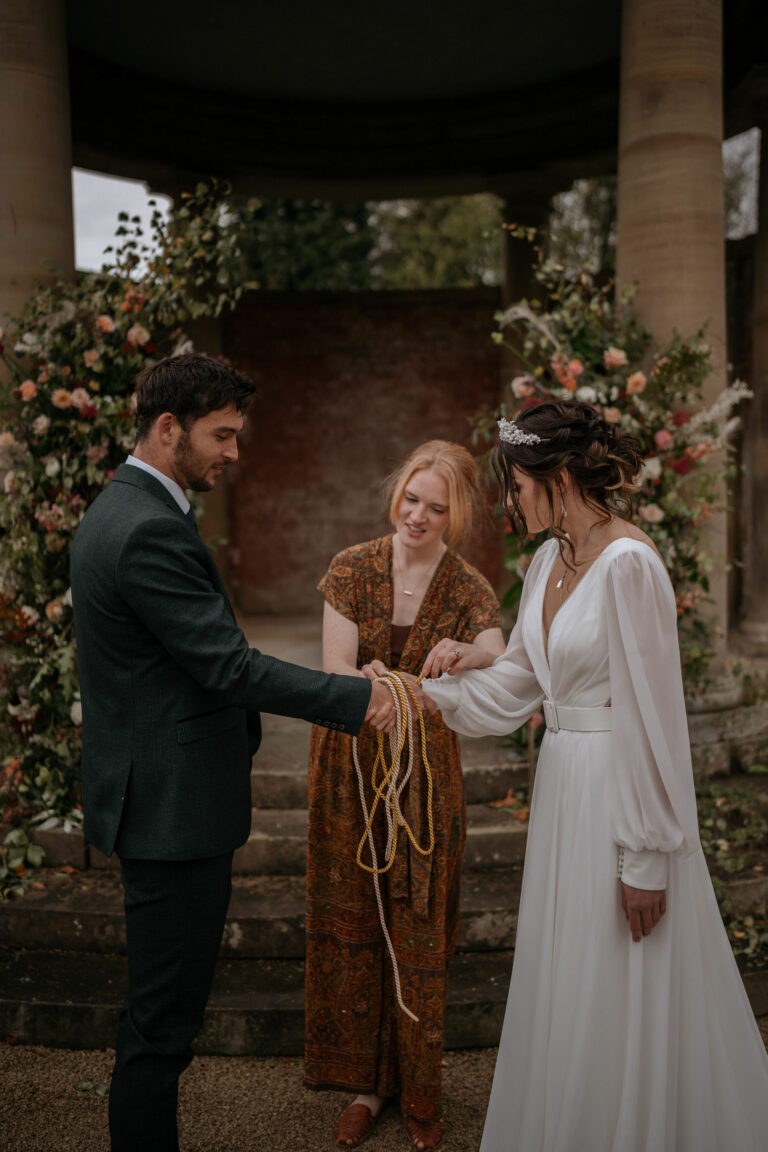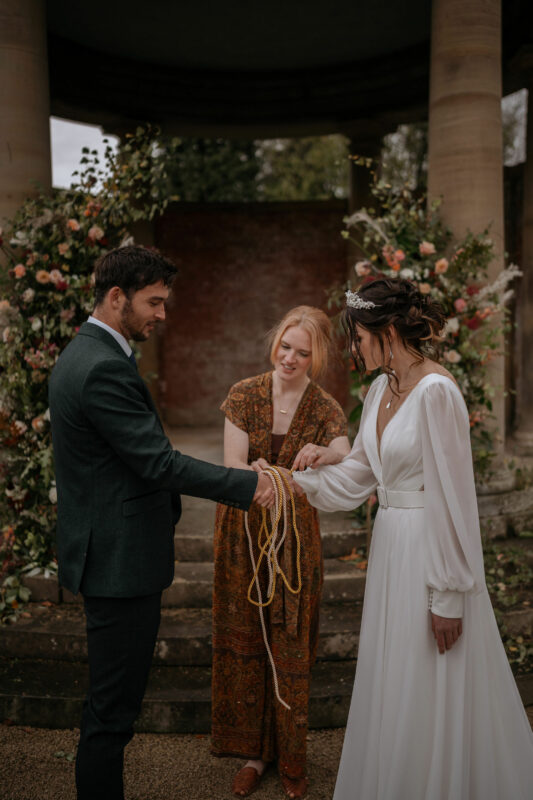 Personalise your wedding vows
Having a celebrant for your wedding means you can write your own, meaningful vows- and say exactly what you want to say to each other! If marriage means you promise to not complain when they watch Love Island, then say so!
Choose your perfect wedding location
Having a celebrant means your wedding can take place wherever and whenever you want- there are no limits! At Rise Hall a popular choice is to have the ceremony outside in the gardens overlooking the lake- beautiful but handy for the loos!
Add your own symbolic rituals
Exchanging rings is traditionally the way to mark a marriage but you might decide to do something else- handfasting is increasingly popular, as are sand ceremonies, lighting candles, and exchanging gifts. You could add elements from your favourite film or book. You might include family, friends and even pets in the ceremony too- there's no end of possibilities!
Personalise your wedding music
There are rules around what music and readings can be included in a civil ceremony- not so with a celebrant-led wedding! You might decide to have a star-wars theme or add in a hymn that means something to you- anything goes!
At Dine we are used to working with couples to create their perfect wedding day, so speak to us if you are thinking of having a celebrant-led wedding. We have a number of celebrants we work with that we can recommend to help you bring your vision to life.
To begin your wedding planning, contact one of our friendly team here