It was third time lucky for Nicola and James when they got married at Howsham Hall in September 2021, after their original plans were delayed due to Covid. They even considered giving up their dream wedding! They share their wedding story with us; their proposal, planning and how they finally got their big day.
Many thanks to Sarah Beth Photo for the incredible photographs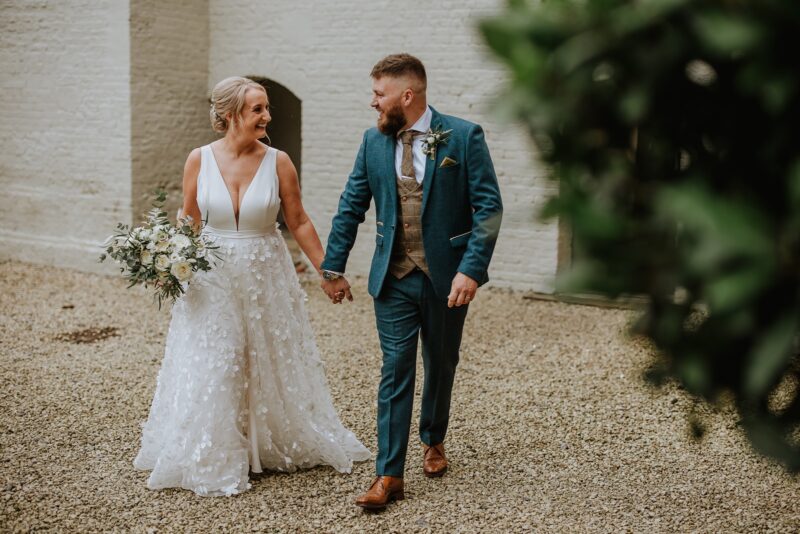 Please tell us a little about the two of you and your proposal
Where do you live?
We live in York, James is a Mackem but I'm a York girl born and bred.
How did you meet?
Tinder, it does work!
What do you both do for work?
James is a telecommunications engineer and I'm a Marketing Manager in financial services.
Tell us about the proposal… 
The proposal is a great story… we went to New York in December 2017 just before Christmas. We went to have a meal and drinks in the Rainbow Rooms at the top of the Rockefeller Center. I guessed James was going to propose as not long after we arrived another couple got engaged and James couldn't hide the disappointment on his face! Turns out they were already the second couple that night to get engaged so James decided to go ahead and propose. We were posing for a photo in front of the window overlooking the Empire State Building, and James asked the woman to take one more. He turned to me and as he went to go down on one knee and take the ring box out of his pocket, it got caught on his ever-so-slightly tight jacket and pulled open. As it opened, the ring flew out and all we heard was a metal-on-metal 'chink' noise as it fell down the air vent grate around the edge of the building. We both dropped to the floor to retrieve it, luckily there was a filter a couple of inches down which caught the ring. James' fingers were too big to fish it out but luckily, I managed to retrieve it. We got back to our feet and he re-proposed, the whole room burst into cheering and clapping (we hadn't noticed they'd all stopped in silence and watched this saga unfold!) Unfortunately, we don't have a photo of it happening, I think the woman was probably too horrified to take any! She did however get the one above after I said yes!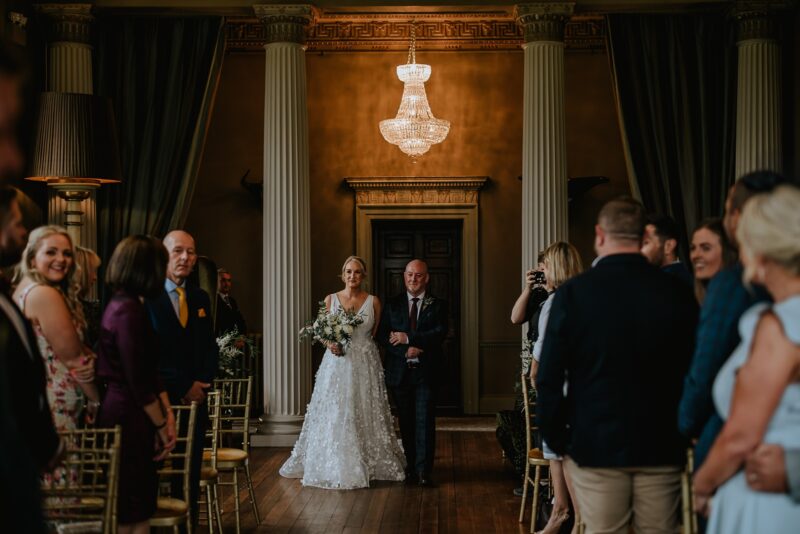 Wedding Planning
How was wedding planning in COVID?
A nightmare! We were so close to our original date (May 2020) and had already been planning it for over two years, so we were pretty much ready for the big day when we went into lockdown. We were heartbroken and considered cancelling the whole thing and either doing the register office or going abroad – but I couldn't face not having our big day at Howsham as we'd fallen completely in love with it.
Why did you choose Howsham Hall for your wedding?
It was the first venue we looked at in January 2018, we loved the idea that it was a new venue and hadn't done any weddings before – being from York, I've attended weddings at many of the venues in and around the city, so I wanted somewhere unique for both us and our guests.
When we walked into Howsham Hall we had 'that feeling'. I'd always thought that was cheesy and wasn't a real thing, but we both felt it the first time we stepped foot in the building! And the bridal suite, it just blew us away, I couldn't imagine not getting ready with my mum and my bridesmaids in there, it was just perfect.
What is it that makes Howsham Hall different to other wedding venues you looked at?
We're both huge foodies, so after falling head over heels in love with the venue, the rooms and the décor, the food was next on our list. One of the things Nick told us when we first met him was how each table would have five servers, so everyone on that table will have their meal presented at exactly the same time. That standard of service meant a lot to us! In addition, the canapés we had when we visited were divine and we knew that that was the quality of food we wanted for our big day.
What were you looking for in a wedding venue?
We honestly had no idea! We started looking with an open mind, we'd already booked a couple of places to visit when we came to Howsham, but each place we visited after just made us love Howsham more and more, so we quickly snapped up the date we wanted.
How did you find Howsham Hall? 
I think it was on Hitched.
Where did you find your invitations?
One of my bridesmaids designed our save the dates and original invitations, she's an illustrator (North Doodle Co) and also helped us with place cards, the table plan and other stationary for the day.
Did you have a theme or style in mind?
Not at all! I knew I wanted the theme to be not overly fussy and just fairly sleek and elegant. The great thing about Howsham Hall for us was that we didn't need lots of decorations to fill the place, so we just had the odd bits and bobs in gold to tie in with the existing décor. For our aisle decoration and table décor our amazing florist Hare & Howl made beautiful creations with gold stands and white flowers with lots of lush greenery.
The cake – where was it from and what was it like?
I actually don't like cake, so we never wanted to go for a big, tiered feast (plus often they're not all eaten at weddings and we didn't want any waste!) So, we got in touch with the fantastic Juniper Cakery to ask if they'd create a donut tower for us. They made the most mouth-watering limoncello donuts for us and topped the tower off with a small red velvet cake (James' favourite). We got paper goody bags to make sure people took a donut home if they were too full to indulge on the evening – they went down a treat.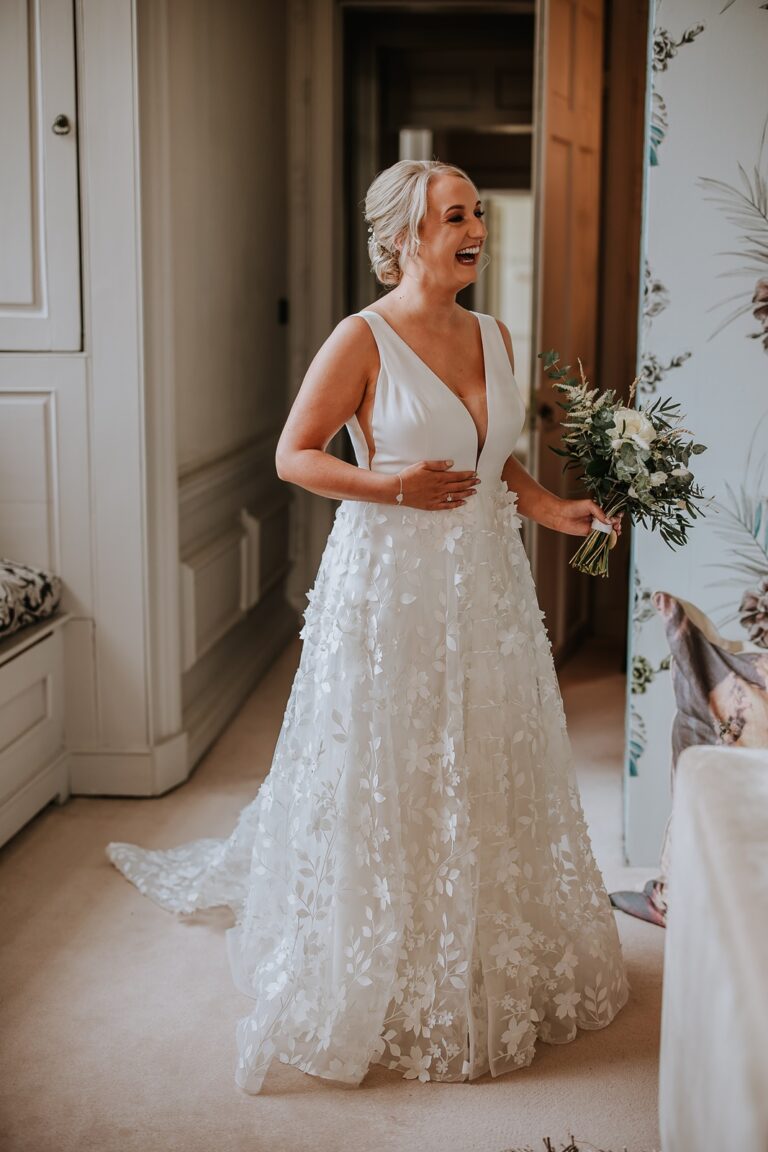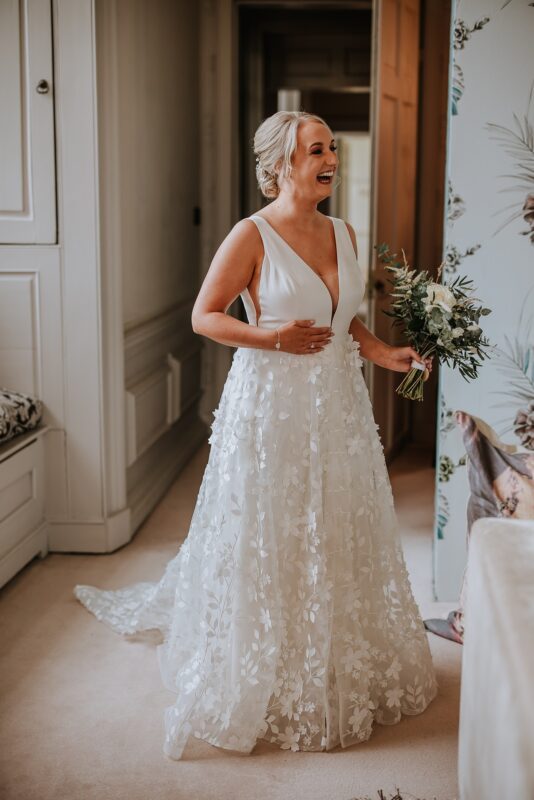 Pre Wedding Preparations
Where did you get ready?
I got ready at Howsham, that was my dream from the moment we saw the bridal suite! It was perfect for getting ready with my mum and my bridesmaids. The suite was amazing for natural light for the hairdresser and MUA, had so much room for us all to have our own space and not feel on top of each other, and most of all was a stunning backdrop for photographs!
James got ready at home with his groomsmen, and then drove up in a Dodge Viper, which he was extremely excited about.
Who did your Hair and make-up?
I couldn't have asked for two more beautiful souls to be with us on the morning of the wedding. The stunning Steph Swaine did our makeup, I've known Steph for a long time, and I wouldn't have had anyone else! And the beautiful Unity Rhodes did our hair, she's an absolute star.
The dress – where was it from and how many dresses did you try on?
My dress was the Alika by Savin London, and I got it from Lace & Co in Horbury, Wakefield. I'd seen it on the catwalk at a wedding showcase at Rudding Park and had never seen anything like it. It was the first dress I tried on at Lace & Co, I tried on a few others after to make sure I was sure it was the one, but nothing compared!
Groomsmen outfits – where was it from?
The suits were Marc Darcy from Master Debonair in East Boldon in Sunderland – it was nice to go back to where James is from and choose the suits!
Bridesmaids outfits- where were they from?
The gorgeous bridesmaids dresses were from Silkfred.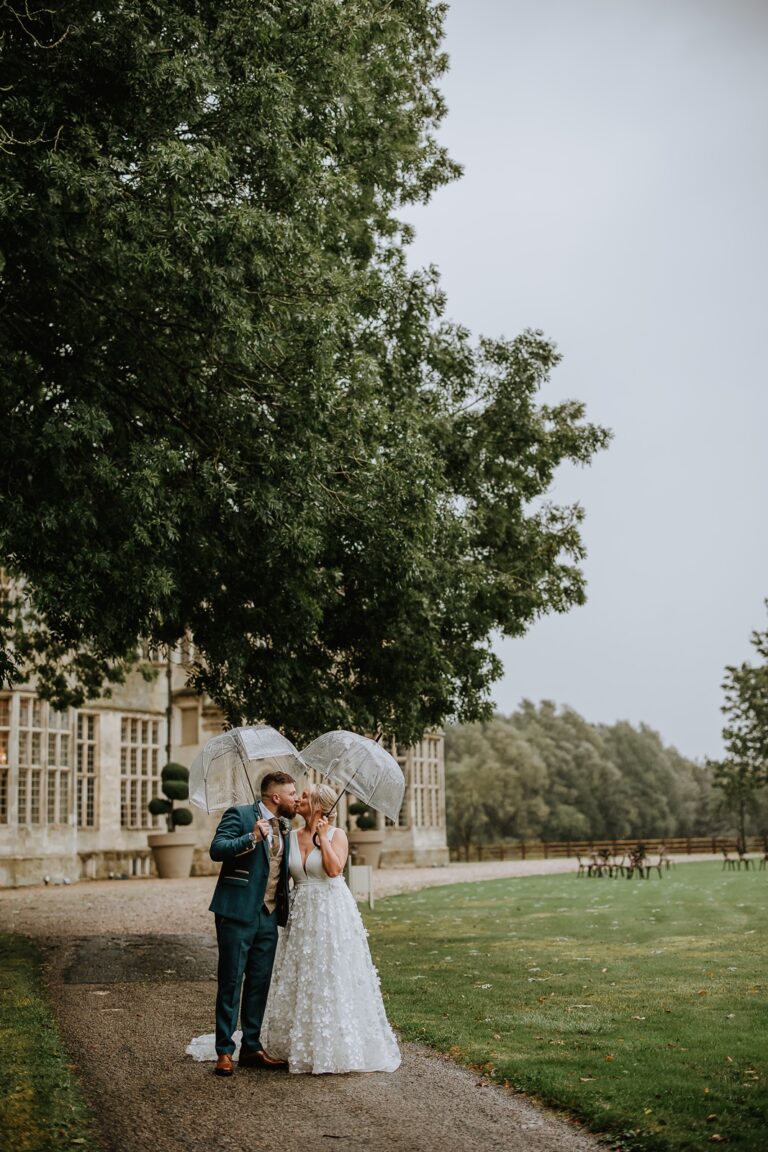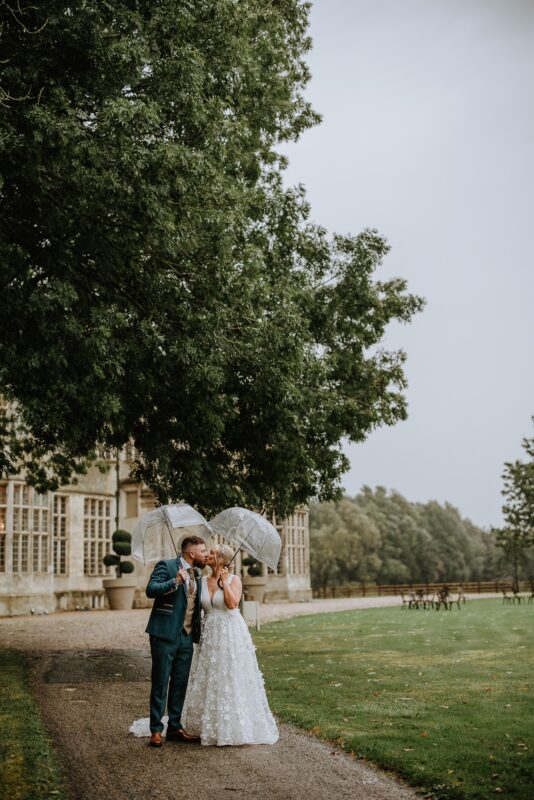 The Wedding Day!
The weather looked glorious on your pictures! 
Our photographer was the fabulous Sarah Beth Photo – despite horrendous rain on the day of the wedding, she still managed to make the photos look absolutely brilliant.
Date of your wedding?
30th September 2021 (our third date!)
Which menu did you choose?
We had the goats cheese cones, thai fishcakes and welsh rarebit for canapés – they all went down a treat with the guests! For the starter we chose the prawns in the garlic tomatoes, blade of beef with red wine jus and the Eton mess. Everyone loved each dish, and I even managed to not stain my dress with all the bright red food!
What drinks did you have for the reception?
Beer and prosecco, you can't go wrong.
What was the most treasured memory on the day?
Immediately after the ceremony James and I went up to the bridal suite and caught up for 15 minutes or so while the guests got the drinks reception started – it was so nice to spend some time just the two of us as a newly-wed couple, before we caught up with all our guests!
Which band or entertainment did you book?
We booked Jonny Ross's DJ and sax package – it was so much fun having live music and really got the party started in the evening.
Did you have any special transport?
James arrived in a Dodge Viper – he's a proper petrol head so it was a highlight for him to have a cool car for the morning!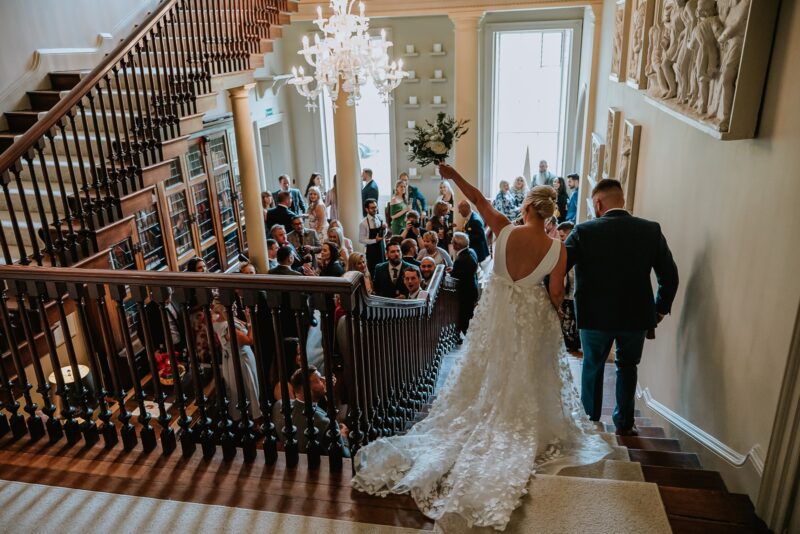 Post Wedding
Would you recommend Dine to friends and family?
Yes!
Where did you go on honeymoon?
We flew straight to Mauritius a few days after the wedding. It was a little nerve-wracking with COVID cases on the rise, but it all worked out well and we're so glad we booked it, it meant our little wedding bubble could continue!
Any special advice you would give to future brides / couples planning their wedding?
Don't worry about the little things on the day, everything just works out and goes ahead in the background without you even realising it's happening (especially if Dine's Craig is looking after things for you!) and don't let any guest drama ruin your day or the lead up – it's your day and just remember that.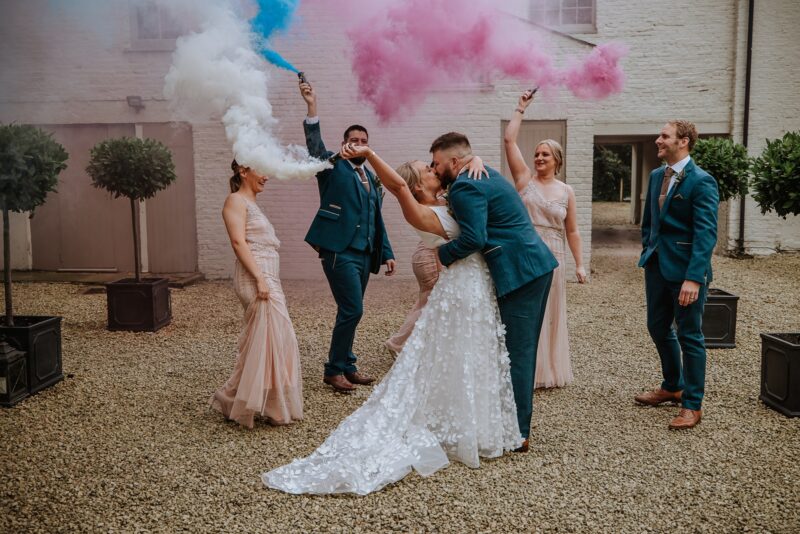 Additional Supplier List:
@unityrhodesbridal
@makeupandbeauty_bysteph
@photosarahbeth
@hareandhowl
@laceandcobridal
@savinlondon
@junipercakery
@jonnyrossmusic
@northdoodleco
@masterdebonair