What made you choose Howsham Hall as a venue?
Kealan and I actually went to about 10 different places, we needed somewhere we would both agree on. Some of the places which I thought we would love when we got there we found that they just didn't have the wow factor.

We loved everything in Howsham. Every room is lovely and that the venue has a separate area for the night so you didn't have to turn over the rooms like some venues when you're in the same area all day and night.
The proposal – tell us the story…
We went to Manchester for the Christmas markets like we do every year and before we went Kealan asked me to iron something and I said "That's a wife duty". In in the car on the way there he said "We should go and get you a ring today" but I just thought that he was joking!

We'd had a couple of mulled wines and then he said "I think we should go and look in some ring shops". There's a really nice street in Manchester called Kings Street with some lovely jewelers on and I've taken him over to a few shop windows before but usually he just laughs it off but this time he said "Lets go in and try some on". We went to a few places, had free champagne and the ring that I got was actually the first one that I'd seen. He let me choose the one I wanted, I was crying in the shop and the people working there were all emotional too.
Where was the dress from and how many did you try on?
The dress was from Sì… Bridal & Co in Newcastle. I tried a few on but as soon as I saw this one I loved it. I was wondering if I'd made a mistake because I'd chosen it so quickly so I went back to try it on for my mum, as she lives abroad and didn't see it the first time. It was definitely the right choice.
The cake – where was it from and what was it like? 
Cakes of Dales in Stockton. I sent them this picture of the type of cake I wanted and it actually turned out it was a cake they had made! 3 tiers – red velvet on bottom, lemon drizzle, and then amaretto (Kealan's favorite drink).
Where did you go for your honeymoon?
For the honeymoon we had 4 nights in Singapore and 8 nights in the Maldives – it was the best. In Singapore we stayed for 3 nights in the famous Shangri La hotel, we then stayed for one night at the Marina Bay Sands. In the Maldives we had a beautiful villa overlooking the water.
Where were the flowers from?
Joanna from The Rarified supplied all of the flowers. She usually supplies flowers for Howsham. We had lovely blossom trees all down the aisle.
Who did your hair and make-up?
Amy at All Dolled Up did my hair. She created a Hollywood wave for me as I wanted a glam look.

Amber Brooke did my make-up, she's from Stockton. I didn't want it to be full on night out but I didn't want to be completely natural either.
What was the menu like?
The food was lovely. Everyone raved about it and it went down a treat. We had the beef sirloin for main and it was gorgeous.
The stay
We stayed over the night before. I stayed with my mum and my sister who was the maid of honor. The bridal suite is such a selling point, the full place is lovely but that room really is something else. It's amazing.
Entertainment:
There was a pianist and a violinist for the ceremony and guests arriving – Trio Vivo. Then they moved outside because the weather was amazing. It was a bank holiday weekend and I was really worried it was going to rain but there was barely a cloud in the sky. In the evening we had AMV Live Music who were great.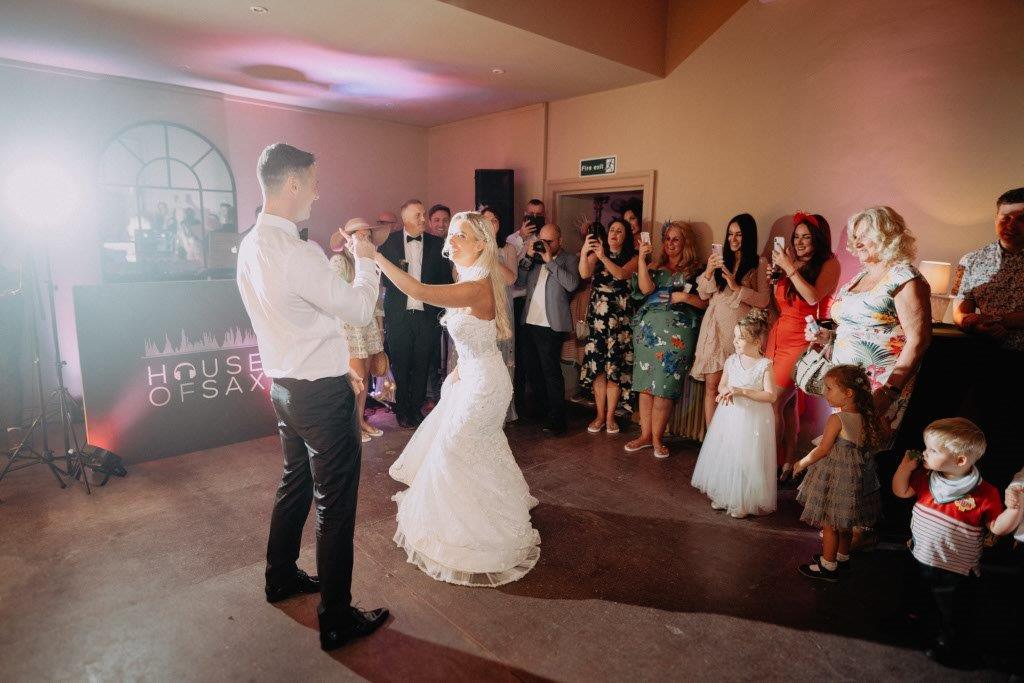 What was the most memorable part of your day?
The ceremony itself. Waiting while the bridesmaids went in, walking down the aisle and seeing Kealan waiting for me. We loved getting our pictures taken too. The first dance as well, we didn't go for a slow one, we didn't even really know how we were going to be dancing. The song name was Sugar Pie, Honey Bunch.
Would you recommend Dine to friends and family?
Absolutely. Everything was perfect, the venue is so special to us. I would one thousand percent recommend the venue and all the help we had along the day was amazing
If you would like to know more information about holding your Wedding or Event at Howsham Hall, take a look at our venues page for more images and details.  Call now to speak with a Dine Event Manager and arrange a time to see this stunning venue – 0345 450 4545