Katie and Chris were already planning their wedding remotely from their home in Surrey, so when remote wedding planning became lockdown wedding planning they took everything in their stride! They share their journey to their big day with us.
Enormous thanks to Belle and Beau Photography for the gorgeous photos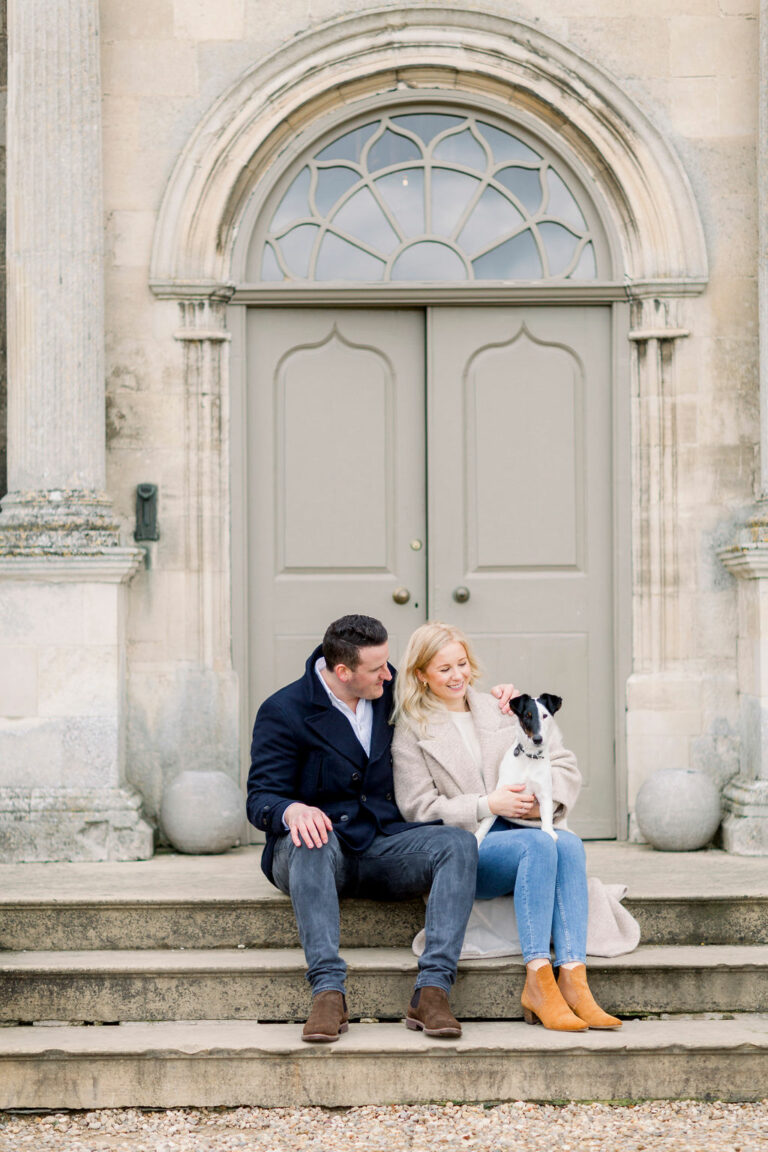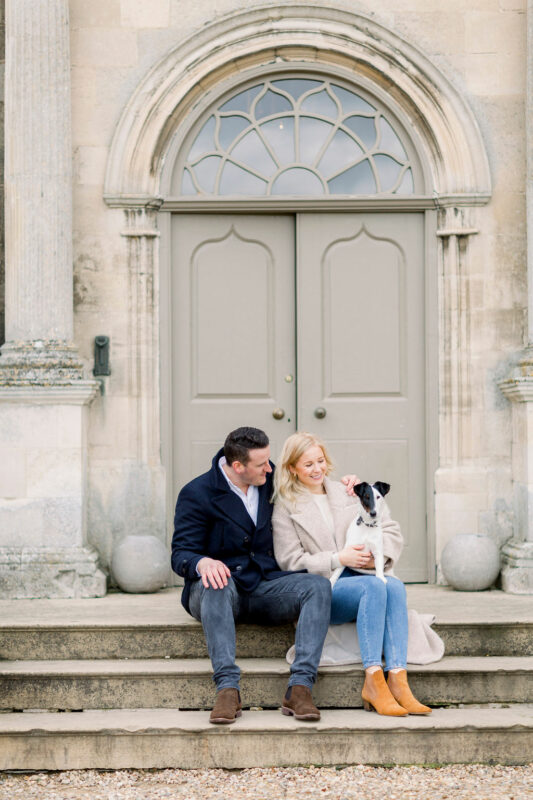 Please tell us a little about the two of you and your proposal
Where do you live?
We spent a few years living together in London, but now live in Woking, Surrey
How did you meet?
We first met in Clapham, London in 2012. A chance encounter at a bar!
What do you both do for work?
Chris is a Procurement Consultant and I'm Associate Director for a Brand Licensing agency.
Tell us about the proposal… 
Chris proposed back in 2018 during a trip to Thailand. We were there for a friend's wedding in Phuket and decided to add on a weeks' extra holiday. Chris had booked us into the Lebua hotel in Bangkok for our final two nights, which was incredible. He popped the question during our stay there and we celebrated with an unforgettable meal at Sirocco, the world's highest open air rooftop restaurant.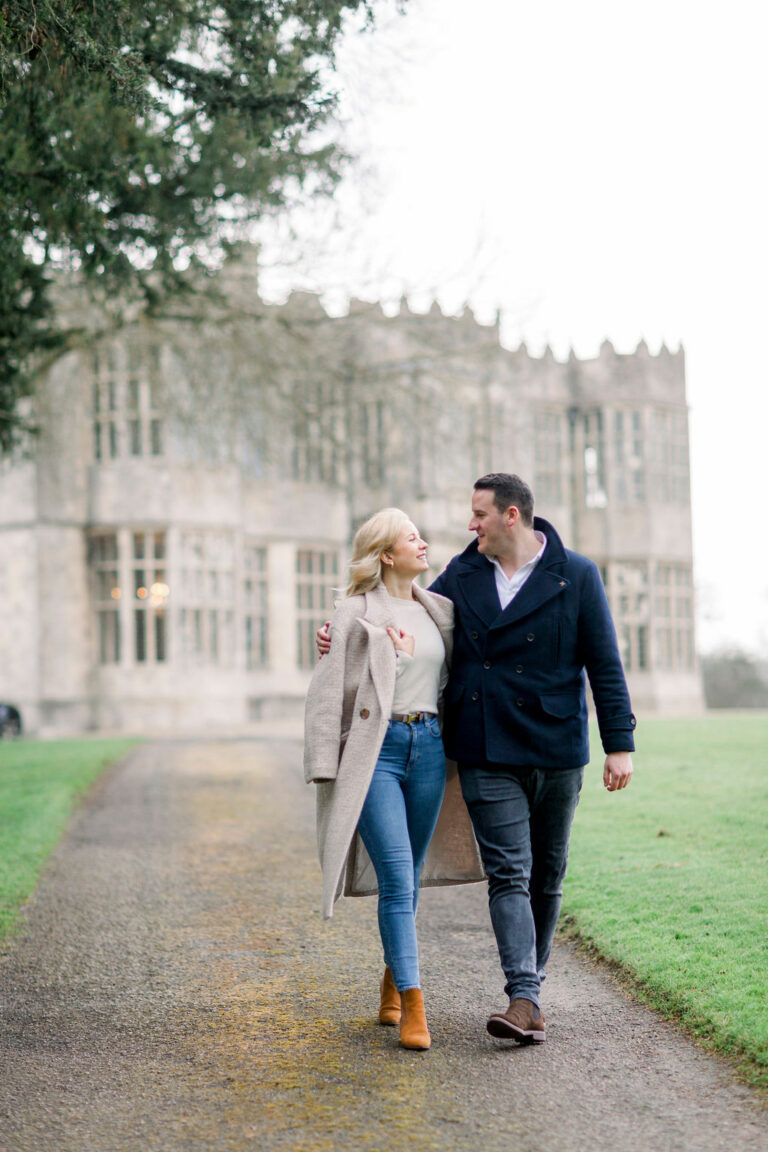 Wedding Planning 
Although we both live down in Surrey, my family are based in West Yorkshire and so it was with their help we were able to find many of the suppliers we used for our wedding. Like many couples, lockdown meant we had to postpone our wedding from our original date in 2020, but the Dine team were very accommodating in finding us a new date.
How was wedding planning in COVID? 
With so much uncertainty over the past year and a half it was a very anxious time in the run up to our wedding day. Although some restrictions were still in place on the day itself we were still very thankful and fortunate to have all of our friends and family with us for our big day, that was the most important thing for us.
Why did you choose Howsham Hall for your wedding?
We fell in love with Howsham Hall when we first visited in 2018. We wanted a venue which could accommodate not just the bridal party but our close family and friends too. Howsham really had the wow factor. The interior of house is beautiful and very grand yet still has number of homely touches. Being able to hire the hall exclusively for the weekend meant we were really able to make the most of it.
How did you find Howsham Hall? Tell us a bit about your search…
We looked for venues both in Yorkshire and in Surrey. I had heard of some of the other venues that Dine manage and through looking at those and the Dine website we came across Howsham Hall
Did you have a theme or style in mind?
We wanted to keep things very classic, timeless and traditional
The cake – where was it from and what was it like?
Deborah Senior from Deborah Bakes, York, created our cake. It was three tiers of our favourite flavours, Victoria jam sandwich, chocolate and lemon. Each layer was encased in a rich butter cream, decorated with gold foil and flowers form our florist.
Who did you choose to do your florals? Why? What did you have?
Elichia from Hare and Howl was the florist we chose for our wedding. Not knowing what exactly we wanted when we first met, she was great at helping us choose flowers and displays that would fit into our theme.
My Bridal Bouquet was made up of beautiful textures with a touch of dancing elements of white seasonal flowers and grasses. It looked and felt classic, traditional and in touch with the British summer season. Flowers include hydrangea, white roses, white scabious, dried lunaria, grasses, a selection of white seasonal flowers.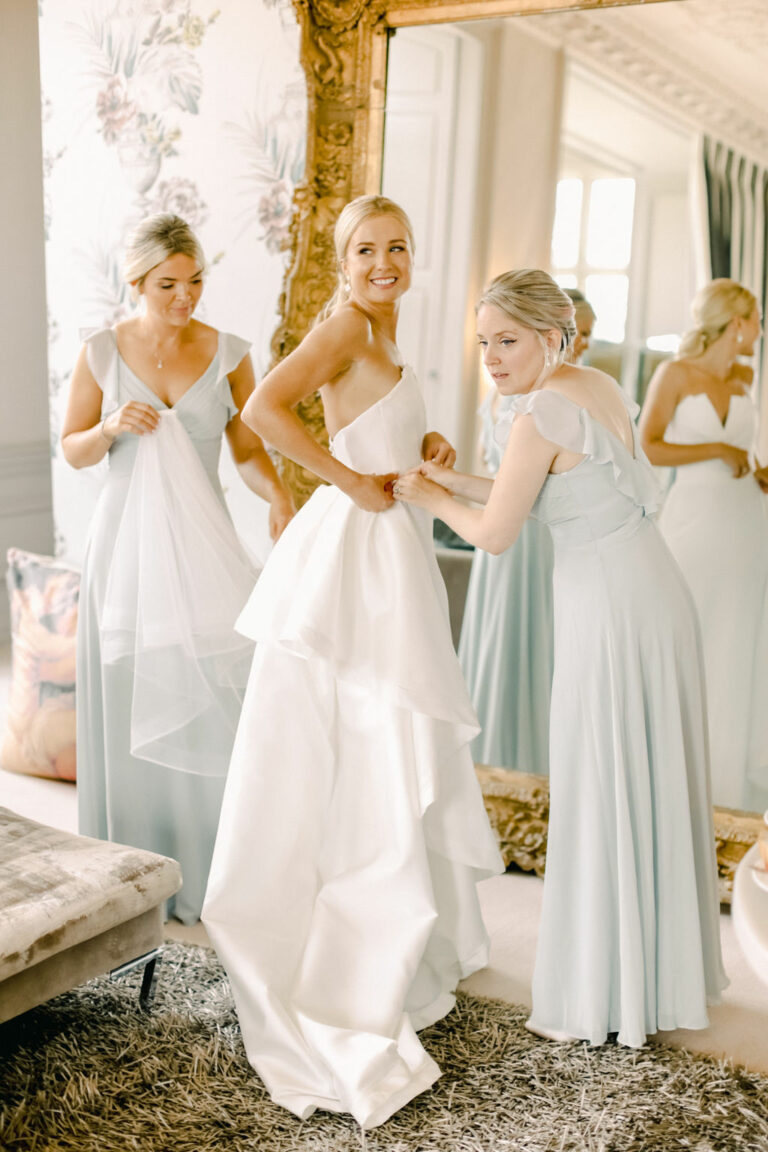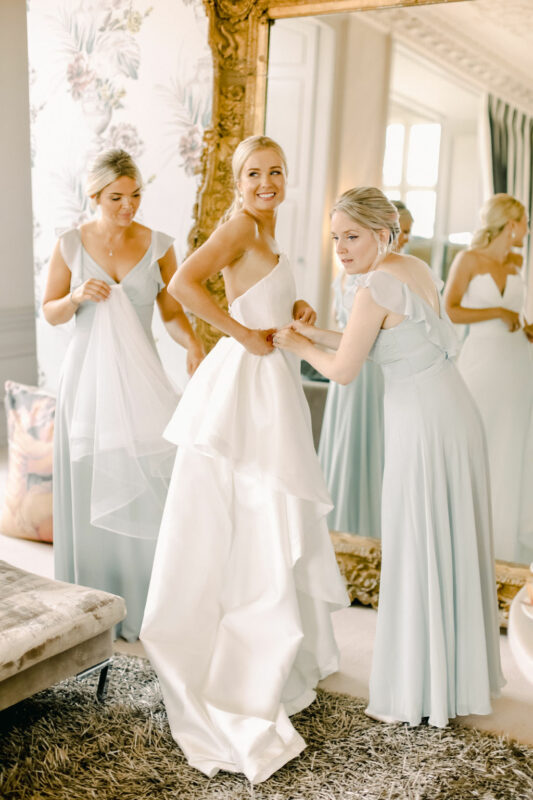 Pre Wedding Preparations 
Where did you get ready?
At Howsham Hall
Who did your Hair and make-up?
The dress – where was it from and how many dresses did you try on?
Before our wedding day was rescheduled I already had a dress but wasn't 100% sure about it. I went to Suzanne Neville's showroom in Knightsbridge last summer having seen one of her  amazing dresses online. As soon as I tried it on I knew it was the one!
Grooms outfit – where was it from?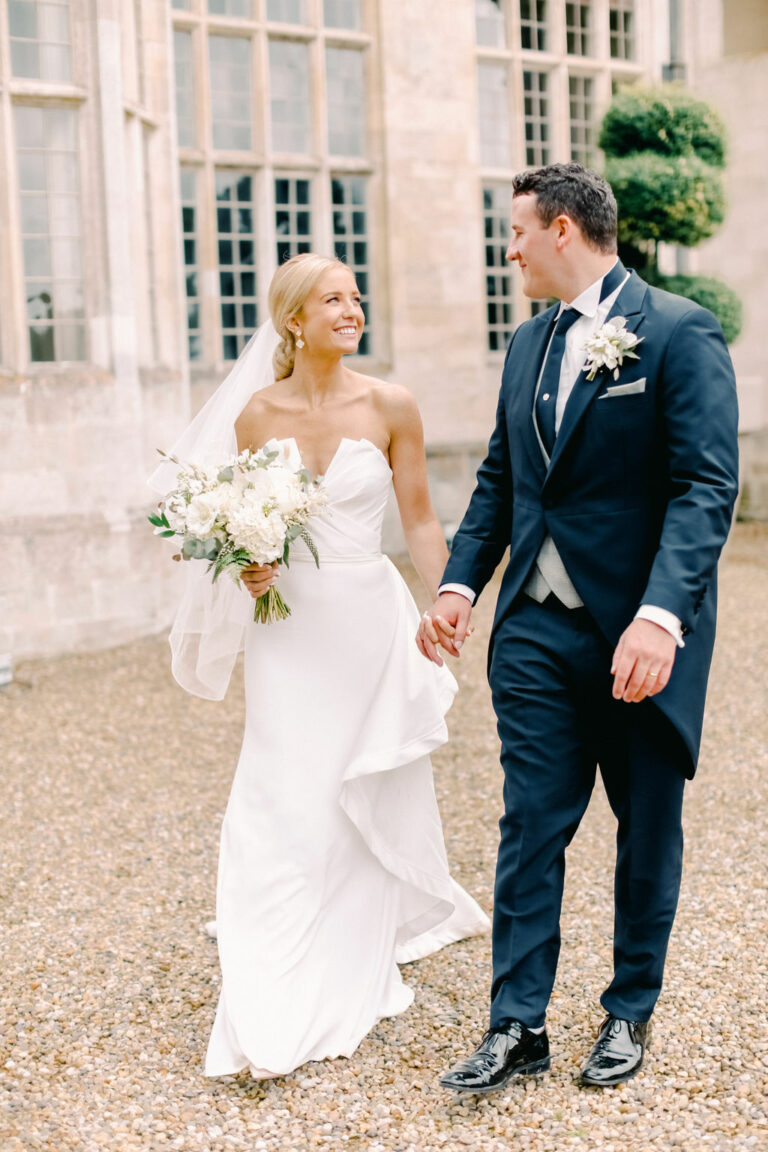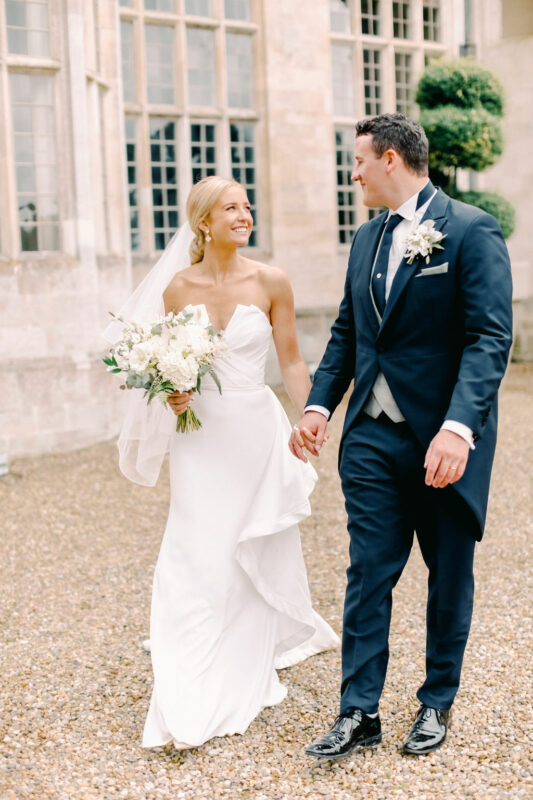 The Wedding Day!
The weather looked glorious on your pictures!
The rain caught us just as we were leaving for the church but thankfully cleared up for the rest of the day.
Our photographer was Belle & Beau photography. Holly and Phil were amazing at capturing our day. We love our photos
Date of your wedding?
3rd July 2021
What drinks did you have for the reception?
Pimm's, Prosecco and Beer
What was the most treasured memory on the day?
Meeting each other at the end of the aisle in the church
Which band or entertainment did you book?
Voci String Quartet played during our church ceremony and reception. Northern House Band, who we hired through Jonny Ross, played our first dance, Marvin Gaye's, Ain't No Mountain High Enough, and kept everyone dancing late into the evening.
Did you have any special transport?
We organised a return coach service for guests staying in York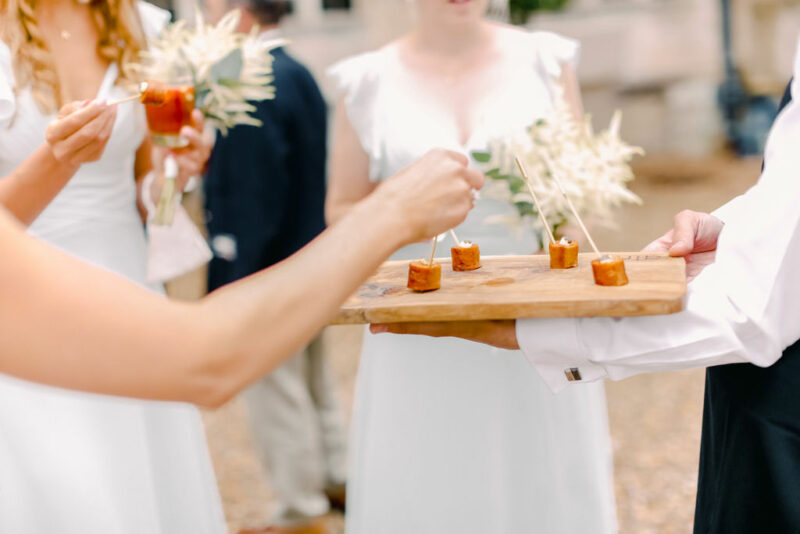 Post Wedding 
Would you recommend Dine to friends and family?
Yes the service and hospitality they provided was superb
Where did you go on honeymoon?
We went on a short mini-moon on London and Bath, hoping to go somewhere a little more exotic early next year
Any special advice you would give to future brides / couples planning their wedding?
Try and take 10 minutes out on the day to be together the two of you, and absorb it all.