We were blown away by Jules & Leah's gorgeous Wedding at Howsham Hall last month.  Living in Jersey, they booked Howsham Hall during lockdown, after viewing the virtual tour and plenty of photos.  It was even more special when they actually got to see Howsham in real life! They've kindly shared details of their day, and how they planned their wedding from a distance.
With huge thanks to Becki at All You Need is Love for the stunning photos of the day.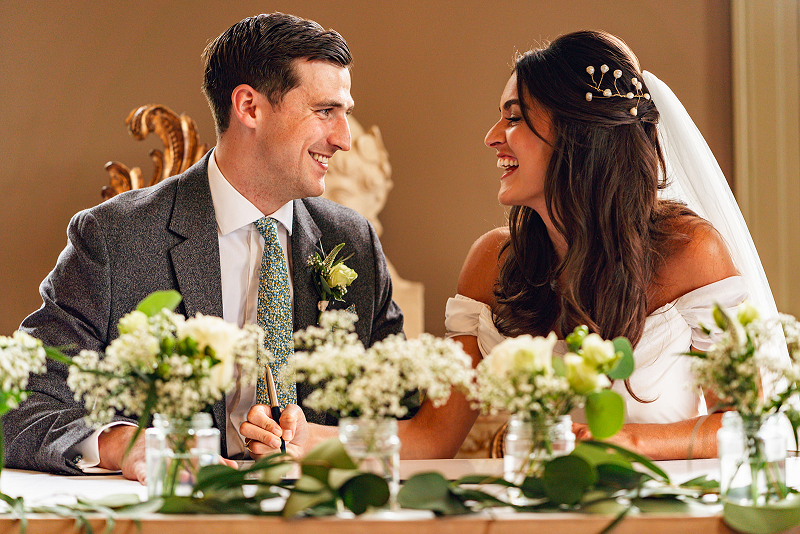 About Leah & Jules
Jules and I have been together for two and a half years. We got engaged last April, Jules proposed at the beach which was where we went on our first date for a picnic.
Where do you live?
Jersey C.I
How did you meet?
On a night out through a friend
What do you both do for work?
Jules is a banker, Leah (I) am a teacher
The Proposal
It was during lockdown Jules had had the ring since December but was waiting for the right moment, we found out we were expecting so it felt like the right time for him to propose. He had a piece of art made, showing the moment he proposed at the beach which he gave me afterwards.
The Planning
We planned everything quite quickly as we had plenty of time during lockdown and once we had made the decision on Howsham Hall we wanted to get everything in place and this was helped by the support of the dine team. Thankfully we didn't go for the chateau we looked at in France as this wouldn't have gone ahead!
How was wedding planning in COVID?
We took the plunge and booked the venue without even seeing Howsham however the photos and 3D tour helped us make our decision as they were great. Covid restricted us meeting our suppliers not long before the big day, but we did our best to make it over as soon as we could. Thankfully the venue lived up to our expectations and more.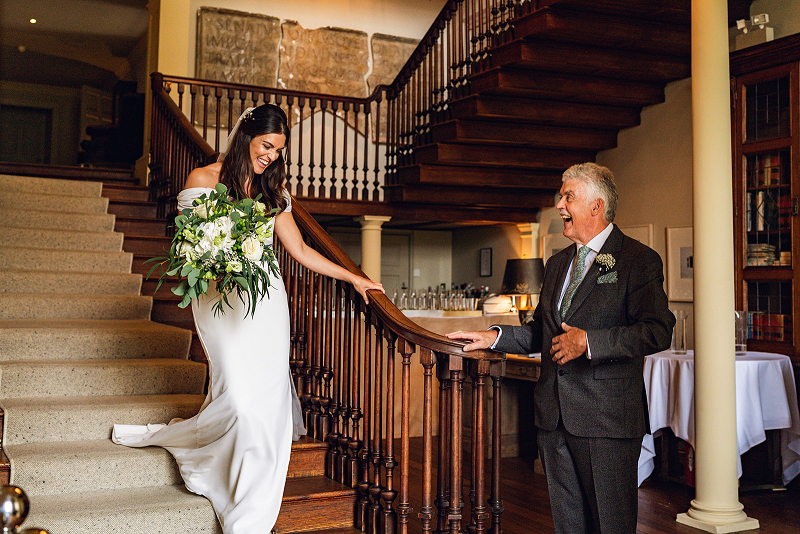 Why did you choose Howsham Hall for your wedding?
We were looking for a venue that had history and character. Another big selling point was the fact we had exclusive use of the whole venue for both the day and night. We had conversations with Nicholas to start with and then Craig. They were always very helpful and met all our needs. The communication was great and we felt happy that this would reduce our stress as they could advise and support us in the lead up to the wedding even though we aren't based in England.
What is it that made Howsham Hall different to other wedding venues you looked at?
Howsham stood out to us because of the perfect setting and charm. All of the rooms have beautiful details and no room is the same. The light rooms, tall ceilings and chandeliers take your breath away.
How did you find Howsham Hall?
Luckily we heard about Howsham through a friend of a friend. When looking for venues in and around York, Howsham didn't come up online for us. We are so glad we found the perfect venue through word of mouth.
Where did you find your invitations?
We found our stationery on Etsy
Did you have a theme or style in mind?
Yes gold, eucalyptus and white
The cake – where was it from and what was it like?
Our family are keen bakers so made our wedding cake which made it extra special.
Who styled the venue?
It was a mixture of our imagination and sourcing items we wanted to feature in our day to decorate the rooms including a memorial area of those who are no longer with us, details on the table like photos and menu cards and within the ceremony room adding lanterns.
Who did you choose to do your florals? Why? What did you have?
We chose Belle Blooms Flowers York to be our florist. She was recommended by a family member as she is up-and-coming. She didn't disappoint, she went above and beyond to meet the brief and we were so happy with everything she delivered on the day.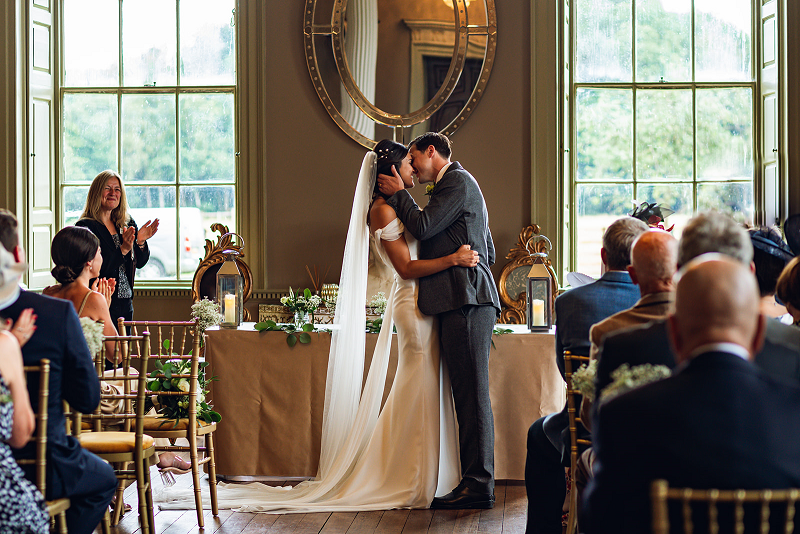 Pre Wedding Preparations
I got ready in the bridal suite the morning of the wedding as I wanted to make the most out of the beautiful room. The lighting in the room was perfect for photos and the space was great for friends to come and family to pop in.
Who did your Hair and make-up?
Aimee Long hair and makeup, she was so professional and made me feel completely at ease the morning of my wedding.
The dress – where was it from and how many dresses did you try on?
My dress was bespoke from Anna Trigg bridal shop in Jersey. Anna is exceptionally talented, and she made my vision become a reality.
Hair piece – Bespoke fresh water pearl hair vine made by Lori Muldoon an Irish designer who is incredible at making the most beautiful designs come to life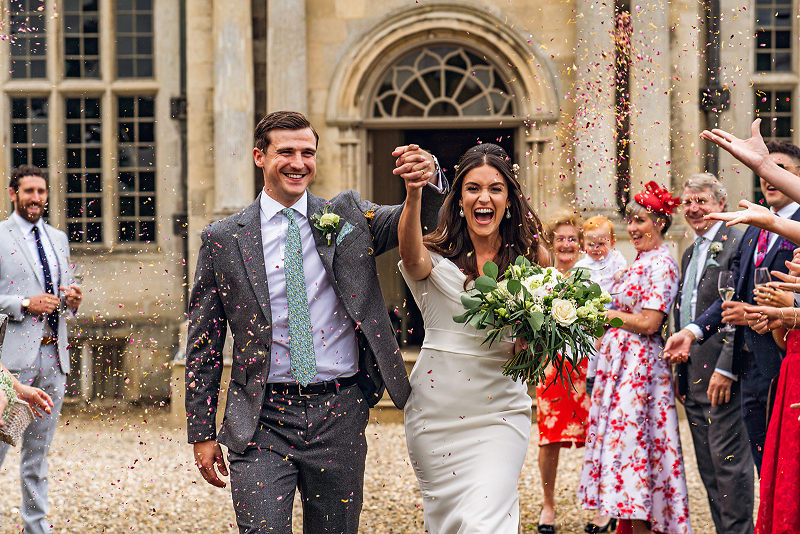 Groomsmen outfits?
Paul Smith suits with handmade ties and pocket squares from Yorkshire business Catkin Jane
Bridesmaids outfits?
The Wedding Day!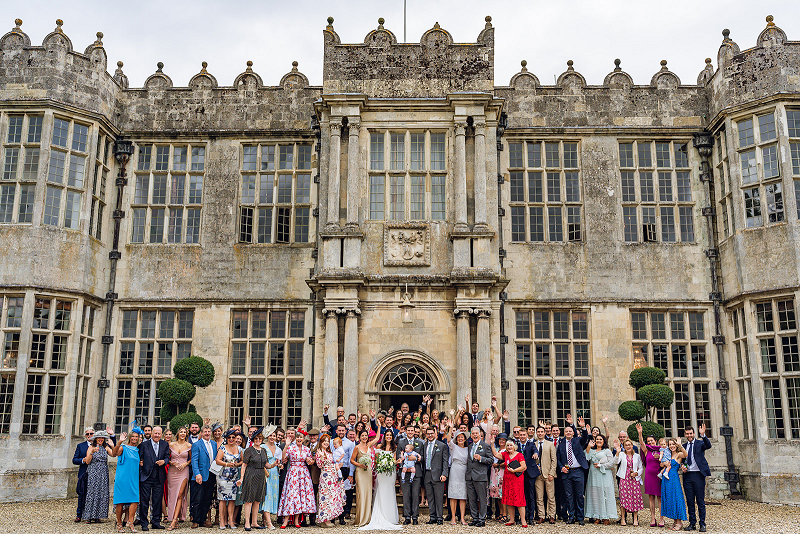 The weather looked glorious on your pictures! Becki from All you need is love photography took all our photos on the day.
Date of your wedding?
24/07/21
Which menu did you choose?
The Silk menu
What drinks did you have for the reception?
Pimm's & Prosecco
What was the most treasured memory on the day?
Saying our vows in front of everyone we love having not been able to be together in so long.
Which band or entertainment did you book?
The Groove Line – What a party! They were amazing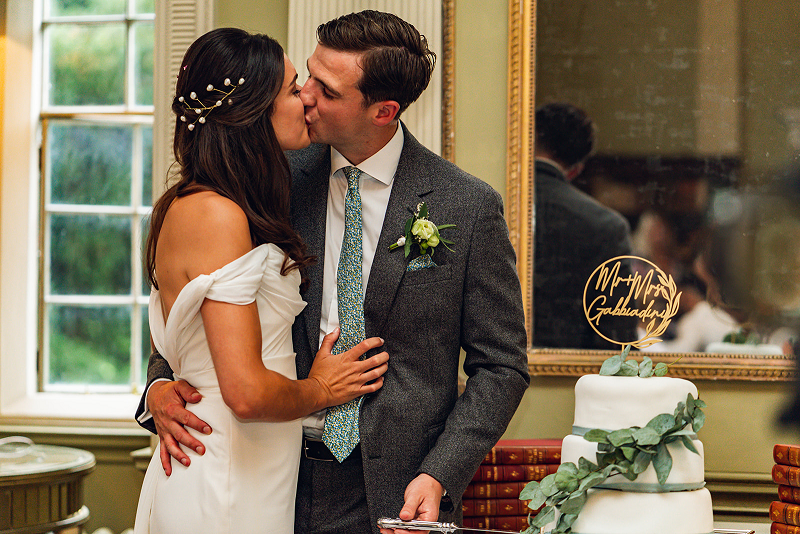 Post Wedding
Would you recommend Dine to friends and family?
Yes, we will tell people for years to come, we feel so lucky to have had such a perfect day.
Where did you go on honeymoon?
Due to covid we have postponed our honeymoon for now.
Any advice you would give to future brides or couples planning their wedding?
Take a moment together throughout the day to take it all in.
Additional Supplier List:
First Class Nannies, I would highly recommend them as it enabled us to relax on the day knowing our baby was in safe hands.