Why did you choose this location to get married?
We're both from Leeds and we grew up going to Roundhay Park so it was a very familiar place to us. We'd visited a few venues but really liked how exclusive The Mansion was. We thought it might have been a little bit too  public with it being in the middle of Roundhay Park, but were happy to discover that on the day we had the venue all to ourselves. The chandelier was beautiful and the vibe of the building was really nice. You've also got the beautiful views of the park!
The ceremony – who conducted the it and where did it take place?
We had a registrar from Leeds City Council at The Mansion.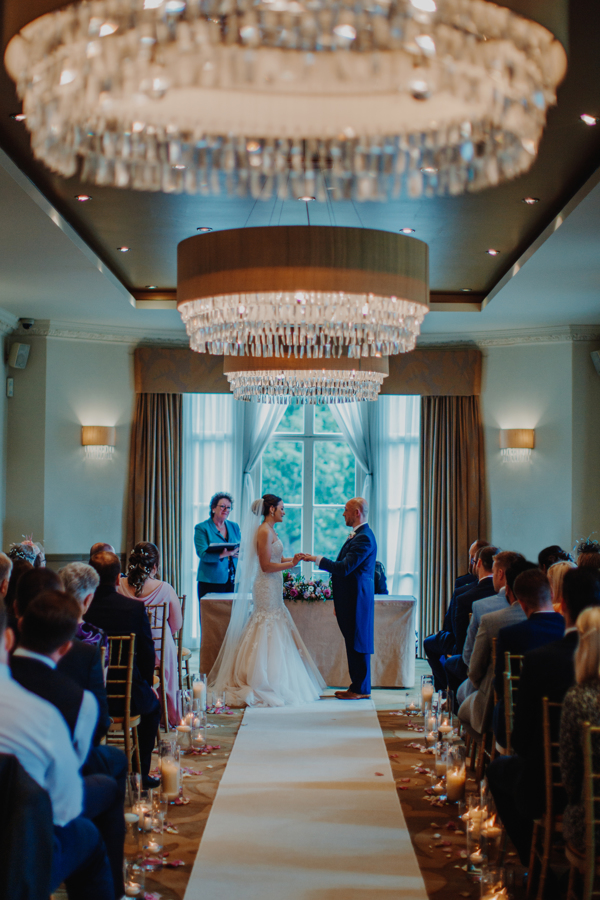 The proposal – tell us the story…
We ended up going to Paris just before Christmas in 2017, we'd been there a couple of days and went up to the Sacré-Cœur which overlooks Paris. It was just getting dark and we were just sat on a bench chatting then Josh got down on one knee, pulled out the ring and I said Yes!
The dress – where was it from & what was it like? How many dresses did you try on?
It was from a little boutique in Yeadon. It wasn't the first one I chose, I actually bought one and changed my mind. A few months went by and I was mulling it over, I spoke to my maid of honour and told her I didn't think it was the dress for me so she told me I needed to search somewhere else. I got it quite last minute, 3 months before the wedding!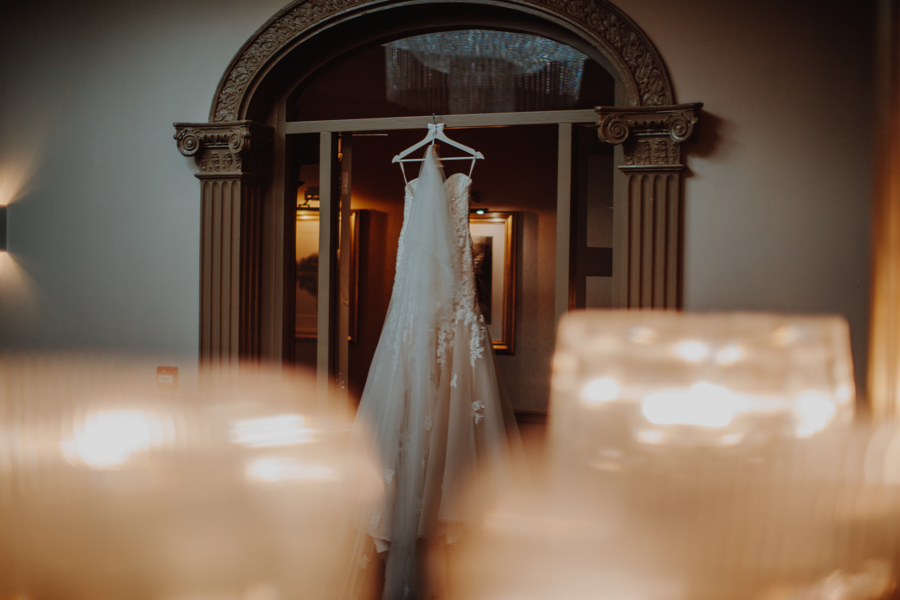 Was it a surprise when Josh proposed or were you expecting it?
We've been together 10 years, we met on a high school field-trip when we were teenagers. I did think it was about time he proposed but I didn't know it was going to be there and then! He kept saying that he had a bad shoulder and wouldn't let me link arms with him on that side which I thought was strange but it turns out it was because he had the ring in that pocket and didn't want me to feel the box.
The cake – where was it from and what was it like?
Our friend Alice Howell at Howell Bakes made the cake. One layer was vanilla, the second lemon, the third was chocolate and the top tier was a hidden surprise for Josh.
I had arranged for this tier to be blue and yellow inside as he's a huge Leeds United fan and I'd told him we weren't having anything to do with football at the wedding, I'd said it was the one day we weren't going to talk about football. He had no idea I'd done it so it was a nice surprise for him.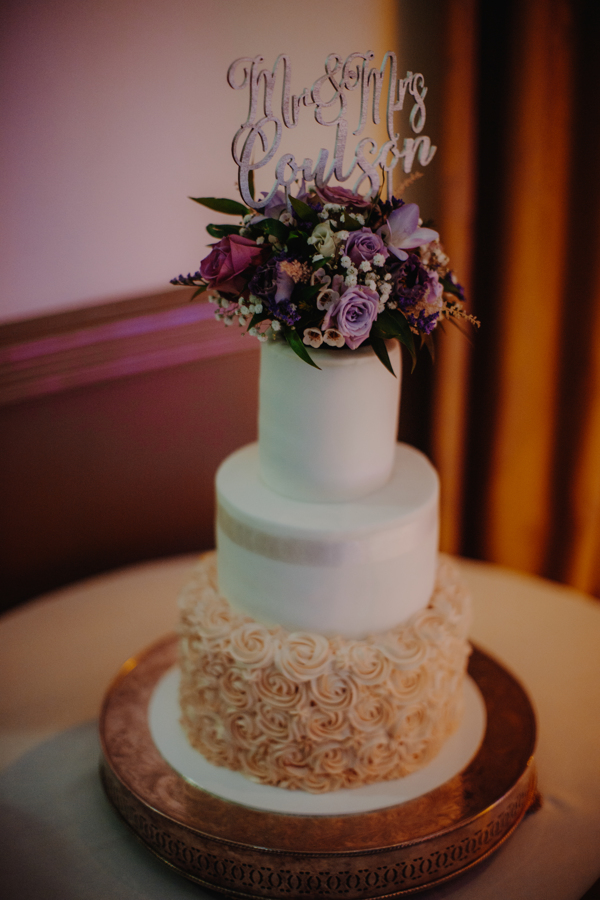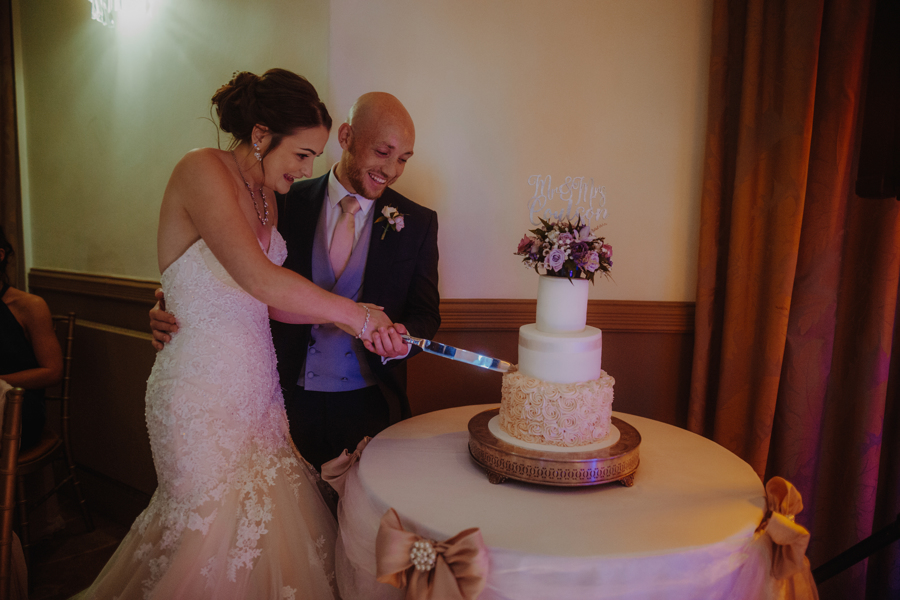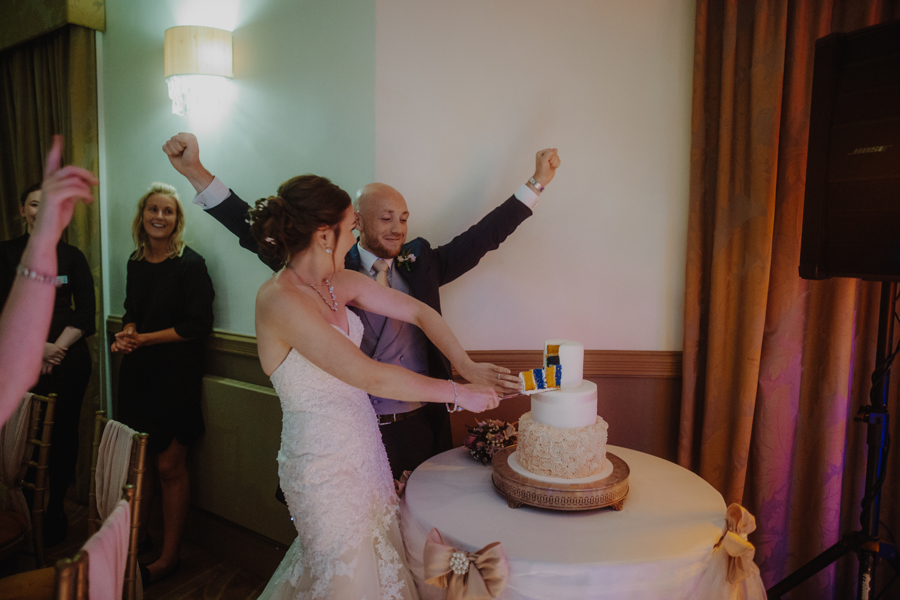 Honeymoon:
We went straight after we got married on the Saturday and we went on the Monday. We went to Bali and travelled all around the islands there, stopping in Singapore as well. It was the most relaxing and chilled out time and you're on cloud nine anyway. It was amazing, we had a great time.
Photography:
Alt Wedding Co were our photographers, they're great and we chose them as we know people who have used them before.
Colour theme:
Our main colour for the wedding was pale pink.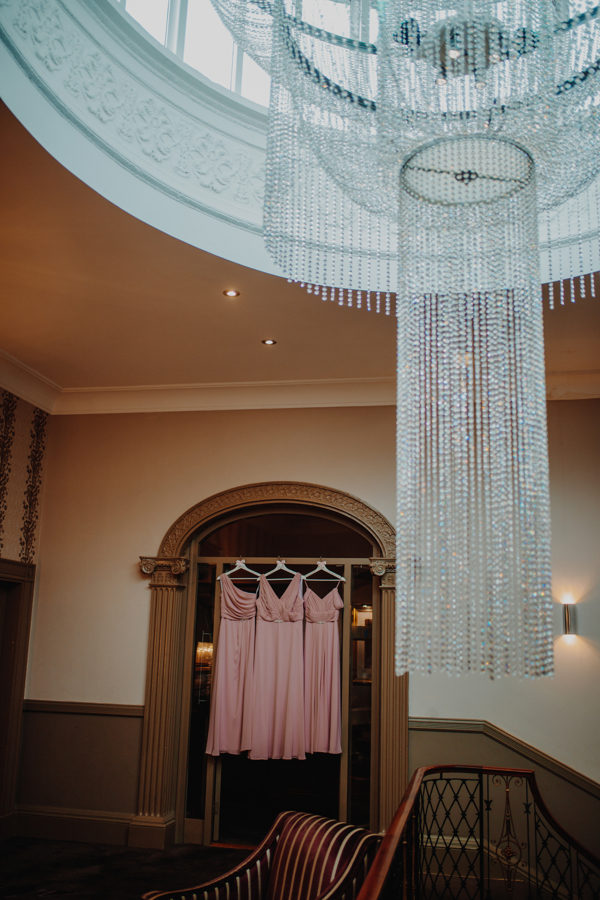 Flowers: 
They were from a lady called Natasha Coustol. She's done quite a few weddings at The Mansion. We had a mixture of different shades of pinks and purples, they were rustic, pale and pretty. These are my favourite colours and Josh went along with it!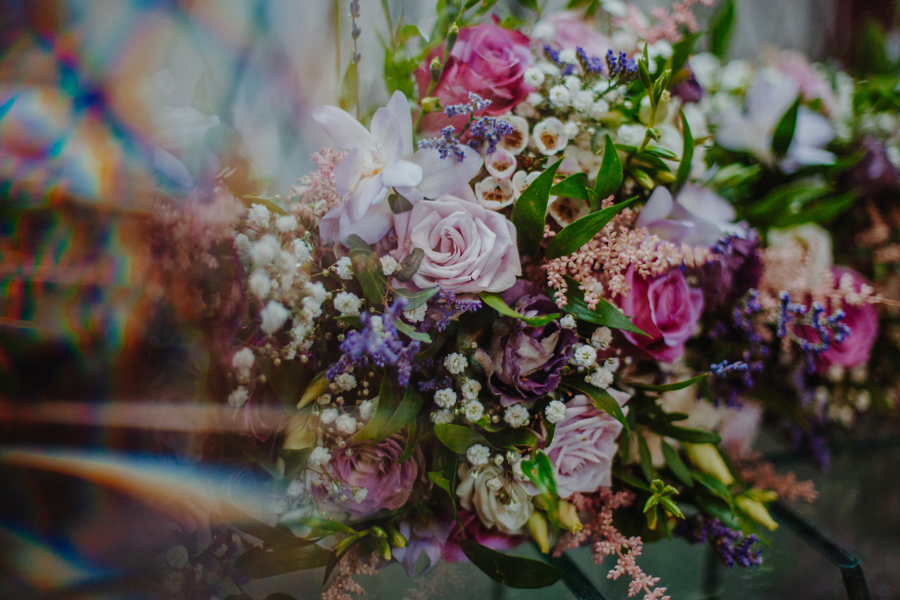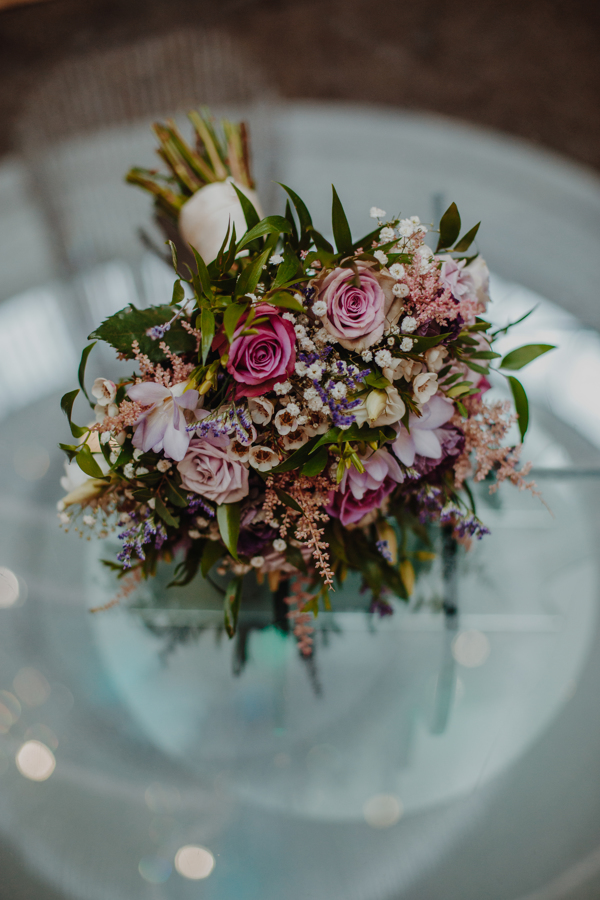 Menu: 
The food was so nice, so many people commented on how good it was.
Starters – Smoked Duck Salad
Main – Roast Beef with mashed potato, Yorkshire puddings and all the trimmings
Dessert – Sticky Toffee Pudding
Hair and make-up: 
My hair was done by Hair By Tosetti and my make-up artist was GLAM by Elizabeth Daisy.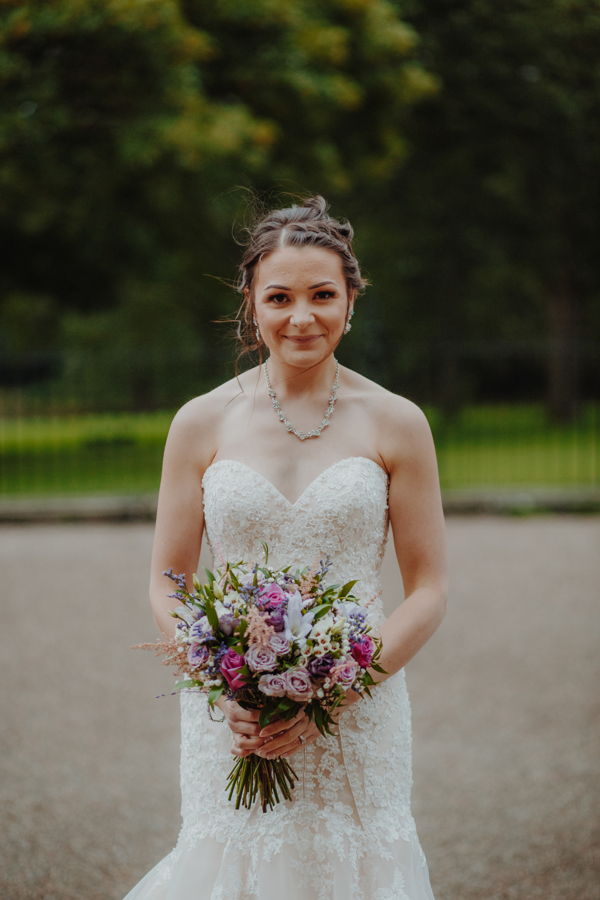 Venue Entertainment:
For the wedding ceremony & drinks reception we had Northern String Quartet's. In the evening we had a DJ, Josh from WDC entertainment.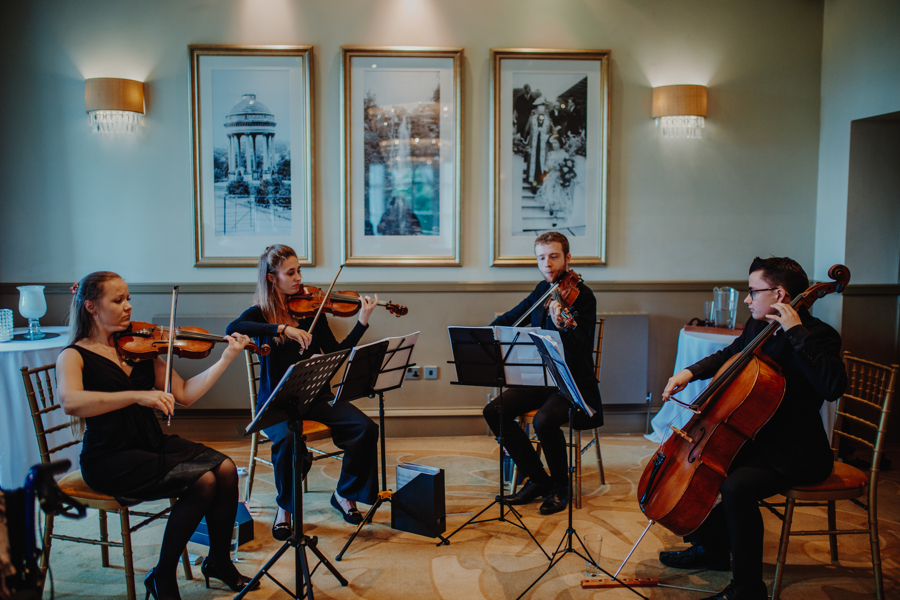 What was the most memorable part of your day?
One of our fears for the day was that the dance-floor was going to be empty, but it ended up being constantly full. At one point we were stood together and looked at the dance-floor and said "This is the best, everyone's here for us, what were we even worried about?". It was really nice to see that everyone was there for us and having a great time.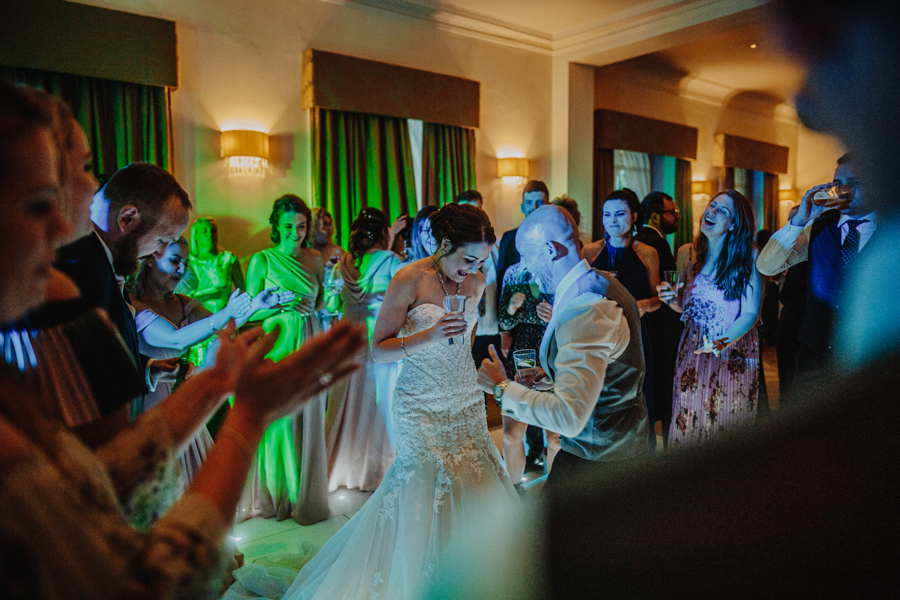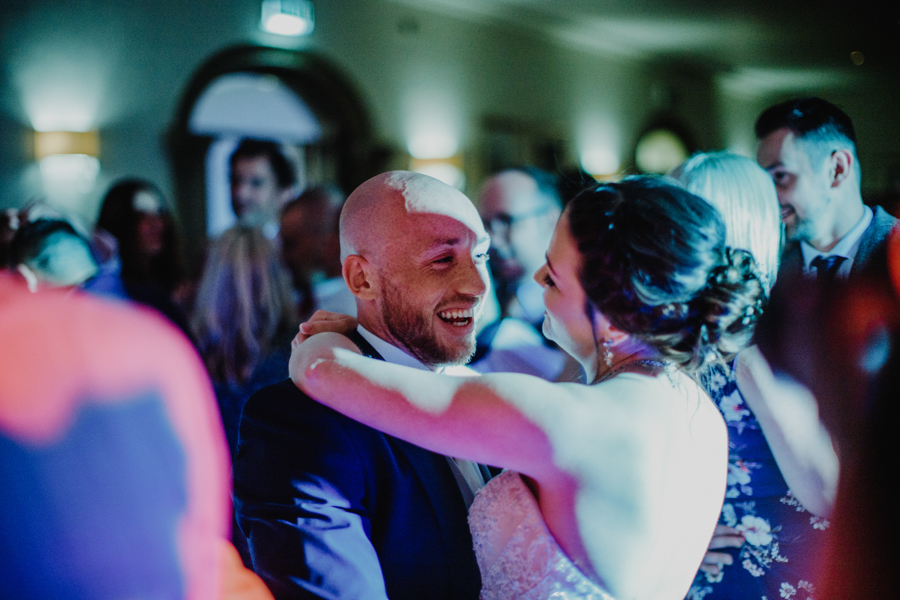 Would you recommend Dine to friends and family?
Yes absolutely. We could always email our event manager Harriet if we needed her, she was always getting in touch with us to check everything was going well. We had our meetings and were kept up to date, and anything that we wanted it was made possible. She was great, we couldn't have asked for any more from her.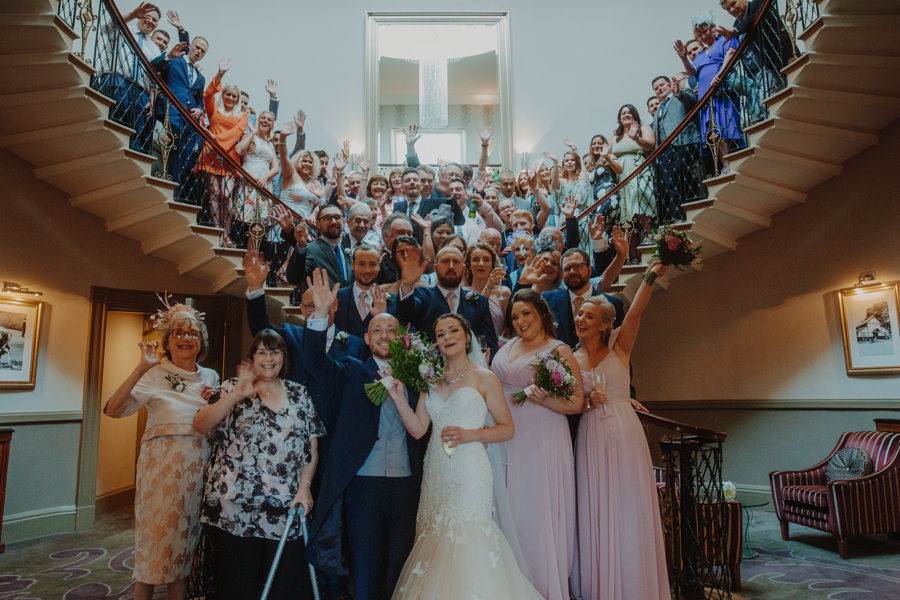 If you would like to know more information about holding your Wedding or Event at The Mansion, take a look at our venues page for more images and details.  Call now to speak with a Dine Event Manager and arrange a time to see this stunning venue – 0345 450 4545