Janine & Graeme's English summer wedding at Howsham Hall was a picture-perfect day from start to finish! Like many couples, their day had to be postponed due to covid restrictions, but when it finally happened they more than made up for the wait! They've kindly shared details of their day, and how they planned their wedding together.
With huge thanks to Chris Milner Photography for the stunning photos of the day.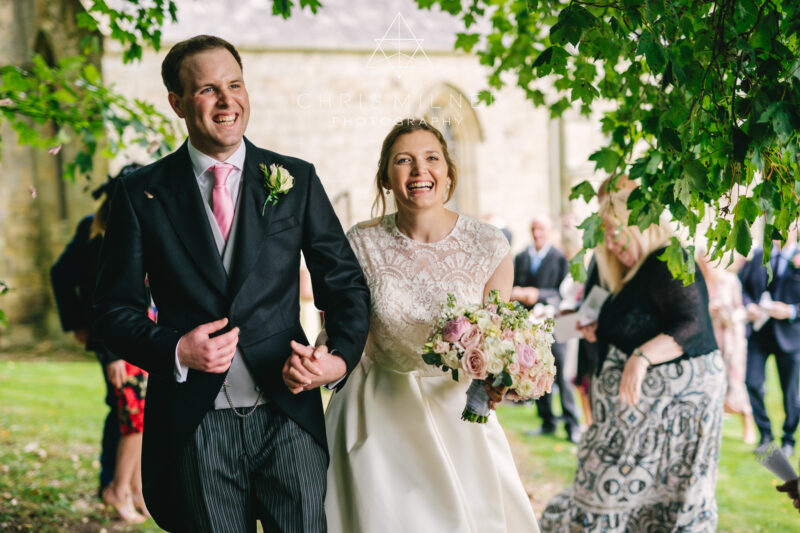 About Janine & Graeme
Tell us a little about the two of you and your proposal
We met at school in sixth form at 16 years old and were together for two and a half years. We then went our separate ways for a few years and then came back together aged 26. After moving in together, Graeme proposed on his 30th birthday in Edinburgh. It was a massive surprise as I was so focussed on making sure Graeme had the best time, I had no idea what surprise was up his sleeve!
Where do you live?
Pocklington, York.
What do you do for work?
Janine- assistant manager, supermarket. Graeme- welder/ fabricator.
How did you plan the wedding?
We had two years to plan the wedding. We originally chose 17th October 2020, which was postponed due to covid. Luckily all of our suppliers were available to move to the new date of 25th September 2021. We planned the wedding completely together and loved every moment!

Why did you choose Howsham Hall?
From the moment we drove up the drive, we fell in love with it. Then when we walked in every single element was perfect- we both came away knowing we had to make this happen as it was so us! Even though it's beautiful and grand it doesn't feel imposing it's still a cosy and warm venue.
What makes Howsham different to other venues?
The team- Craig is so amazing it's hard to put into words- from the moment we met him we knew how well he would look after us and all of our guests on our big day- his attention to detail is second to none!  The hall is beautiful but doesn't feel like you're wandering around in a big open space- how the back and front of the house is used throughout the day is also great and different! We also love it's not a hotel and you are king and queen for the day in your own little estate of loveliness- plus what's not to love?! We love everything about the place and didn't want to leave!
How did you find Howsham Hall?
A friend looked at it and was too small for their wedding and recommended to us knowing what we liked.
Where did you find the invitations?
After much searching, not being able to find what we were looking for, we stumbled across Pure Invitations during an internet search. They were amazing from start to finish, happy to make alterations, quick turn around times and the quality and beauty of the invites was just amazing- we had many lovely compliments!
Did you have a theme or style?
Traditional- our overarching theme was just love, fairy-tale and happiness!

The cake- where was it from, and what was it like?
Using local suppliers, apple Charlotte was a recommendation from a friend and she lived within five miles of the venue. We had three tiers, in pinks and whites with lace and ruffle detail, completed with cascading sugar flowers. We're not fans of fruit cake so we had sponges:  passion fruit, lemon and elderflower and white chocolate and raspberry. We did have some Bettys fruit cake for mother of the bride who was quite upset fruit cake wasn't featuring!!
Who styled the venue?
We styled the venue ourselves, with help from Craig and Ella at Dine! Fulford flowers did flowers and chair covers.

Who did you choose for your florals? Why? What did you have?
Fulford Flowers- we chose Sheryl because her work is incredible and she is the loveliest lady- she made us feel completely at ease and nothing was too much trouble/ out of reach. We had pinks and whites with roses, hydrangeas, peonies and orchids.
Who did your hair and make-up?
My hair was by Dannie Lea hair and beauty, and make up by Emma Rose (we met at Howsham Wedding fair)

The dress – where was it from and how many dresses did you try on?
The dress was from Elena Ferrera Bridal, York. I visited shops in York, Harrogate, Howden, Beverley… but it was always the dress in Elenas boutique that I loved! I'd always looked through the window as a little girl!
Groomsmen outfits?
These were hired from slaters menswear. The Groom's outfit was from Charles Tyrwhitt
Wedding day!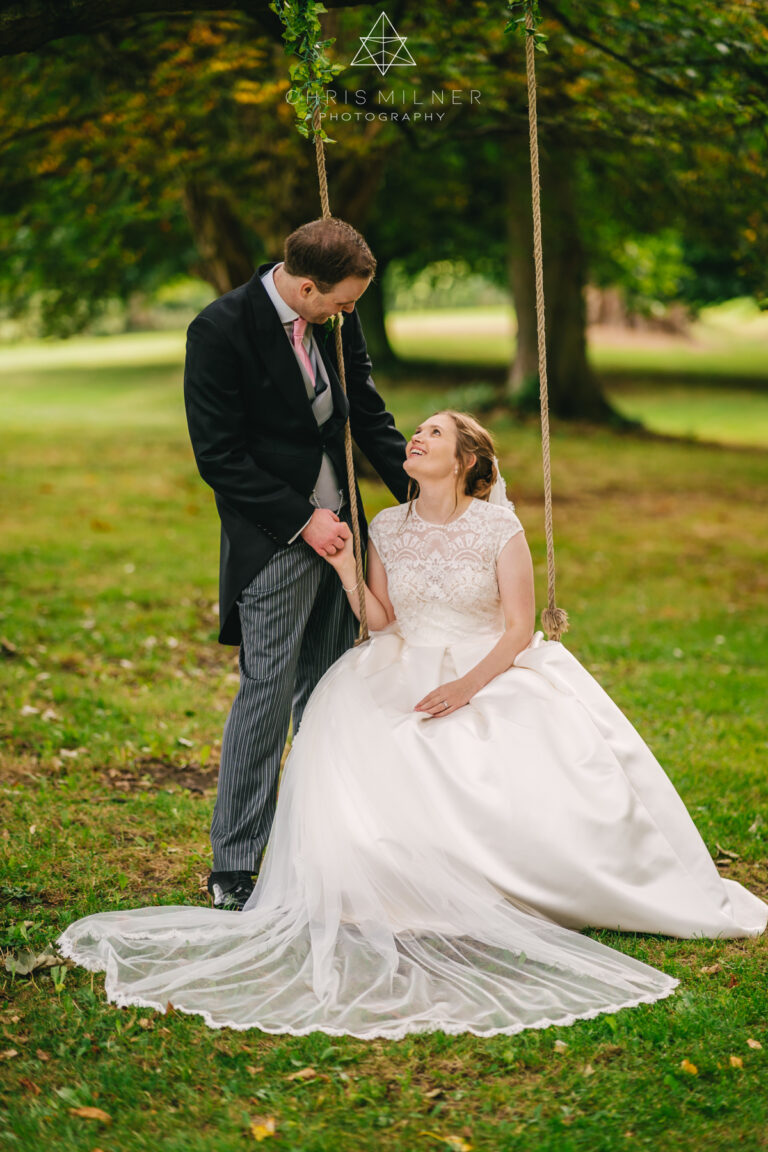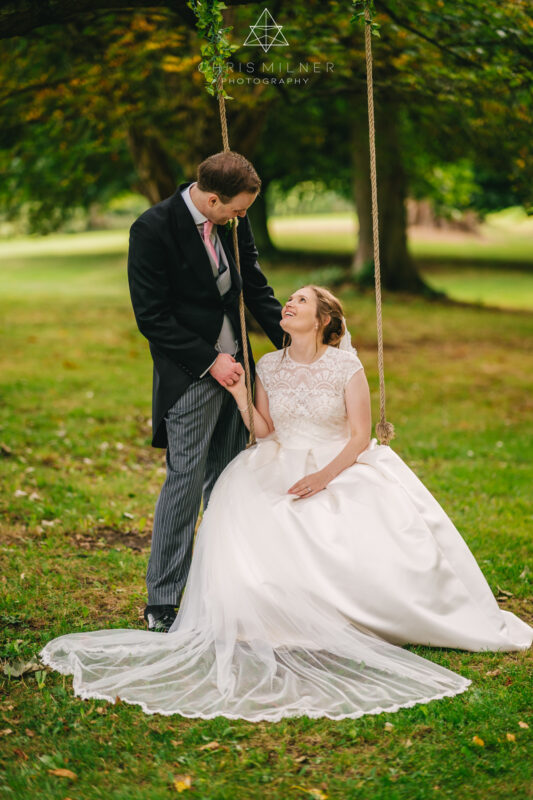 Our photographer was Chris Milner assisted by Lissa Alexandra.
Date of your wedding?
Date: 25.09.2021
Which menu did you choose?
Tarte fine of caramelised onion, mushroom and blue cheese. Roast sirloin of beef and seasonal vegetables. Trio of desserts: lemon posset, white chocolate cheesecake and chocolate and raspberry pot. Coffee and chocolates to follow.
What drinks did you have for the reception?
Choice of Prosecco, lager or elderflower fizz.
What was the most treasured memory on the day?
Saying our vows because that is the most important part of the day! Nothing else really matters! We also loved sitting at our table, watching our friends and family have an amazing time in the most beautiful setting.
Which band or entertainment did you book?
During the day our pianist Josh Burnell really set off our day to an amazing start and made the ambience.  We had PA entertainments for the evening, again were great to deal with, we felt bad as it was so warm not much dancing could be had!

What transport did you have?
We had a 1948 Bentley freestone and Webb supplied by Superior motorcars of Bolton. Niki was the driver and could not have been more helpful and supportive- it was as if she was part of the family!
Post wedding:
Would you recommend Dine to friends and family?
Absolutely! We couldn't recommend Dine and most importantly Craig enough! From the initial meeting, Craig has been so personable and great to work with. Nothing has been too much trouble and he has been happy to tailor our day to make sure it was 'Us' through and through. Craig was happy to respond to emails and questions and invited us to visit the Hall as much as we wanted to which was great. On the day before and the wedding day Craig certainly did not disappoint he was so calming and supportive. On arriving at the hall on our wedding day we were made to feel on top of the world, he welcomed us really personally and couldn't have looked after us more. Even removing my veil and reapplying my lipstick!  Then came the food and service- all the team who again were so friendly and couldn't have done more! They made sure we were never without a drink and the food was absolutely incredible- we had non stop compliments and even down to the way the food was served was amazing. One of our first meetings Craig asked us what we didn't like about other weddings which we loved because none of those things were present on our day. We feel sad we won't have as much contact with Craig but cannot wait to attend one of your events to return to the Hall and to see Craig! We cannot thank Craig and the team enough- Craig is exceptional in his role and deserves recognition for ensuring our amazing day went without a hitch!
Where did you go on your honeymoon?
We mini mooned in the Lakes the Monday after for three days for some relaxing at the laura Ashley Belsfield hotel on Windermere and then went to Edinburgh for two days to relive our engagement!
Any advice?
Enjoy the planning stage and do it together- we loved it! As everyone advised us the day flies by, so take little moments out to spend the time together! Embrace those photo opportunities even if your dress ends up ruined! You're only wearing it once and the photos are forever! Also, as our mantra was, only invite those who bring you joy and add to your day and lives! If there's anyone there you wouldn't cuddle it's a no!!