How to Create a Wedding Planning Timeline
How to start creating a wedding planning timeline
Wedding planning can be overwhelming, but you should remember that overall, your engagement period and wedding planning should be an exciting and enjoyable experience. 
This blog will guide you through the basics to consider when creating your wedding planning timeline to help make things easier. 
Things to be conscious of when planning your wedding timeline
The wedding industry has seen unprecedented demand in 2022 following a backlog and surge in engagements following lockdowns, which is looking to continue into 2023 and 2024.
With this in mind, much of the wedding timeline advice you see online may not be relevant currently. Below, we've shared a more accurate timeline that reflects what many professionals in the industry are saying right now. However, if you're unsure of when to be doing certain things, speak to stores and suppliers you are planning to use to enquire how early you need to book in with them. 
Where to start 
Every couple and wedding is different, and your timeline will vary depending on your requirements. The main defining factor for your timeline, however, will be deciding when you want to get married.
In the UK, the average time spent planning a wedding is around 12-18 months. But, many plan their wedding in a much longer or a shorter timeframe, which is perfectly feasible.
At Dine, we always recommend, even if our expert wedding planning team assists you, to have at least 6-9 months to plan your big day to ensure everything runs smoothly and as stress-free as possible.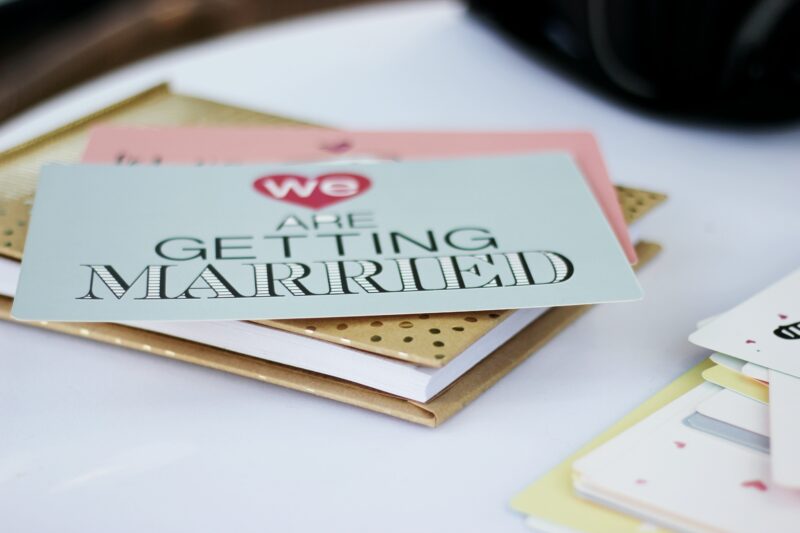 Work out your budget
Once you've decided on your preferred date(s) – you should determine how many guests you'd ideally want to invite and your budget. 
This will allow you to research and narrow down venues and catering options that align with how many guests you'd like and your budget. 
Secure your venue
Venues take bookings months to years in advance, so try to secure your preferred venue as soon as possible – especially if you have a specific idea of when you want to get married. Some venues require you to take out wedding insurance before finalising a booking too. 
If you're not having a church wedding, you should book your registrar or celebrant at this stage. 
Determine your theme 
Explore ideas of what you'd like at the wedding and create a mood board with your desired wedding theme during the early stages of planning. This can be incredibly useful down the line to refer to. Pinterest is a great place to look for inspiration. 
Although not compulsory, wedding fayres are a great opportunity to meet local suppliers and find inspiration too – the best part is you'll usually get some freebies! You can find many Yorkshire-based wedding fairs on Brides Up North or Wedding Fayres Yorkshire. 
Next steps 
Start a checklist 
Mapping out everything you need to do for the wedding can help make the process more manageable. There are loads of free tools and resources to create a wedding planning timeline, and helpful checklists available online that can help with this. 
Alternatively, get help from a friend or family member who has planned a wedding to create your own spreadsheet of everything you need to do for your wedding and when by. This is a helpful way to break down tasks in order of when they need to be completed so you don't forget anything. 
Another option is hiring a wedding planner to handle things for you.  
Start booking suppliers
Every wedding is different; therefore, what suppliers are required differs from one couple to another. 
Vendors that you most need to consider (depending on what's included in the venue package) include caterers, photographers, videographers, hair and make-up stylists, venue stylists, cake makers, furniture hire, dancefloor hire, florists, DJ's/musicians etc. 
We recommend researching and booking vendors at least 6-10 months in advance- especially if you have your heart set on a specific company. 
Start outfit shopping
Finding the right wedding outfits takes time and should be an enjoyable experience, so booking early is advisable so you don't feel rushed.  
Due to heightened demand and supply issues this year, lead times have increased for many bridal stores. Nearly all, unless it's bought off the peg, require bride and bridesmaid dresses to be ordered around six months in advance to ensure they arrive with plenty of time for alterations. The same applies to grooms and groomsmen in some stores.
Send invitations
We recommend sending invites three months in advance, potentially earlier if you have a wedding in the peak holiday season or a mid-week wedding. Many people book holidays far in advance, and your guests may need to book time off work. 
Book your honeymoon, stag and hen do 
Many begin planning their honeymoon, stag and hen-do around 4-5 months before the wedding.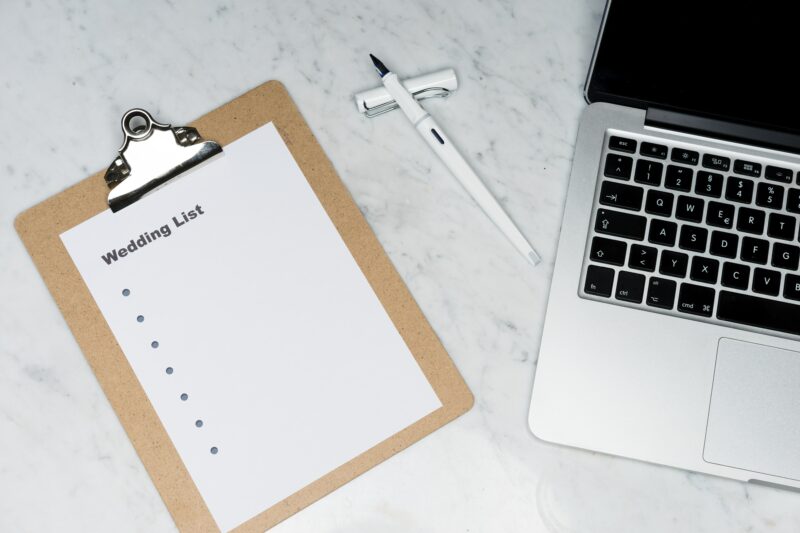 Other things to consider 3-4 months before the wedding 
Once you hit the 3–4-month mark, you should begin finalising most aspects of your day. 
Things to tick off your list at this stage include: 
Buying wedding rings

Booking hair and make-up trials, dress fittings and buying any outfit finishing touches

Arranging notice of marriage with your local registrar

Finalising floral, venue and cake designs

Starting to create any DIY items 

Buying any wedding party gifts and favours

Picking out ceremony music, first and last dance songs and any reception song suggestions

Planning your menu

Writing vows

Booking rehearsal dinner
Finishing touches
Around 1-2 months before the wedding, most things should be sorted. So, you can spend this time finalising small details, attending final fittings, paying suppliers in total, creating seating charts, place cards, order of service stationery/signs. 
You may wish to visit the venue to re-familiarise yourself and ask any final questions to give you peace of mind.
Other things not to forget in the whirlwind of wedding planning are to book in small things like pre-wedding haircuts, manicures, engagement ring cleaning, breaking in wedding shoes etc., and ultimately, taking time to relax before the day arrives! 
Planning your wedding with Dine
The prospect of planning a wedding can be extremely daunting for many people. That's why at Dine, our expert team offers a wedding planning service that takes all the pressure off you. 
Some of the benefits of working with the Dine team to plan your wedding include the following: 
Highly experienced Event Manager assigned to help you throughout the whole process from the time of booking right through to attending the big day itself – to ensure everything runs smoothly. 

Our team members come from various hospitality industry backgrounds, including hotels, cruise ships, casinos, resorts and restaurants. Many of our team even looked after the Queen when she visited Yorkshire in 2012. So, you can trust your wedding is in the good hands of expert hospitality professionals who know how to ensure you and your guests have the most enjoyable day. 

The wedding team at Dine help couples through each step of the wedding planning timeline. From facilitating menu planning and arranging menu tastings to setting up and attending meetings for all other details of the day, including room allocations, and coordinating with your various suppliers – making the process as straightforward and stress-free as possible. 

Our team have an extensive directory of trusted contacts across the wedding and events industry we can draw upon to assist in bringing your vision for your big day to life. 
Sign up for our newsletter here for more wedding tips and inspiration straight into your inbox.