What better time of year to propose a lifetime of togetherness than during the magic of Christmas. Already a time for celebration and festive romance – it's no wonder Christmas proposals are a popular choice for couples.
At Dine, we've been curating meticulously planned wedding events for over 25 years, so we know a thing or two about creating that perfect moment. Our wedding planners have shared their most favourite Christmas proposal ideas for making it impossible for your other half not to say yes.
The ultimate guide to proposing at Christmas
If you're looking for inspiration in creating the perfect Christmas engagement, then this guide is for you. From the most romantic festive surprises to moments that will last a lifetime – make your Christmas Day proposal unique and special using our romantic Christmas proposal guide.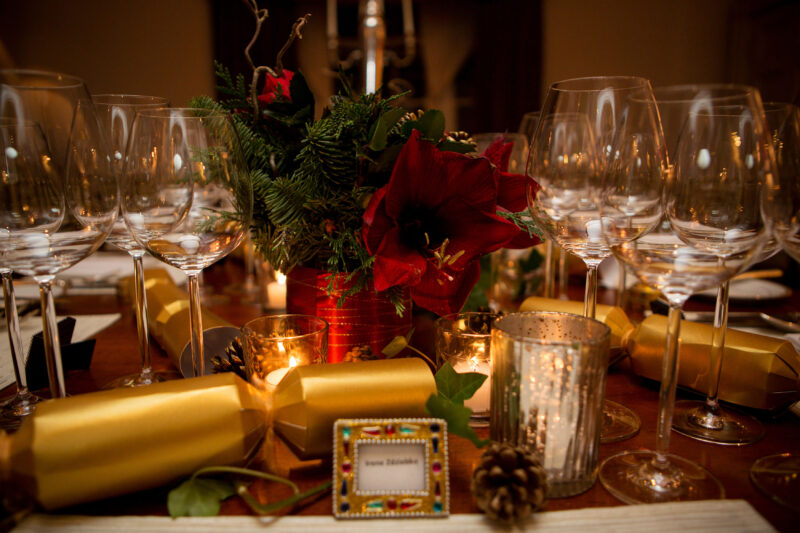 Is Christmas a good time to propose?
Before we delve into all the delightful ways you can announce your festive engagement, you might be wondering if Christmas really is the best time to propose. In case you're having any doubts, then here's a few things to consider.
If you're truly ready to commit to your partner, then Christmas is of course an ideal time to propose. It really is one of the most romantic months of the year. All those moments watching heart-warming Christmas films together, sipping mulled wine in front of the romantic lights of the Christmas market, Bailey's hot chocolates in Christmas PJs – December is filled with countless amorous moments.
Of course, there is a risk to the twinkling romantic season. Are you really ready to propose, or is it the Christmas cocktails talking? Are you simply struggling to find a gift for them and your desperation has drawn you to the idea of a proposal?
If you truly want the perfect proposal, then make sure your heart is really in it.
How many couples get engaged at Christmas?
You might be curious about just how many people pop the question at Christmas. Well, tis the season for proposals! It's true that Christmas and New Year are the most popular times for people to get engaged, with around 19% of people announcing their engagement during this time.
The best Christmas proposal ideas: 15 ways to propose at Christmas
Time for some inspiration. With so many others getting engaged around this time of year, the challenge is making your proposal unique. Fear not, we've carefully curated 15 incredible ways to propose at Christmas. Here's a list of our most favourite romantic Christmas Day proposal ideas, guaranteed to inspire your own engagement!
The Christmas bauble proposal
As they tear away the wrapping paper on the final gift, thinking that the surprises are all done for the day, tell them there's one more gift not under the tree, but on the tree.
Let them seek out a special festive bauble amongst the glittering tree, featuring the words 'will you marry me' with your ring placed perfectly inside.
Don't worry if you're not very crafty, many shops supply these engagement baubles ready-made, so all you have to do is provide the ring! Try this one
 2. Recreate that timeless Love Actually scene
If they're a fan of Love Actually, one of the go-to Christmas films of the season, then this could be the ideal proposal for you.
Sneak outside and ring the doorbell, then when they answer, shuffle through your pre-made signs until you get to that all important question!
From that day forward, Love Actually will always have a special place in your heart.
3. Christmas breakfast in bed
Why waste a moment of Christmas day not being engaged?! Start the day off by bringing them their favourite breakfast in bed, with a selection of delicious treats and a glass of bucks fizz – ready to celebrate the occasion.
4. The Christmas pudding proposal
Forget hiding money in the Christmas pudding, use this timeless tradition to create the biggest surprise of the day, by hiding their engagement ring in your festive dessert.
5. The P.S. Merry Christmas card
This is one Christmas card that won't end up in the bin! When all the gifts have been opened, provide your fiancé to be with a special Christmas Card. Add a touch of humour with a message like the below
'Will you marry me!
P.s Merry Christmas'
Or even consider adding a romantic Christmas poem to your card.
6. The perfectly placed mistletoe
Place a mistletoe in a special place in your home, then, when the time is right, bring your beloved underneath it and get down on one knee, to create the perfect Christmas proposal scene.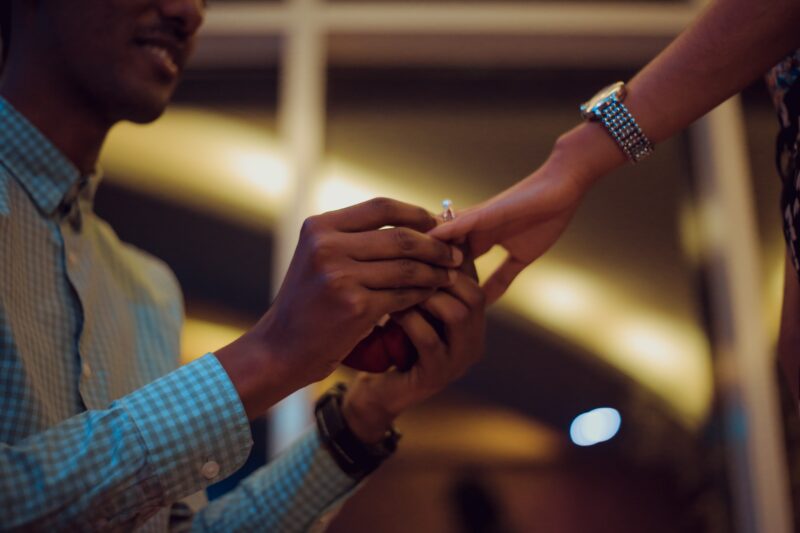 7. The personalised Christmas cracker proposal
After a delicious Christmas dinner, turn your attention to the Christmas crackers.
Rather than having them roll their eyes at yet another cheesy Christmas joke, replace their Christmas cracker message with their name, followed by those special four words – will you marry me?
Just make sure the right person gets the cracker, otherwise your aunt might have some serious questions!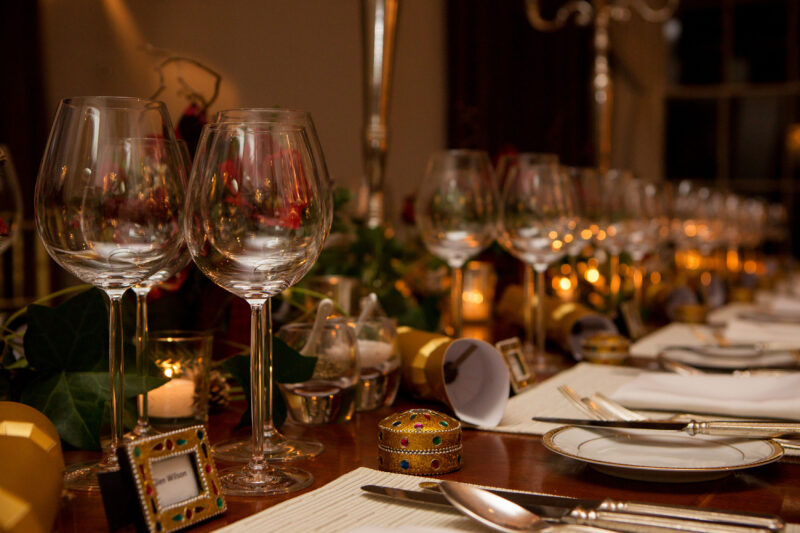 8. The box within a box within a box

You don't want to give the game away with a box that screams, there's a ring in there!

Let them be fully surprised by planting your ring inside a bigger box. You can even take it one step further by putting your ring inside various boxes, building the excitement as they go through each one, desperate to find what's really inside.
9. The Christmas hot chocolate surprise
Would it be Christmas without a luxurious mug of hot chocolate, loaded with marshmallows and whipped cream?
Make their last sip a moment to remember, by serving their hot chocolate in a very special mug. When they get to the bottom of their drink, have the words 'will you marry me' staring back at them, for a unique Christmas proposal.
Just keep an eye on how full it is and be ready to go down on one knee when the time is right!
10. The re-written Christmas song
Find a special Christmas song (ideally one of their favourites) and alter the words to fit your proposal.
It could be as simple as Mariah Carey's famous hit
" Make my wish come true, all I want for Christmas is an I dooooo"
When the moment feels right, play the song and start singing your new proposal version until they realise what's going on!
11. The mince pie proposal

Father Christmas and his reindeer have been, but they've left more than just gifts!
If you're into the tradition of leaving the mince pie and carrot out on Christmas eve, then sneak back before morning to leave a ring in place of the mince pie.
Just make sure they know the proposal is from you, not Santa!
12. The balloon box proposal

Everyone loves coming downstairs to see a huge present with their name on it!
What could it be? You think back to your Christmas list and can't imagine what could possibly be big enough for that box.
As you open the box, a selection of balloons bursts out with that special question – will you marry me?
13. The candy cane treasure hunt
Take them on an adventure around your home and garden with a candy cane treasure hunt, with clues at each stage on where to find the next.
The final stop in the game? It's you, on one knee, ready to ask that all important question!
14. The Christmas jumper proposal
Say it with fashion! If your other half is known for missing things, see how long you can wear a Christmas jumper with the proposal on, before they realise what's happening!
15.  The reasons why gifts
This Christmas, wrap your beloved a selection of 3-4 gifts which relate to the reasons why you want to make them your forever person.
Make them guess what all the gifts all have in common, then top it off with the final surprise gift – your proposal.
Ready to propose? 
Now you've uncovered some unique and truly memorable Christmas engagement ideas, go forth and make it your best Christmas yet! With ideas like these, they're pretty much guaranteed to say "I do".
Finding the ideal wedding venue
Once the snow has settled and your waistband has slightly tightened after a glorious festive period, it's time to start thinking about finding the perfect wedding venue.
We invite you to explore our collection of intimate wedding venues, guaranteed to make your day as perfect as the proposal.
And if this was helpful, sign up to our wedding tips newsletter for lots of top tips from our wedding experts! Subscribe to newsletter