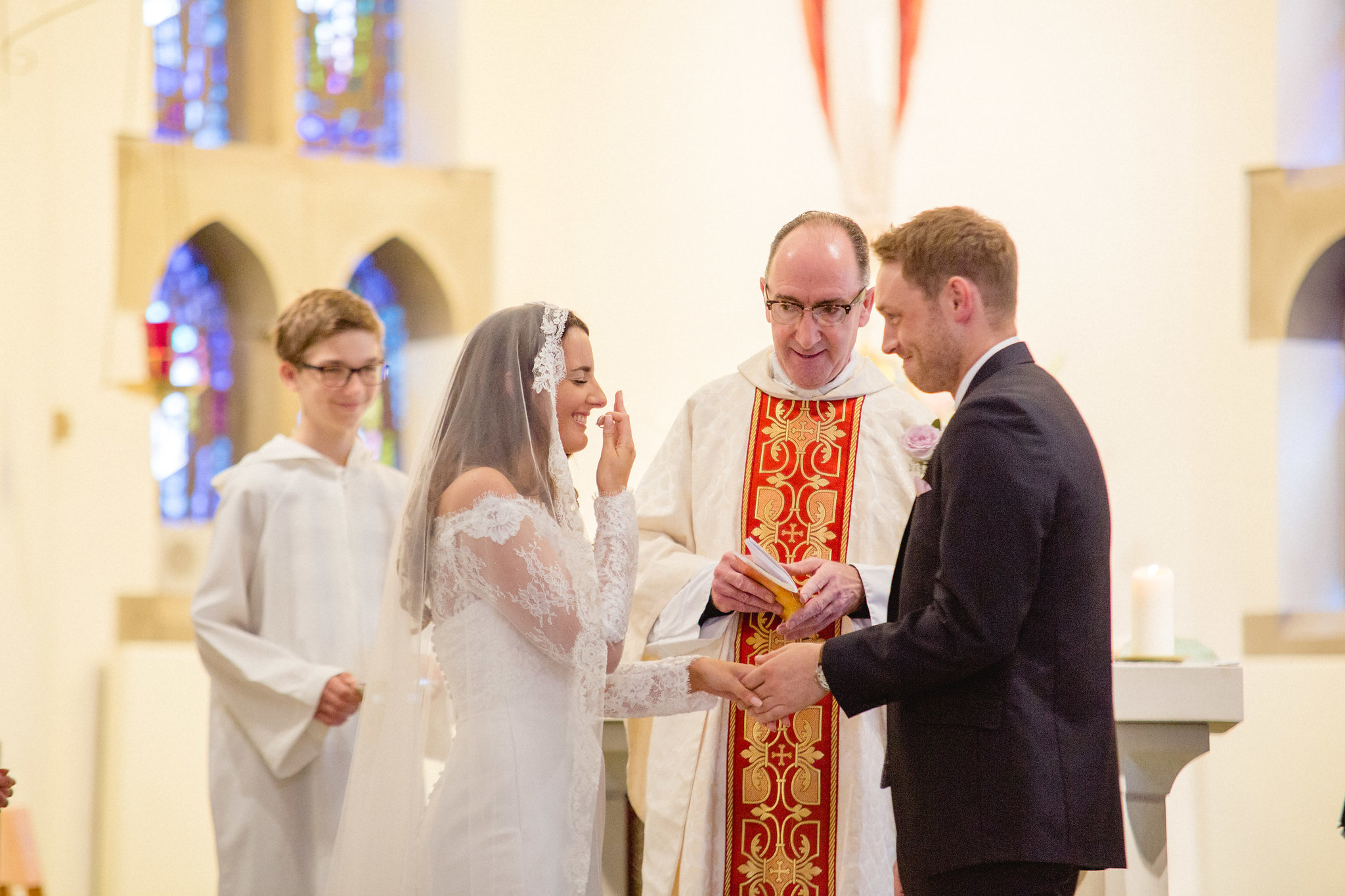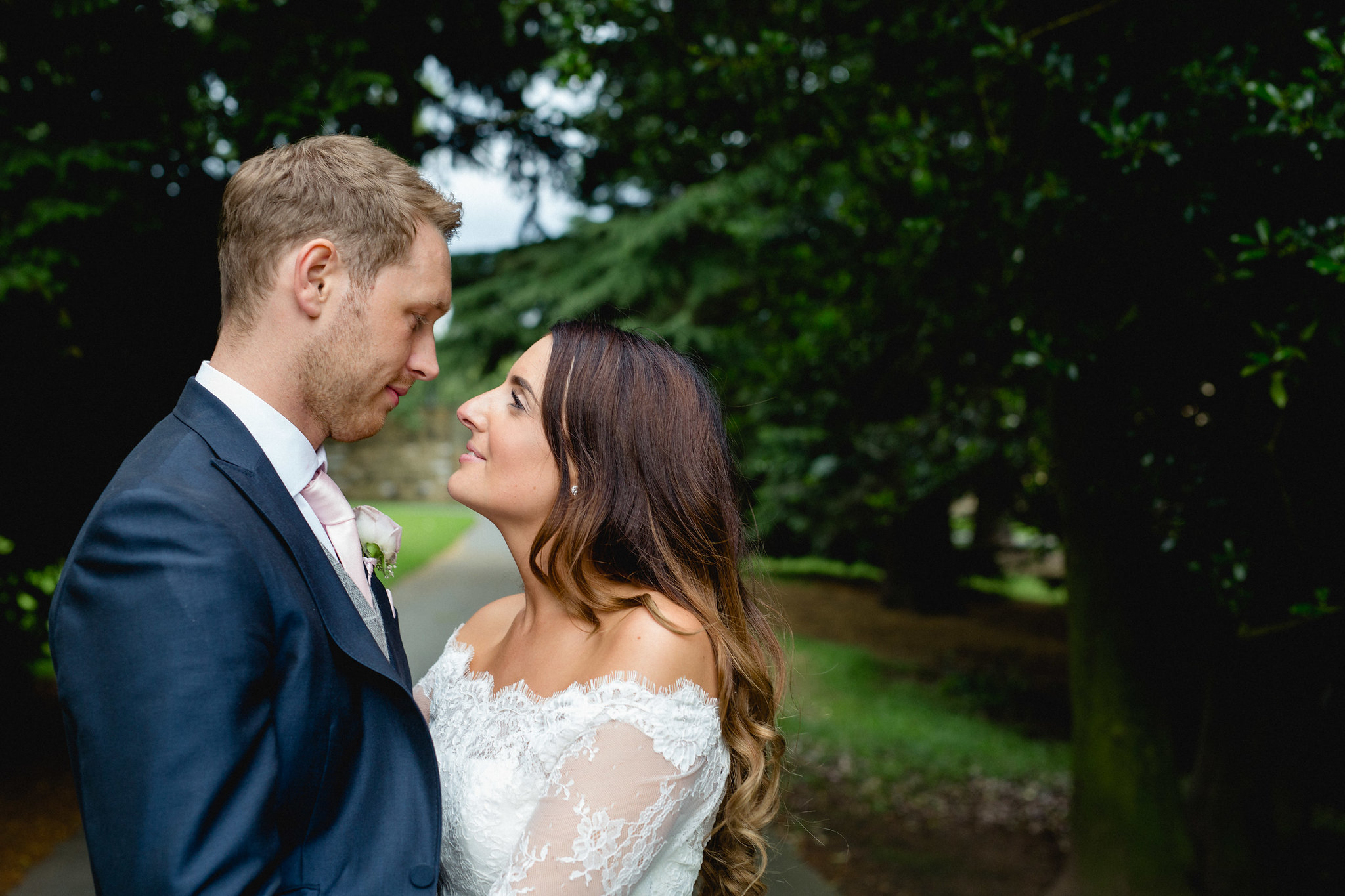 Meghan Jones, 27, Secondary School Teacher and lives in Milton Keynes with Chris. From Ilkley originally.
Chris Taylor, 31, Chartered Quantity Surveyor and lives in Milton Keynes with Meghan. From Glastonbury originally.
Date and location of wedding: Ceremony took place at Sacred Heart Church in Ilkley then the Wedding Breakfast at The Mansion in Roundhay.
The proposal – tell us the story… We were travelling to Chris' parents (in Exeter) for the week before Christmas and Chris wanted show me Glastonbury Tour where he used to go walking with his family when he was younger. It was a really windy and rainy day and I had just had my hair blow dried at the hairdressers so I was not impressed that he wanted to walk up to the tour. I let him know this as well! When he reached the top he had bought me a Kinder Egg as a treat for walking to the top. When I was opening it, I offered him the toy because he likes the toys, but he was quite reluctant to take it. I offered it again and he just said 'please open it Meghan'. I opened it up and inside was the ring and a rolled up piece of paper which said 'Will you marry me?' Chris had re-melted the kinder egg together and wrapped the foil carefully around it again. It was his third attempt!! I cried a lot and obviously said yes.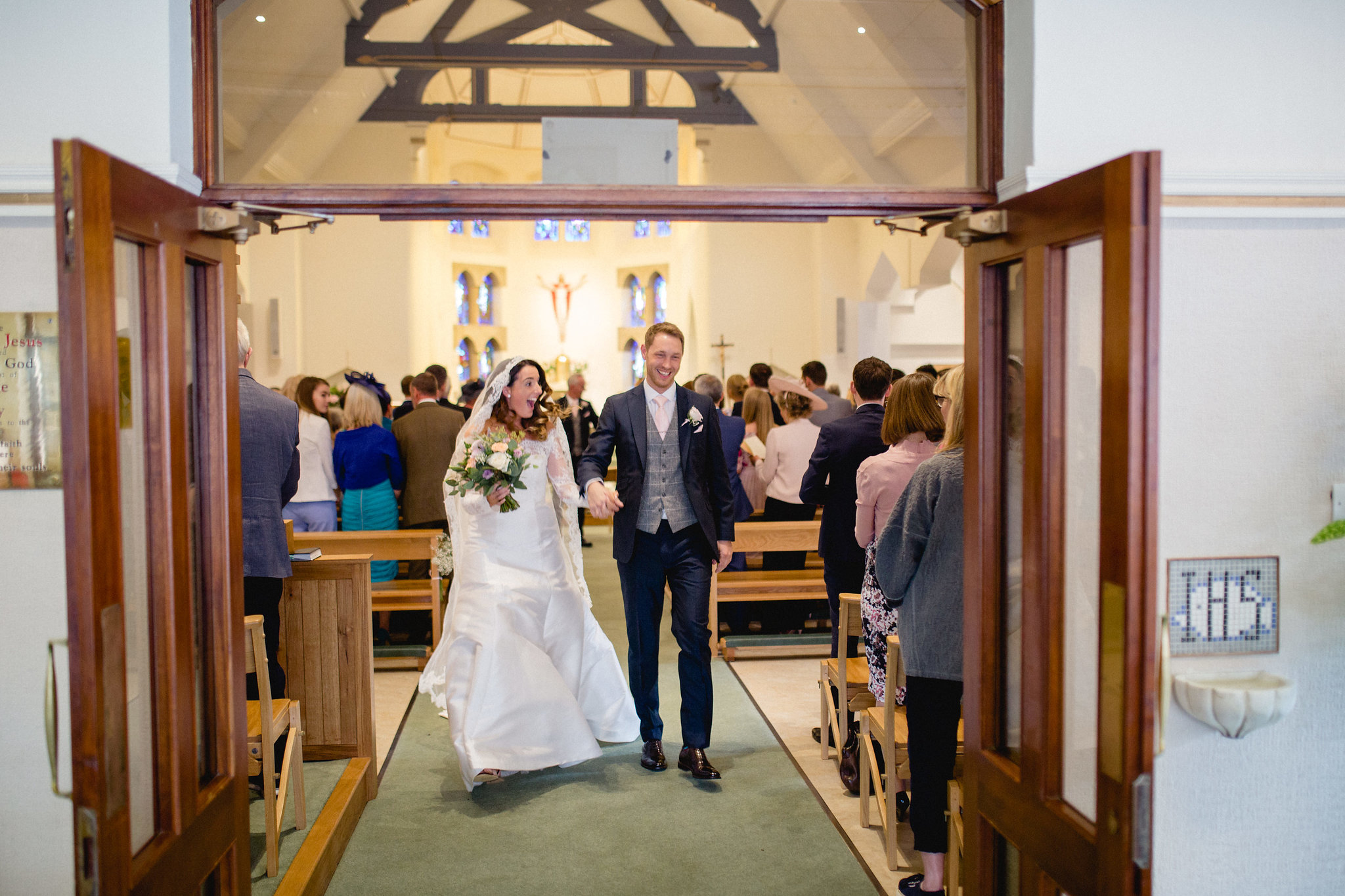 The ceremony – who conducted the ceremony and where did it take place? The ceremony was conducted by Meghan's Uncle Kevin who is a Catholic priest. The ceremony was very personal – apart from Meghan accidentally saying infidelity rather than fidelity in her vows and Chris tripping on the Pew!
The dress – where was it from & what was it like? The dress was from The Bridal Gown in Otley and Julie was fantastic. She was so attentive and so at ease when trying to find a dress that was perfect for me. It was a simple dress with lace sleeves and a long veil which looked perfect with the train of the dress.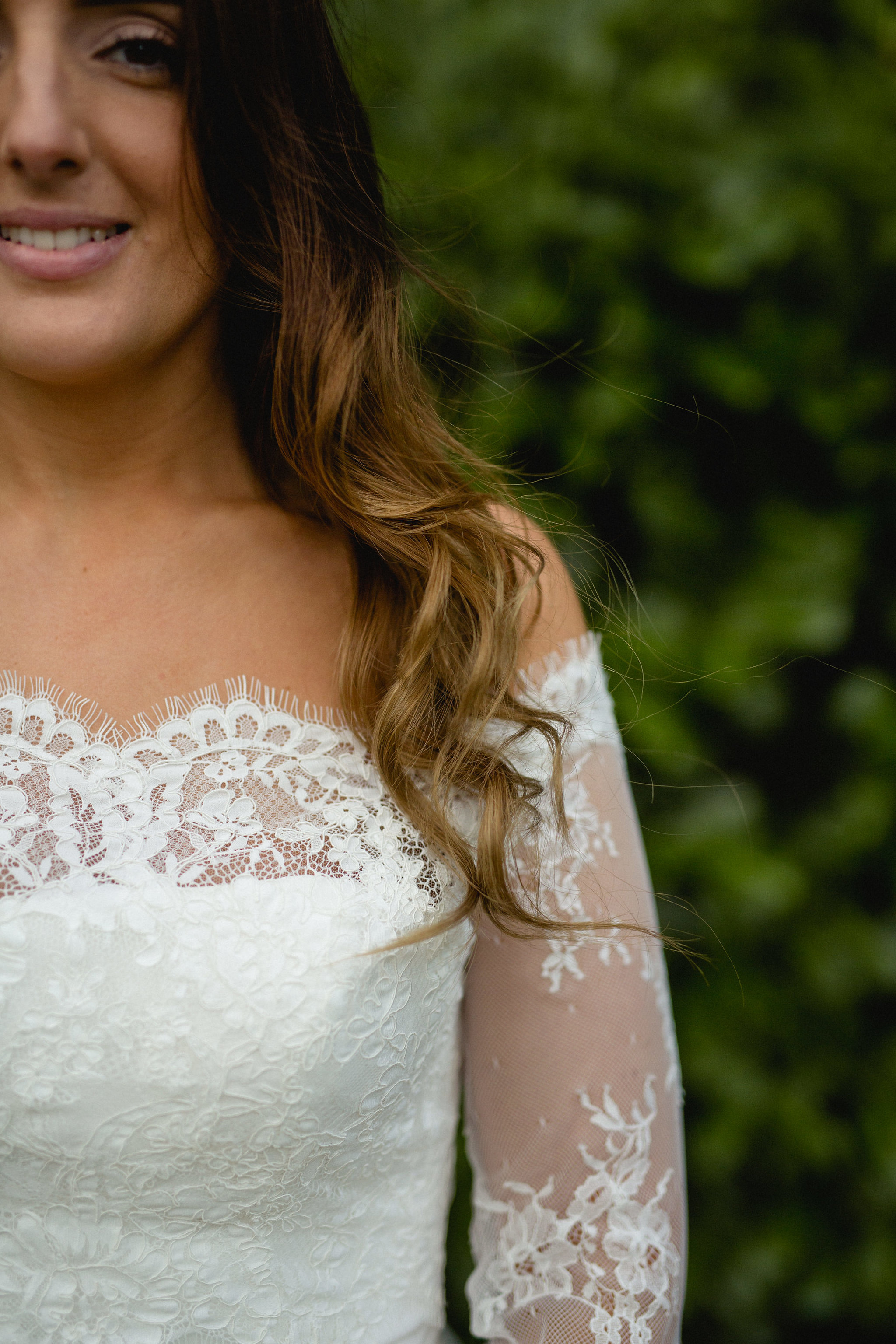 Flowers: Webb and Farrer – owned by Alex Barton in Brighton.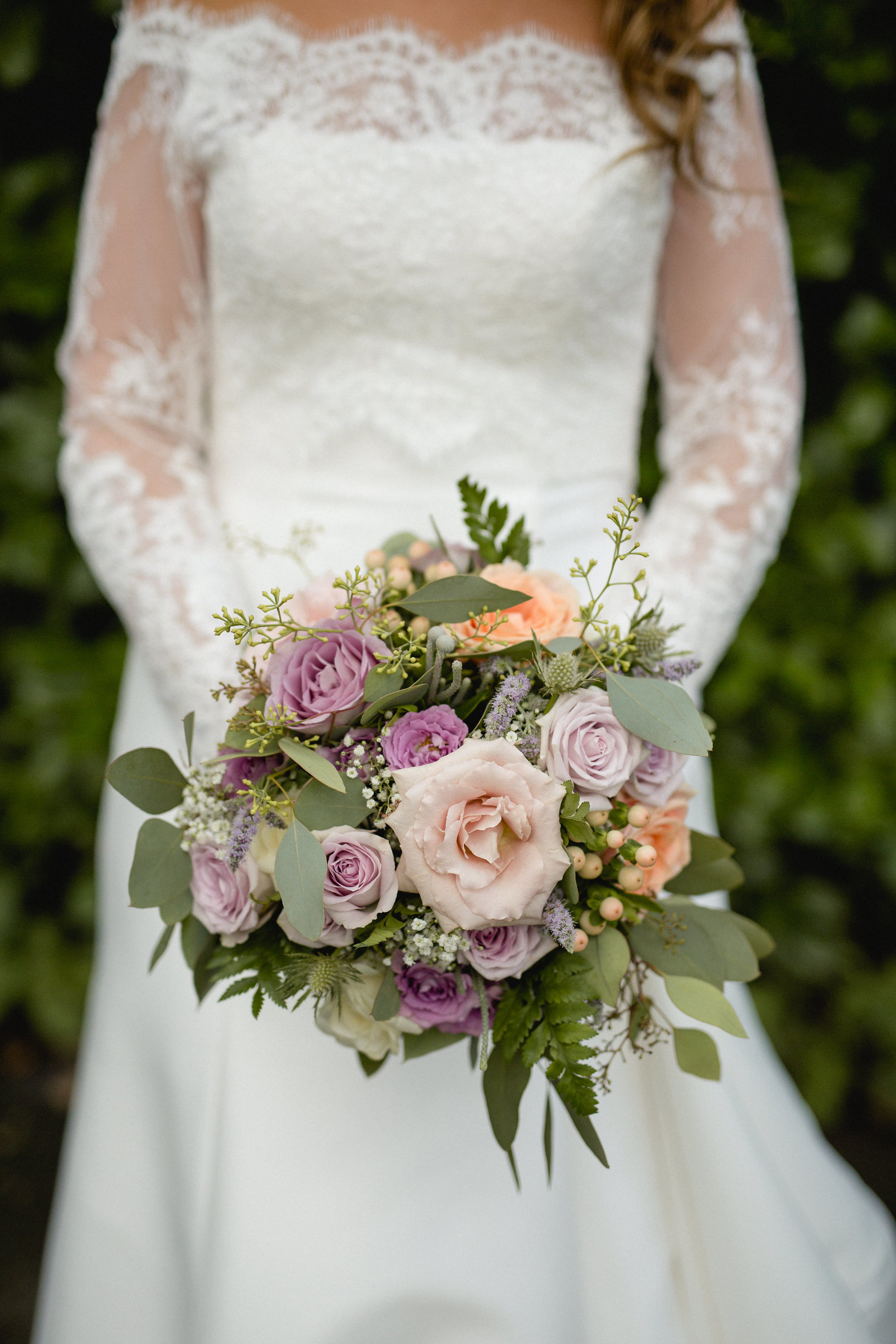 The cake – where was it from and what was it like? The cake was made by Meghan's Aunty Sandy who was a contestant on the Great British Bake Off two years ago.  It was a three tiered cake – the base was a fruit cake (made by Meghan's Grandma), the middle was chocolate fudge and the top was raspberry and white chocolate.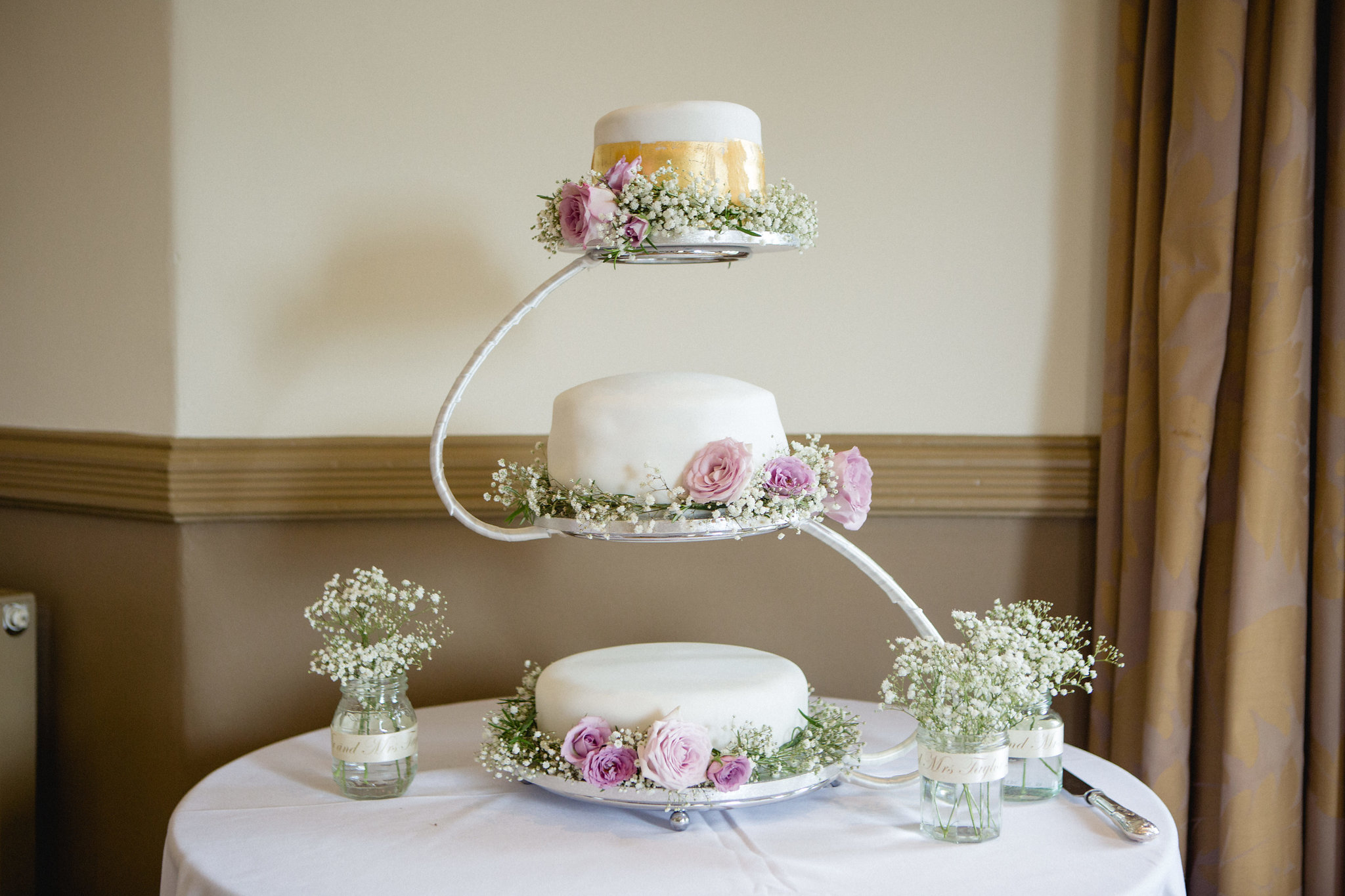 Honeymoon: La Rochelle in France.
Photography: Mark Newton Weddings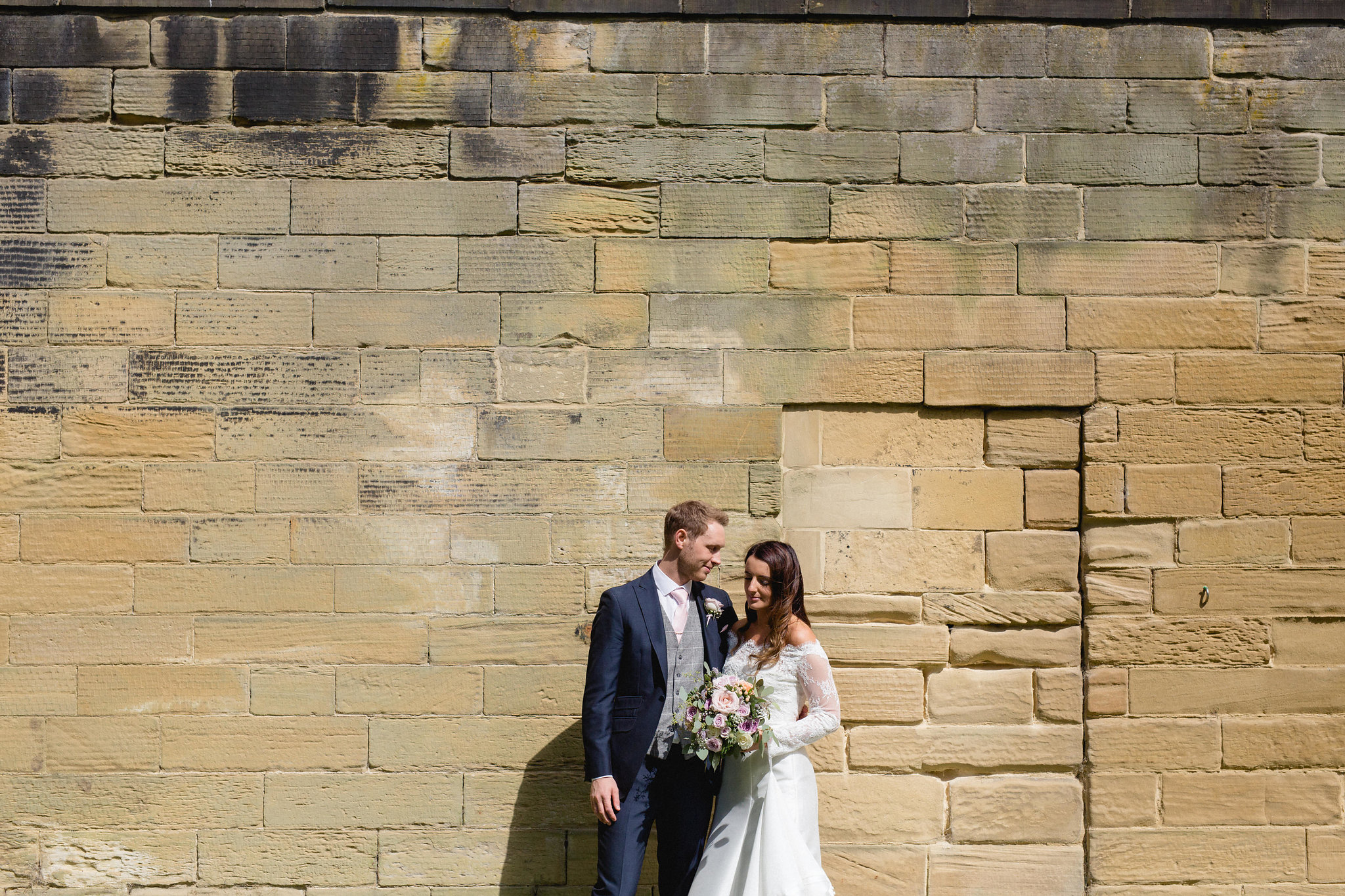 Groom's outfit: Harrogate Suit Hire – Pannal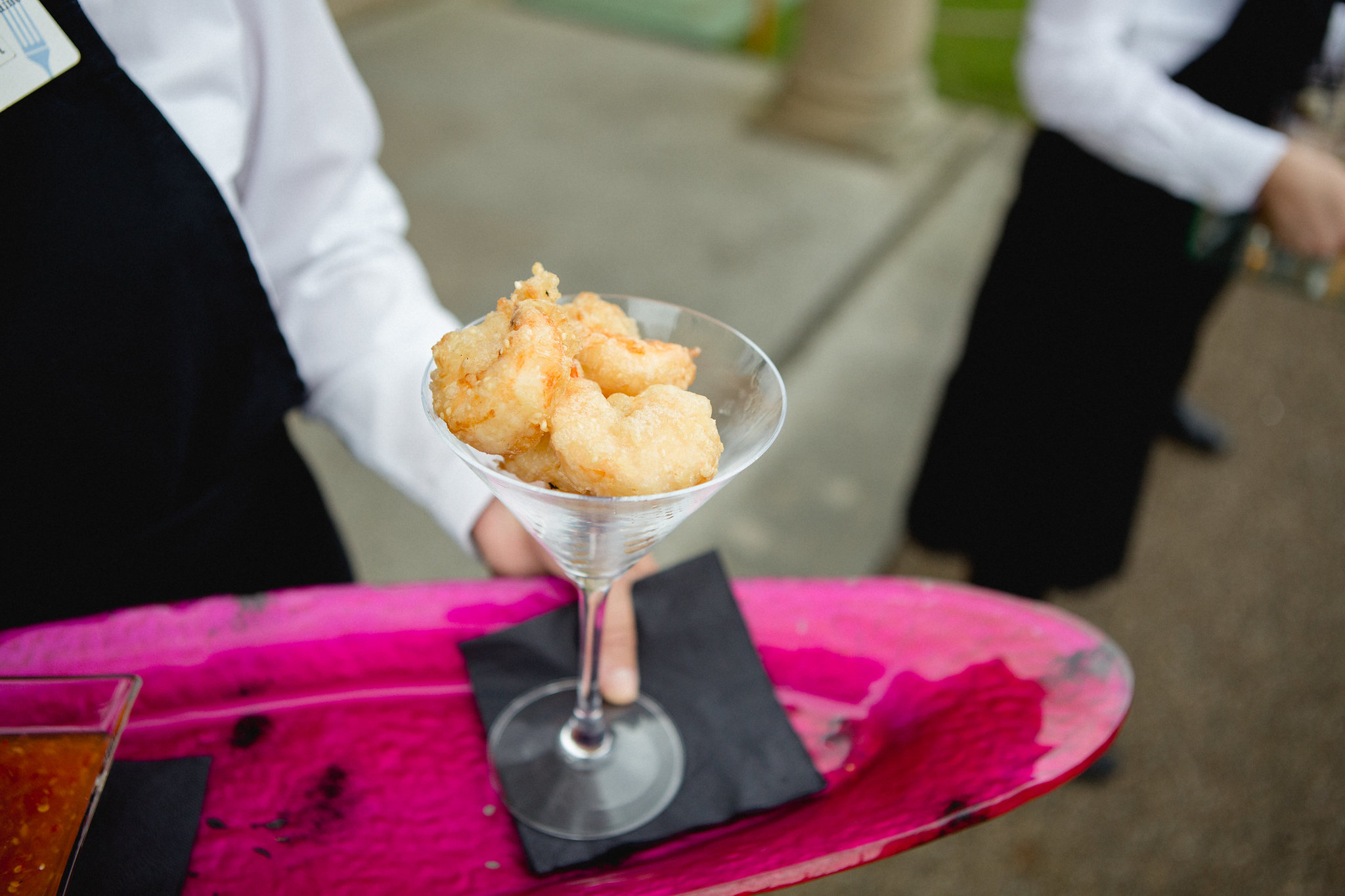 Canapés
Black Pudding Sausage on Potato Scone Rosemary & apple compote
Tempura King Prawns Marinated in ginger & chilli, sweet chilli dip
Caprini Goat's Cheese (v) Pesto, sunblushed cherry tomato & toasted pinenuts
Dinner Menu
***
Figs Baked with Truffled Honey
Dolcelatte & parma ham
***
Sirloin of Beef
Wild mushroom bourguignon confit with button onions, chantenay carrots, rich red wine sauce, olive oil & black pepper mash, buttered greens
***
Eton Mess
Layers of crumbled meringue, vanilla cream, raspberries soaked in framboise, freeze dried raspberries & popping candy
Hair and make-up: Hair was by Adele who owns Croft Hairdressers in Menston. Make up by Hannah who is a MAC makeup artist.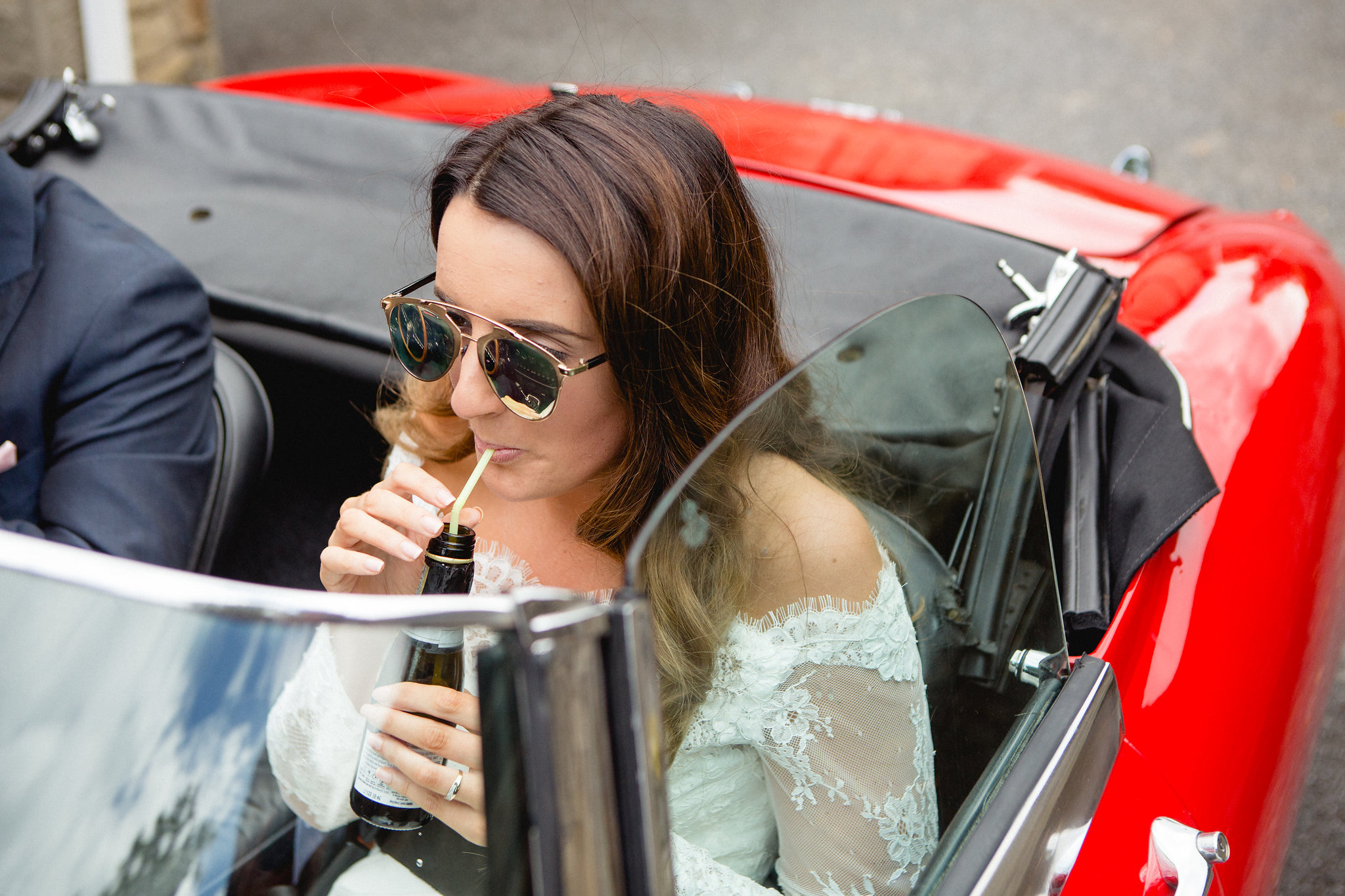 Transport: E-type Jaguar – classic car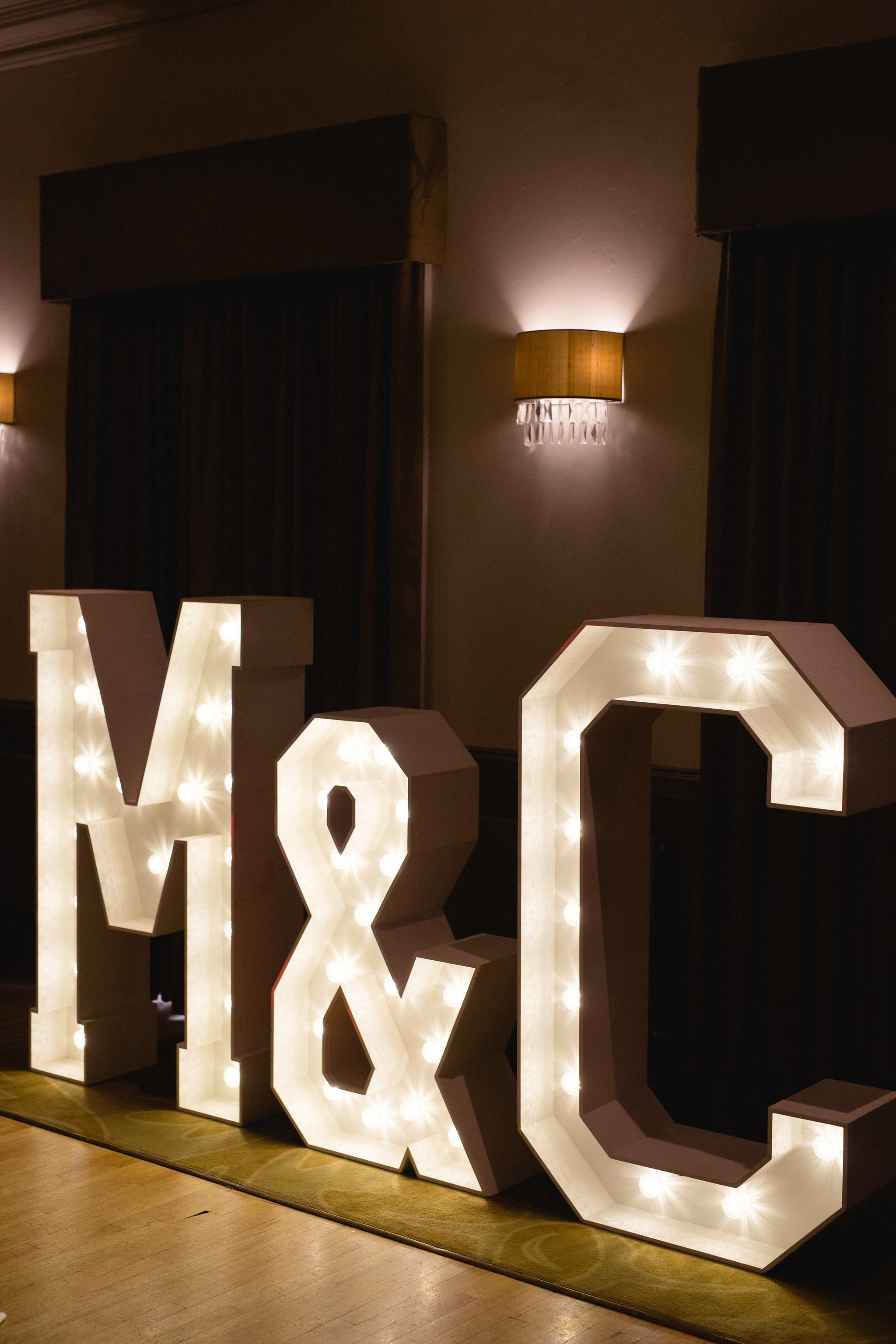 Entertainment: Mansion DJ and Photo Booth & Illuminated Letters by Dave Spink Photography
What was the most memorable part of your day?
Chris – In midst of a blur as the wedding went so quickly, I enjoyed all our families and friends being in one amazing space celebrating our special day. Obviously, I loved the car which goes without saying. The whole day was memorable and upon reflection I wouldn't have changed a single item and wish to relive it all again, even the karaoke of sex bomb!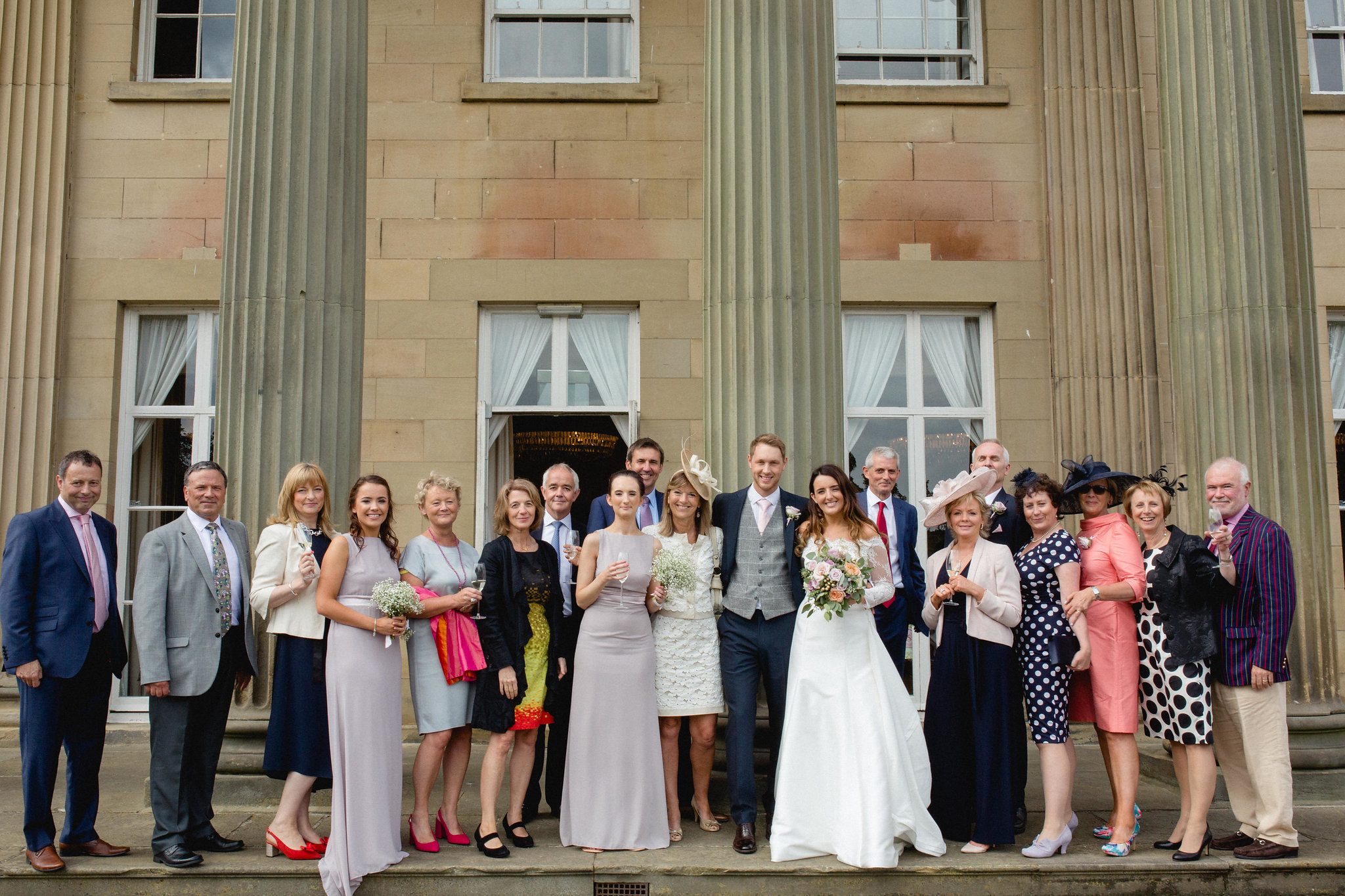 Meghan – I loved the ENTIRE day: getting ready with my bridesmaids, my dad walking me down the aisle, my sister Molly singing as Chris and I signed the register, driving in the E Type Jaguar, seeing friends and family enjoying drinks in the sun at The Mansion, hearing the speeches, Chris and I completing our choreographed first dance with no mistakes, both my sisters singing for me, singing our hearts out with friends and finally leaving in the taxi loving life.
Would you recommend Dine to friends and family? I thought Harriet was absolutely fantastic leading up to the wedding and on the day. She was a calming figure in the midst of a busy time and her attention to detail was impeccable. She helped in any way she could and it would not have been the same without her. Dine is very lucky to have her and without her, I do not think our day would have been the same.
Thanks and best wishes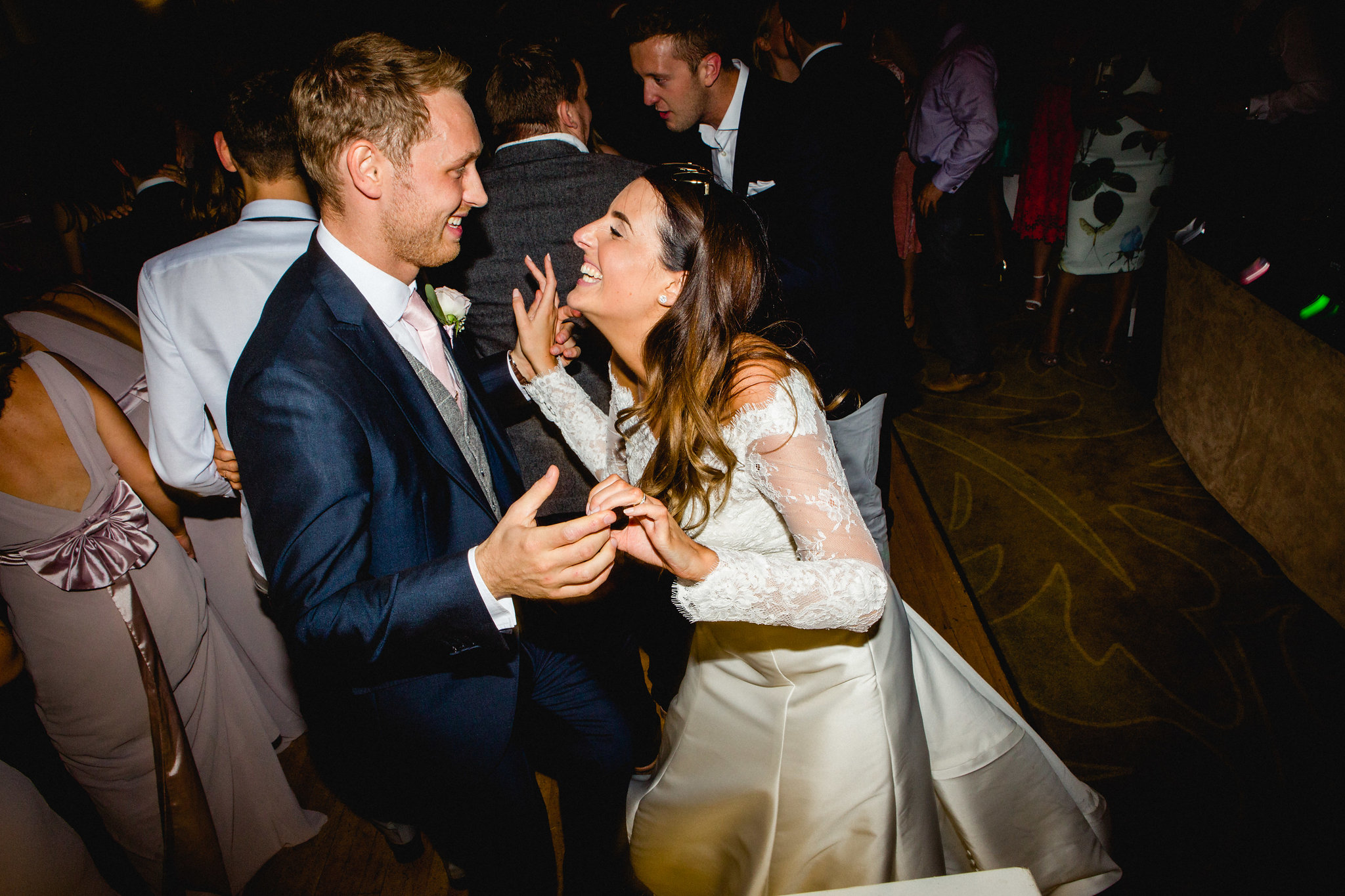 If you would like to plan your wedding with Dine at one of our venues, get in touch with our events team: 0113 269 1000 or email: themansion@dine.co.uk