Carole and Nick wanted a very elegant and romantic theme for their perfect wedding at The Mansion.
Images by Cris Matthews.
Carole says: Nick and I have been friends since secondary school. I knew all those years ago that he was the one and have loved him from being 11 years old. We dated for a while in our twenties then got together properly in 2012. His proposal came as a complete surprise. We had booked a romantic weekend away for Valentine's Day 2014. When we arrived at the hotel we snuggled by the log fire in our room drinking champagne. Nick said he had bought me a little Valentine's gift and made me close my eyes. When I opened them there he was down on one knee holding the most amazing engagement ring and asking me to marry him!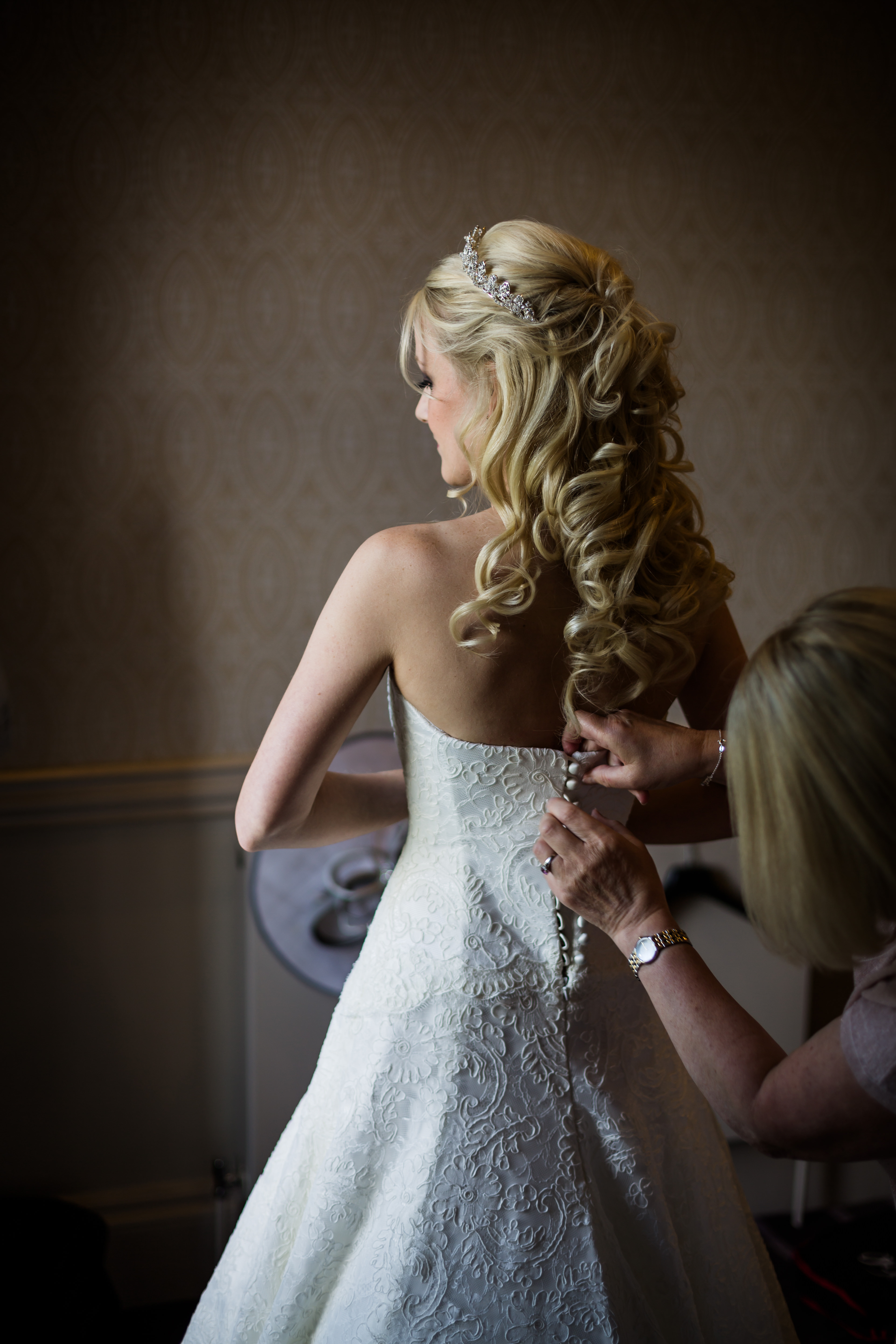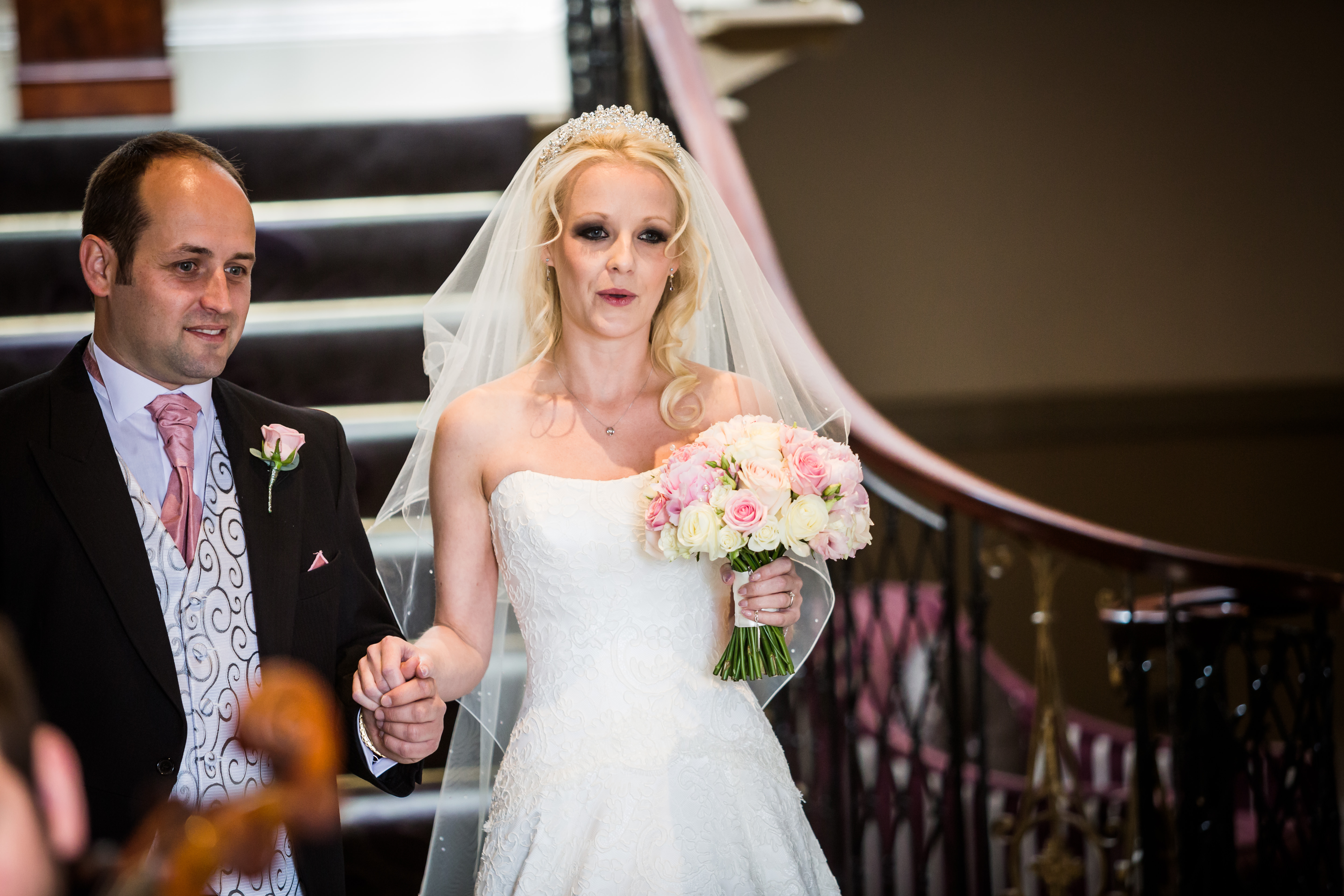 We chose The Mansion because it was absolutely stunning inside and out. We knew it was important to have a venue that was exclusively ours for the day. The elegant style and beautiful decor was just perfect for us. Having a room for the ceremony and a room for the reception provided so much versatility and the opportunity to create two completely different atmospheres on the day. We looked at The Mansion first, followed by several other venues in the area but nothing compared in the slightest!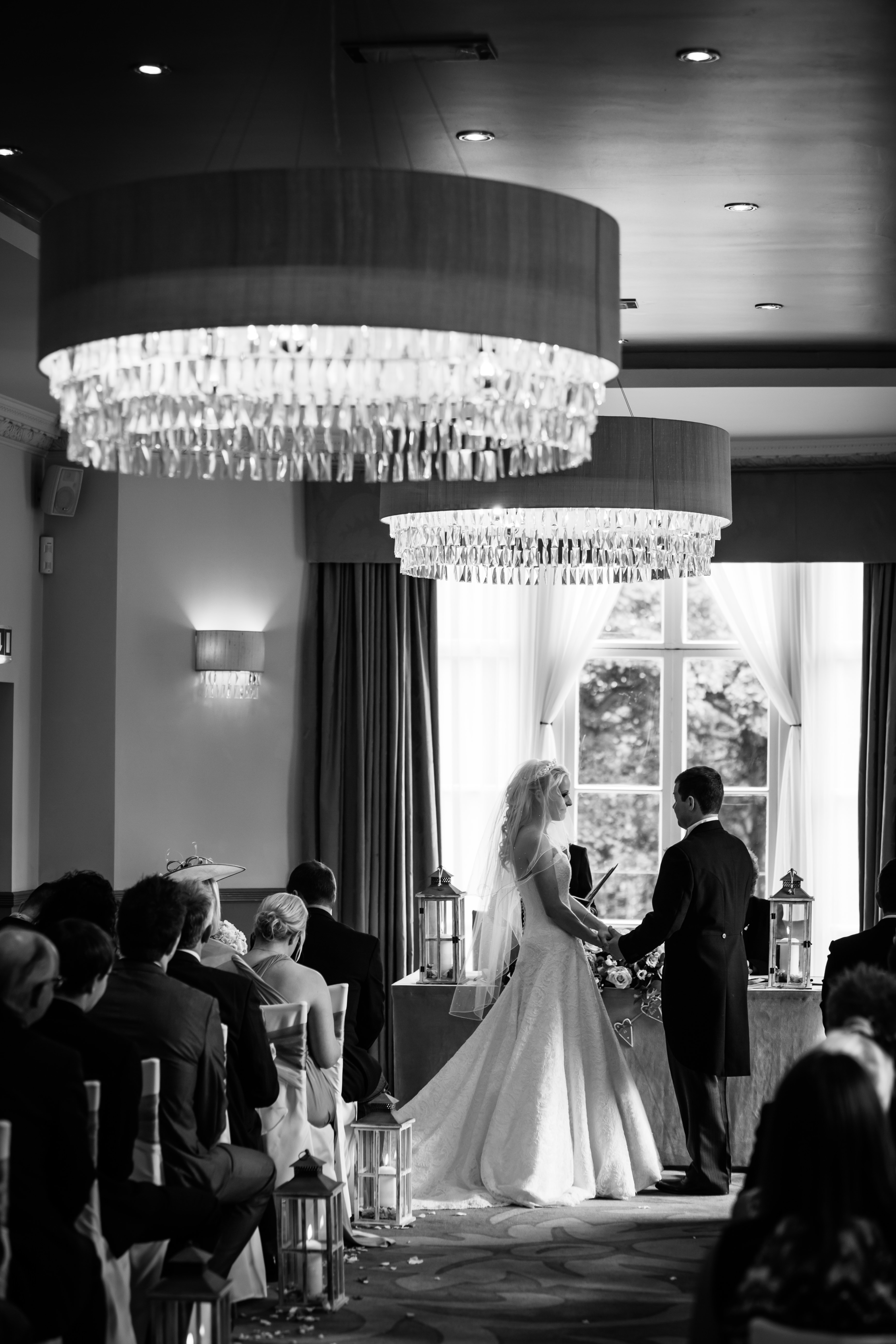 We were confident that the Dine team could deliver outstanding food and service, the choice of food was fantastic and we wanted the whole wedding to be organised by the same team. That way we knew everything would run smoothly.
The venue itself was absolutely stunning and the staff were simply amazing. I couldn't have asked for more support when planning the wedding and on the day everyone went above and beyond to ensure everything was perfect.
Craig Shepherd was amazing, I really can't sing his praises enough. I am ashamed to say I produced a wedding manual for Craig. Including how everything should be set up. On the morning of the wedding I walked into the reception room to find Craig with my wedding manual in hand very carefully setting up the tables, making sure everything was exactly perfect!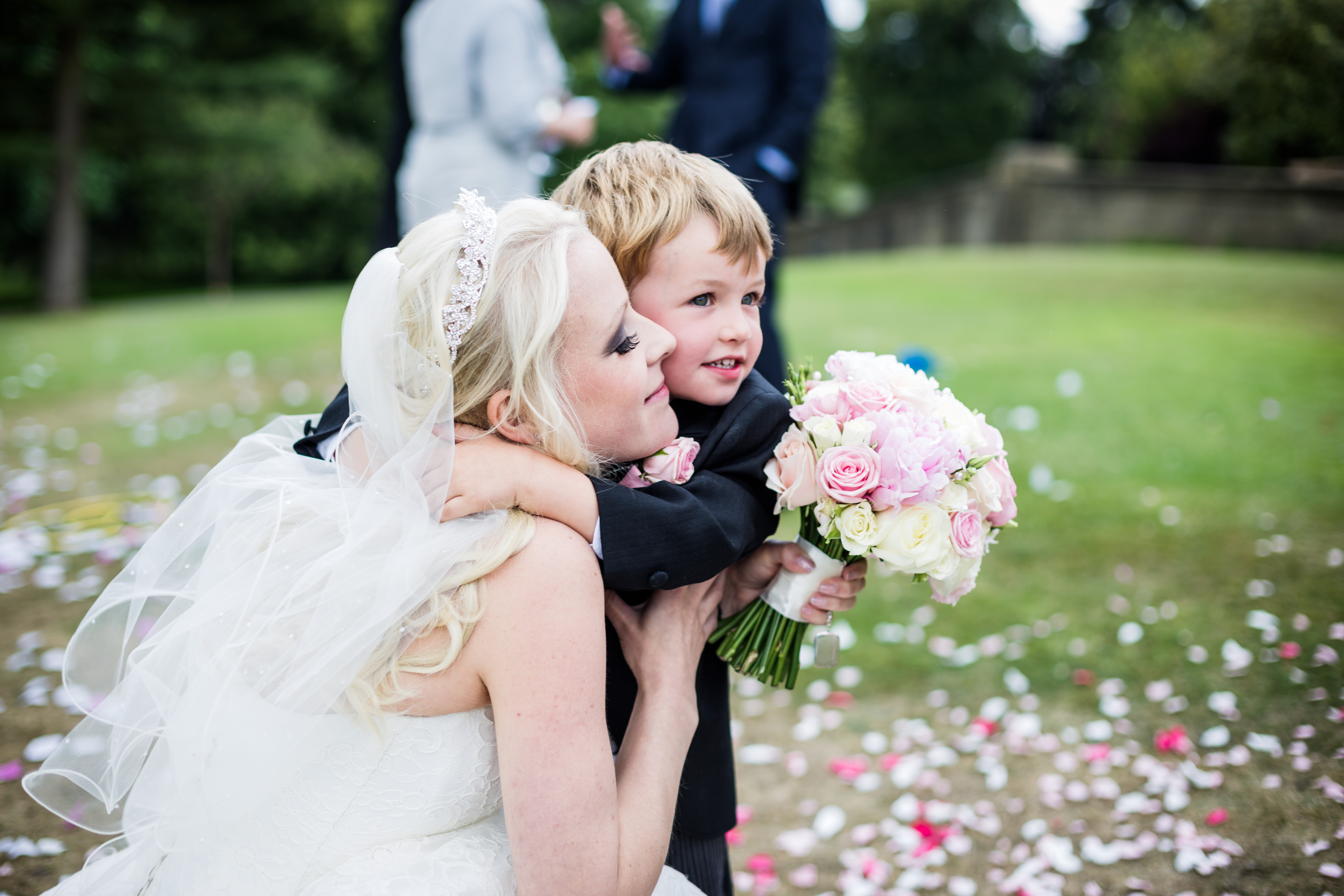 We chose silver and dusky pink for our colour scheme. The aisle was framed its white wooden lanterns filled with pale pink rose petals. These were then used as centrepieces for the evening reception. The chairs were decorated with white covers with silver and pale pink sashes. The ceremony was booked for 12noon so we wanted people to be able to relax throughout the day and enjoy a few garden games on the terrace before the wedding breakfast.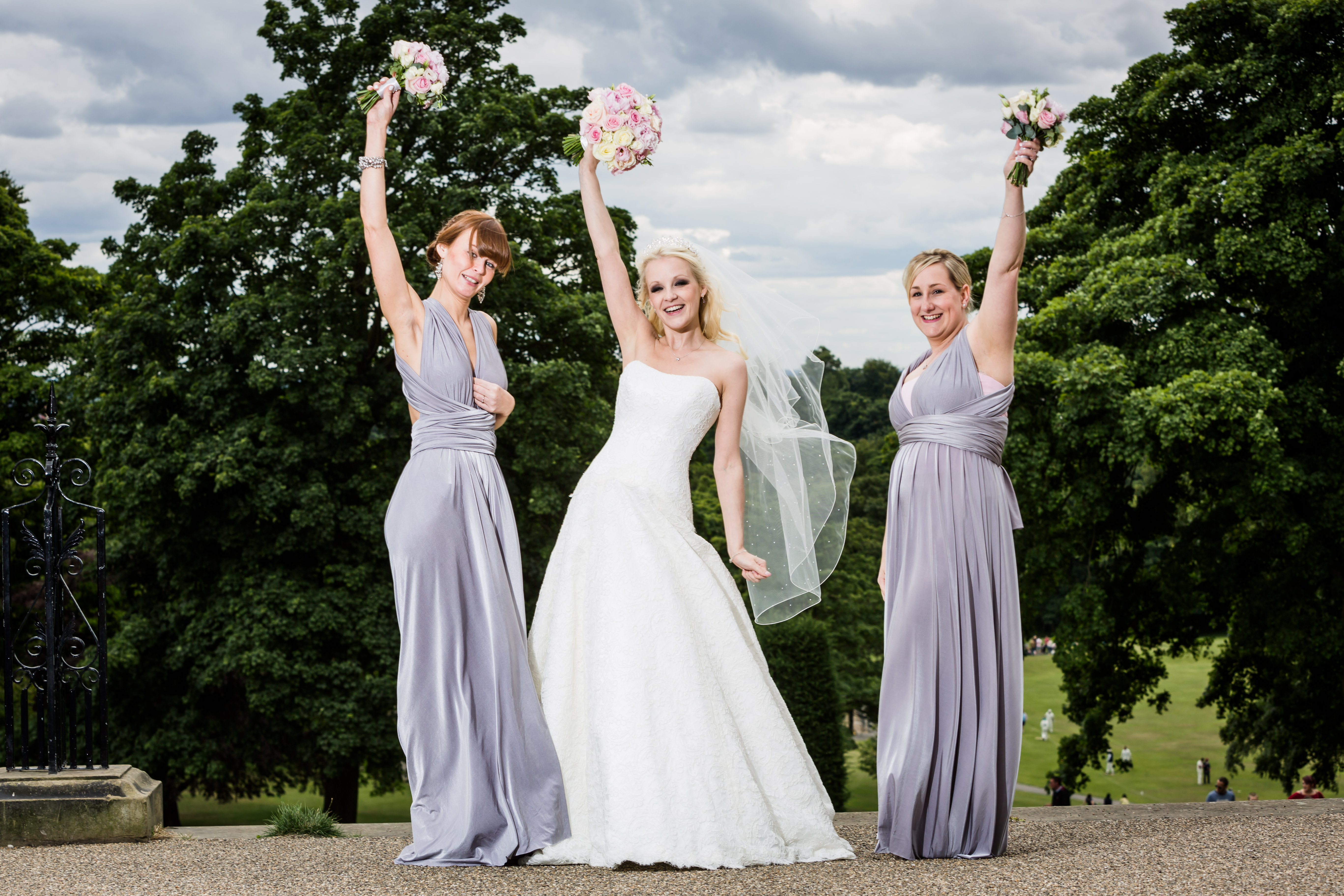 I chose a strapless Suzanne Neville gown in ivory lace. As soon as I tried on the dress I knew that it was the one. My dad would have loved how elegant and beautiful it looked. My mum and I travelled to Manchester several times to have the dress made to my exact specifications. I ordered Christian Louboutin Lady Peep heels in ivory mini glitter and my tiara was a bespoke design by Ivory & Co. My veil was a bespoke design with a generous scattering of the tiniest Swarovski crystals to add a little sparkle.
My bridesmaids wore long silver two birds dresses and carried bouquets of pale pink peonies and roses.  The groomsmen wore morning tail suits from Greenwoods with silver waistcoats and pale pink cravats.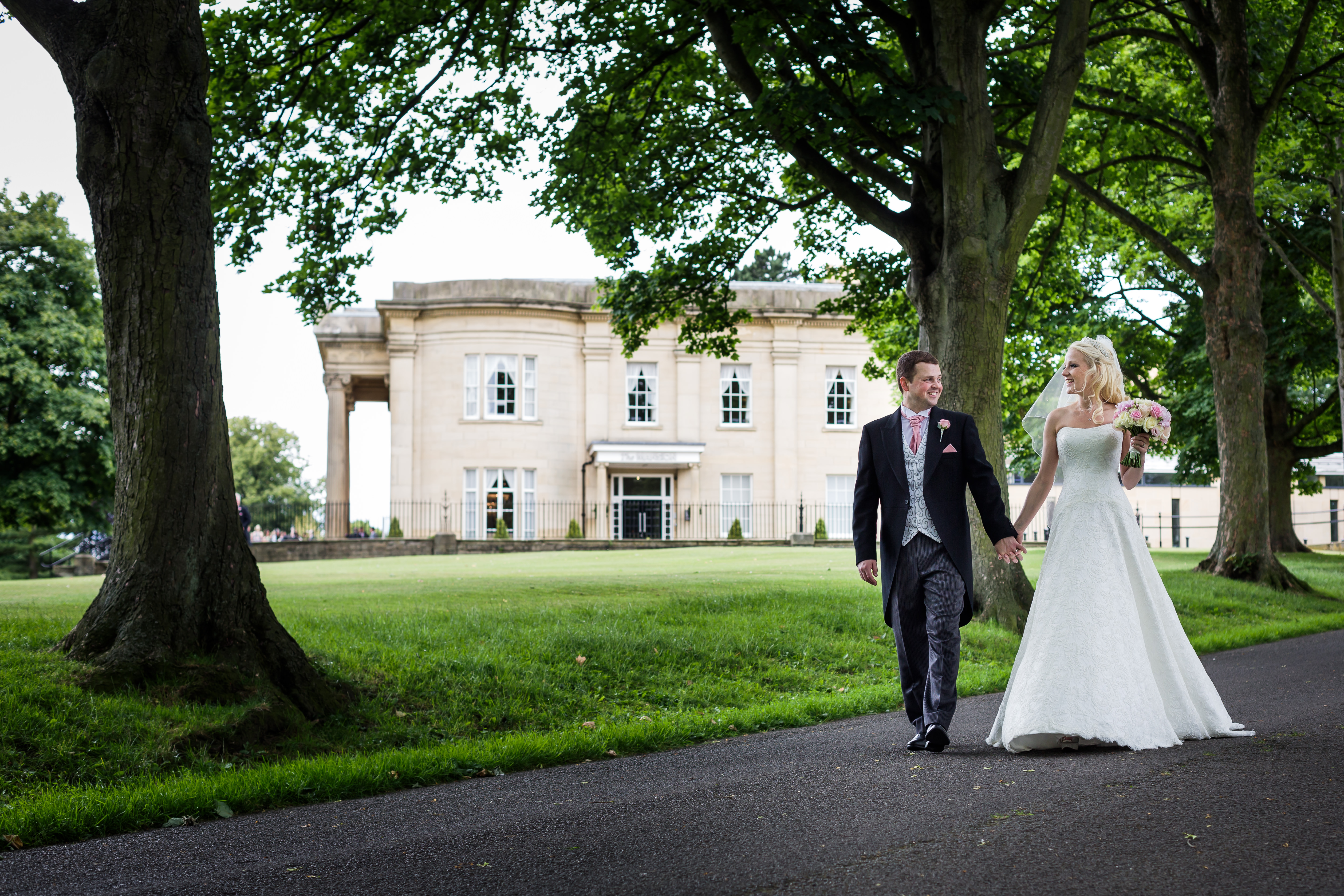 Our photographer was Cris Matthews. He was an absolute hoot! A few months before the wedding we went into Leeds to meet Cris for a pre shoot. He made us feel so relaxed and comfortable that I he became part of the wedding instead of feeling like we had someone following us and spooling the intimacy of such a special day.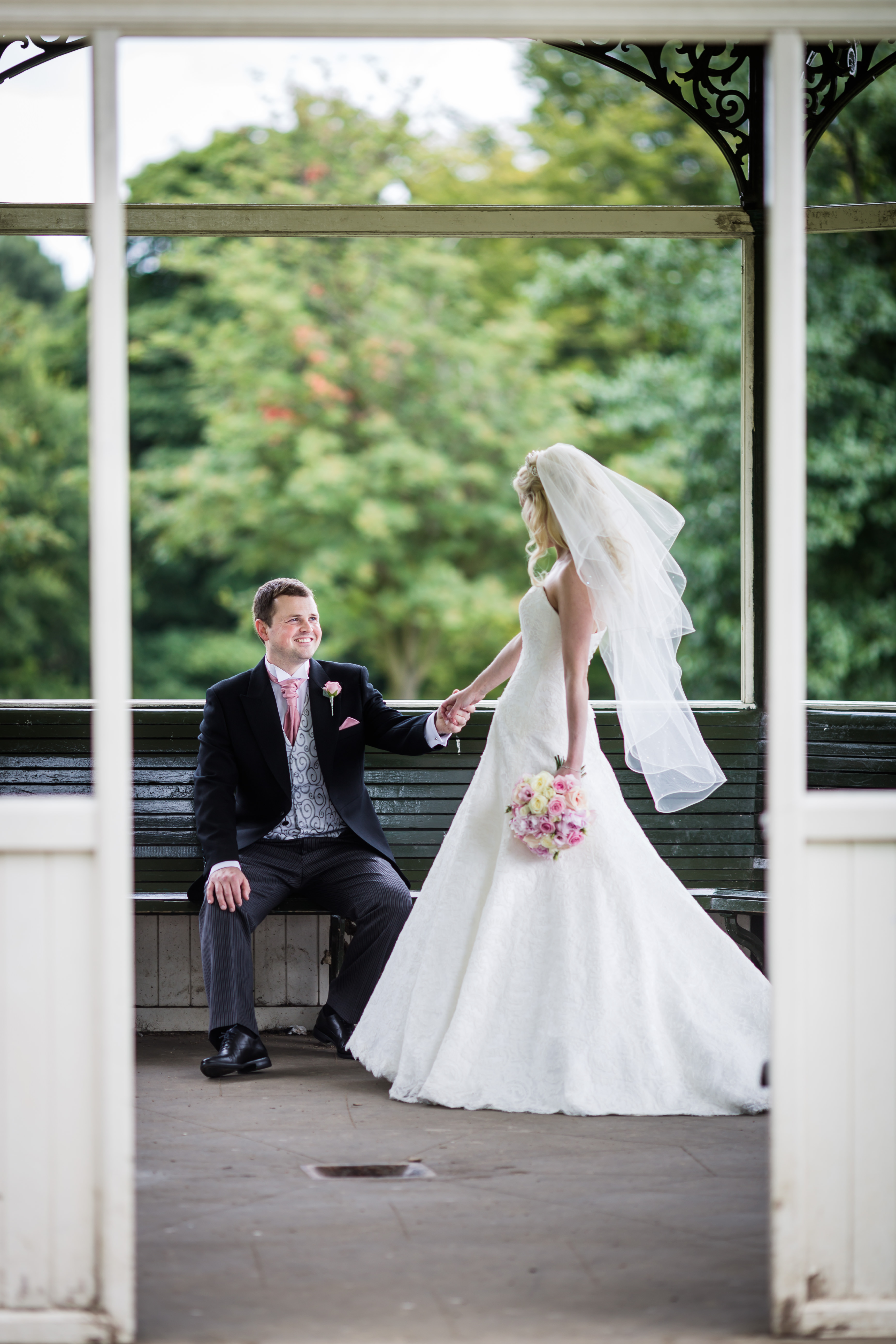 Craig Shepherd at The Mansion recommended using Twisted Willow in Ripon. They spent ages discussing my exact requirements and the different options available. I wanted peonies, however, it was very late in the season so they gave me a few ideas just in case they were not available. When the flowers arrived on the morning of the wedding they were filled with the most stunning peonies I have ever seen that perfectly matched our colour scheme!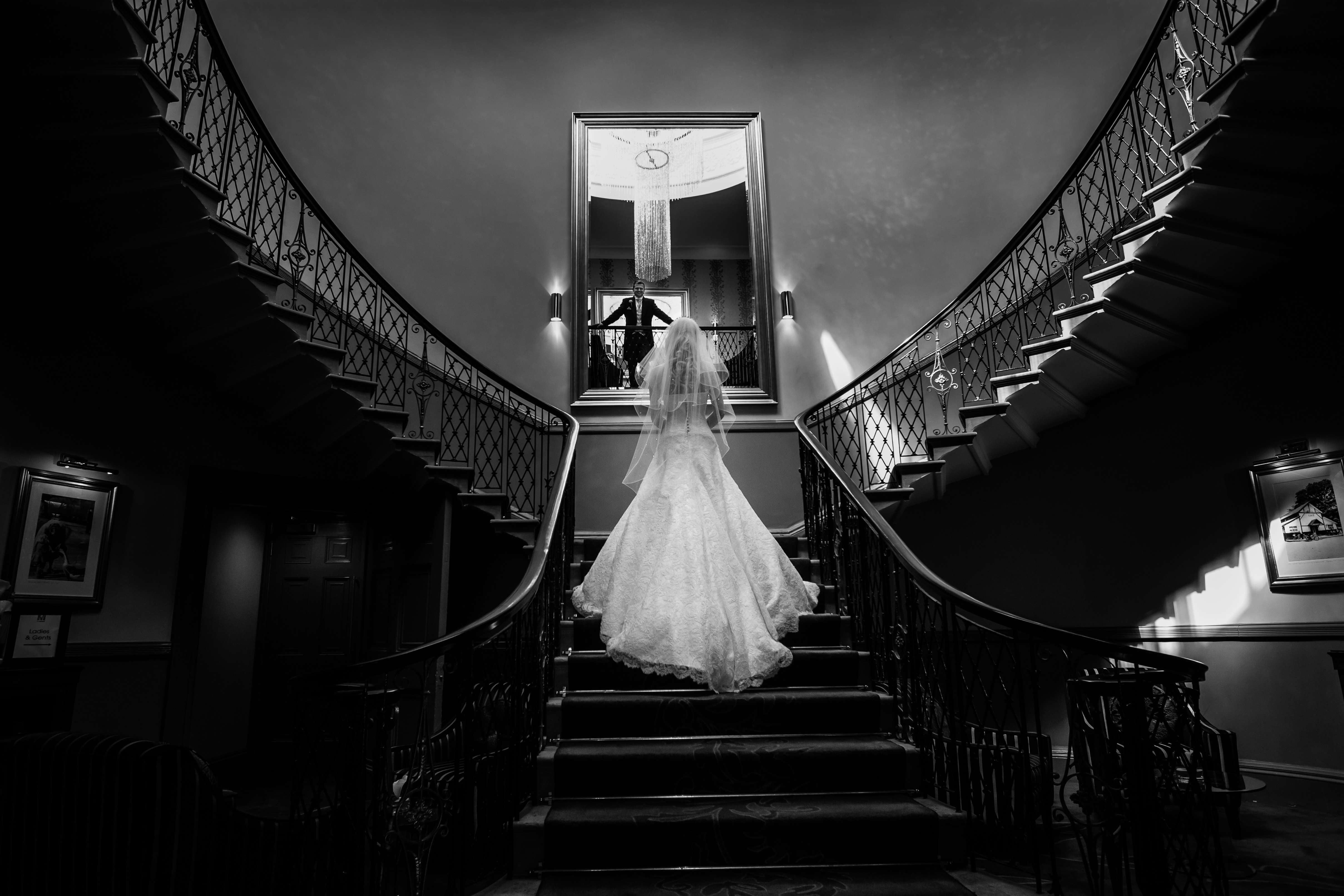 Dine gave us great suggestions for our food and wine then invited us to a delicious tasting. We spent a lovely afternoon eating, drinking and discussing the fine details of the day with Craig. Perfect!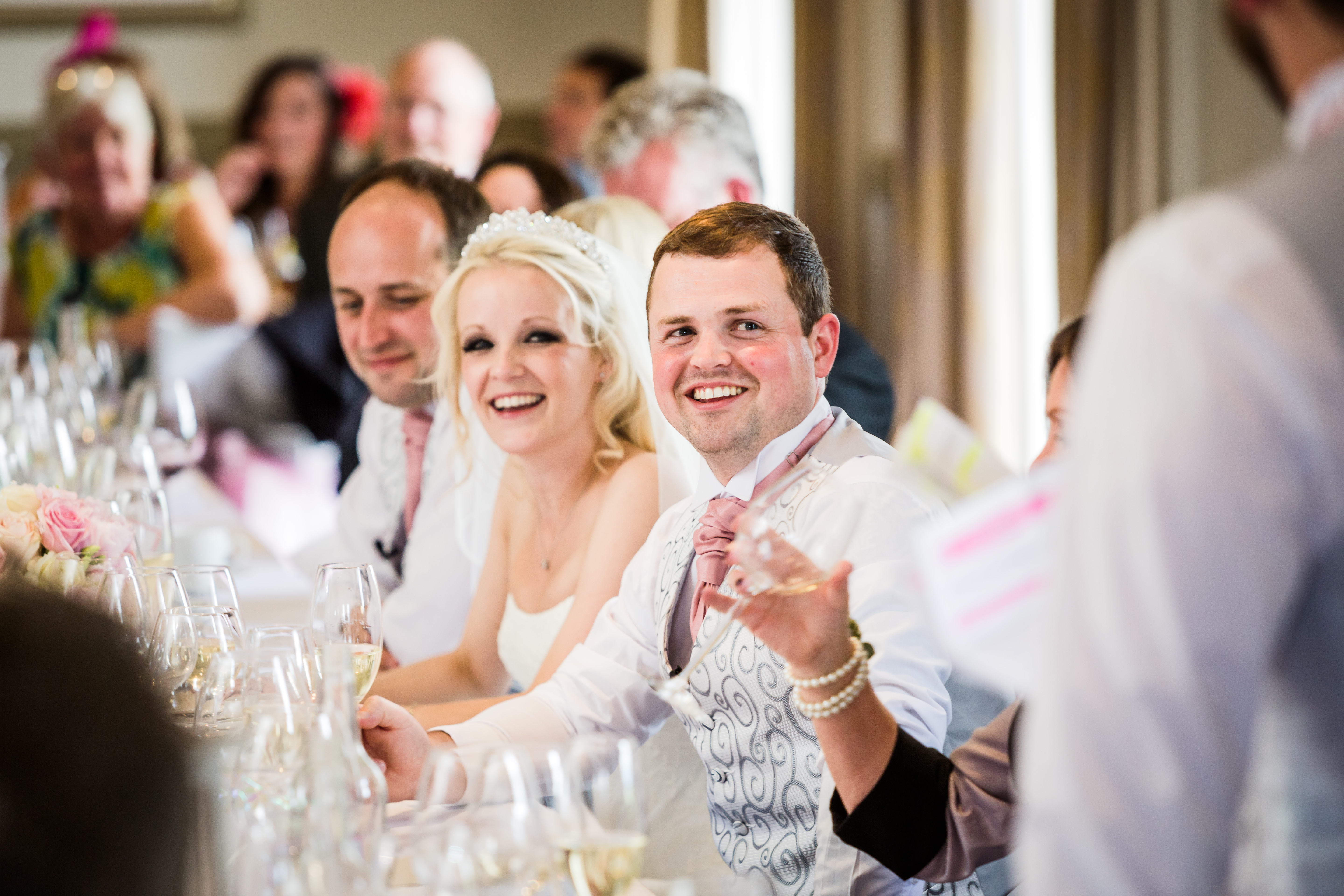 We decided we wanted to do something special for our first dance. (not the awkward stand and sway) So we booked a dance teacher and practiced a routine to two songs. Ed Sheeran's Thinking out Loud, followed by Bruno Mars Uptown Funk to get everyone on the dance floor. We kept the whole thing a secret and after four months of lessons I think we surprised everyone!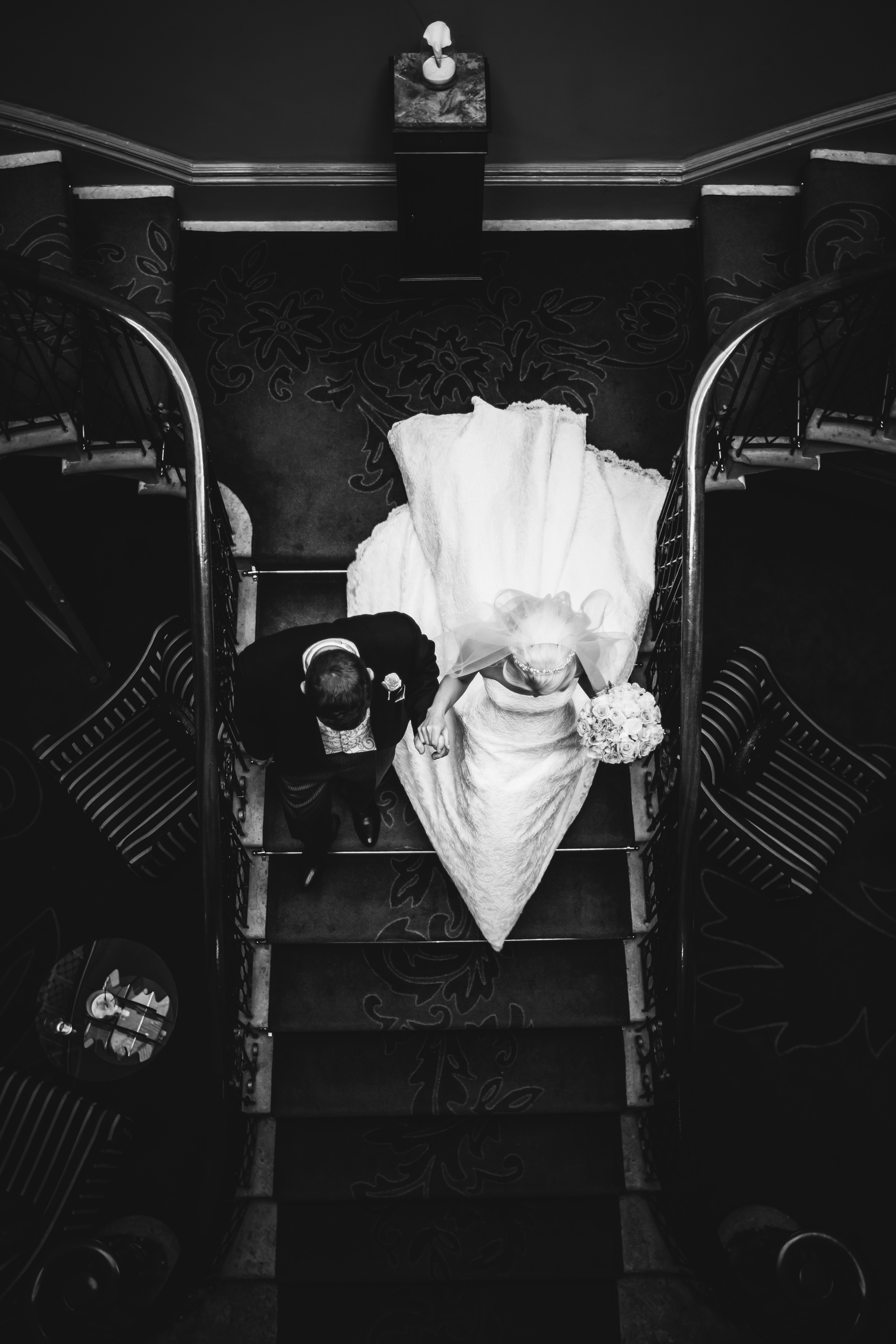 We loved every moment. Being surrounded by family and friend celebrating the most perfect day of our lives in a stunning location! Walking down the aisle to marry my groom, my gorgeous nephews dressed in their wedding security outfits. The random butterfly fluttering around during the ceremony (we are both convinced this was a sign dad was with us) our first dance. Thank you Dine for the day of our dreams!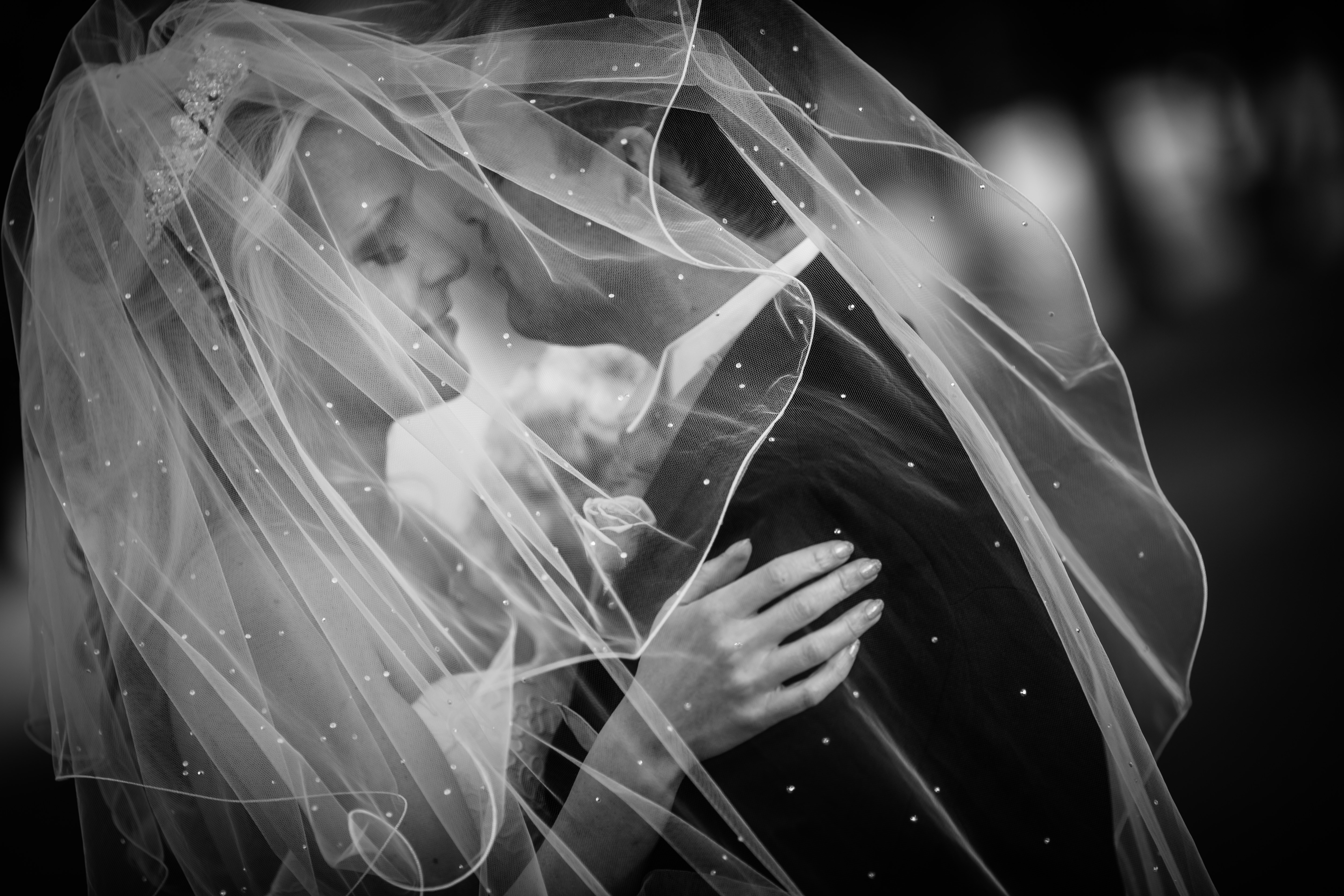 A week after the wedding we went on a minimoon back to the same hotel in the lakes where we got engaged. We will be going on honeymoon in December 2016 when we have a lovely trip planned to New Zealand with a few stops along the way.