We were thrilled to be featured in top UK wedding blog Brides Up North's selection of Yorkshire's best wedding venues for the 5th Birthday edition of Belle Bridal Magazine, spring/ summer 2014.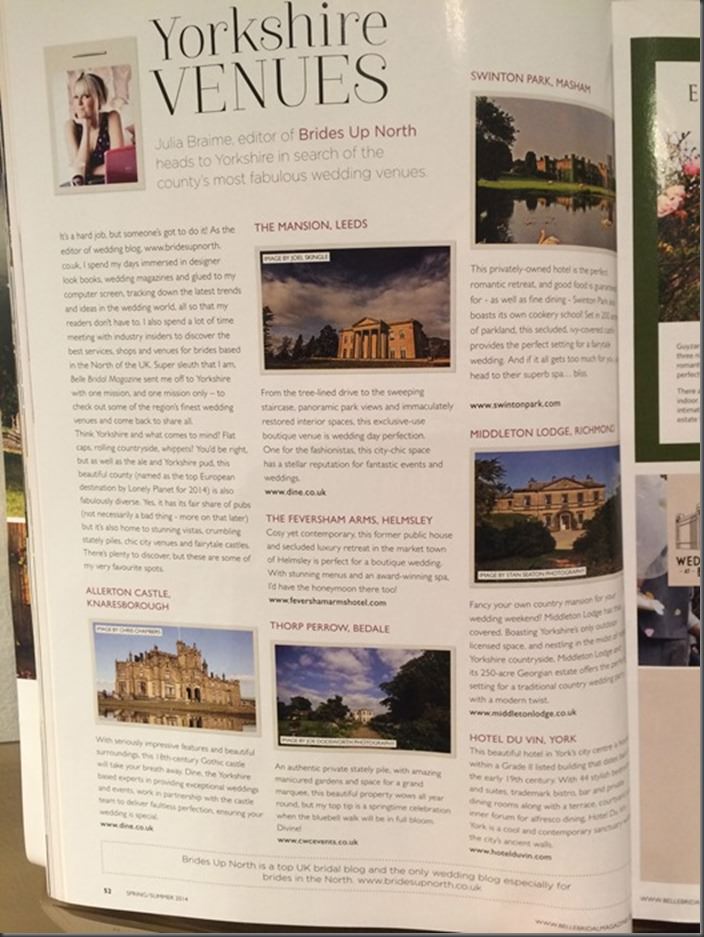 Julia Braime, editor of award winning wedding blog Brides Up North said:
"It's a hard job, but someone's got to do it! As the editor of wedding blog, www.bridesupnorth.co.uk I spend my days immersed designer look books, wedding magazines and glued to my computer screen tracking down the latest trends and ideas in the wedding world, so my readers don't have to. I also spend a lot of time meeting with industry insiders to discover the best services, shops and venues for brides based in the North of the UK. Super sleuth that I am, Belle Bridal Magazine sent me off to Yorkshire with one mission, and one mission only – to check out their best wedding venues and come back to share all.
Think Yorkshire and what comes to mind? Flat caps, rolling countryside, whippets? You'd be right, but as well as the ale and Yorkshire pud, this beautiful county – named as the top European destination by Lonely Planet for 2014 – is also fabulously diverse. Yes, it has it's fair share of pubs (not necessarily a bad thing, more on that later) but it's also home to stunning vistas, crumbling stately piles, chic city venues and fairy tale castles. There's plenty to discover, but these are some of my very favourite spots."
Mentions for our beautiful venues were as follows: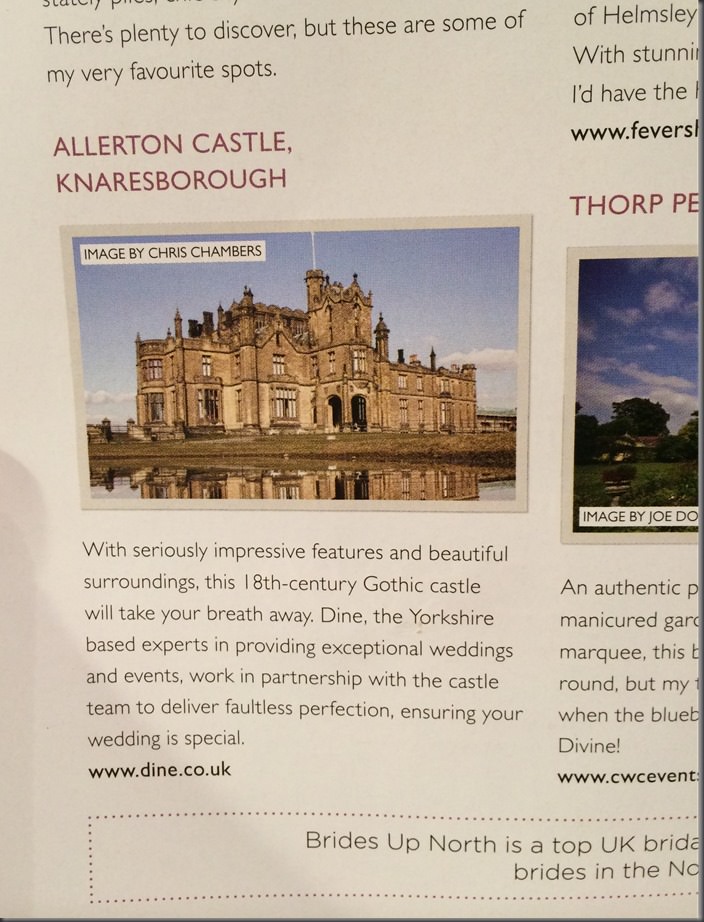 "With seriously impressive features and beautiful surroundings this 18th century gothic castle will take your breath away. Dine, the Yorkshire based experts in providing exceptional weddings and events, work in partnership with the Castle team to deliver faultless perfection to ensure your wedding is special."
"From the tree-lined drive to the sweeping staircase, panoramic park views and immaculately restored interior spaces, this exclusive use, boutique venue is wedding day perfection. One for the fashionistas, this city chic space has a stellar reputation for fantastic events and weddings."
Contact us for more information about holding your wedding or special event at either venue.