Where do you live? How did you meet? What do you both do for work?
Nathan and I live in North Lincolnshire. We met at work, at the time, we both worked for the local council delivering sport to children and teenagers in the local community. I now work for Humberside Fire and Rescue Service answering the 999 calls and Nathan is a professional poker player.
Tell us about the proposal…
So Nathan proposed December 16th 2017. We had gone away for the weekend for a little break before Christmas; we'd booked a beautiful cottage in the Lake District, Mirefoot Cottages.
We had taken our Lhasa Apso, Teddy, with us and had been out for some beautiful walks amongst the snow-capped hills. One evening, we'd returned to the cottage from a frosty walk and Nathan had told me to go and run myself a bath and get warmed up while he put tea in the oven for us.
Whilst I was in the bath, a playlist was on that featured all our favourite songs. I got out the bath and put on my PJs, and we sat down and had our tea. We were talking about the songs that had been playing on this playlist and all the memories associated with them – travelling to Australia, trips to Scotland, friends' weddings and so on. Nathan then got down on one knee at the dinner table and asked me to marry him. My reply was 100% followed with 'have you asked my mum and dad?'
It was the most thoughtful way for him to propose – just the two of us and Teddy. Nathan had created this playlist especially for this moment (I had just thought we had been lucky with the playlist and the songs that had been playing!). Now when I listen to the playlist, it brings me so many fantastic memories.
Where did you go on your hen and stag dos?
We both had two Stag and Hen dos (spoilt, I know). So Nathan's stag dos were Vegas (where he was out working to start and his friends flew out for 4-5 days and celebrated) and he also went to Hamburg.
For my hen do we went to Dubrovnik which is the most stunning city break and there is so much to do and see there. I also had a UK hen do in Leeds. They were both so much fun!
Why did you choose Rise Hall for your wedding? What were you looking for in a wedding venue?
We wanted to get married in a stately home with beautiful gardens, but also wanted it to be somewhere our guests could stay the night before and the night of the wedding. We also wanted it to have a sort of home-from-home feel to it.
We had viewed two places prior to Rise Hall but neither were quite what we were looking for. When we viewed Rise and we were sold on the drive up to the property. The sweeping driveway through the wooded area, the stunning grounds and the impressive building – it was all just so beautiful! Once inside, it was just breath-taking. It was everything that we had wanted in a wedding venue. Other homes we had visited had lots of smaller rooms. We thought for the evening, our guests would disappear and not be all together, but Rise had the wonderful ballroom and the pub just off, which we thought was the perfect setting for the evening reception.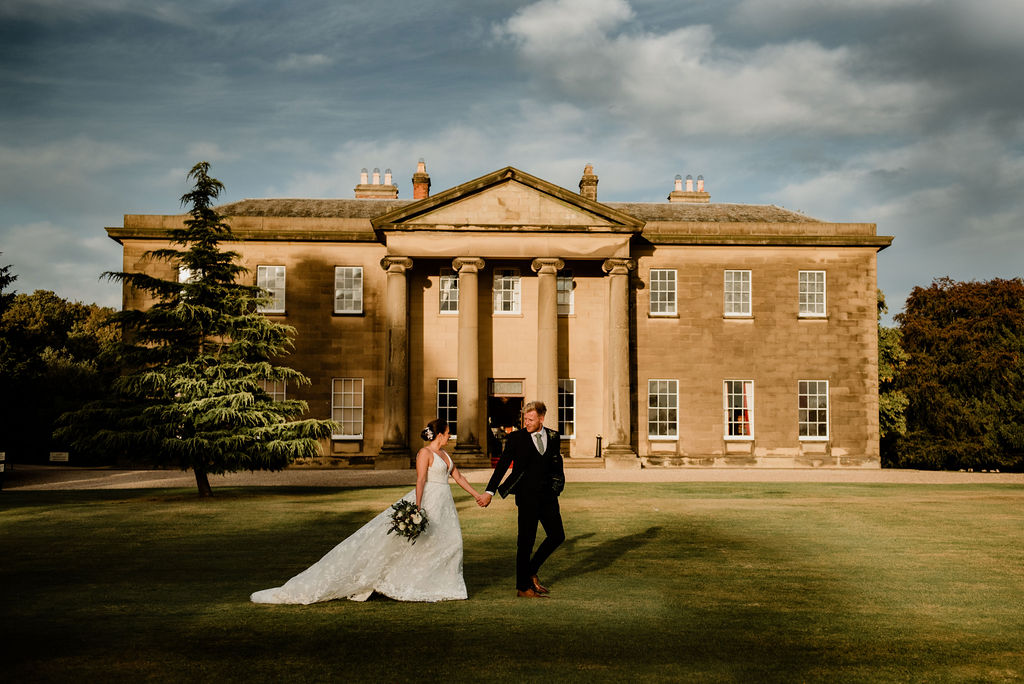 Wedding date:
Saturday 14th September 2019 – We chose September as the weather is still usually quite warm and the leaves on the trees are just about starting to change colour.  It's such a beautiful time of the year.
Where did you get ready?
I got ready with my bridesmaids at Rise Hall in the Millennium Suite. I chose to get ready in this room as it is such a large room, so plenty of space for hair and make-up and to fit everyone in. The Millennium Suite is decorated so beautifully and the lighting was perfect for our hair and make up artists.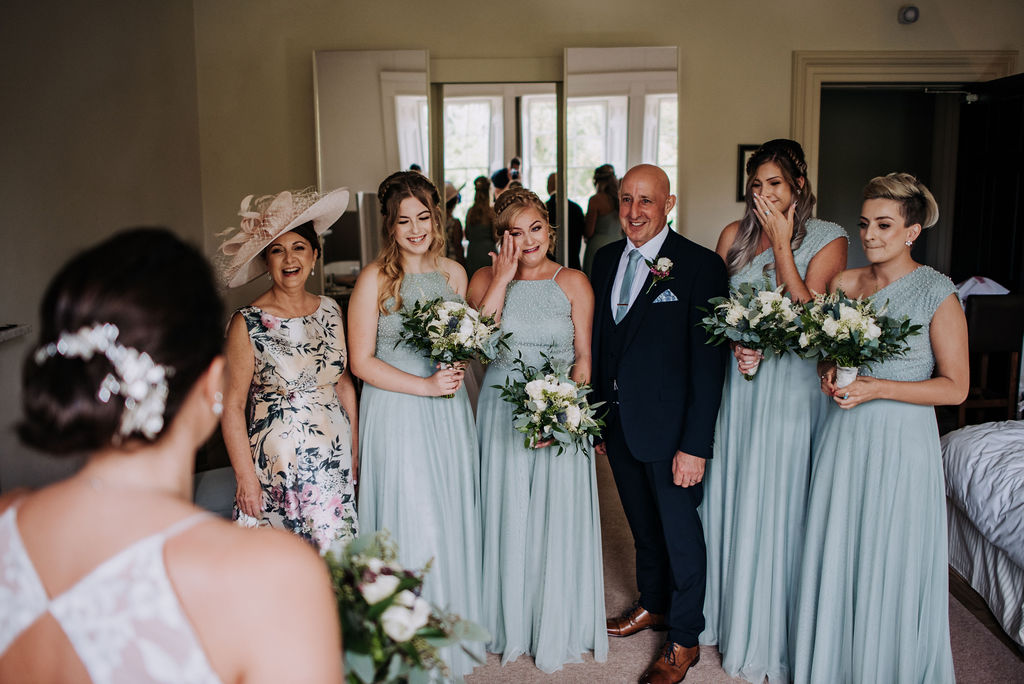 Who did your Hair and make-up?
Our make-up artist was the incredible Natalie Kate from The Blossom Rooms. Natalie advised me on skincare prior to the wedding and is the most fantastic lady. She also brought along Bethany from Bethany Hughes Salon in Epworth to assist as there were nine of us to get ready that morning.
Our hair was styled by the fabulous Katie Chapel and Rebecca Rafiq from Sorelle Boutique Salon, also in Epworth.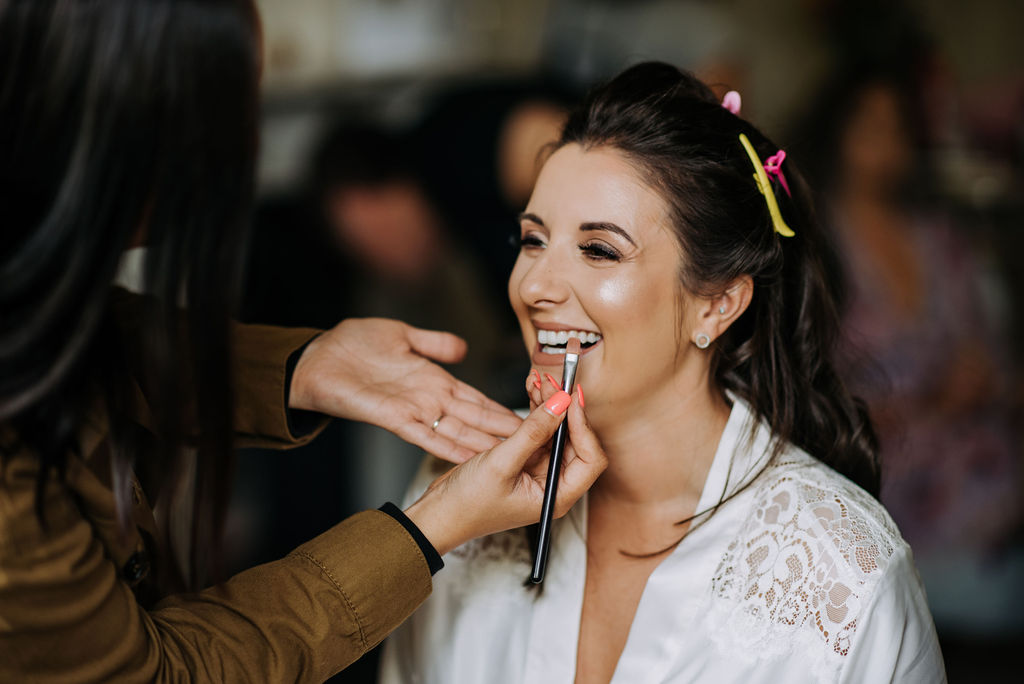 The dress – where was it from & what was it like? How many dresses did you try on?
I had an ivory A-line wedding dress with a huge train. My initial plans for my dress involved something very plain and simple but, like everyone says, the dress you get married in is not one you think you would choose.
My dress was Fleur de Lis from Blush by Hayley Paige. As soon as I started looking for wedding gowns, I had spotted Hayley Paige's designs and immediately fell in love – I just knew I had to get married in one, but I didn't think it would be lace!
I purchased my dress from Chloe Jane Bridalwear in Howden; it's the most beautiful boutique in the area with some gorgeous dresses. Chloe, who owns the boutique, and her sister, Emily, are both fantastic; they are so lovely and let you know what styles and colours suit you. If you want the full bridal experience, I would highly recommend their boutique.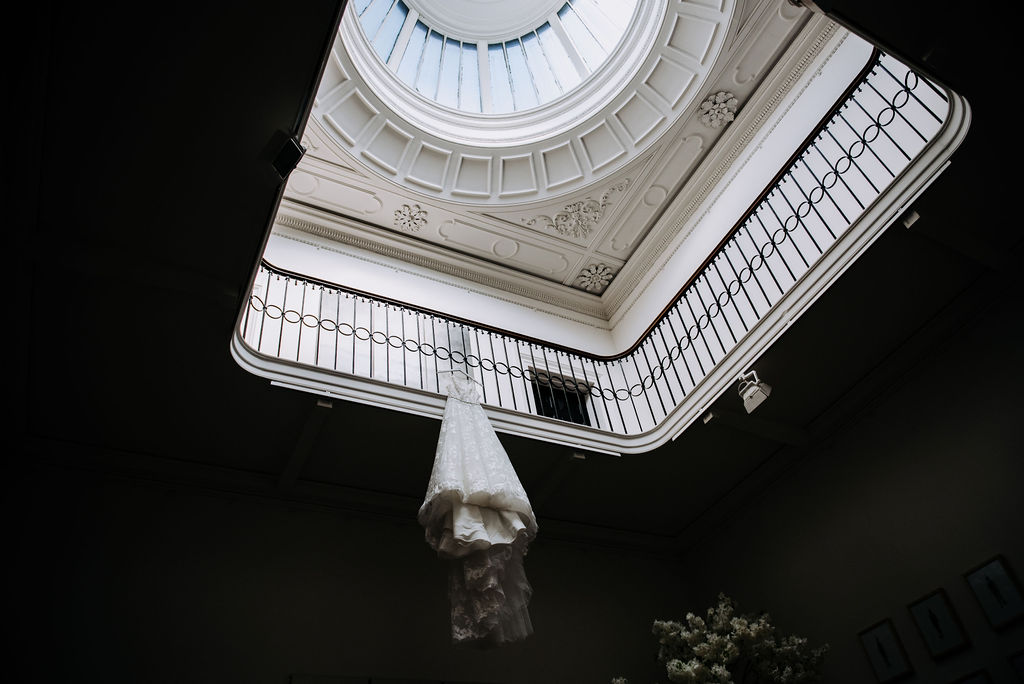 Groomsmen outfits?
This was one job for Nathan! He wore a navy three-piece suit from Remus Uomo in Nottingham, which he paired with a white shirt, white pocket square and sage-patterned tie. His shoes were brown brogues. The groomsmen were in the same suits as Nathan and all wore different ties and pocket squares from Next.
Bridesmaid's outfits?
My four bridesmaids wore sage maxi dresses from Motee Maids, we bought them from Joy's Bella Bridesmaids and Hannah who owns the boutique is so lovely. Two of my bridesmaids (Victoria and Zoey) had the 'Amelia' style dress and Amy and Jessica wore the 'Seraphina' style.
My flower girl, Nora, had the 'Flora' dress from La Petite Hayley Paige, which was purchased from Chloe Jane Bridal.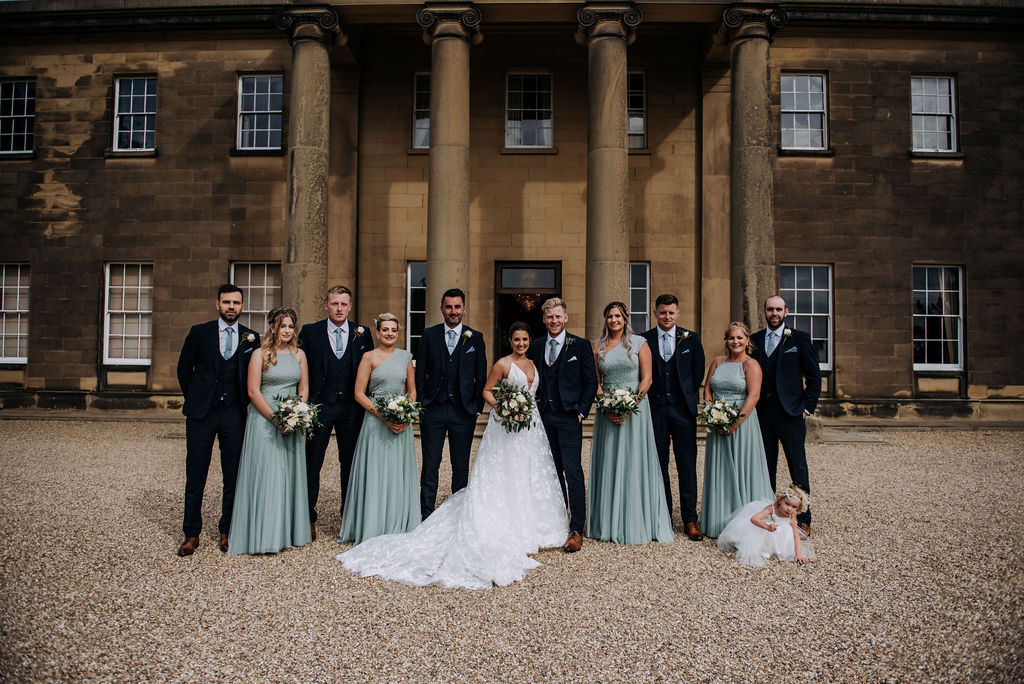 Mother of the bride and mother of the groom outfits?
My mum got her entire outfit from Molly Browns in York. It wasn't your standard mother of the bride shift dress and jacket. It was a beautiful floral fit and flare high low dress. I thought she looked absolutely stunning.
The cake – where was it from and what was it like?
We had a three-tier cake from the talented Juniper Cakery. Our cake was beautiful and the detail that Felicity and Krystle put into it was amazing. It was exactly what we had asked for! It was a white cake washed with a lavender water colour and the sugar flowers were beautiful. The base was Victoria sponge, which is Nathan's favourite, the second tier was carrot cake, which is my favourite, and the top tier was Sicilian lemon, which is my mum's favourite.
We also had a separate fruit cake made especially for my dad, as he loves traditional wedding cake.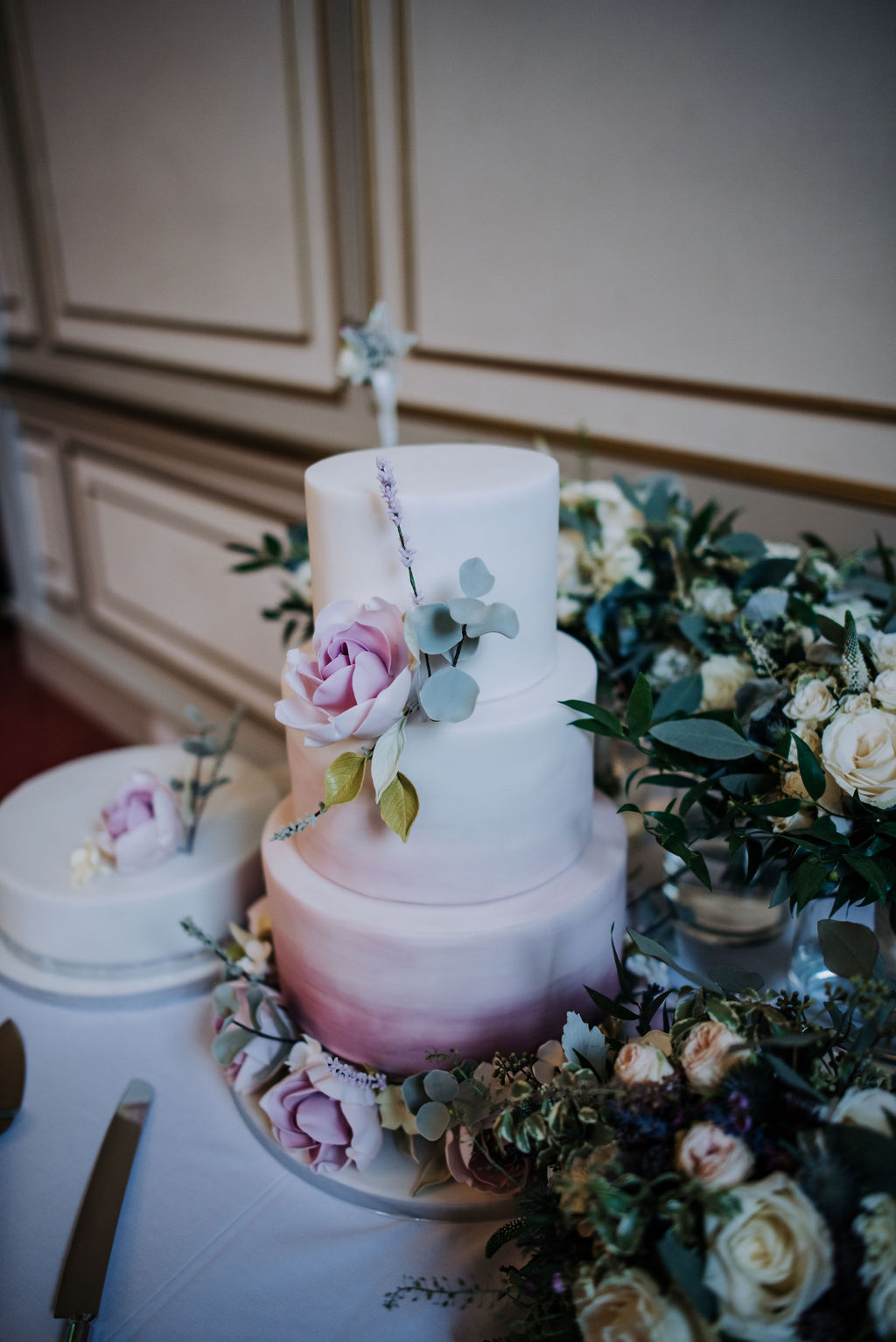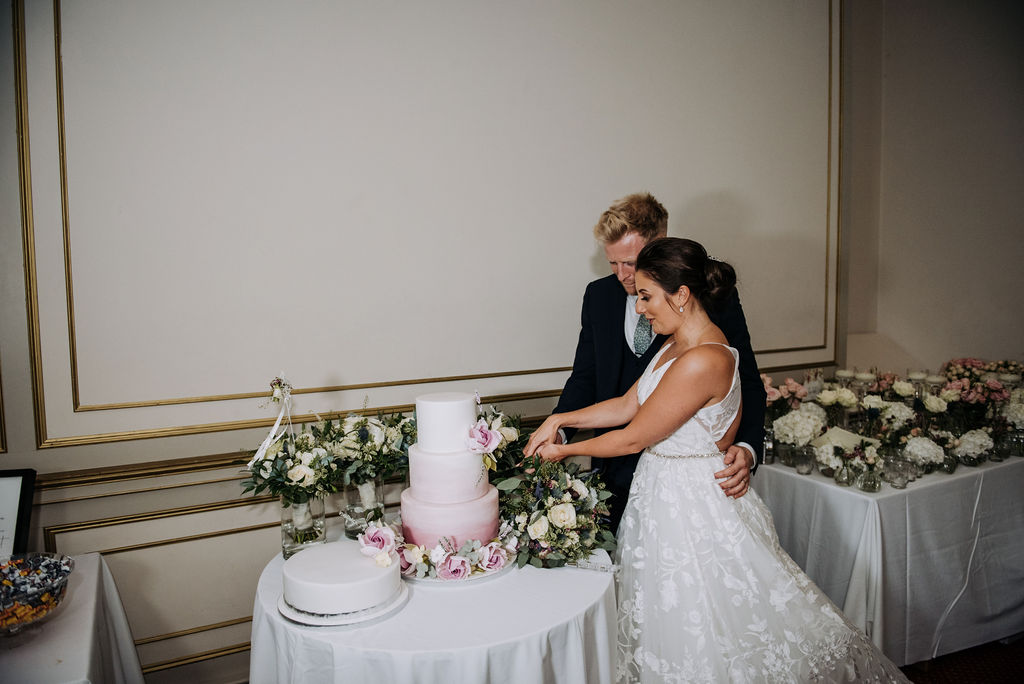 Who styled the venue? Who did you choose to do your florals? Why? What did you have?
The amazing flowers were provided by Sheryl and her team at Fulford Flowers. I had a loose hand-tied bouquet, filled with white roses, lavender, white veronica, spray roses in blush pink and white, aubergine wax flower blue eryngium, astrantia eucalyptus, thlaspi, wax flowers and French ruscus all tied with an ivory ribbon.
Fulford Flowers were amazing. They dressed the entire venue for us and it was perfect. We had two huge urns of flowers in the entrance hall and foliage, hydrangeas and lanterns dressing the grand staircase. We also had 10ft blossom tree arches in the ceremony room, where we stood and said our vows, as well as 6ft blossom trees on the dinner tables in the ballroom as centrepieces.
The ballroom at Rise Hall has such a high ceiling that we wanted our guests to be wowed when they walked in. The top table had individual vases with a variety of flowers (which matched the blooms in my bouquets) as well as candles to give different heights. We also had large silver lanterns lining the corridor from the ceremony room to the ballroom. It was just magical. Sheryl and her team did such a brilliant job and we cannot thank them enough for all their help.
We chose Fulford flowers as they were on the Rise Hall recommended suppliers list and when we went to meet with Sheryl she was so friendly, helpful and down to earth She creates some stunning arrangements and all of the flowers on the day just blew us away.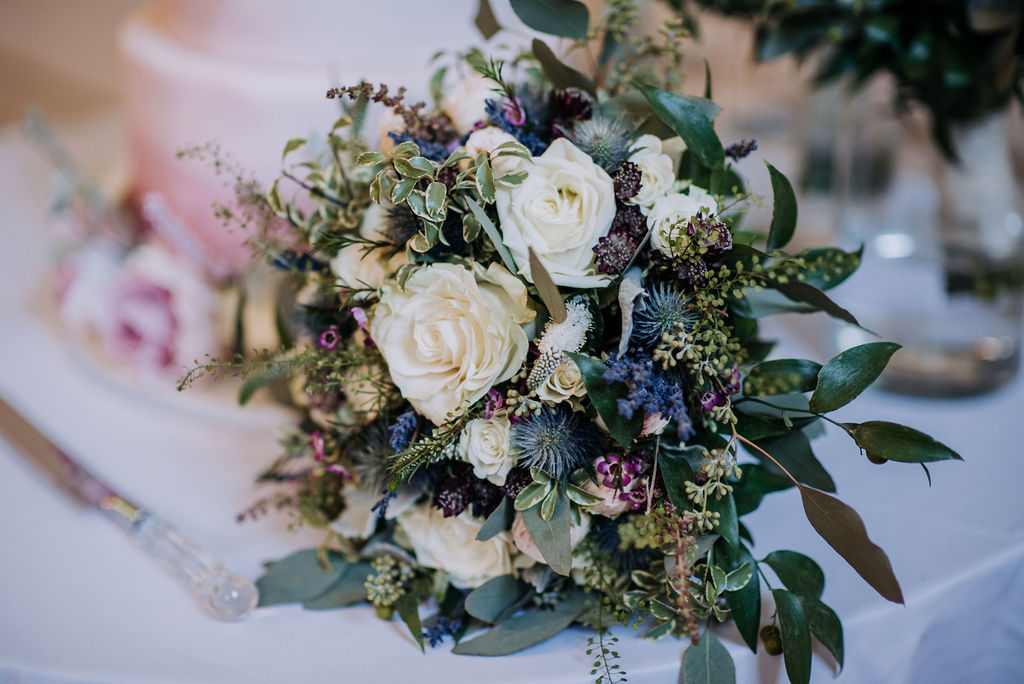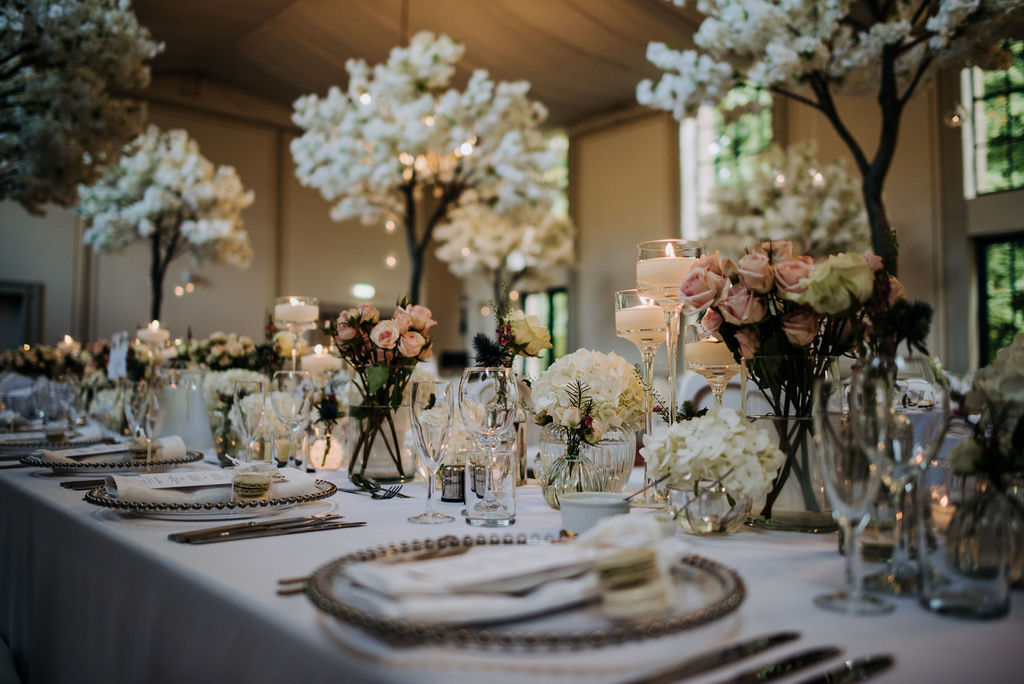 Where did you find your invitations?
Stylists in Stationery. Kate and Judith were at a Wedding Fair at Rise and they had some of the most beautiful invitations. I was able to email both Kate and Judith with my colour ideas and they developed such a luxury invite, I would highly recommend them to anyone needing any sort of stationery, they are super helpful.
Did you have a theme or style in mind?
We didn't really have a theme for our wedding – I knew I wanted the Big White Wedding but without being too OTT. Getting married is something I had always dreamed of and poor Nathan got brought along for the ride – he definitely enjoyed all the planning more than he will admit though!
Our colour scheme featured a lot of white, with hints of sage and lavender. I love white weddings, but I wanted a bit of colour too. I felt the sage and lavender colour palette worked well together. 
Which menu did you choose?
We booked our wedding before Dine had taken over at Rise Hall and had chosen Baba Ganoush as our caterers. Our caterers were Baba Ganoush. Ashley and her team are so professional and helpful. We had canapes during the drinks reception – Ashley saved Nathan and I some, as she knew we were off having photographs and were missing out on them all!
We had a choice of two starters baked camembert with tipsy raisins and rustic bread or North Sea coast fishcakes with pickled salad and aioli. Two mains, Feather blade of beef with dauphinoise potatoes and seasonal vegetables or mushroom wellington with a butternut squash velouté. Dessert was a trio of white chocolate and lemon tart, Yorkshire parkin with a butterscotch sauce and mini Pavlova, for those with more of a savoury tastes, they had a Yorkshire cheese board, with cheese biscuits, chutney and grapes.
Our guests absolutely loved the choices and we got so much amazing feedback about how delicious the food was. 
What drinks did you have for the reception?
We had glasses of Pimm's, such a lovely refreshing fruity drink and bottles of beer. We also had a non-alcoholic elderflower spritz for the younger guests and those who don't drink.
What was the most treasured memory on the day?
I think walking down the aisle with my dad and seeing Nathan's beaming smile waiting for me was just perfect. I wish I could relive it all over again.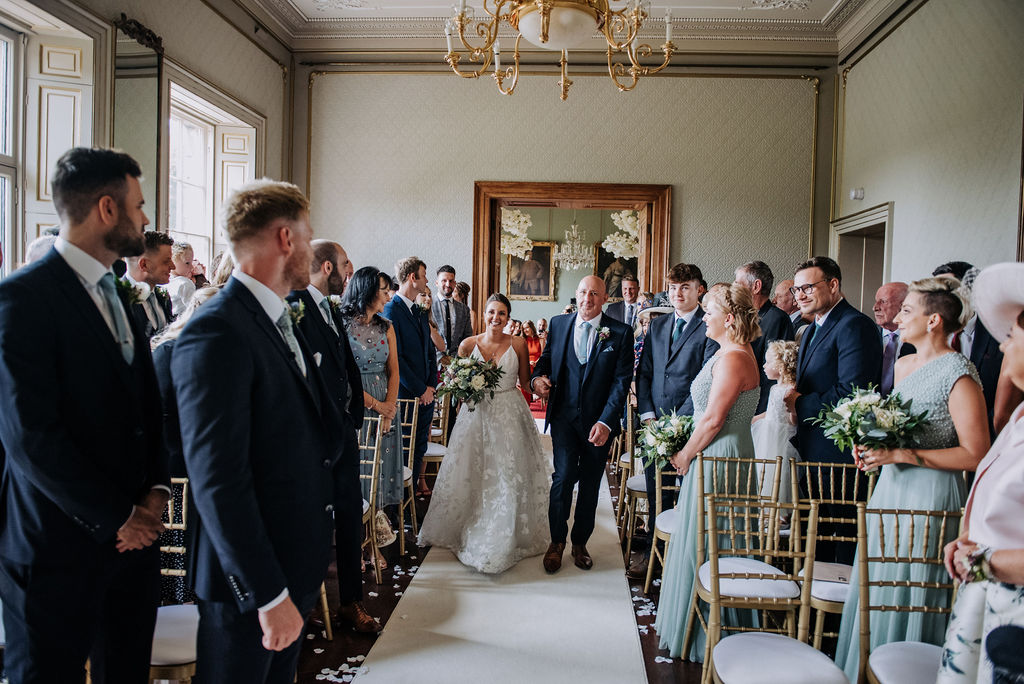 Who conducted the ceremony? East Riding Council Registry conducted our ceremony. 
Which band or entertainment did you book?
We had Sophie Jane Music throughout the day of our wedding. She's the most talented young lady! Sophie and I went to the same college and when I found out she played at weddings and events, I just had to book her. Sophie plays the violin and piano and is also a fantastic singer and we would highly recommend her for anyone wanting a musician for their wedding or event.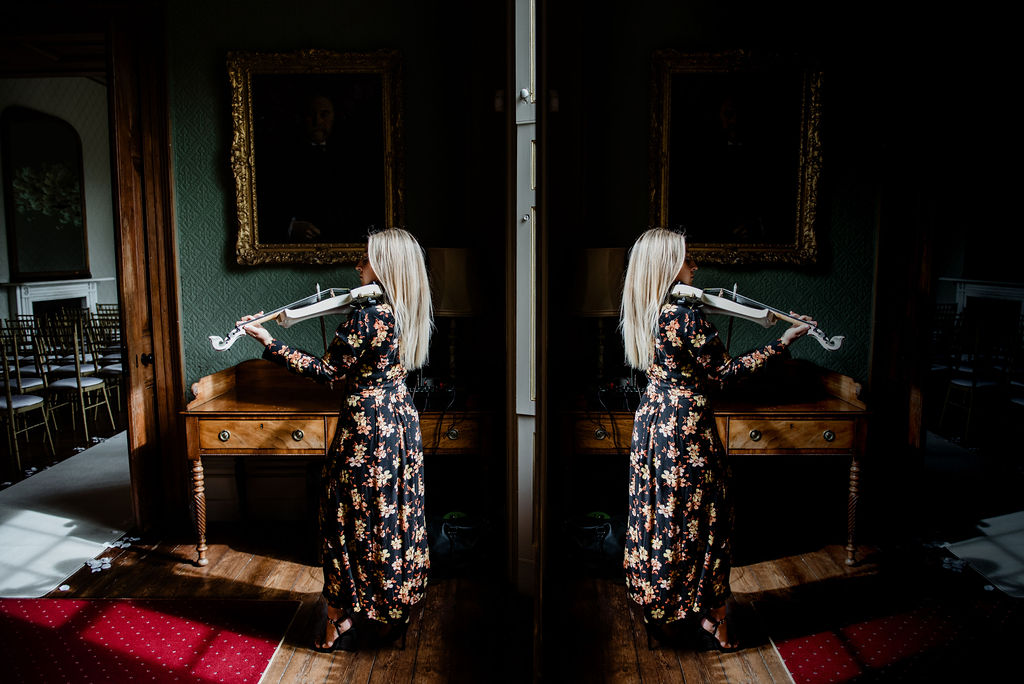 For the evening reception, we hired a band called Something for the Weekend via Jonny Ross Music. We absolutely love '90s music and being '90s kids ourselves, we wanted all the songs that we grew up with. The band was fantastic. They filled the dancefloor and really interacted with the all the guests. Our friends and family raved about how good they were and one of the best decisions we made was to hire a band for the wedding.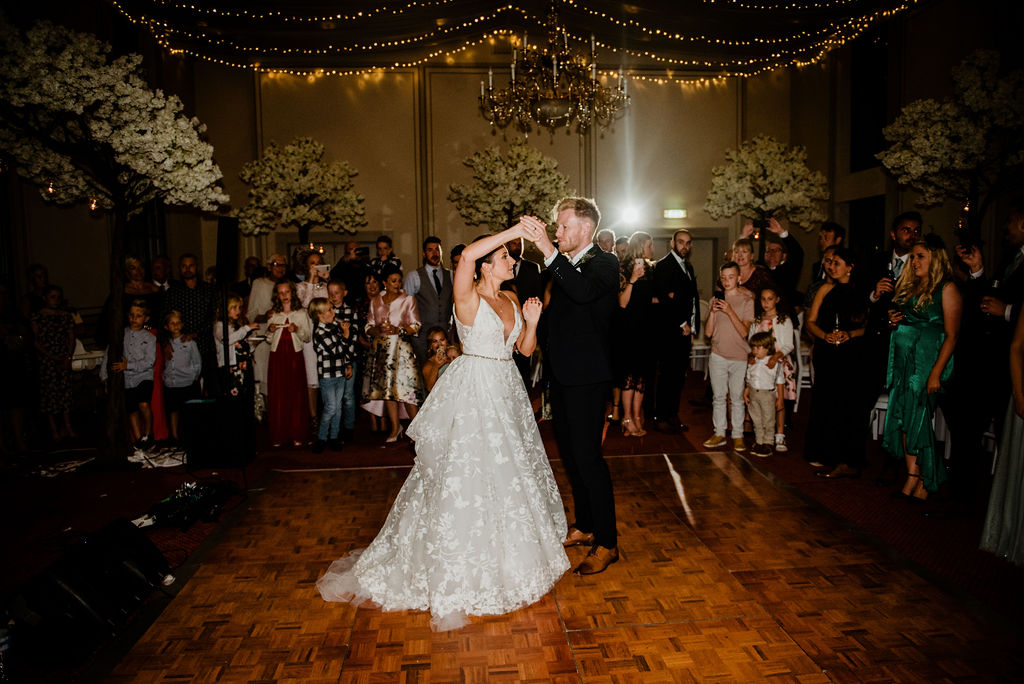 Any special advice you would give to future brides / couples planning their wedding?
I personally am so pleased we had a lot of suppliers, each person we hired for the wedding was amazing and it was so much easier and stress free having someone else come into the venue and set everything up. I take my hat off to those brides and grooms who do everything themselves such as invites and signs etc.
Advice I would give is to book your suppliers as early as possible, the best ones get booked up years in advance, especially if you are planning a weekend/bank holiday wedding.
Also, on the day – enjoy every single minute and don't worry about the little things. What will be will be, so just have as much fun as you can, dance the night away  – and make sure you get time with your partner!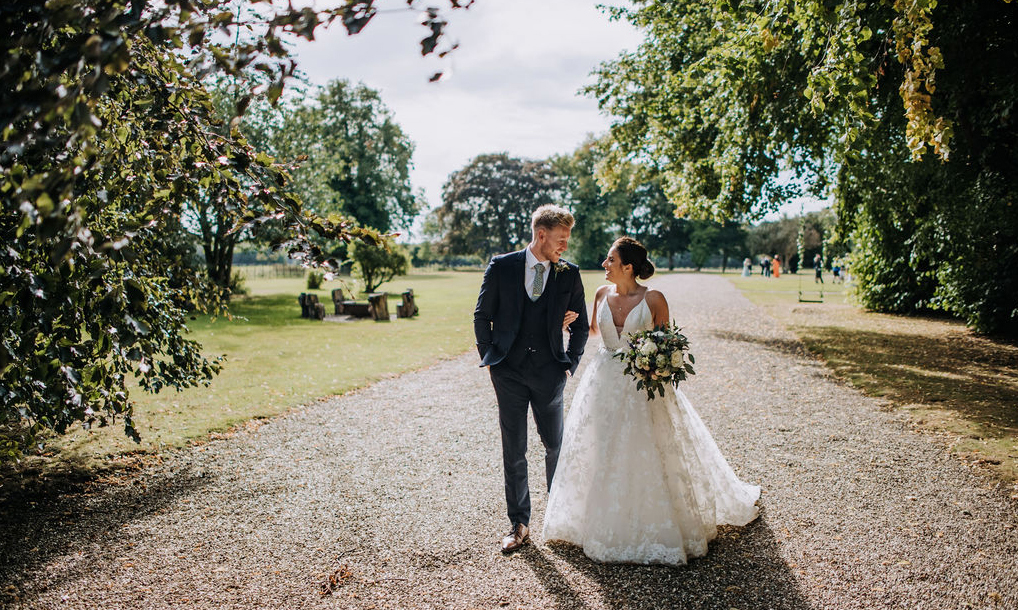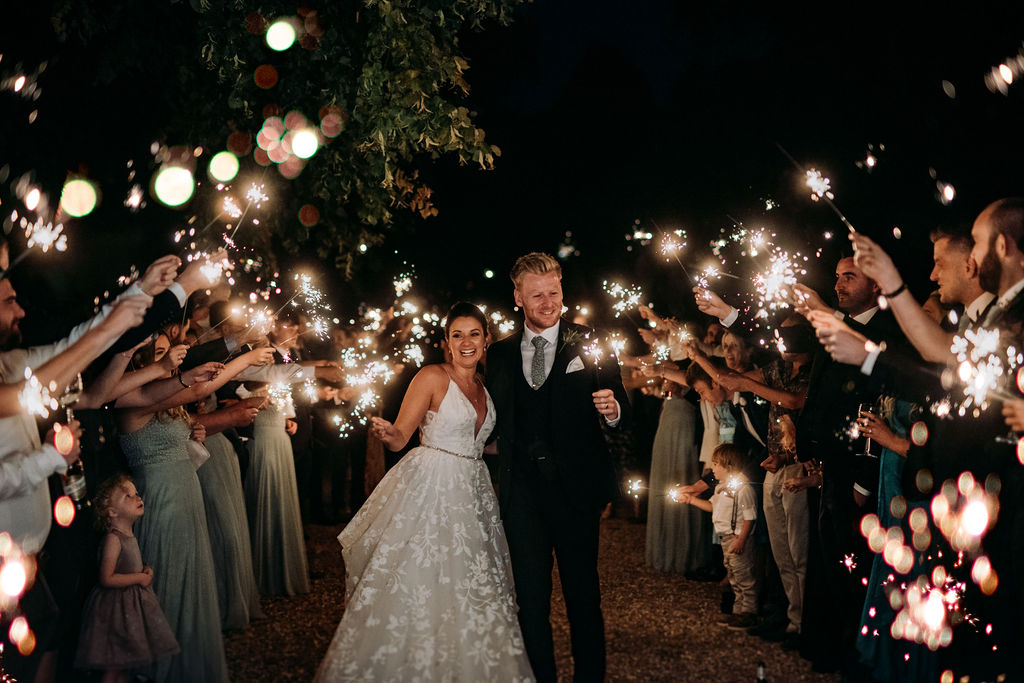 Additional Supplier List:
Artisan Pizza – evening reception food. Jude and Claire were amazing and their pizzas are the best I've ever tasted.
Magic Images Photo Booth – we hired the vintage style camera as our photo booth and it was fantastic. They provided us with a guest book in which all our guests stuck one of their photos in – such good memories to keep.
Did you have any special transport?
We all stayed the night before at Rise Hall – we had hired the venue for the weekend, which was brilliant as it meant all our friends and family were introduced the day before our wedding. We all had an evening meal together and Rise opened their pub to us too.
 Where did you go on honeymoon?
We went to Rhodes for our initial honeymoon and stayed at Casa Cook. It was beautiful and so lovely to get away and chill for a couple of weeks after the wedding. This year we travelled to New Zealand South Island as part of our second honeymoon, and it was the most magical place. We will definitely be returning.
Stunning images provided by Kazooieloki photography
Incredible wedding video supplied by Lincolnshire Videography
Email our team at risehall@dine.co.uk for more information about hosting your dream day at Rise Hall.