Each task was timed precisely, so we knew exactly how many team members needed to be part of the napkin folding team for example and how long it would take. I formed part of the team responsible for folding 1,750 napkins – it took us just under 4 hours. Our fantastic chefs were so far ahead on their work, that they pitched in with some of the front of house jobs. We are incredibly proud to be part of a business where the words "but that isn't part of my job.." are rarely uttered – that isn't to say we aren't all totally focused on our particular specialties, because we are, but ultimately we understand that everything we do is a team effort and this was clearly demonstrated by our team of fantastic chefs.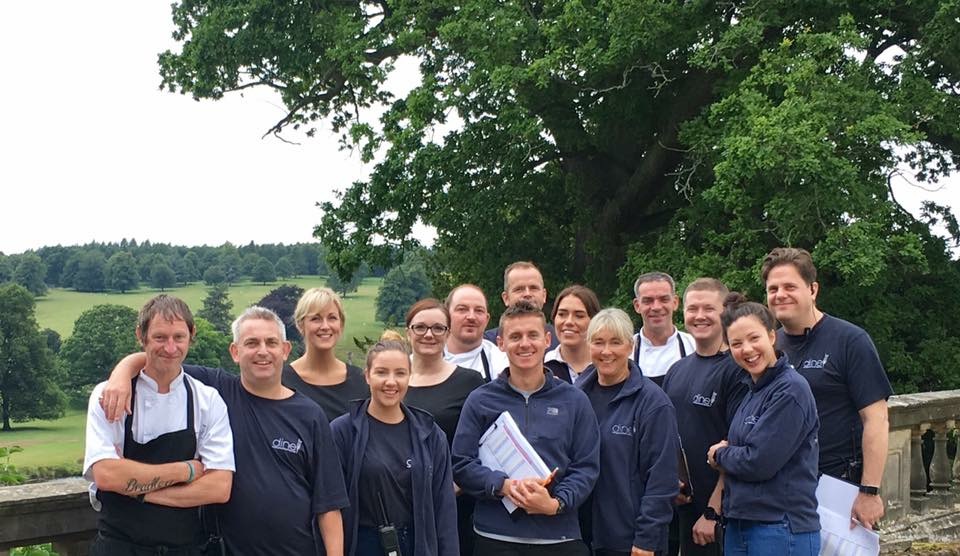 A brief overview of the event:
When
15 July 2017
Number of guests
1,625
Background
One of the most famous country houses in the UK, especially known for the quality of its art, landscape and architecture. The house currently showcases works of art that span 4,000 years, and has over 30 rooms.
The Brief
The client who shall remain nameless, chose Dine based on reputation for delivering first-class event management and catering; appointed to provide a drinks reception with canapés, followed by an exquisite three-course meal, for a their Golden Wedding Anniversary Celebration.
The Event
The event took place on Saturday 15th July 2017 in a marquee overlooking the gardens of the house.
Guests were invited to the event at 6.15pm and were greeted with drinks and canapés. Drinks were provided and served by Dine, which worked closely with the clients events team to ensure that refreshments were constantly available to guests throughout the evening.
With more than 1,600 guests, this was the largest event we had worked on and this provided logistical challenges both before and during the event. When creating the menu, our chefs had to provide an idea of the quantity of food and drink that would be needed to ensure everyone was satisfied. Both quality and quantity were delivered on the day, without compromise.
A three-course dinner was served from 8pm.
A large number of dietary requirements from vegetarian to gluten-free were factored into the menu planning and food preparation was closely monitored throughout the evening.
Staff numbers were closely observed. With so many people in attendance it was vital there were enough staff to tend to everyone and ensure the whole event ran smoothly. Harriet Ashton, one of our talented event managers was responsible for coordinating staff… it was a tough gig and were all impressed with how well she overcame some of the challenges that were thrown at her in the lead up to the event.
Now for the important part, the menu! At the beginning of the evening, served guests 5,100 canapés with the welcome cocktails, party pink and liquid gold…


Canapés – 18.15:
Cheese Straws
Finished with parmesan & sesame & basil pesto
Vegetable Crisps
Mini Fishcake
Sweet chilli dip
Baby Cumberland Sausage
Honey & mustard glaze with bamboo skewers
Guests were seated for dinner at 19:15, for service to start at 20.00:
Oak Roasted Salmon Pâté
Crème Fraiche, caper & citrus dressing with micro herbs
* * *
Fillet of Chicken
Guinea Fowl & smoked chicken 'Roulé'
Crushed new potatoes with sage butter
Thyme & red wine jus
Rustic vegetables
* * *
Chocolate & Salted Caramel Tart
Strawberry & raspberry compote
* * *
Coffee & Petit Fours
Lauden Chocolates
Coloured marshmallows
Vegetarian menu:
Roast Pepper Caesar Salad
Carpaccio of peppers & sun blushed tomatoes
Red pesto croutons, creamy garlic & herb dressing
* * *
Spinach & Ricotta Filo Parcel
Tomato & basil coulis
Crushed new potatoes with sage butter
Rustic vegetables
Vegan & dietary requirements menu:
Roast Pepper Caesar Salad
Carpaccio of peppers & sun blushed tomatoes
Creamy garlic & herb dressing
* * *
Butternut Squash Fondant
Baked yellow pepper filled with savoury rice
Tomato & basil coulis
* * *
Raspberry & Elderflower Jelly
Shortbread biscuit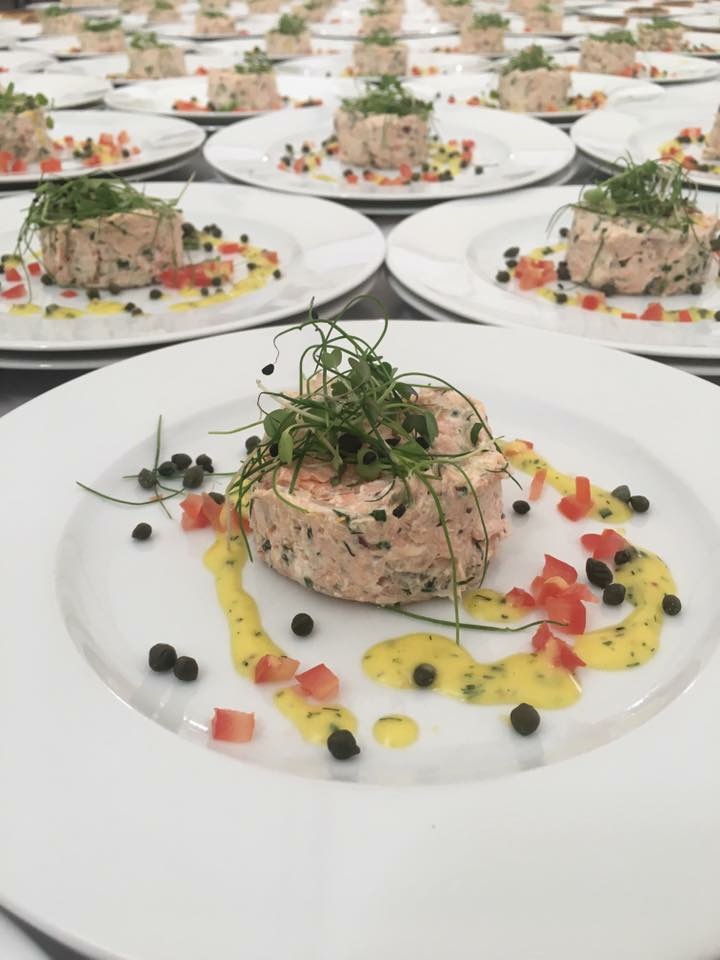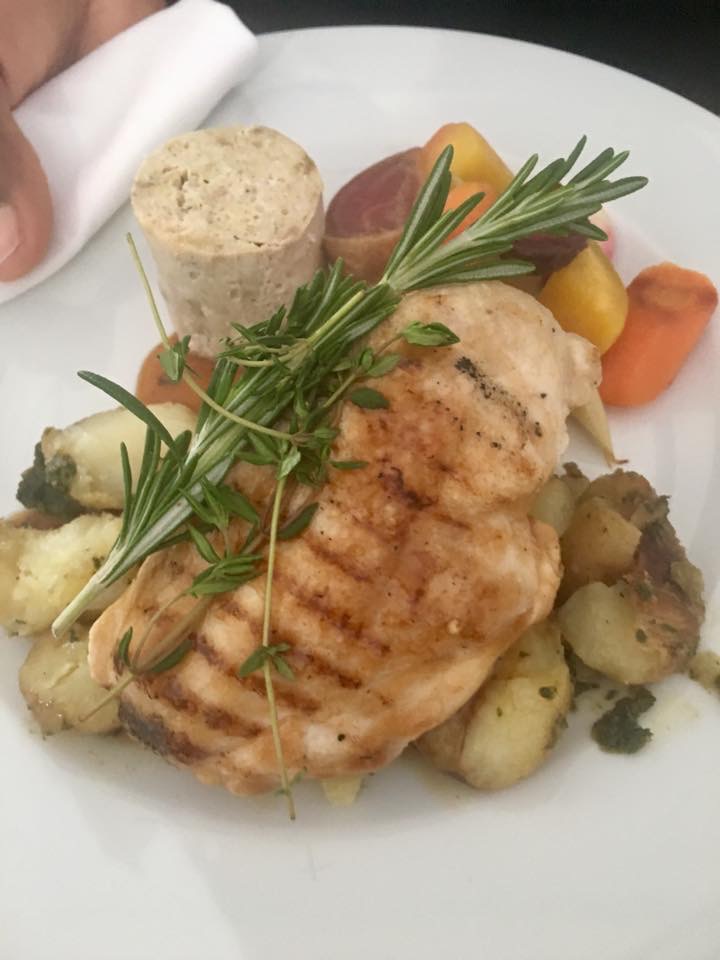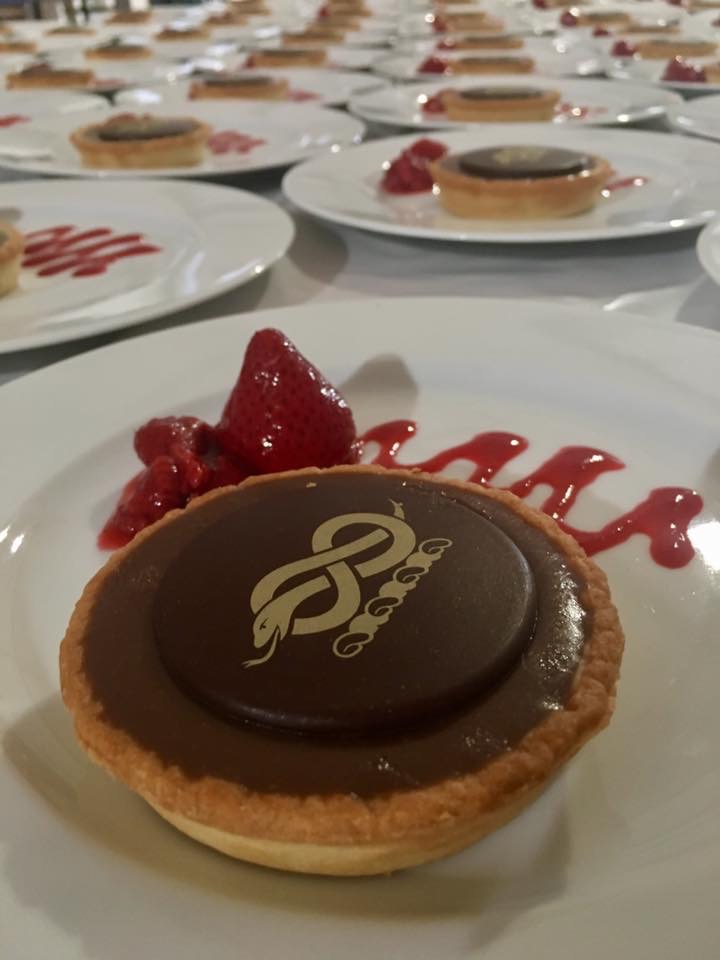 This event was one of many in the month of July and I was personally blown away by the tenacity demonstrated by our events team, as was our Founder Dan Gill…
"I hope you are spectacularly proud of what we all achieved on Saturday – it takes some serious commitment and skill to pull off an event of that size and you did it during a really busy month. It was such a pleasure to see the whole team together in one place and for everyone to take responsibility for the many many different components which were involved. To deliver such a good standard for 1,700 people and to do so in such a positive atmosphere was a huge achievement. Simply – thank you."
If you would like to plan an event with Dine or want to find out a little more about how you could become part of our fantastic team, call: 0345 450 4545 or email: events@dine.co.uk
Making every event special…