If you're busy searching the internet for an alternative wedding ceremony location, you needn't worry because you've found Yorkshire's best kept secret: Helperby Walled Garden. Nestled in the heart of the beautiful North Yorkshire countryside, this stunning venue offers a serene and intimate setting for your special day. And one of the best things about it? It's so new and exclusive that only a handful of couples have been lucky enough to host their wedding there.
Now you can imagine that we think Helperby is an amazing location for your wedding, naturally here at Dine we adore all our venues. But you don't have to take our word for it. We invited Meg Senior, humanist wedding celebrant, to visit and here she gives her perspective on what's so special about the magical garden at Helperby.
Meg Senior is a wedding celebrant with a unique approach to marrying couples. You can find out all about her work at megsenior.com. She creates life affirming ceremonies for couples, celebrating individuality and authenticity above all else. Meg encourages nearly-weds to express themselves fully, and deeply connect with their loved ones during their milestone moment. She brings a creative and playful approach to allow couples to craft a ceremony that truly reflects their personalities and values.
Here's what she has to say about weddings at Helperby Walled Garden…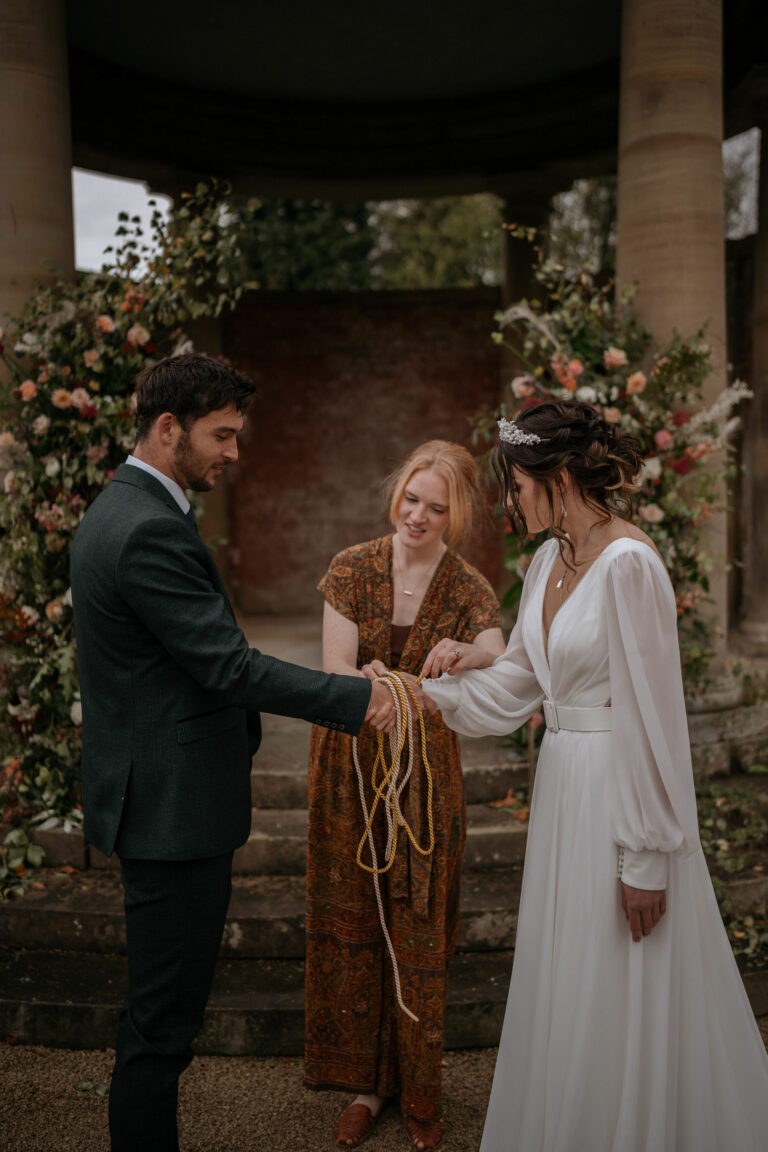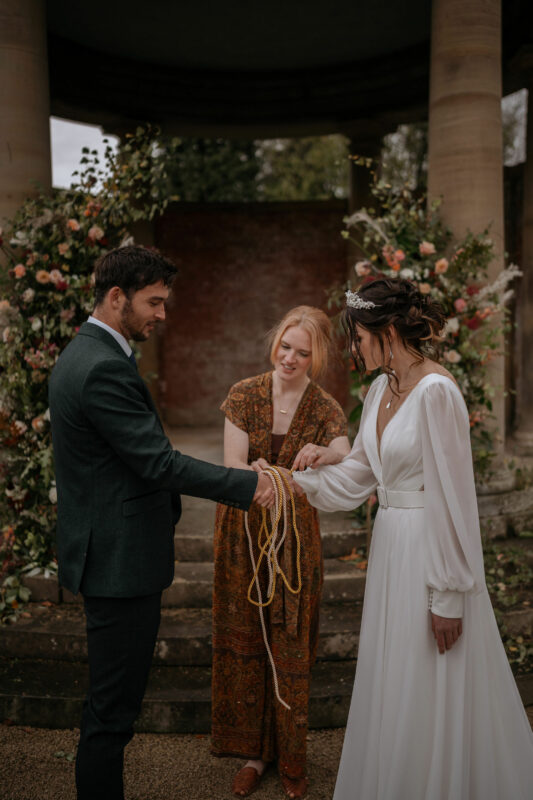 Say 'I do' in a beautiful, secluded garden setting at Helperby Walled Garden
As a wedding celebrant I travel all over the country to marry loved-up couples and I've seen numerous wedding venues, but none as glorious at Helperby Walled Garden. This magical garden in the heart of Yorkshire is exquisite. If you're looking for a truly unique and intimate setting for your wedding, I really think this might be the place for you.
The very first time I visited I was blown away. The garden itself is truly breath-taking – The Edwardians sure knew how to make a place feel special. Surrounded by tall, ivy-covered walls, the space is filled with lush greenery. In the warmer months, the garden is awash with vibrant colours, making it the perfect backdrop for your ceremony.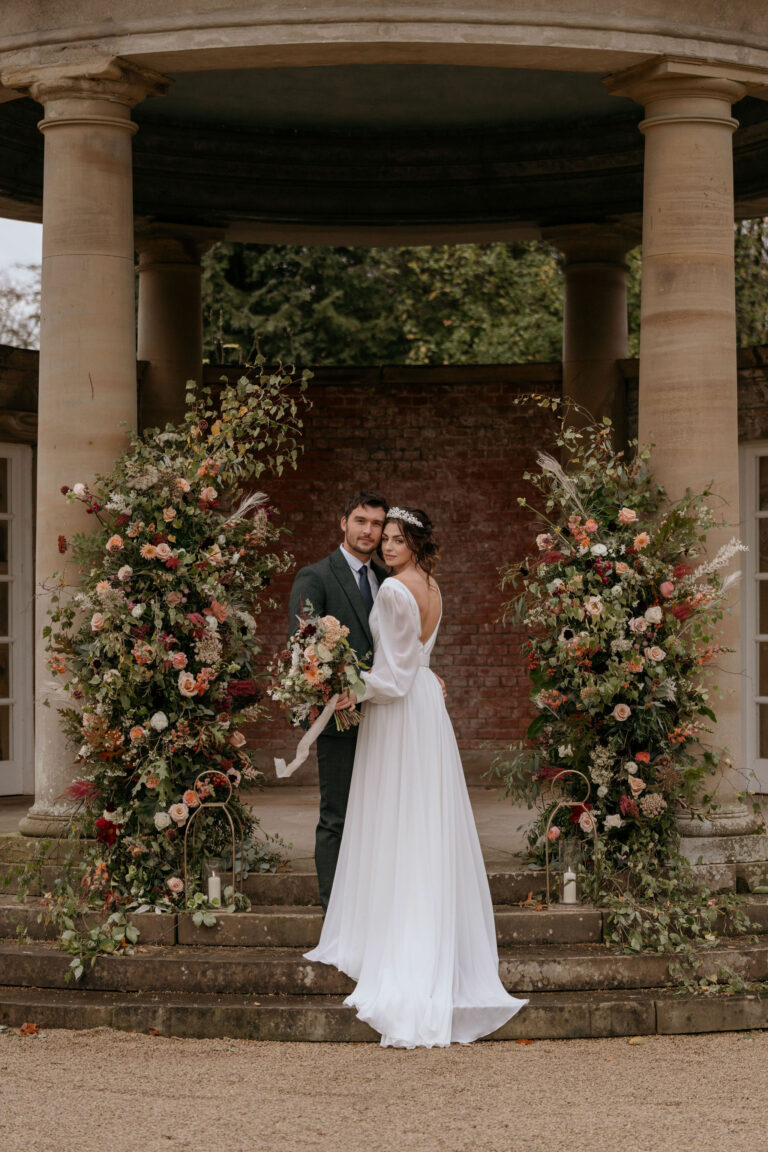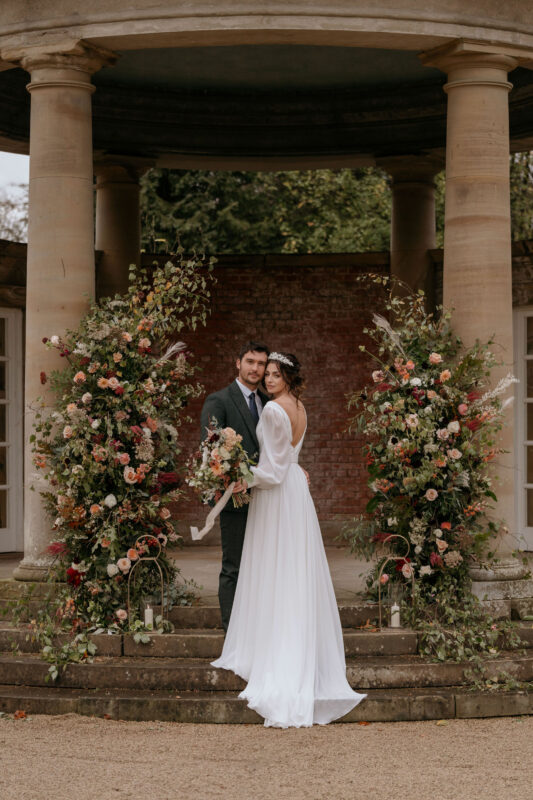 The gem in the crown, in my humble opinion, is the cupola. Of course the spot I like best is where couples stand for their outdoor ceremony. How many people get to say they exchanged vows in a secret garden? That's the atmosphere the delicate cupola creates. You'll feel like you're far away from the hustle and bustle of everyday life. And it's a heavenly backdrop for couple portraits too.
It's not possible to have too many photo opportunities on your wedding day of course, and there is just so much choice at Helperby. From the cupola to the little steps, the lush greenery of the surrounding woodland to the striking redbrick of this historical place. Your photographer will love you for giving them so much to work with.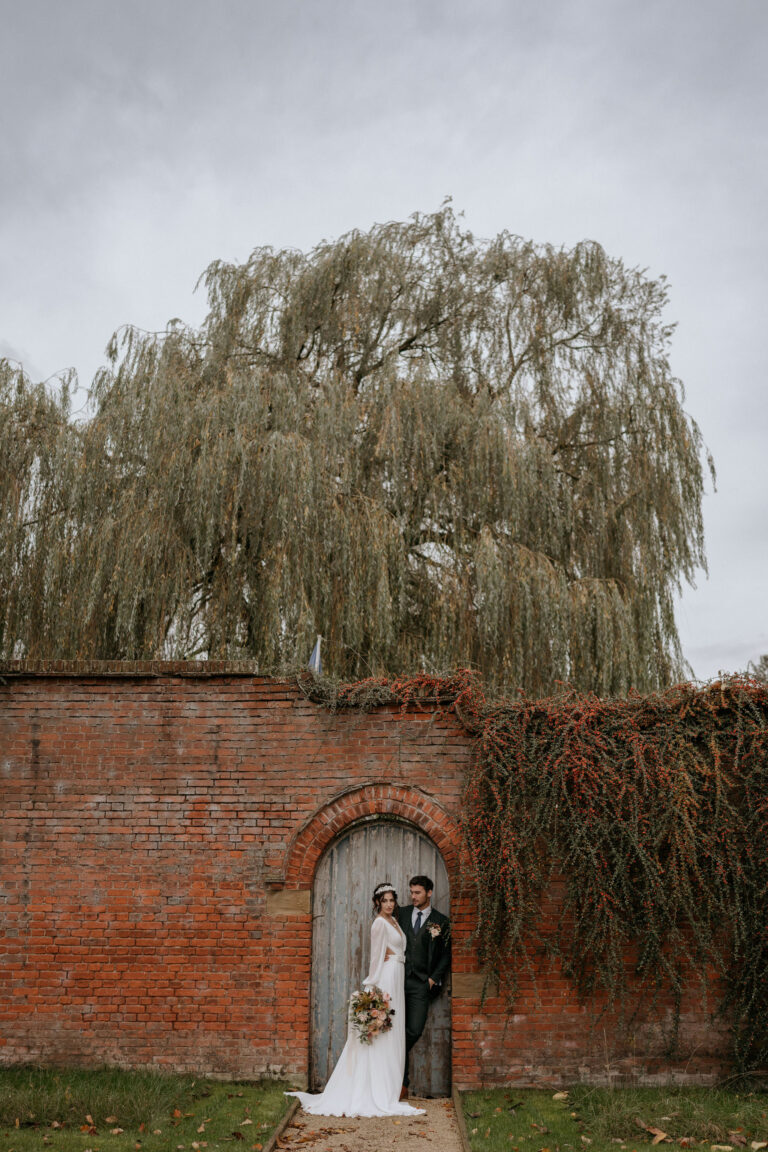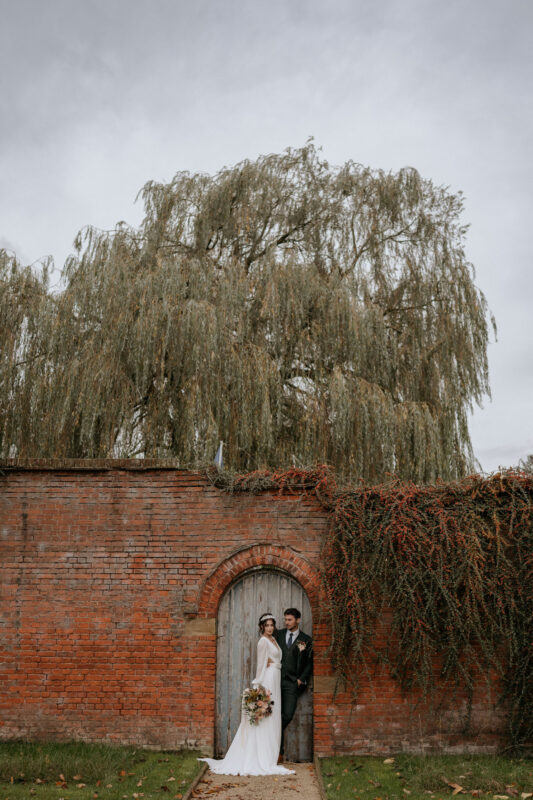 An enchanting alternative wedding ceremony venue
But Helperby Walled Garden isn't just about the enchanting location. The welcoming family vibe that the Dine team offer to visitors and couples brings an extra sprinkling of magic. As a celebrant it's so refreshing to work with a team who are experienced and slick but also have a genuine warmth. Yes, couples want their wedding days to be professionally handled, but I think we all want to be surrounded by real humans too – Humans who are as excited about our wedding day as we are!
It's crystal clear that the team are dedicated to making your day as special and stress-free as possible. They are genuinely interested in your unique style and vision and will ensure that everything runs smoothly on the day at this incredibly versatile venue.
Alternative wedding ceremony location which will wow your guests
The spectacular walled garden provides a blank canvas for you to create the wedding of your dreams, with plenty of space to personalise and tailor your wedding to your exact specifications. Whether you're dreaming of a traditional English wedding, a bohemian outdoor ceremony, or something completely unique, it's all possible at Helperby.
I'm nothing if not a planner of fine details, and so practical features didn't go unnoticed during my visit. There is ample parking for your guests and plenty of space for large marquee, tipi or stretch tent, whichever you opt for.
The local area is typically English in character: quiet, quaint and green. Imagine your guests strolling through the charming local village on their way to your wedding. Having driven to countless "beautiful" wedding venues which are unfortunately actually in the middle of miles of pig farms (no really!) or industrial brownfield sites – I can tell you that it's pretty special that even the approach to the garden is pretty!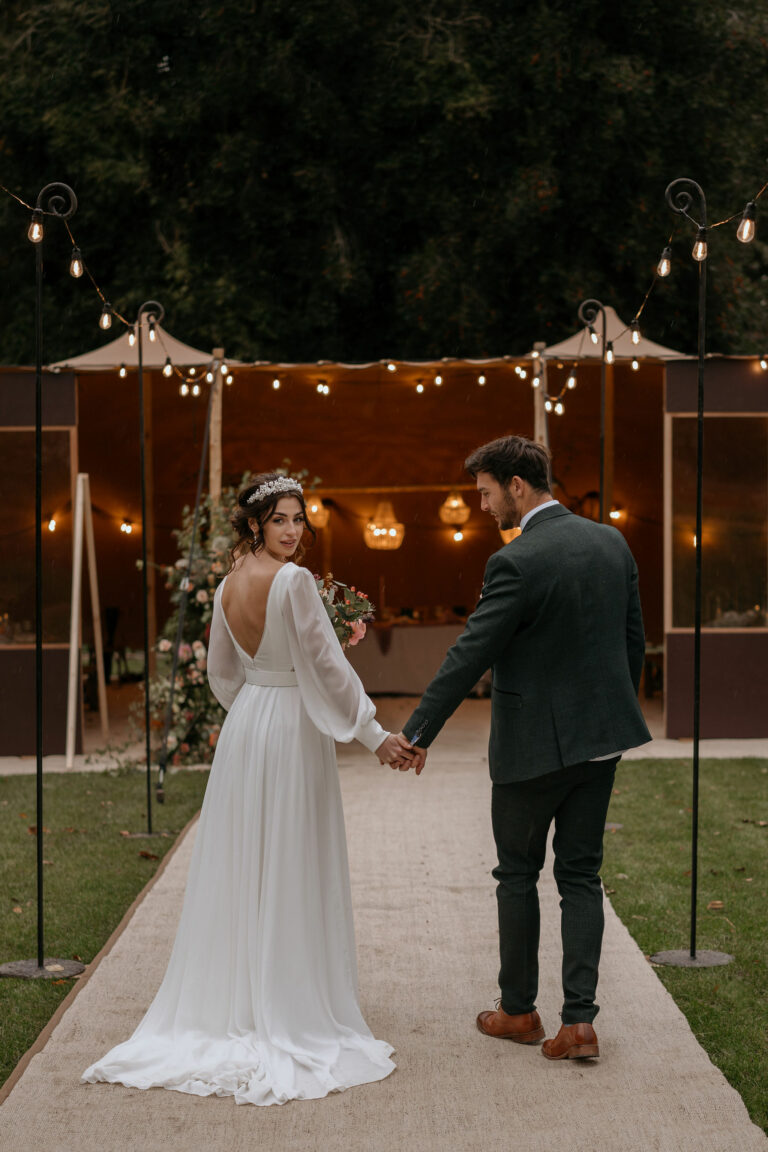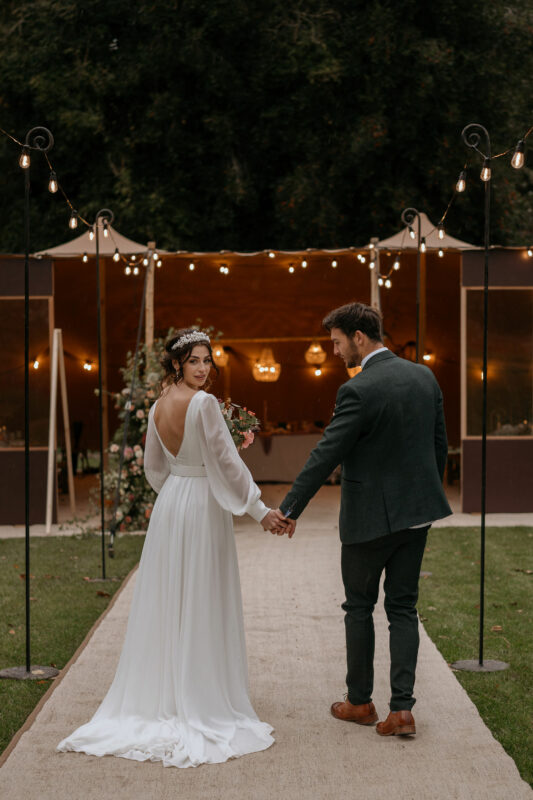 Unique wedding ceremony location for Yorkshire couples
One of the finest features Helperby Walled Garden has going for it as a wedding venue is the privacy and exclusivity it offers. Couples looking for an alternative wedding ceremony, away from the traditional church or registry office setting, can exclusively hire the whole space for both ceremony and reception.
Forget the tick-box timeline constraints of traditional venues, you can have your dream laid-back day here with your personal stamp on every little detail. Most important, you can enjoy your wedding day in complete seclusion.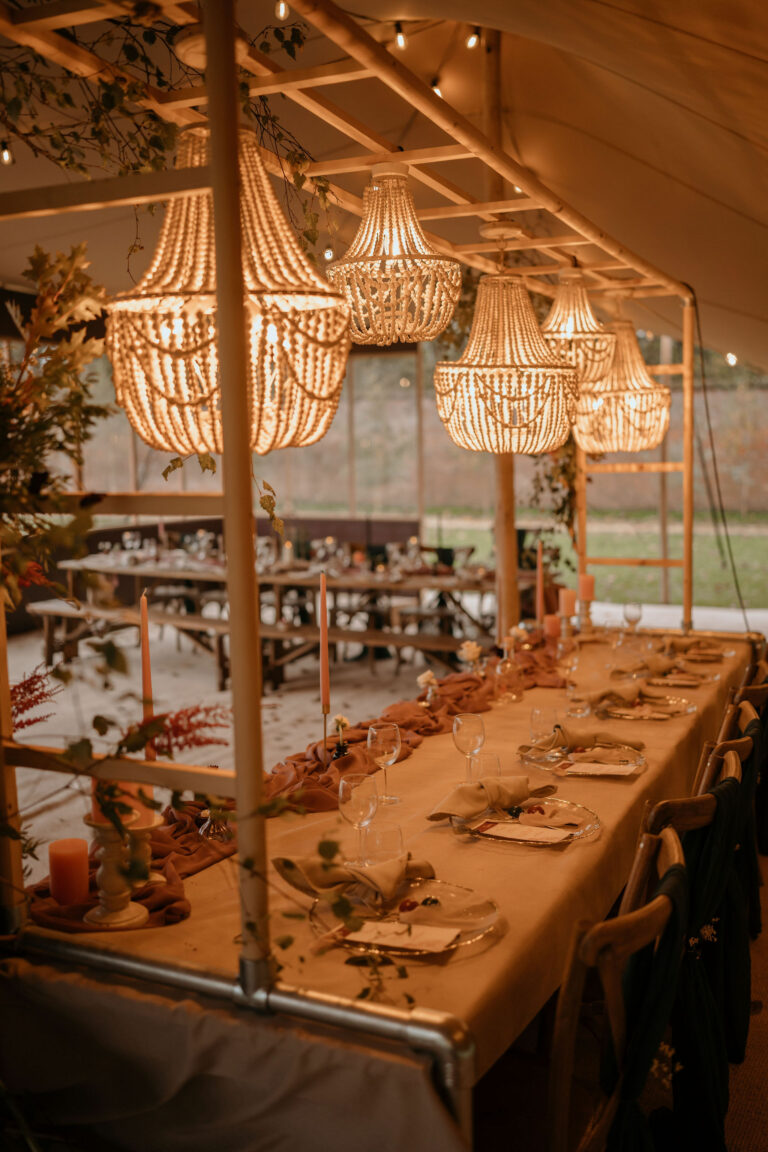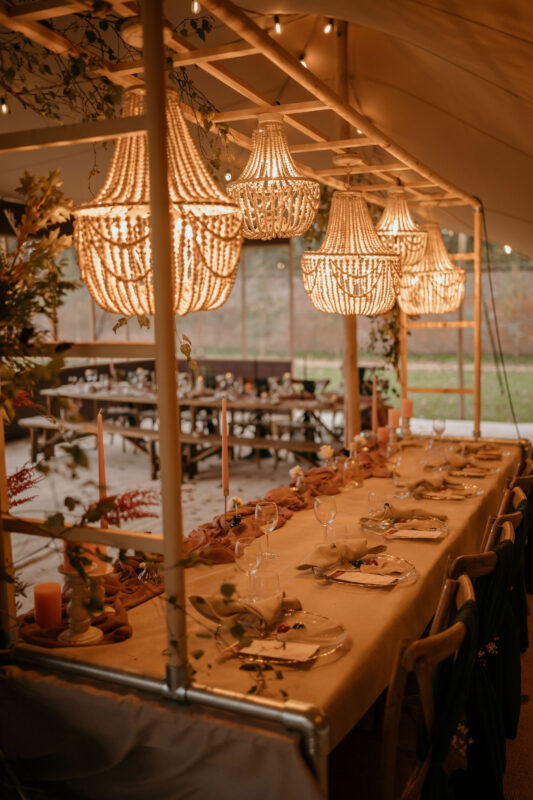 The history and heritage of the garden inspires me to think of quintessential English country weddings, with locally grown florals and Pimms on the lawn. But if twinkly lights and a boho vibe are your thing, Helperby Walled Garden is primed for a tipi wedding. It's a little more unconventional (but equally as romantic!) and either way you can personalise the day and celebrate your love in an utterly unforgettable way.
You can probably tell from my waxing lyrical that it was a treat for me to visit Helperby Walled Garden and see all it has to offer. I'm looking forward to when I can return to conduct a magical wedding ceremony at the garden soon – Maybe yours?!
If you'd like to come along and see how you can create your perfect wedding day at Helperby Walled Garden, you can contact us or book a viewing direct into our diary.
Find out more about Meg Senior here
Photo credits:
Styling, Concept + Car: Limelight Wedding Emporium  Photographer: Natalie Hamilton Photography Stretch Tent Marquee: Empty Quarter Events Florist: Wonderland Blooms + @IntoTheMeadow_Wildflowers Cake: Sweet Chic Dress & Accessories: The Bridal Affair UK Ltd Suit: Fallen Hero Celebrant: Meg Senior Ceremonies Make-up: Georgia eve. Makeup Artist  Hair: Hair by Ria Stationery: Foxglove Press Model Couple: Alisha Cowie & Joe West