While some flowers are less readily available during winter, some beautiful, seasonal flowers and foliage still marry together to make the perfect bouquet. The benefit of choosing seasonal flowers is that they are more budget-friendly and sustainable. They're more eco-friendly because they're usually locally sourced and don't have to travel far to reach your destination. 
Fear not, though; there are still plenty of options available if you're looking for specific flowers that aren't readily available – they'll just be slightly pricier and more difficult to source.
First, we'll walk you through some of the seasonal flowers and foliage during each of the months and explore complimentary colours and other options to help you create your dream bouquet and flower arrangements.
What flowers are in season during winter?
Winter isn't short of seasonal flowers, in contrast to popular belief. Some of our favourites include Hellebores with their strikingly big and beautifully-coloured petals, delicate Anemones, flowering herb Eryngium, Carnations, Gardenia, Iris, Roses, Snowdrops and Winter Jasmine. Of course, hundreds of other flowers and foliage bloom in winter, and each florist will have different seasonal (and non-seasonal) options.
To add a dash of green and bulk out your bouquet, try foliage like silver brunia, eucalyptus, magnolia leaves and camelia leaves.
Colour inspiration for winter wedding flowers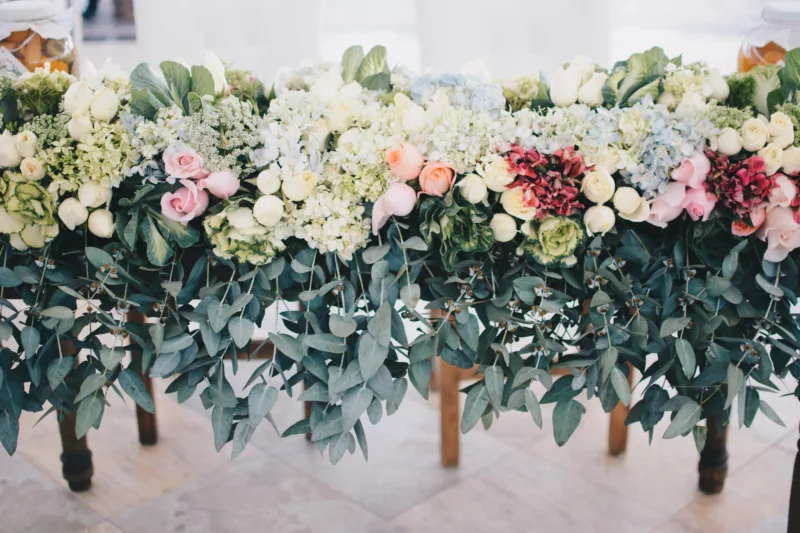 When you think of winter-inspired wedding bouquets and flowers, some key colours immediately spring to mind. But it's also worth considering adding some evergreen sprigs such as berries, holly and ivy to compliment the season or choosing foliage to give your bouquet a frosty look.
Frosty blues: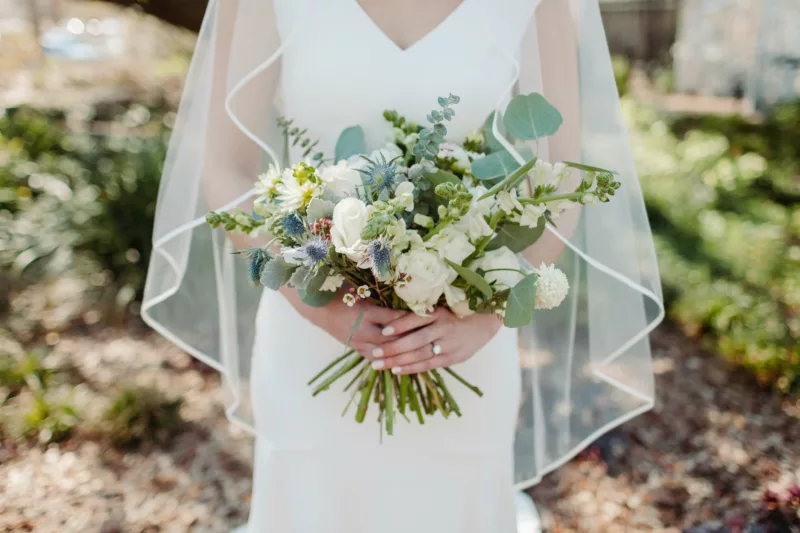 A frosty blue bouquet can be the perfect nod to winter. Consider teaming flowers in varying shades of blue with white blooms, such as roses and lisianthus. Think about using thistles, hyacinths, hydrangeas, nigellas and iris for the blue flowers.
Winter whites: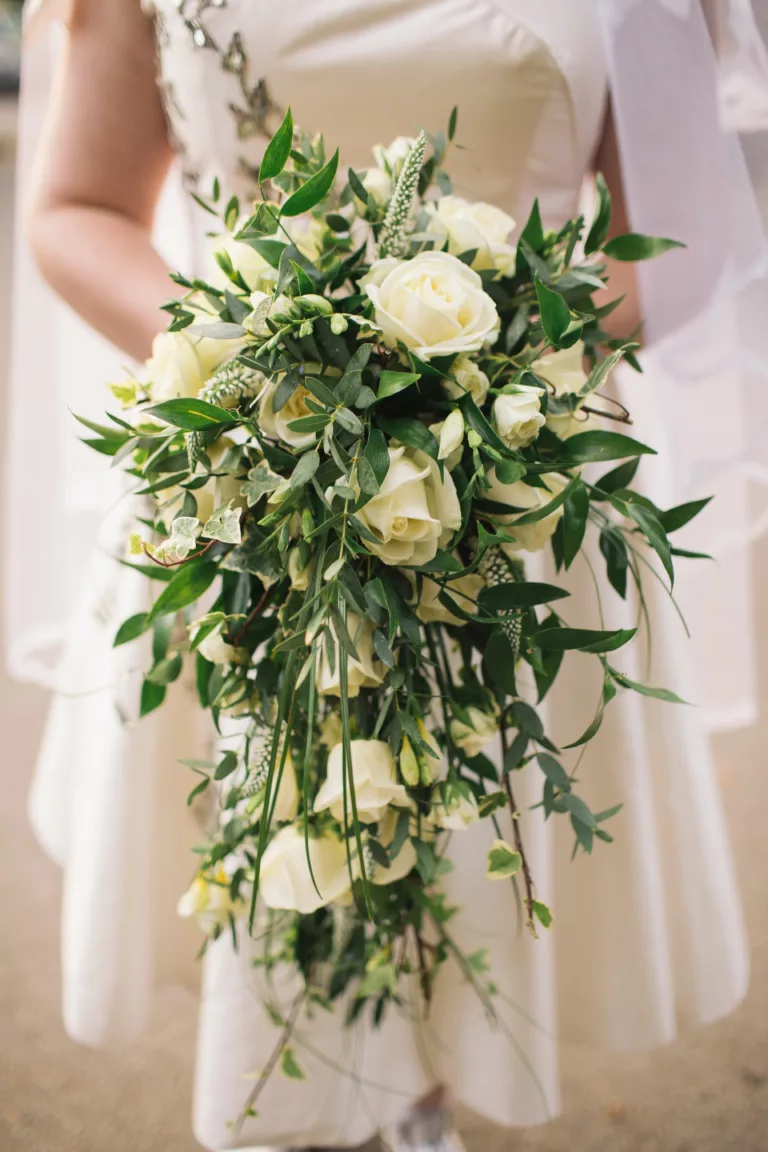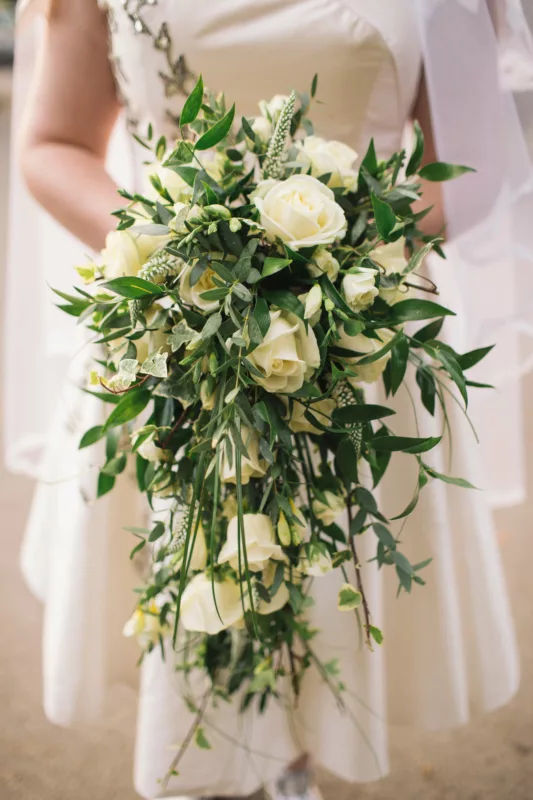 Most people immediately think of white when it comes to winter wedding flowers. There's something ethereal and magical about flowers matching the colour of the frost and snow. White lilies and roses make great additions to a white wedding bouquet, and you could also consider white hellebores, camelia, and delicate snowdrops.
Deep jewel-tones: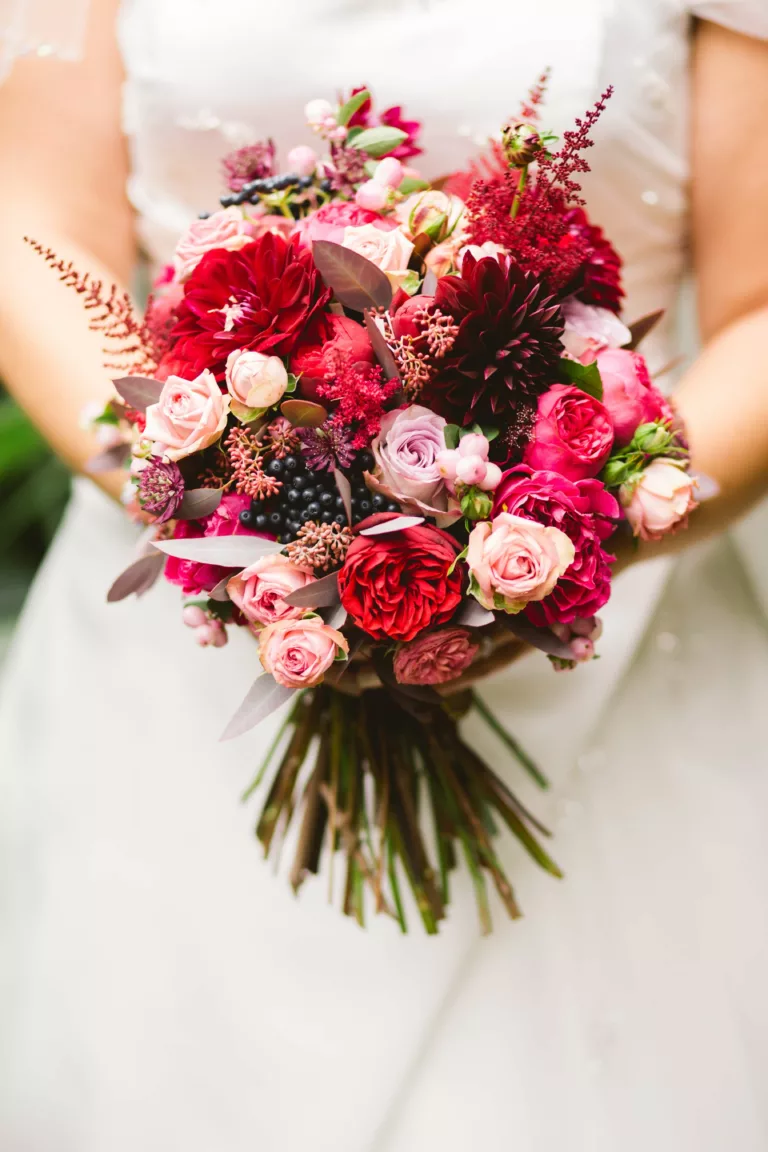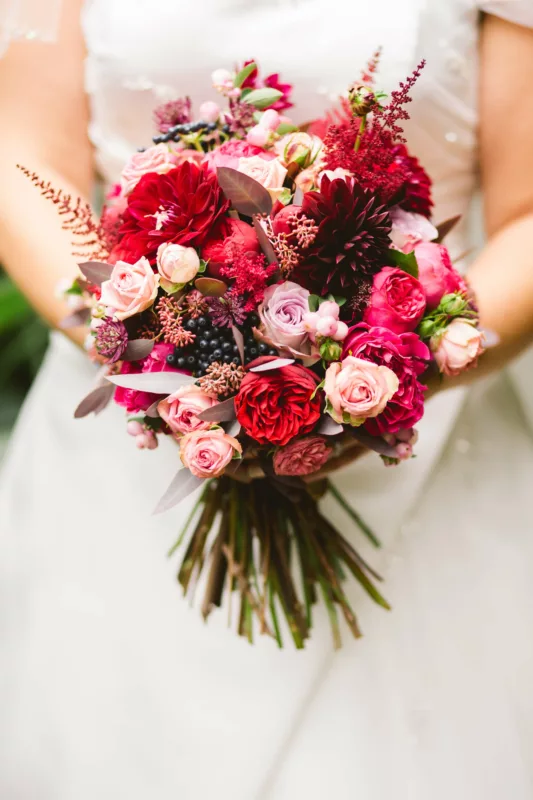 If compromising on colour is not an option for you, deep-coloured flowers in eye-catching jewel tones could be the perfect choice to add richness to your colour scheme. Some of our favourite winter wedding bouquets have used deep reds, purples and oranges, with flowers including orchids, anemones, ranunculus and tulips. You could also include foliage like pine cones and ferns to add another dimension to your wedding flowers.
Shades of pink: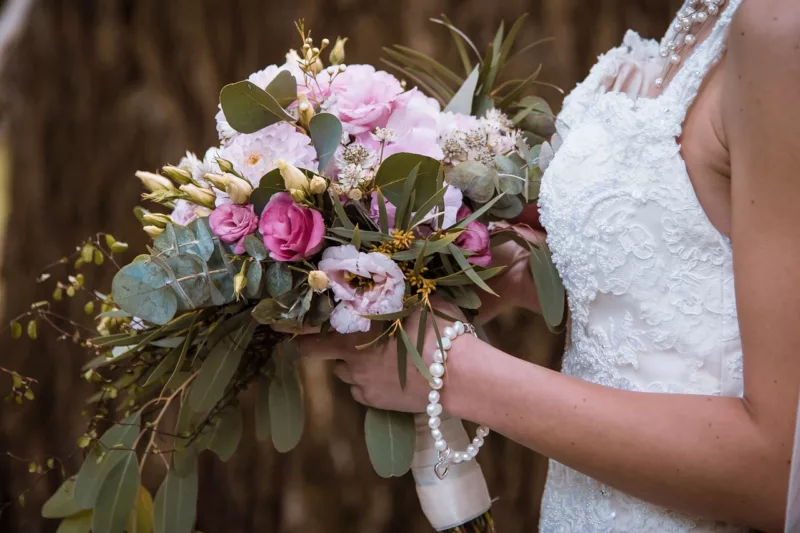 A pink bouquet with blooms in different shades of pink can look elegant and chic. Try mixing hints of blush flowers with dusky and deep pinks for a fabulous flower combination. Try to choose pink flowers in different shapes and sizes so your bouquet stands out. Pink gypsophila, waxflower, jasmine, syringa, veronica and roses will all work well.
Pops of colour: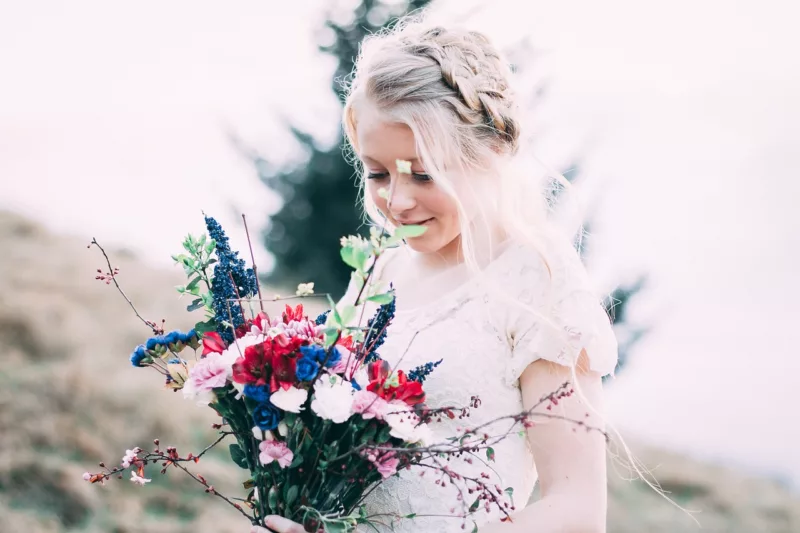 If you want to go bright or go home, a bright, multi-coloured bouquet might suit you. Some flowers that come in variations of stand-out colours include amaryllis, trailing amaranthus, phlox, and poinsettias.
Where to start with ordering your winter wedding flowers
If you've been browsing Pinterest for wedding flower inspiration, you'll probably have seen many arrangements featuring gorgeous summer blooms such as peonies, hydrangeas, lilies and roses. Many of the most popular spring and summer flowers are cultivated in greenhouses during autumn and winter, so they won't be completely impossible to get hold of if your heart is set on incorporating them into your winter wedding day.
The best thing to do is to speak to your local/chosen florist and show them some inspiration for both colours and flowers you like. From there, they'll be able to advise you on what is possible and may even have some suggestions you haven't considered.
How many flowers do I need to order?
Consider that as well as your bouquet, depending how floral you want to make your wedding – you may also need bridesmaid bouquets, flower girl flowers, blooms for buttonholes and corsages, flowers to decorate your venue and table centrepieces. Your florist will be able to help estimate how many you need to order.
If you're looking for further wedding advice and inspiration, look at some of our other wedding planning blogs or contact our expert wedding planning and catering team – call 0345 450 4545 or email us at events@dine.co.uk.