As we come towards the end of Pride month in the UK, we at Dine thought it might be helpful to take a look at the ways in which planning a gay wedding can be slightly different to planning an opposite-sex wedding.
Of course in theory a wedding is about two people declaring their love and commitment to one another, and there shouldn't be any difference what sex those people are. But in practice things are not always quite so straightforward! Here's some areas you might want to think about if you're planning an LGBTQ+ wedding.
Where can I get married?
Same sex marriage is legal throughout the UK including the Channel Islands and Isle of Man. However, most religious organisations won't conduct same sex marriages – there are exceptions, so do your homework if you would like a religious ceremony. You can have a gay wedding at any register office or registered venue in England & Wales, and in Scotland anywhere you like! The options are almost endless!
Will we be welcomed?
Sadly although the world is becoming much more aware of LGBTQ+ weddings, there are still some wedding suppliers who may not be quite so welcoming. Whilst it is illegal in the UK to discriminate against gay couples, that doesn't mean your chosen supplier might not have reservations or concerns if they haven't dealt with same-sex couples before. Check out their websites and social media to see whether they have any experience in gay weddings, and this should give you an indication of whether they are likely to be welcoming to you or not.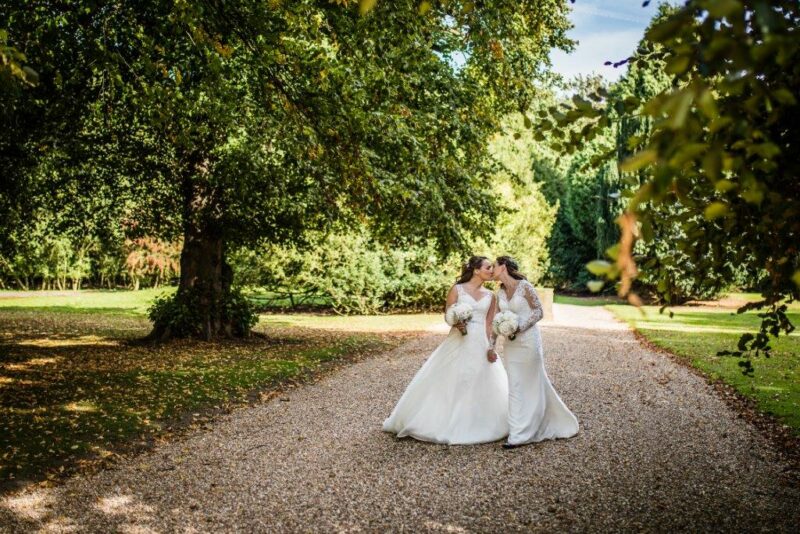 Think about the guests
In a traditional western wedding the friends and family of the groom sit on the right hand side of the aisle and those of the bride on the left. So what do you do if you have two grooms or two brides?
If you have ushers, they can help signpost people to either side of the aisle. Or you could have a welcome sign inviting people to be free to choose their seats – 'pick a seat, not a side' is a useful phrase here. Alternatively, you could skip the aisle altogether! It is entirely up to you.
Traditional- or not?
There are many traditions surrounding weddings, and although they vary from culture to culture they all have one thing in common- they are based on opposite-sex weddings! For a same-sex wedding you can choose to incorporate these traditions or head in a different tradition. Walk up the aisle unaccompanied- or both together. Toss your bouquet, or bow ties, or confetti. This is your day, so do it your way.
I've got nothing to wear…..
There are no 'rules' about what to wear when it comes to same-sex weddings, so you can let your imagination run wild! The big white wedding dress, tux, morning suit, matching waistcoats- let your personality shine through. And on that note….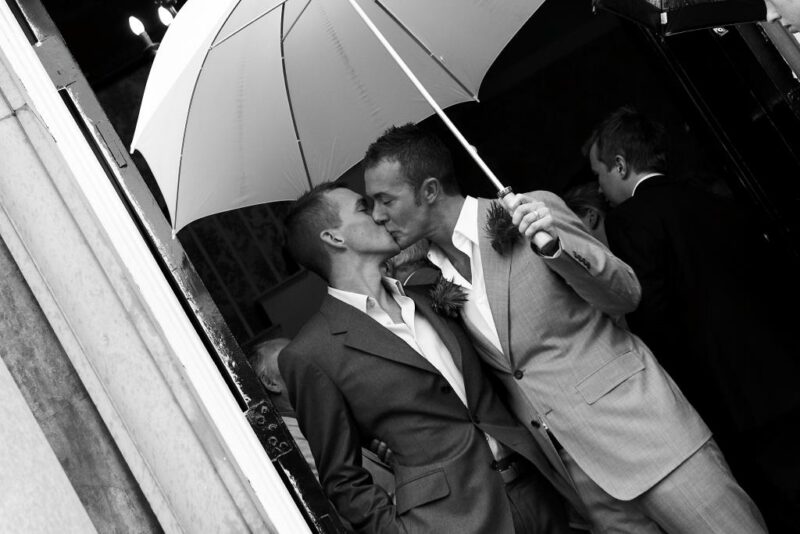 Even up the budget
Many wedding planning websites will talk about buying a wedding dress costing many thousands of pounds, but what about hiring a suit for the groom? Same for the bridesmaids versus the groomsmen! No, we don't know why either. With two grooms or two brides, you might look to dividing the budget up more evenly between the two of you!
Change up the wedding party roles
With a traditional English wedding there are lots of roles which are usually divided between the men and women of the bridal party: the bride will be given away by her father or other male relative; the groom has a best man to accompany him, the bride has a posse of bridesmaids to help her. There are also the stag and hen nights to consider!
With a same-sex wedding these roles might not work for you, so you might want to consider changing them to fit your day better. There are no rules here, so have a 'best woman' if you want, or decide not to be given away if you prefer. You will be able to design the day you want with more flexibility on expectations, so take advantage of it to get the wedding day you dreamed of!
As with all weddings, whether opposite-sex or LGBTQ+ weddings, there are very few rules that are fixed in stone and it's about creating a day which celebrates your love and you as a couple. So go with what works for you and enjoy your day!