16 Unique Wedding Invitation Ideas Guaranteed To Delight Guests
Ah wedding planning. The flowers, the dress, the wedding venue, the food – the detail that goes into creating your special day can often feel like a part-time job in itself!
One early and highly anticipated part of your wedding planning journey is choosing your invitations. With so many options to consider, and to make it a little easier for you, we've curated 16 save the date and wedding invitation ideas guaranteed to delight your guest list and make other brides green with envy!
16 Unique Wedding Invitation ideas
Here's a unique selection of the top wedding guest invitation ideas, based on what type of couple you are. From those who prefer sustainable styles, to couples who opt for a more glamorous affair – discover the best selection of wedding invite ideas below.
For the minimalist couple
For couples who are all about the minimalist life, a simple yet elegant design may be the perfect choice, using your invite as a nod towards your own personality and style.
1. Monochrome
Create uber cool, modern vibes with a stylish monochrome wedding invitation or save the date card.
2. Bold titles
Simple, bold titles that demand attention may be ideal if you love minimalist design. We love the idea of having a series of cards with bold titles, one with the date, one with the location and one featuring your favourite short love quote.
3. Transparent
Nothing says minimalist quite like a transparent background. Have your special day engraved into a transparent acrylic invite, as a symbol of how you'll be forever transparent with each other as a couple.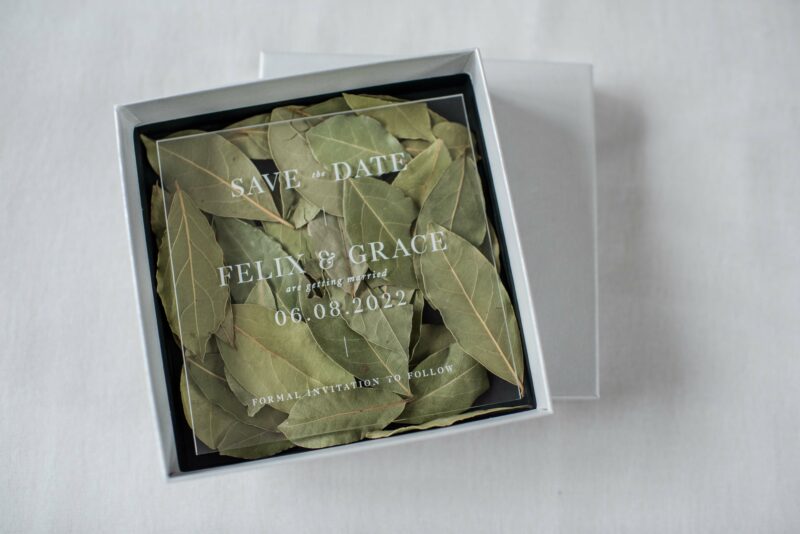 For the outdoors couple
If you're a nature lover, then you may want to forgo paper for something that captures your adventurous personality.
4. Wood
Wow invitees by having your wedding details designed and engraved onto a solid sheet of oak – a truly unique save the date idea or wedding invite. And if you want your guest list to hold on to your invite forever, have a love quote or poem engraved at one side, so they have a reason to proudly showcase the stylish invite in their home.
5. Watercolours
Another option to get across your passion for the great outdoors is through a watercolour forest design – such an elegant way to invite guests to your special day.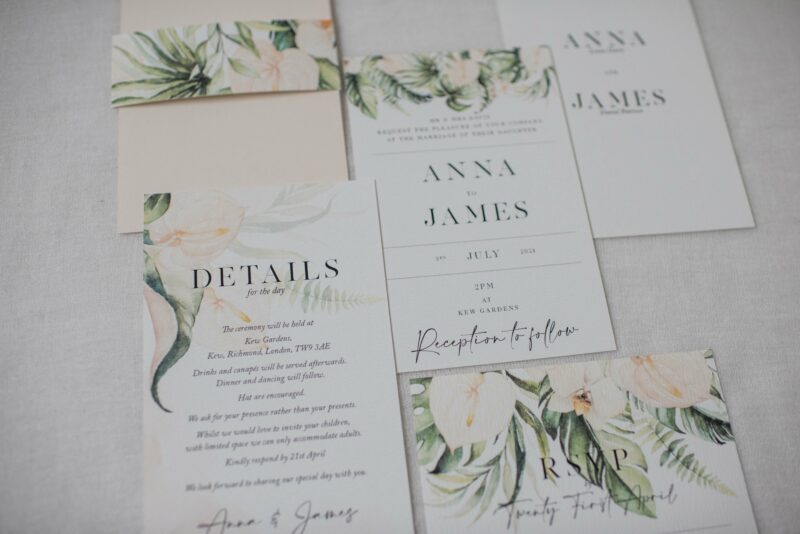 6. Bring the outside in
Some nature-worshipping couples prefer to include an outdoor memento alongside their wedding invite, such as a feather motif or sprig of lavender, providing a boost of wellbeing for the receiver whilst showing your appreciation for nature.
 
For the go-all-out couple
Some couples may want to use the initial wedding or save the date invite as an opportunity to show off their eccentric personality, or even give their guests a taste of what their wedding will be like. For those couples who like to go all out, these are some fun and unique wedding invite ideas.
7.  Illustrated portraits
Add an artsy flair to your wedding invites by getting a custom-designed illustration of you and your loved one. A fun personal touch that's guaranteed to be memorable.
8. Decade themed-invites
Transport your guestlist into the prohibition era with an art-deco inspired invite, or bring the 70's feels with an over the top retro design (add some vinyl elements for some added oomph). Your guests certainly won't forget when the big day is!
9. Destination invites
Planning to get hitched abroad? Make your wedding invite reflect your destination and give them a taste of what's to come. Not only could your invite be designed with the country's flag and key landmarks in mind, but you could also accompany your invite with a touch of culture.
For example, if you're planning a romantic ceremony on the amalfi coast, you could send your invite with a mini bottle of limoncello or more a greek getaward an Ouzo inspired gift.
A destination design can even work if your wedding is planned in the UK. For example, those planning to a festival inspired celebration could send invites out in the form of their very own wedding festival pass.
For the sustainable couple
If the idea of sending out invites that will eventually end up in landfill makes you cry a silent tear for the world, then we have some delightful options for you to consider so you can still enjoy sending out your invitations.
10. Recyclable invites
Announce your special day the sustainable way, with an eco friendly recyclable invite. Of course you could pick any design you please for this – from letterpress invites to more contemporary styles, so long as the material it's supplied on is from sustainable or recycled sources.
11. Digital invites
If you're really trying to reduce your carbon footprint, you could opt for a beautiful digital invite, showcasing a mixture of your favourite photos, the venue and even a link to your digital gift list!
For the classic couple
Every bride wants to feel like a princess on their wedding day, so why not make your invitations fit for a royal affair?
12. Bridgerton florals
Create those fairy tale Bridgerton vibes with elegant floral invitations, including ornate stamps, delicate designs plus your own custom crest. A style that would get the royal seal of approval!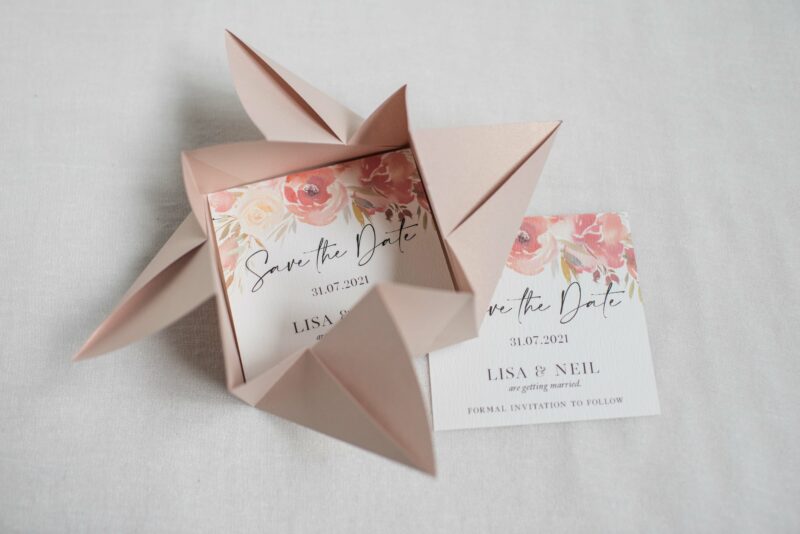 For the experience-loving couple
If you're the type of couple who loves experiencing new things, then you may want to bring some of this passion into your invite opening experience.
13. Let them play detective
Turn your wedding invite into a fun detective experience by giving your invitees clues as to the venue and date, or even a crossword to crack to find all the information they need.
Just make sure you eventually give them all the right answers so they don't miss your special day!
14. The performance invite
If your wedding is going to be a small affair, you could announce your big day through your own bespoke song or poem, performed to your guest list in person, or recorded by a local artist.
Follow this up by gifting the lyrics on a paper invite (so they don't forget the time and place!)
For the colour-obsessed couple
If you're a couple who enjoys bright colours and interesting shapes, then the following wedding invites or save the date ideas could be an ideal pick.
15. Colour blocking
Make a bold style statement about your wedding with a colour-block invite – stylish, memorable and inspiring. Your big day announcement will pop with an invite style like this.
16. Geometric shapes
Geometric shapes have made a comeback in recent years. In particular, romantic greenery wrapped around gold geometric shapes is a go-to style choice for wedding invites.

What's next
Now you have a good idea about what you can do with your wedding or save the date invite, we'd highly recommend giving yourself 6-12 months to have these created in time for your special announcement day – especially for custom illustrations or poetry.
You can also request invite samples before you make a final decision, so you can be certain your wedding invite will be one of the many pieces of your special day that you'll cherish forever.
Jane Beadnell of JB Creatives is an outstanding Yorkshire based wedding stationery designer, check her out.