Rise Hall Ambassadors' Dinner – it's official!!!
03/05/2019
It's official!! Daniel and Helen Gill are the new owners of the most magnificent, Rise Hall. In true Dine style, we celebrated with an Ambassadors' dinner. Last night was an opportunity for Sarah Beeny and Graham Swift to pass over the guardianship of Rise Hall to Helen and Daniel Gill. This was far from a simple business transaction. Daniel and Helen are fully invested in securing the future of Rise Hall, preserving the amazing work that Sarah and Graham have done to restore Rise Hall to it's former glory. The work continues to reinvigorate Rise Hall as a unique and luxurious venue for weddings, private parties and corporate retreats. The team at Dine are totally invested in the vision to create an exclusive sanctuary for guests residing at Rise Hall, whatever the celebration.
Thank you so much for inviting us to your fabulous celebration evening – Rise Hall is an amazing venue and it certainly has the Wow factor! Trudi Davidson, Hull Daily Mail

What a lovely evening, thank you so much for the invitation. I really enjoyed my stay with you. The food was fab, you know that already! It was lovely to meet Sarah and Graham, it almost seemed that this was a family gathering… Roger Masterson, Celtic Castles

Just wanted to say thank you again for a wonderful evening at Rise Hall – the food, wine and company were all excellent. We look forward to seeing the progress of the hall under your stewardship – the future certainly looks bright! Nicola Macgregor, Barclays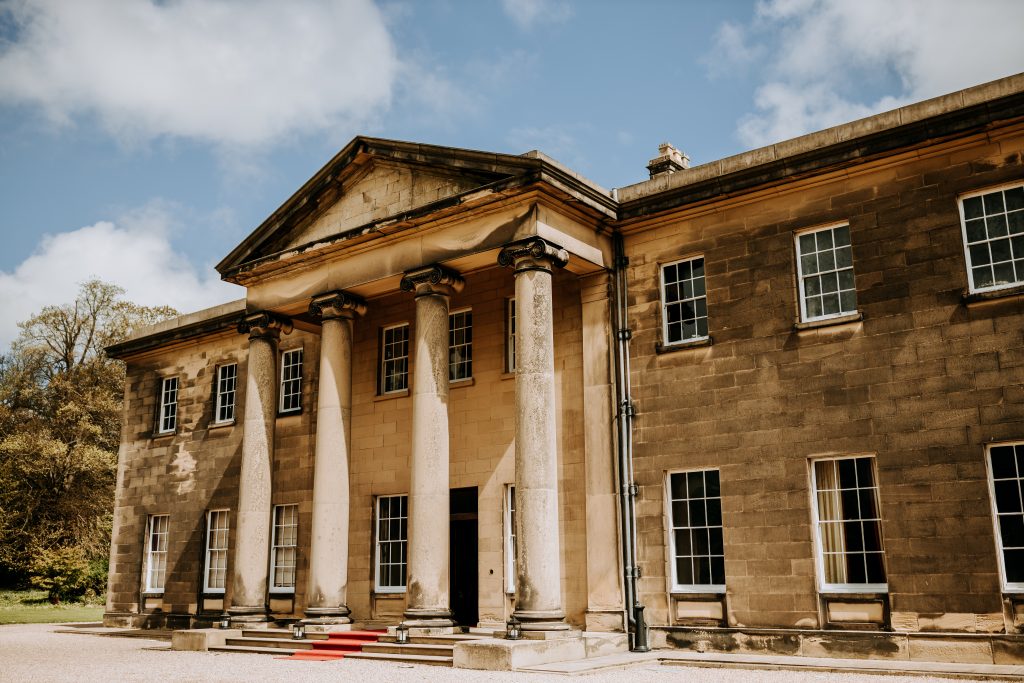 As some of you may already be aware, we are celebrating 21 years of Dine this year. It's a nice transition for us to graduate from working with historic houses, to now being owners and guardians of our very own!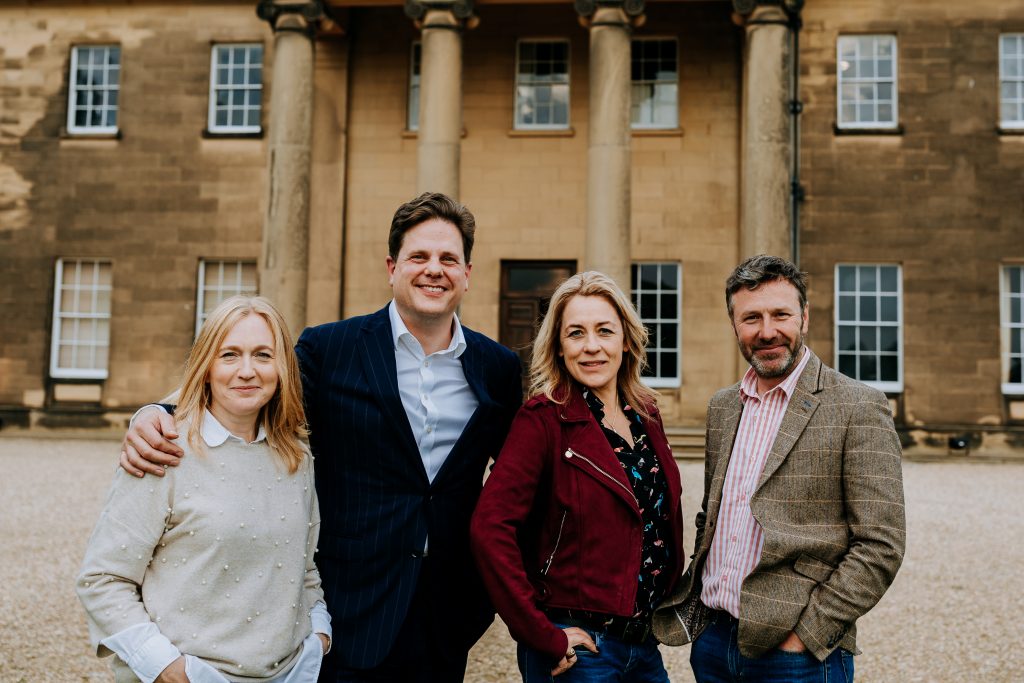 Daniel & Helen Gill (new owners) with Sarah Beeny & Graham Swift.  Since the transfer of ownership just over 14 days ago, one of the bedrooms has been transformed into a luxury bridal suite, a grand chandelier has been installed in the lobby and a snagging list of little jobs has been completed.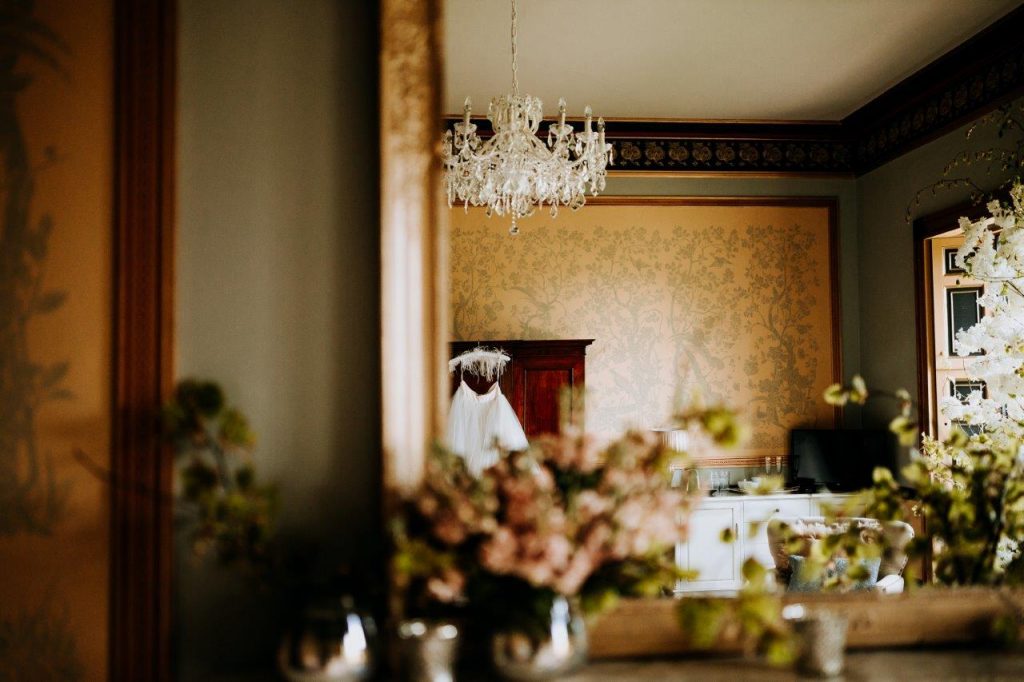 We wanted to ensure that when guests arrived at Rise Hall for both the wedding showcase last Sunday and for the Ambassadors' dinner on Wednesday evening, they were 'wowed' by the enhancements we have made so far. Teaming up with our incredibly talented friends at The Rarified certainly helped us to achieve that! We created a 'flower bomb' in the bridal suite… which received a HUGE emotional reaction. A couple of brides burst in to tears when they entered the room. Objective achieved! Planning and celebrating a wedding, should be a positive emotional journey – we want our couples to feel overwhelmed with joy when they come to our venues or experience our food and services.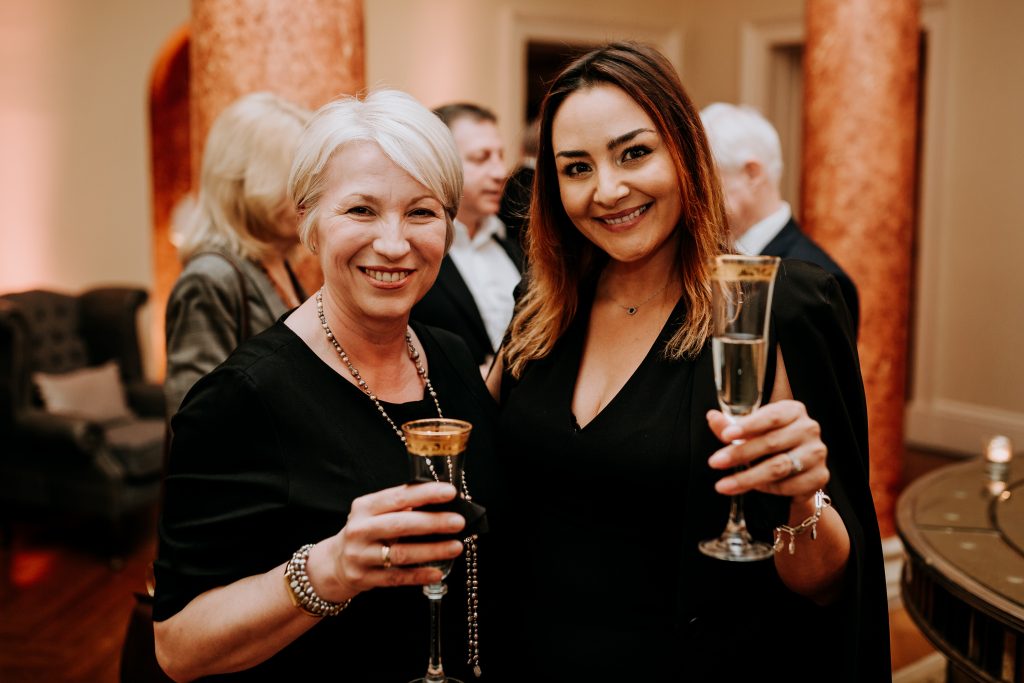 Canapés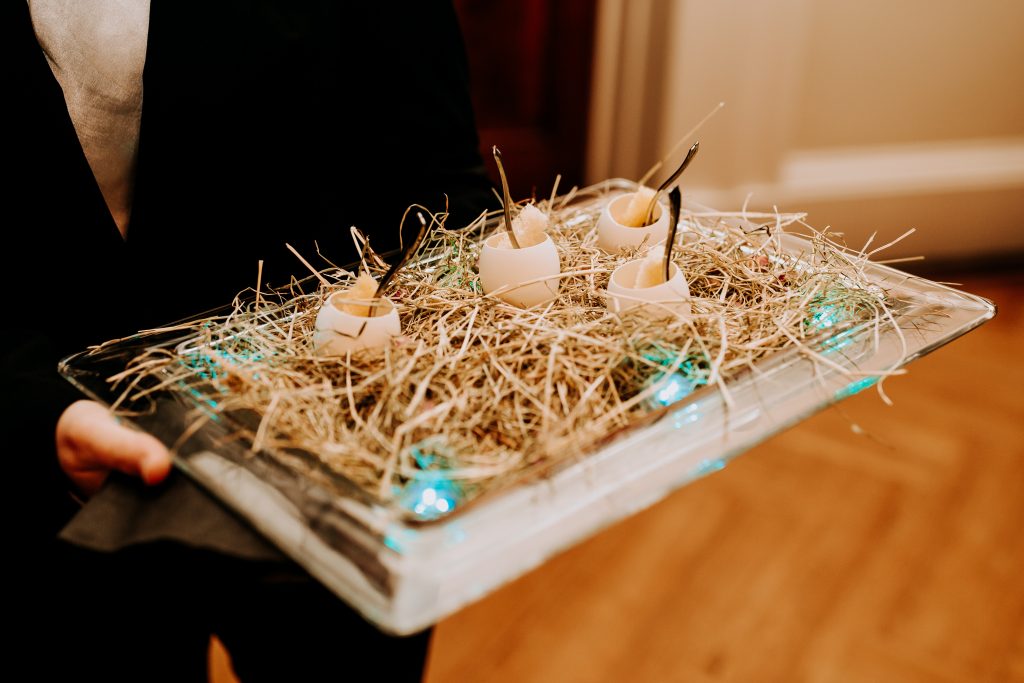 Egg & Soldiers with truffled scrambled egg in egg shell with brioche dipper
Wild Mushroom & Truffle Arancini
Roulé of Game Terrine with spiced plum chutney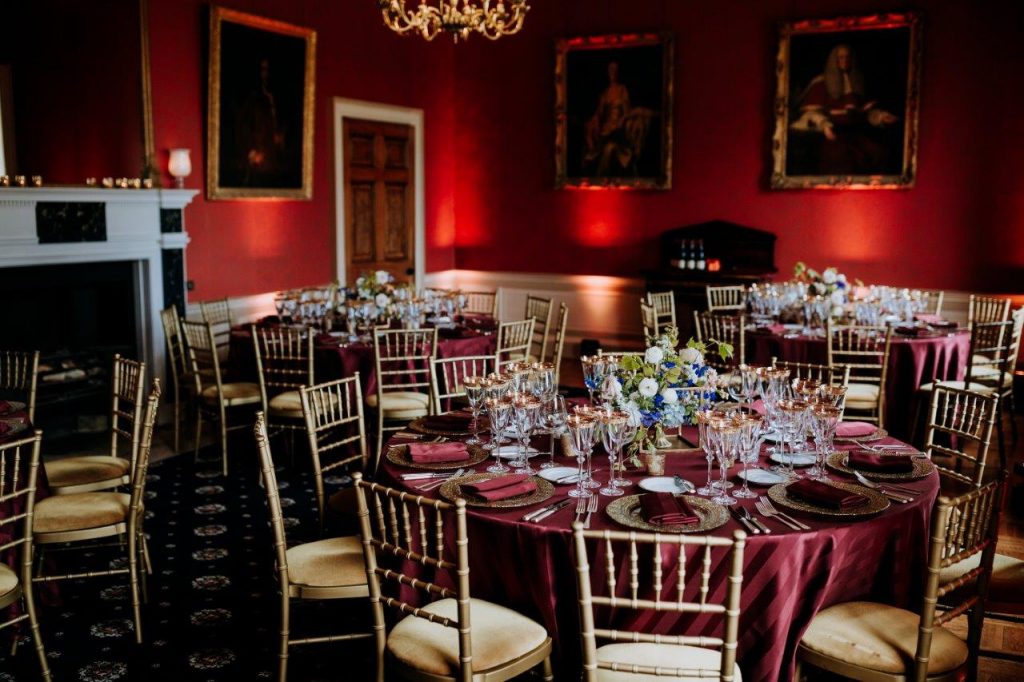 Starter
Quail Breast
Cooked sous vide, quail's egg, quail drumstick, straw potatoes
Cucumber flowers, pickled blackberries, curried parsnip purée
Main Course
Hay Smoked Venison
Wild garlic & foraged mushrooms, purple potatoes, heritage carrots, redcurrant jus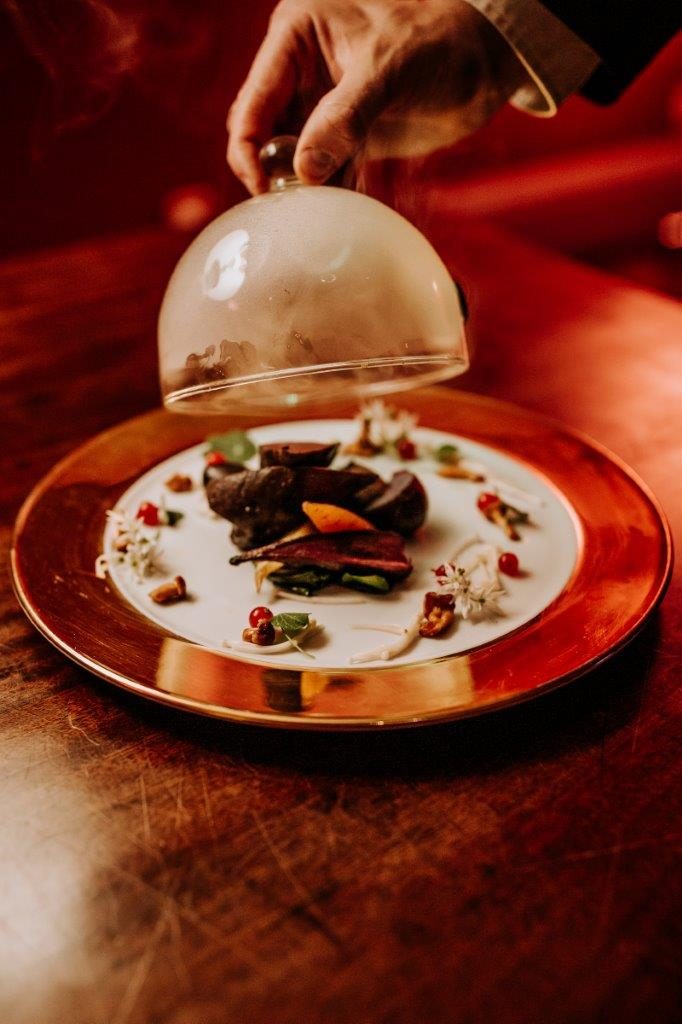 Dessert
Rhubarb & Custard
Chocolate soil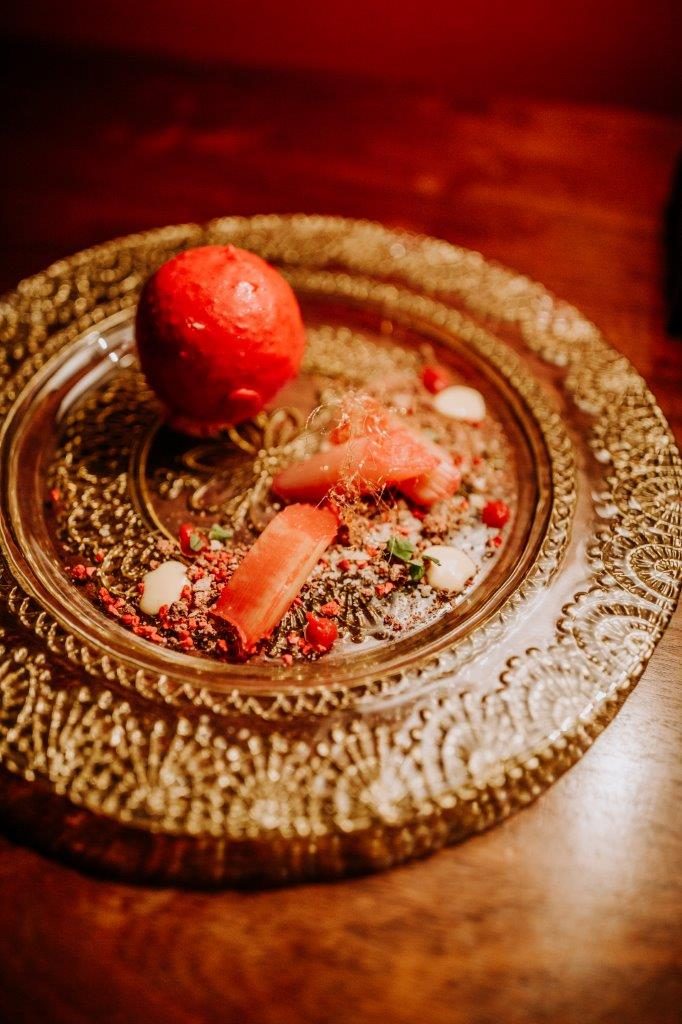 followed by…
Tea, Coffee & Chocolates the Dine Way
Huge thanks to the very lovely and talented Peter Hugo for capturing photography for both the wedding showcase and the Ambassadors' dinner so beautifully. You will see lots more of Peter's work coming through on our social channels very soon!
To plan your next event at Dine – get in touch with our team today: RiseHall@dine.co.uk | 0345 450 4545 | https://www.dine.co.uk/risehall/