Charlotte & Amarvir's Wonderful Wedding at The Mansion, Leeds
06/12/2017
Charlotte and Amarvir had a summer wedding at The Mansion in Rounday Park, Leeds. Selecting some of our best loved suppliers to create their perfect day. They fell in love with the venue and valued that they would have exclusive use with their guests on the day.
We got married at The Mansion in August 2017. Harriet Ashton was our wedding coordinator at Dine and she was absolutely amazing right from day 1! We'd like to thank her so much for all her enthusiasm, organisation and coordination, always done with a big happy smile yet with the utmost professionalism. The Dine team on the day were wonderful and the food and drink was absolutely amazing! It was so reassuring to know on the day that Harriet and her team had everything under control and we could fully enjoy ourselves! A big thank you to you all once again, Charlotte & Amarvir Bilkhu xxx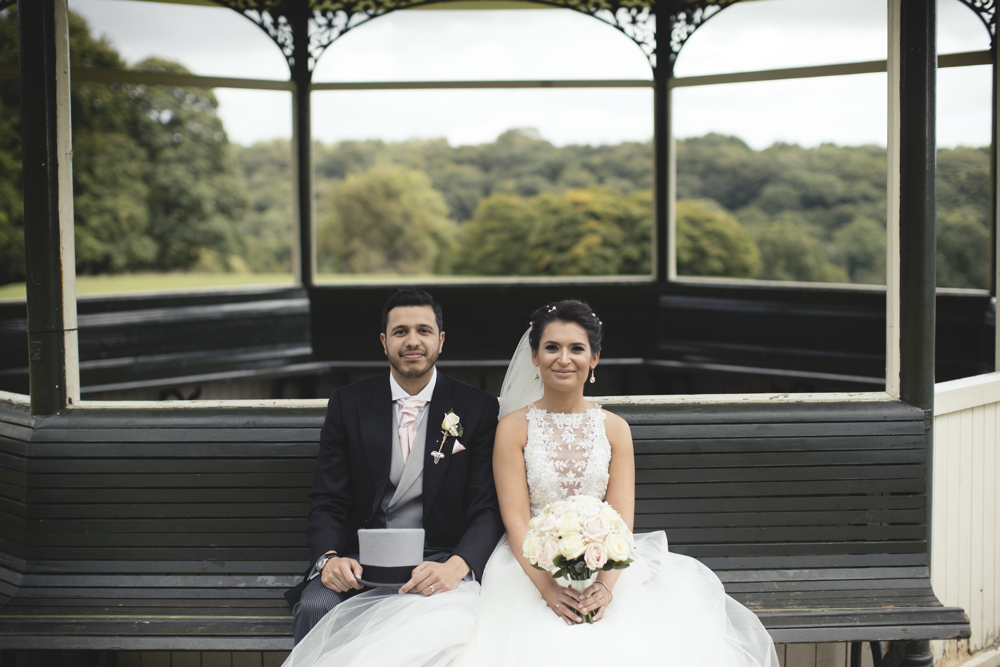 A little info about the bride and groom…
Charlotte Naidoo and Amarvir Bilkhu are both Doctors, who work and live in Leeds.
Date and location of wedding – why did you choose this location to get married?
"19th August 2017, The Mansion (Roundhay, Leeds). Beautiful venue, nice space and total exclusivity on the day."
The proposal – tell us the story…
"We visited Mauritius to attend our friend's wedding. Whilst there, we went for a romantic dinner with candles and rose petals on the table. After dinner, we walked along the beach across to a little jetty where we sat under the stars and dipped our toes in the turquoise ocean under the moonlight and I presented the ring and asked her to marry me!"
The dress – where was it from & what was it like? How many dresses did you try on?
"We bought my dress from Abigail's Bridal Boutique in Leeds. I went with my mum and tried on approximately 15 dresses! They were really lovely and gave us some bubbles whilst we browsed. The one I chose was a Maggie Sottero full length chiffon gown with an embellished top half with pearls and diamantes, complete with a full-length veil and Swarovski crystals."
The ceremony – who conducted the ceremony and where did it take place?
"We had a symbolic ceremony at The Mansion and the groom's brother (and best man!) conducted the ceremony for us. It was a wonderful personalised touch and worked beautifully."
The cake – where was it from and what was it like?
"The cake was from Zoe's Fancy Cakes, based in Horsforth, Leeds. Zoe was lovely! We met her at her home and we designed the cake together. She showed us lots of examples, we tasted some cake samples and the finishing touch was Zoe's personalised Bride & Groom figures that she custom-made for the cake! Even the figurines' outfits matched our real ones on the day!"
Where did you go on honeymoon?
"We booked our perfect honeymoon through Kuoni and we went to the Maldives! It was absolutely luxurious and a romantic trip of a lifetime that we will never forget!"
Who as your photographer?
"Our photographer was Bethany from Bethany Clarke Photography based in Harrogate and her husband Matt Clarke. They are now known as Lloyd-Clarke Photography. They are both really nice people and produced a very professional and beautiful wedding album and even included a pre-wedding shoot!
Our wedding videography was done by Midgley Wedding Cinematography. Tom and Lee from Midgley are very friendly, organised and very talented people who stayed for our whole event and seamlessly integrated into the event to capture and produce a beautiful wedding video."
Groom's outfit:
"We hired the morning suits from Moss Bros in Leeds – Black tailcoat, double-breasted Dove Grey waistcoat, grey top hat and light pink cravat. In the evening, I wore a white Tuxedo dinner jacket with a black bow tie that I bought from Slaters in Leeds."
Who did you choose to do your wedding flowers?

"Our florist was Twisted Willow based in Ripon. They were very organised and arranged a personalised floral arrangement for the top table and individual dining tables. They also did the bouquets and other larger statement arrangements for the venue."
Wedding Menu:
Canapés were served to guests after the ceremony…
Thai Chicken Satay with Peanut & Lime Dip
Filo Wrapped King Prawns with Marinated in Ginger & Chilli, Sweet Chilli Dip
Caprini Goat's Cheese with Pesto, Sunblushed Cherry Tomato & Toasted Pinenuts
Starter
Tartlet of Lightly Curried Smoked Haddock
***
Main
Duck Confit with Honey & Thyme
***
Dessert
Eton Mess with Meringue, Vanilla Cream and Rasberries
Hair and make-up:
"The Hair stylist was Emily Hawkes Bridal Hair Stylist, based in Leeds. She is very pleasant and we had a pre-wedding trial. On the day, she was focussed and attentive, producing a perfect style for me.
The bridal make-up was done by Ella Warner MUA, based in Leeds. She is a lovely person and we also had a pre-wedding trial with her. She did the bridesmaids' make-up as well as the bridal make-up. We recommend them both for beautiful hair and make-up on the big day."
Transport:
"The bride arrived with her mum, dad and bridesmaids in a beautiful white vintage Rolls Royce Phantom on the day which was very luxurious and looked great in the photos too! We booked it from Cupid Carriages based in Sheffield."
Venue:
"The venue was The Mansion in Roundhay, Leeds. It is a beautiful building overlooking Roundhay Park which made our photography very special. The decor is smart and elegant inside and booking there allowed us exclusivity on the day for our wedding. There is a grand staircase, a beautiful large crystal chandelier and two event rooms with the larger one upstairs fully equipped with a dance floor and bar."
Entertainment:
"We booked a string quartet via High Row Music for our main ceremony. They were professional and very talented; they played two 45 minute sessions and so they also played during the drinks reception. They are flexible and even learnt two extra music requests in advance." High Row are a popular choice for weddings at The Mansion – they know our venue well and often come along to our wedding showcase evenings (if you want to come and have a listen).
"Our wedding band was The Jazz Prescription, a live four-piece band led by Jeremy Sassoon. They were wonderful on the big day, playing smooth and upbeat Jazz music that everyone loved to dance to. Then night was finished with the DJ we hired via Dine at The Mansion who played our customised playlist through till midnight!"
What was the most memorable part of your day?
"For us, the most memorable part of the day was seeing all our closest friends and family come together and celebrate with us for the ceremony and the celebrations into the evening. It was so special to us and it felt so memorable for everyone because the whole wedding came together as such an elegant event with a special focus on our love and marriage.
An extra touch that made it particularly memorable for everyone was our first dance which we had choreographed via North Leeds Dance Academy (NLDA) based in Leeds. They have been so amazing and we have continued dancing classes with them!"
Would you recommend Dine to friends and family?
"Absolutely! Harriet Ashton at Dine worked with us every step of the way to organise the amazing venue and catering together on the day. Furthermore, she was very organised, kept in close touch and liaised with all the other suppliers to bring it all together seamlessly on the big day. As a result, the wedding preparations seemed like a dream!"
Thanks and best wishes, Charlotte & Amarvir
If you are searching for a special venue to say your wedding vows in West Yorkshire, Leeds – then The Mansion might be just the ticket! We are able to offer total exclusivity to our couples, so you can share your wedding in privacy with your chosen guests. Get in touch today, to share your ideas with our events team and to find out more about options for your wedding: 0113 269 1000 | themansion@dine.co.uk
We regularly host wedding showcase evenings at The Mansion, so you can see the venue dressed for a wedding and meet some of our regular suppliers.