Autumn 2020 Opening
We're delighted to be open once again, 7 days a week from 9am until 4pm daily.  In line with current guidelines, our restaurant has had to make a few changes which we hope you understand.  We're still in the same lovely location, with the same friendly team, but here's a quick overview of what to expect;
You can now book a table to eat in - please email restaurant@dine.co.uk to do so
As of the start of October, we are offering a reduced hot & cold menu alongside a great range of take away items including sandwiches, hot drinks & ice creams - see the MENU HERE
The dining in menu is slightly reduced compared to our normal offering, but there is plenty to choose from
Afternoon Tea can be booked, but please do so 48 hours in advance by emailing restaurant@dine.co.uk
We will be following government advice with regards to hand sanitising stations on entering, increased cleaning of all public areas and requesting your contact details if you are dining in
Email contact is preferred still at this point rather than phoning, as many of our office team are not working on site yet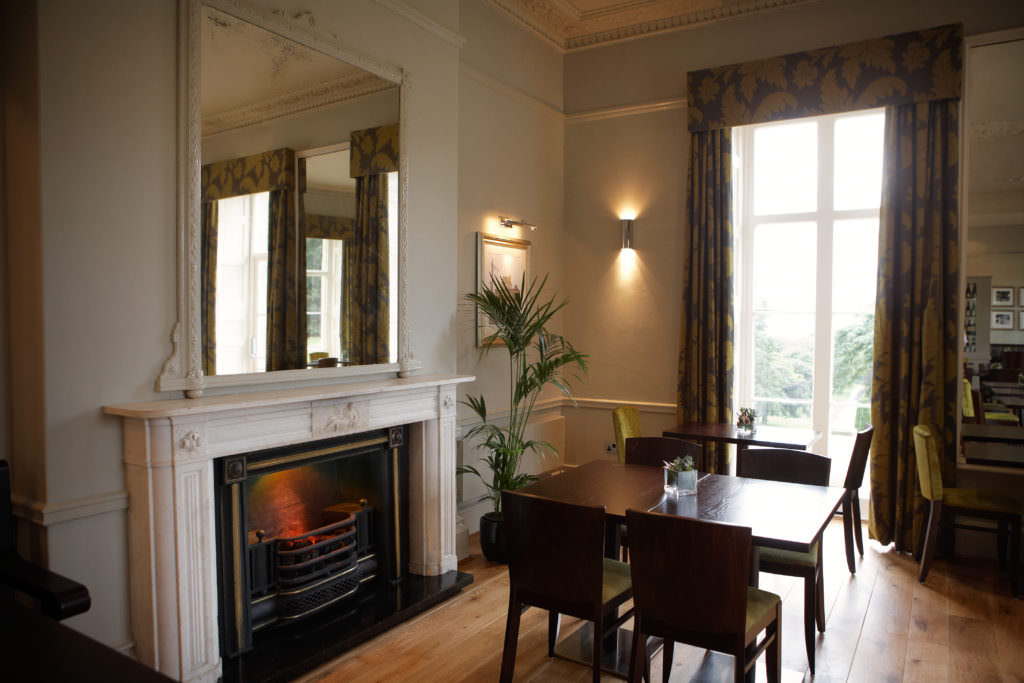 The Garden Room isn't just about our gorgeous location in The Mansion at Roundhay Park, it's about using fine local ingredients to make outstanding local food.
Our Location
Our diners can enjoy their food in the surroundings of our restaurant at one of the highest points in Roundhay Park. The views from our terrace encompass lakes, woodland and 700 acres of the finest parkland in Leeds.
If you are coming to us via car, you will be able to park on Mansion Lane just outside - parking is free and there are no time restrictions.
Our Food
Our clientele range from the walkers of the park to diners coming for a special meal, and lots more besides. That's why we have developed a broad menu and you can be sure that our ingredients are of the highest quality whatever your dish.
Throughout the week you can order from our main menu, which has our sandwich options, afternoon tea, brunch and a whole host of cakes and desserts.
If you don't fancy any food, we can still offer you a drink (warm or cold) overlooking the park. We have an outdoor terrace area which is perfect for a relaxing glass of wine with friends or better still, a chilled glass of prosecco in the park!
Our restaurant is very popular with our diners, as seen by being given a "certificate of excellence" by Trip Advisor, which is given for consistently good feedback. Due to this we can get busy, especially during our Sunday lunch service, so we do recommend booking a table beforehand if you can - it's easy to do with our online system.
Frequently Asked Questions
Where is the Garden Room?
The Garden Room is the restaurant in The Mansion, our venue on the north side of Roundhay Park, just minutes from the centre of Leeds.
The Garden Room has close access to the original conservatory, which now features a charming tiny museum about the history of Roundhay. Our restaurant features a fantastic terrace, with a 70 acre sweep down to the large lake, and just 2 minutes' stroll to the smaller lake.
When is the Garden Room restaurant open?
The Garden Room is open 9am to 4pm every day. Due to popular demand, we remain open 7 days a week during the winter months.
It's a great idea to follow us on Facebook, Instagram and Twitter for the latest news about our opening times.
The Garden Room is ideal for daytime events like parties and anniversaries, as they fit perfectly with the restaurant's opening hours.
What's the capacity of the Garden Room?
We can seat up to 60 guests in the Restaurant itself, with further seating on Terrace outside.  Larger bookings of over 8 guests are welcome, though pre-booking is strongly recommended and we usually take a small deposit to confirm your table.
The Garden Room is available for private hire outside of its usual opening hours - please do ask us for further information.
How often do the menus change at the Garden Room?
Generally they change seasonally, so around 4 times a year.
GREAT NEWS!
The Garden Room is now open every day from 9am - 4pm.
We are able to take table reservations and are offering a takeaway service