We might have years of experience providing seamless wedding services, but what really matters, of course, is what makes our customers tick. So, with that in mind, we surveyed Yorkshire brides[1] to find out exactly what's most important to them when choosing a wedding venue. The results might surprise you:
Overall research results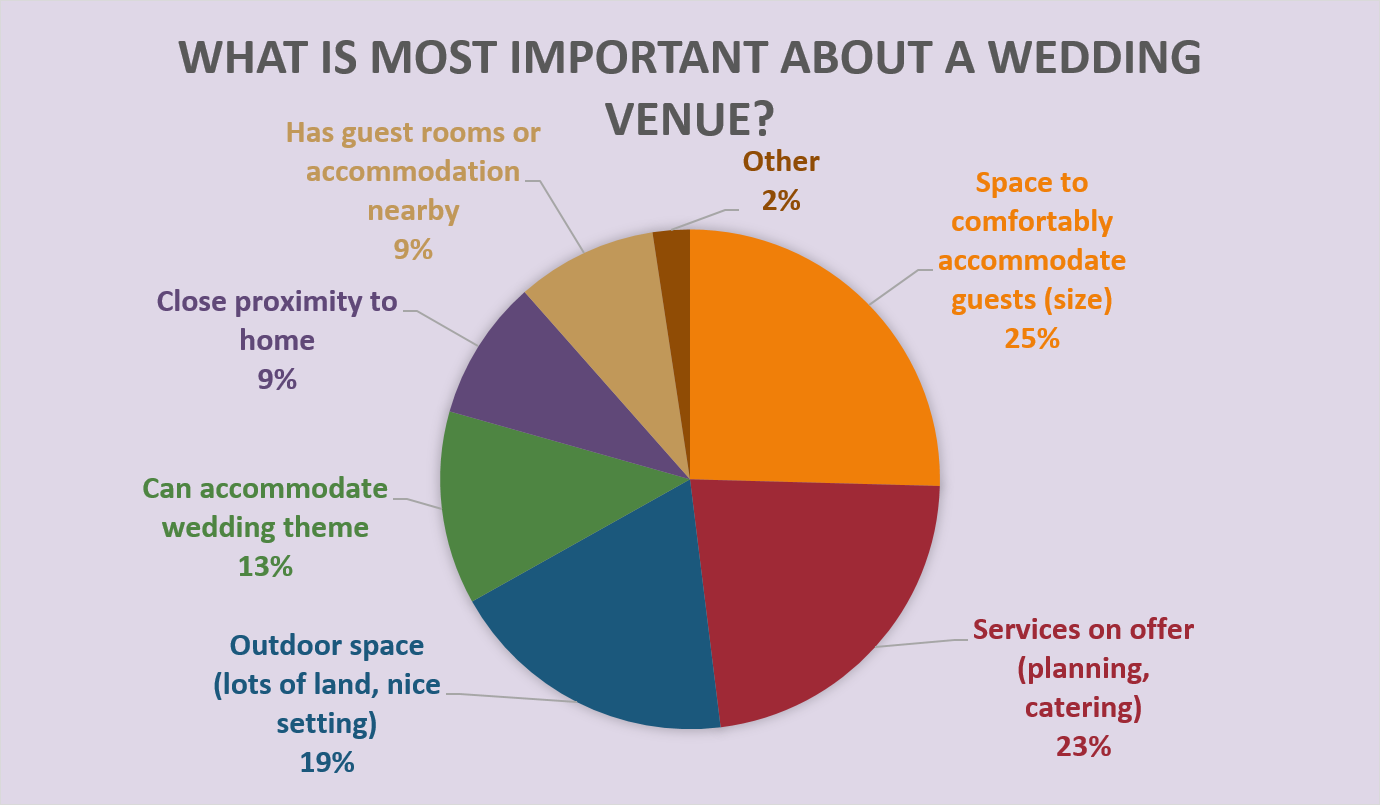 As we can see, the correct space to accommodate your guests comes out as a clear winner, with planning and catering services a close second. Next, Yorkshire brides rate outdoor space and a lovely setting as their third priority.
So, how can we help our customers address these particular priorities? Luckily, we've already thought of that with our expert advice:
Age breakdowns: what is most important to each bridal age group?
We were curious to find out if the different age groups had different priorities for their wedding venue. Here's what we found:
18-24 year old Yorkshire women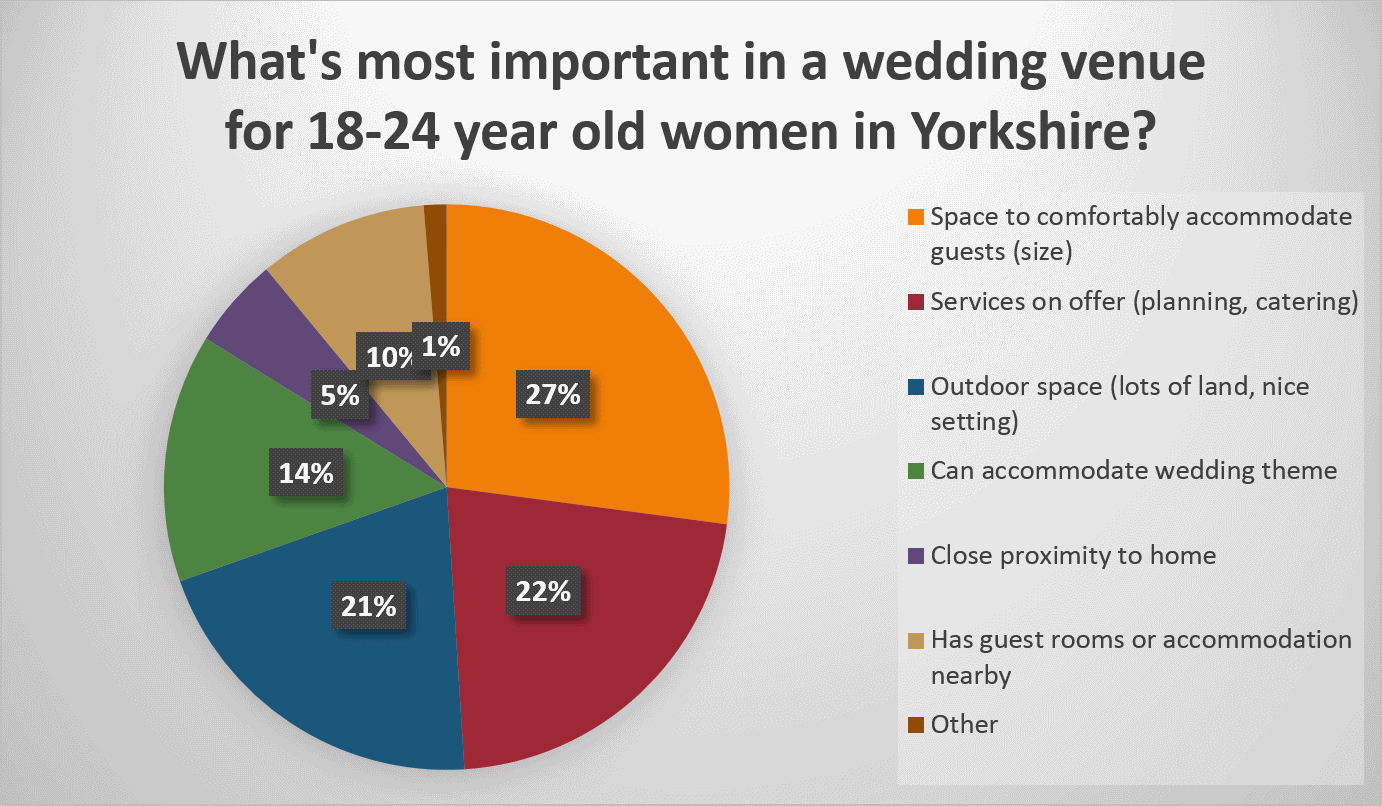 As we can see, the younger bride has the same top priority as our overall results, but this age group were much less concerned about their venue being close to home – almost half as concerned as the older two age groups we surveyed. Perhaps this age group are less tethered to a particular area, having just begun their careers, or deciding where to settle after finishing university?
They also value the outdoor surroundings and the venue's suitability to their wedding theme more than the older age groups. It's conjecture, but could this be because they have grown up with a more visual focus, thanks to the dominance of social media in their lives? They could be more inspired by celebrity weddings than the older age groups, and may be seeking a more 'Instagrammable' venue.
25-34 year old Yorkshire women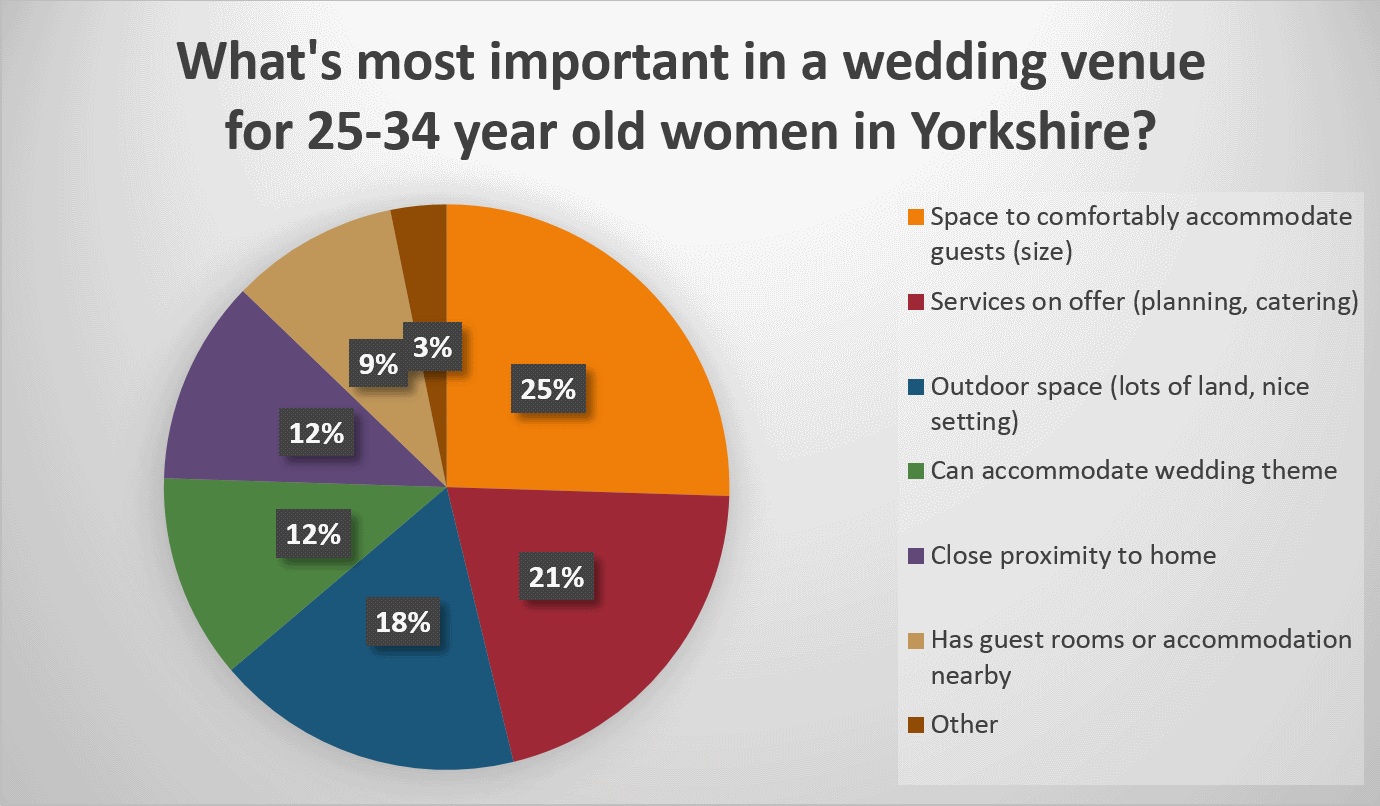 As our survey shows, the top priority of the 25-34 year old age group chimes with those of the overall result, but they are less concerned with the catering and planning services on offer than the other two age groups.
They are more concerned with the venue being close to home than the other two age groups – perhaps because they're at the age when they're beginning put down real roots and commit to careers and specific locations, or they may already have children and need their venue to be more local.
35-44 year old Yorkshire women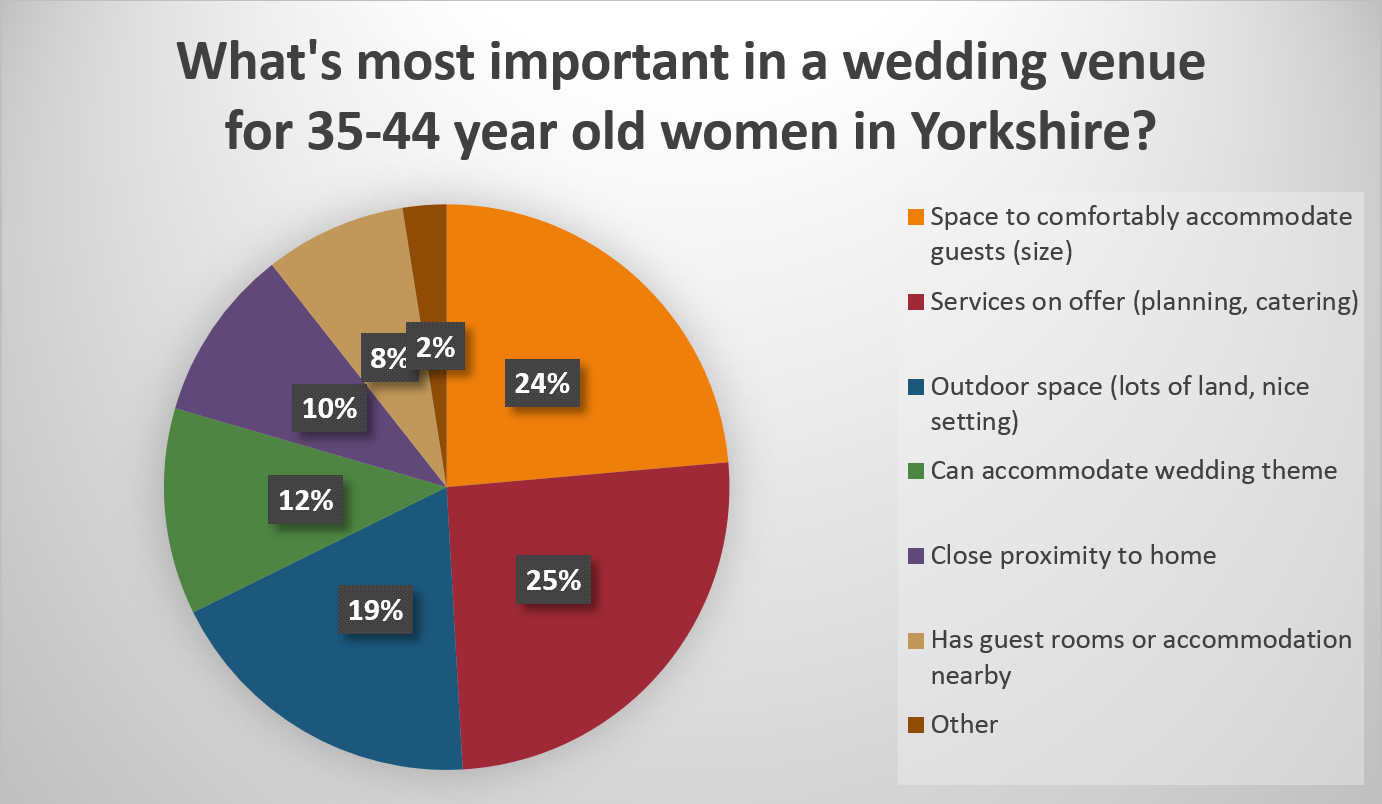 Interestingly, the 35-44 women we surveyed have a different top priority than the younger age groups; the catering and planning services are most important for them. What does this mean? Perhaps this older age group have more developed palates and prefer to prioritise the food over any aesthetic considerations. Or maybe they're so busy with their careers and children that they're more than happy to let an expert help with the planning?
What's important to you in your wedding venue?
Only you can answer that! However, we love sharing our wedding expertise, so we've compiled a host of useful information that may help you to work that out. Read it here:
Regional guides:
Wedding venue and catering advice:
Wedding planning advice:
What next?
Whatever's most important to you about your wedding venue, we're sure to have a stunning venue to fulfil your needs. To find out more, call our team on 0345 450 4545 or fill out our enquiry form. We would love to hear from you soon!
[1] Methodology: Conducted by Google Surveys, January 17 2017 – January 19 2017, and based on 504 responses. Sample: general population filtered to women in Yorkshire and the Humber, age groups 18-24, 25-34 and 35-44 year olds.