We are experts in marquee weddings, either at one of Dine's marquee venues or at your own home or another location. Check out everything you need to know about marquee weddings in Yorkshire and beyond, including: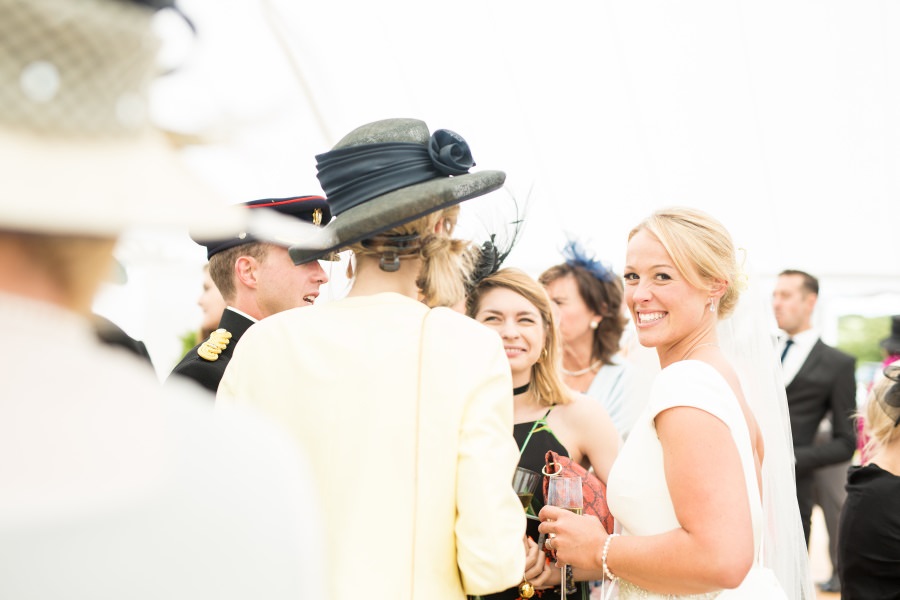 Why have a marquee wedding at home?
Firstly, read our guide to having a marquee at your own location to find out the pros and cons, questions to ask, planning considerations and much more besides.
If you are lucky enough to have space in the garden, there's something wonderfully relaxed and intimate about holding your wedding in your own home or in the home you grew up in. Such an individual location enables you to buck the trend and create your own traditions by putting your own personal stamp on your day in a unique family setting. Your home will already hold so many memories; wouldn't it be amazing to add more from your own wedding day?
Here's why:
1. A marquee at home offers the ultimate flexibility.
A marquee enables you to entertain as many or as few guests as you choose without having to worry about the capacity of your room. You can provide your own choice of refreshments, bring in the caterer of your choice (that's where we come in!) and the merrymaking can carry on for as long as you like (as long as the neighbours are invited), and, of course, at the end of the celebrations you can fall straight into your own bed. You will also escape venue hire charges.
2. You don't have to have a huge garden or a summer wedding.
You may have your wedding at home or decide to do a bit of glamping in a friendly farmer's field. Depending on your guest list size, the garden doesn't have to be huge to accommodate a marquee. They can be constructed to fit the available space perfectly. Marquees come in an array of sizes and styles, from sailcloth marquees to stretch tents and traditional pavilion style tents, enabling you to match a style to your theme. And although popular for a quintessentially British summer wedding, with the right planning – flooring and heating options are crucial factors to consider - a reception under canvas can be a perfect venue whatever the time of year.
3. The party can continue all weekend.
The beauty of a reception at home is that there are no time restrictions. When at home, you can stretch the celebrations out by having pre-wedding drinks the evening before and a relaxed brunch or barbecue the day after, perfect for getting all of the post-wedding gossip!
4. You don't have to clear up.
Hiring an event management company such as Dine, means that we not only provide the catering and the marquee via sister company Shades, we will also coordinate and manage the set up and the running of your wedding day, before returning to clear up and take down the structure after the celebrations are over.
Marquee not for you? See what other types of venues you could choose from.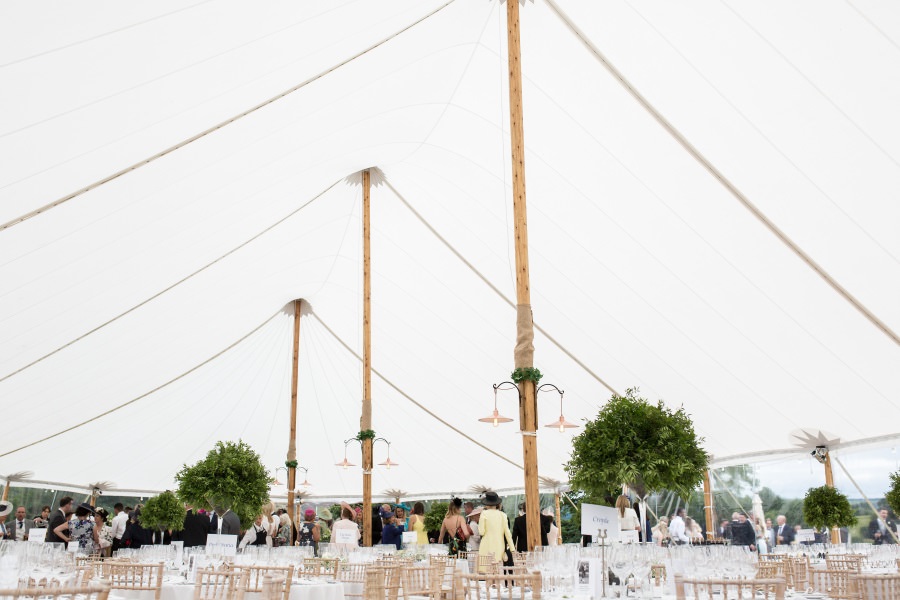 Which Dine venues can host a marquee wedding?
If you don't have space in your garden but still have your heart set on a marquee wedding, we have partnered with a host of beautiful heritage sites in Yorkshire and Leicestershire where you can have your dream marquee wedding:
We can also arrange your marquee and cater for your wedding at other select venues: if you have somewhere in mind, just ask our team and we'll see what we can do.
Where can I have a waterside marquee wedding?
We can set up a marquee by a lake or river at the following venues:
You may also be interested in our advice on Yorkshire venues with a lake or riverside.
What does a marquee wedding cost?
While not necessarily the cheapest option, a marquee can be surprisingly cost effective and can offer real value for money. We are currently running a special offer in conjunction with our NEW marquee sites, offering marquee weddings from just £12,000 + VAT*.
*Please note that venue hire charges vary.
What size marquee do I need for my wedding?
Don't worry – we can work that out for you. Simply tell us the number of guests you're planning for your wedding day and evening celebrations and we will advise you on the best marquee size. The beauty of marquees is that they're easily scalable so can be adapted to suit your requirements.
How do I hire a marquee for my wedding?
Relax – we can do that for you too, working exclusively with our sister company, Shades. If you're marrying at one of Dine's marquee venues, we offer complete packages for marquee weddings, which include the marquee hire costs.
If you're having your reception at your own location, we can also take care of hiring the marquee, as well as providing the catering and recommending our favourite suppliers (we can book them for you too). We'll also take care of the site visit, delivery, set up and installation, electrics and plumbing, clean up and then we'll take it away again afterwards.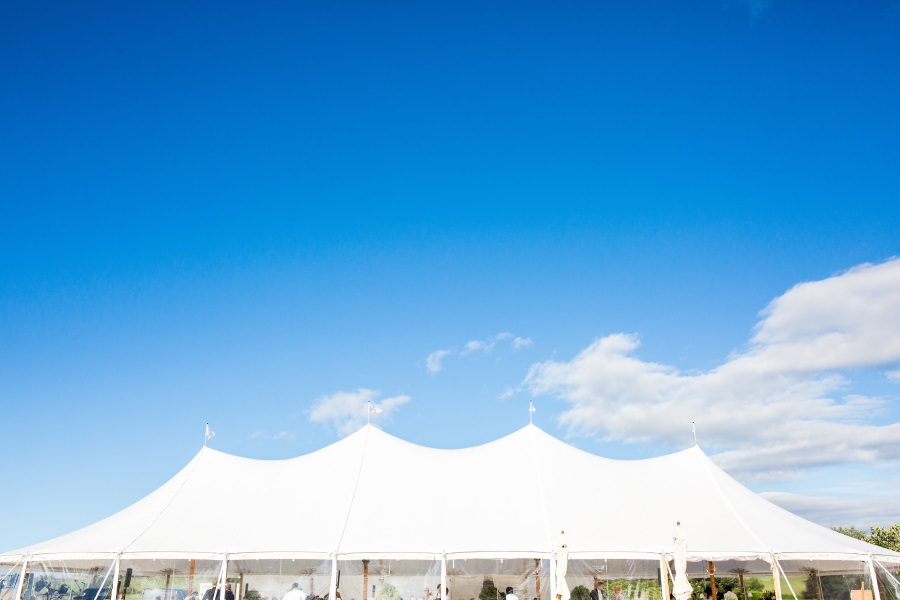 How do I plan or organise a marquee wedding?
If you're having your marquee at one of our special marquee venues, you don't have to do a thing! We will organise and execute the whole affair.
If you're having a marquee at your own location – either at home or in a field or farm or something equally fabulous – we can help you with this too. In fact, we can organise as much or as little as you like, from handling just the food to planning your whole day.
Which marquee weddings venues have accommodation?
The following marquee venues have accommodation options onsite:
We can arrange and book this accommodation for you and your guests when we're helping you plan your wedding: simply let us know how many rooms you need and we can do the rest.
If you're marrying in or near Leeds or York and you need additional accommodation, check out our useful list of places to stay in Leeds and in York.
Can I have my wedding ceremony in a marquee?
Sadly not. In England, your marriage ceremony must take place under a fixed structure. It is possible to get married outside, but as long as it's under a fixed structure that also has a wedding licence, such as a pagoda. A marquee is a temporary structure so you can't have your wedding ceremony in it. However, you could have an informal ceremony or blessing in a marquee, and have the legally binding part in another venue that is licensed for civil ceremonies.
See more of our advice on how to choose your venue here.
Can I have a marquee wedding with catering?
Absolutely – and this is what Dine excel at! Wherever you're having your reception, our catering team are adept at providing the perfect food for you and your guests, whether it's a buffet or a formal sit down meal. We can serve food inside and outside – whatever your heart desires! For more information, see our menus and catering page and a gallery of our catering menus.
I need ideas for my marquee wedding. Can you help?
Of course – we have many years of experience in helping couples bring their vision to life, from themes to decorating and even entertainment. Just to get you going, have a look at our advice piece on How to choose the right – and wrong – venue for the top 6 inspirational wedding themes of 2017.
As expert wedding planners and events managers, we have more than a few ideas of our own, but we can also put you in touch with a raft of talented event stylists to help you make your dreams a reality, booking these services on your behalf. To help you further, we recently compiled several guides to wedding suppliers in Leeds and York – have a look through for some gorgeous inspiration and tons of useful info!
Need advice on choosing your venue, your catering, or planning your wedding? Dine's experienced team can help as much or as little as you want. Just give us a call on 0345 450 4545, email us at events@dine.co.uk or use our contact form and we'll be pleased to help you get started.