A Destination Wedding at Liverpool's Sefton Park Palm House
07/08/2019
Before writing this blog, Vivienne and I arranged a call 1:30pm UK time…. 8:30am in New York, to run through the details of her and Paul's wedding at Sefton Park Palm House in Liverpool. Yes… our lovely couple live over 3,000 miles away, but decided to get hitched in the UK!
"Matt (Dine MD) was such an amazing partner in making our wedding perfectly what we wanted. Planning everything from New York was terrifying at times, but my trust in Matt was not at all misplaced."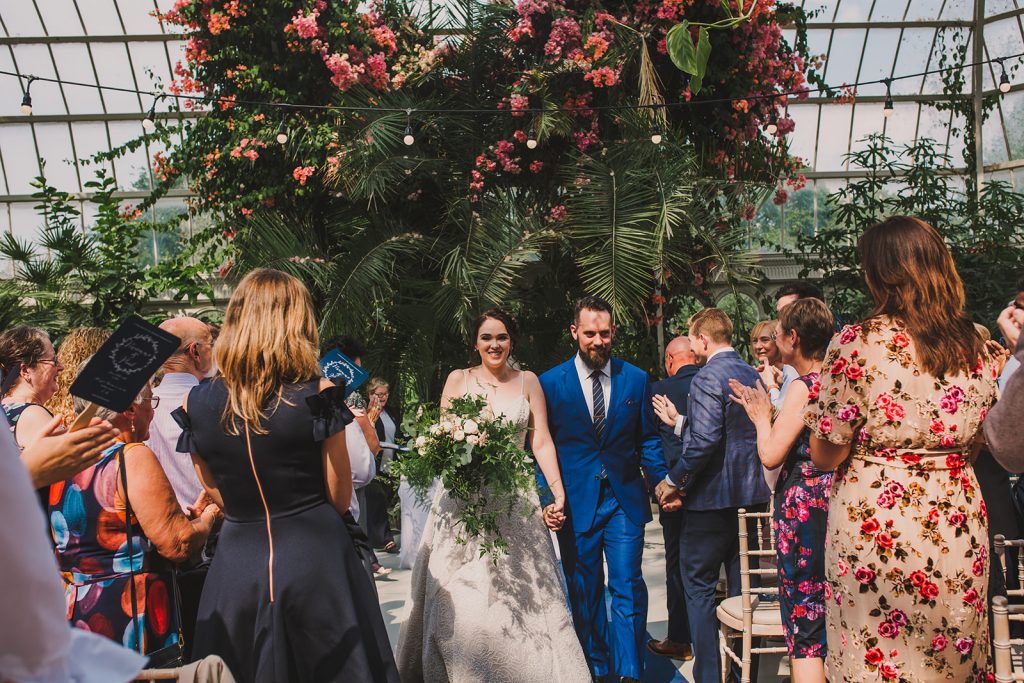 Introductions
Vivienne (the bride) started by telling me about how her and Paul met – as many people do these days, through an online dating APP (Happn). This is a location based APP and they had noticed their paths were frequently crossing on the subway. Vivienne on her way to her acting job and Paul on his way home from work, as Vice President of a Financial Tech Security Company.
The couple are both in their thirties and live in New York (USA). Both have roots in the UK.
Paul (the groom) is from Wolverhampton orignally and Vivienne's father is a native Liverpudlian. They wanted all of their family to be present at the wedding and as two thirds of them live in the UK, chose to venture across the pond for their nuptials. Vivienne had her reservations about planning a wedding at a distance, but she put her faith in Matt (Dine MD) and said her trust wasn't misplaced.
Planning the Wedding

The couple wanted a unique wedding venue, not just a run of the mill event space in a hotel. They didn't visit Sefton Park Palm House before booking the wedding, but Vivienne could remember passing through the park it the 90's when visiting the UK. Reassured by friends and family who lived locally, they decided to book the venue for their wedding. They had hoped to come and visit the venue together in March, but Paul ended up doing the trip alone. Matt (Dine MD) arranged a tasting for Paul and finalised all of the details with him during his visit.
The Proposal
Paul's cousin got married in Spain last August, so they combined a trip to Italy on a whim (so Vivienne thought).  After a very hot and sweaty flight, they were both totally exhausted when they arrived at the hotel in Italy. But Paul couldn't wait a moment longer and proposed as soon as they'd dropped their bags in the room! Vivienne said that it wasn't her most glamorous moment, but it was wonderful never the less. The couple had been together for two and half years before getting engaged.
Wedding Details
Vivienne and Paul stayed at the Jurys Inn on the Albert Dock in Liverpool with their wedding party. Everyone arrived on the Thursday night and left Sunday afternoon. This was where Vivienne got ready with her bridesmaids; with the help of Hair and make-up queens, B the Bride (sisters) Georgia & Bethan. A brilliant recommendation by the photographer, as by the end of the night, hair and makeup was still flawless!
The ceremony was conducted by a registrar in the Palm House. Vivienne was a little late, but the registrar handled it beautifully and didn't allow this to negatively impact their ceremony at all.
The wedding dress was designed by Hayley Page – from The White Gown in New York City. Champagne with white sugar pearl beading. Vivienne originally thought she'd go for a column style dress, but ended up with a ball gown! Gorgeous.
"My friends kept me sane on the wedding morning." said Vivienne
Matt (Dine MD) organised the florist – David Beckham-Doyle florals. "I didn't want the flowers to be too manicured – the look we went for with the flowers was quite wild and fresh, with lots of greenery."
Menu…
Canapés
Mini Yorkshire Pudding – rare roast beef & creamed horseradish
Oak Roast Salmon Crostini – crisp ciabatta, lilliput capers, micro herb
Spiced Falafel (v) – cucumber & mint raita
Starter
Figs Baked with Truffled Honey – dolcelatte & parma ham
Carpaccio of Peppers & Rainbow Tomatoes (v) – red pesto croutons with herb & lemon oil dressing
Main Course
Duck Confit – with red wine jus, roasted garlic & a toasted barley cassoulet, gratin potato & sugarsnap peas
Spinach, Cauliflower & Sweet Potato Curry – served with coconut rice
Dessert
Luxury Brioche Summer Pudding – raspberries, blackberries & strawberries in a martini glass layered with elderflower jelly and butter brioche
Luxury Summer Berry Cocktail (vegan)
"The food was so delicious!! All of the chefs in the family were so impressed."
Vivienne managed to enjoy some of the canapés. Couples often miss out, as they're busy having pictures taken and greeting guests. We always make a point of ensuring the couple are well fed and watered on the day of their wedding.
The cake was from L'oven cakes in Liverpool. Amalfi (lemon cake) with lemon filling, vanilla buttercream with gold sugar pearl embellishment.
Entertainment:
The string quartet for the ceremony was booked through Wedding Jam, who also supplied a DJ for the reception.
What was the most memorable part of your day?
" I truly loved the ceremony. We spent so much time focusing on the party… but hearing Paul's vows in front of everyone, it was just such a special moment. Matt & Frank's reading was wonderful, personal and touching. A very moving experience. Paul and I actually had a private bet that we'd make each other cry with our vows. Paul was sobbing – I won – haha!!"
I asked Vivienne if there was anything she would have  done differently given the chance.
"I should have allowed myself more time to get ready and relax. I was half an hour late, but the events team and registrar managed timings really well and got us back on schedule."
Would you recommend Dine to friends and family?
" I would certainly recommend Dine. The food was beautiful, Matt was a total wizard and deserves all the credit. He didn't ever push back – always reviewed options and nothing was ever too much trouble. We would have lost our minds if it hadn't been for Matt." High praise!
The happy couple headed straight to Copenhagen for their honeymoon after the wedding. Heaven!
Struth Photography as I'm sure you'll agree, did a beautiful job of the wedding photography, capturing all of the special details of the wedding day.
A special thanks to Vivienne and Paul for allowing us to share their wedding day on our blog. We loved working with you!
If this blog has inspired you to celebrate your wedding with Dine, please do get in touch with our team: E – events@dine.co.uk C – 0345 450 4545