50th Birthday Party – Moulin Rouge Theme
28/05/2019
Our client was due to celebrate his 50th birthday and wanted a Moulin Rouge theme, giving us loads of scope to get creative! We were asked to arrange a party as good as, or better than his wife's 40th birthday bash, which we did a few years ago.
Excellent food and service is to be expected when you book an event with Dine – but our clients requested high quality hearty fare, which we certainly delivered with our delicious menu (read on for details). The event was hosted in a marquee on a local farm close to their home in Doncaster and it certainly was an evening for the memory books!
Hi Craig,

Wow wow wow…what a party!!!

I just want to say what a pleasure it has been working alongside you in organising my 50th party….you made it a stress free (for us!), a simple and an enjoyable journey.

Everything ran like clockwork on Saturday and everyone had a fantastic time….some a little too good including myself…I blame those whisky sours! Had loads of glowing compliments from the guests about all aspects of the night….marquee, food, entertainment and the overall organisation so thank you again. Even the sun came out!

Glad we went with Paloma as she was amazing…not just her singing but her engagement with the audience and quirky style!…Amelia is in love with her…hasn't washed her forehead where Paloma kissed her! Trevor was excellent and played the mood perfectly….a lovely bloke too!

Hope you were able to relax yesterday…sure you'll have needed a large glass of something to chill out!

I'm left with great memories. Thanks again and we'll be in touch when the next celebration is due…want to do it all again,

All the best,

Client name confidential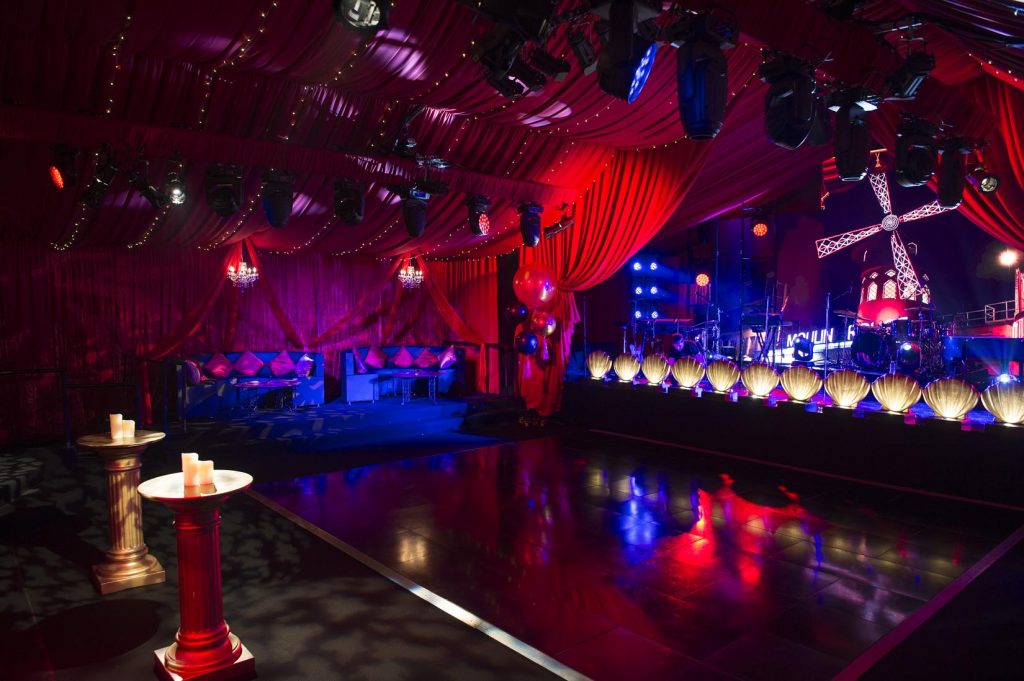 ---
The party was on Saturday 18th May 2019 – guests were asked to arrive at 7pm.
Drinks and canapés were served on arrival.
Mahood's Marquee | Dine Events Catering | Event Prop Hire | DJB Photography

Dine Events Management | Generate Events Entertainment | DJB Photography

Dine Events Catering | The Rarified Floristry | DJB Photography
Vintage red table lamps really enhanced the Moulin Rouge theme and were from Cordless Lighting.

Dine Events | Event Prop Hire | Moulin Rouge | Elephant Prop | DJB Photography

Dine Events | Event Prop Hire | Moulin Rouge | DJB Photography
Canapés
Mini Yorkshire pudding, Rare Roast Beef
Creamed horseradish
Curried Chicken Skewer
Mango labne
Duck Spring Roll
Oriental plum & sesame dipping sauce
Mini Cones of Caprini Goat's Cheese
Pesto, sun blushed cherry tomato & toasted pine nuts
Guests then sat down to enjoy dinner….
Starter
Lobster & Tiger Prawn Cocktail
Horseradish marie rose, rocket & gem salad
Trio of Melon (V)
Honeydew, cantaloupe, watermelon, Honey, lime & mint dressing
With Homemade Saffron Loaves
Main course
Chateaubriand of Beef
With a Portobello mushroom, melted plum tomato with gremolata topping, peppery land cress, served with three sauces: Béarnaise, Chateaubriand, Peppercorn and chunky cut chips
Pudding
Trio of Summer Desserts
Lemon Cheesecake, Vanilla Crème Brulee, Mini Eton Mess

Dine Catering | Chateaubriand of Beef with Chips | DJB Photography

Dine Events Catering | Trio of Summer Desserts | DJB Photography
We worked with some of our favorite suppliers on this amazing event… lighting and sound specialists AV Matrix, Draping Bliss with their incredible marquee dressing, beautiful floral by The Rarified, incredible props from Event Prop Hire, event equipment from Event Hire, 77 Events  did the meet and greet. We booked the entertainment through Generate Events (always a pleasure to deal with) and our clients chose a fabulous Mahoods Marquee.
We also arranged the invitations – created by Big Day Designs – who came back with the most fabulous Moulin Rouge themed invitation. It really set the tone for the event.
The entertainment
Was to say the least …out of this world! With appearances from total goddess, Paloma Faith and legend Trevor Nelson! Guests were dancing their socks off all night.

Trevor Nelson DJ | Dine Events | Generate Events Entertainment | DJB Photography

Paloma Faith | Dine Events | Generate Events Entertainment | DJB Photography
It was an absolute pleasure to be involved in planning and delivering such a fabulous party! Can't wait for the next one.
If you've got a big birthday coming up and want to chat through your ideas – give our team a call: 0345 450 4545 or email: events@dine.co.uk
We have a great selection of venues to choose from if you don't fancy a marquee.